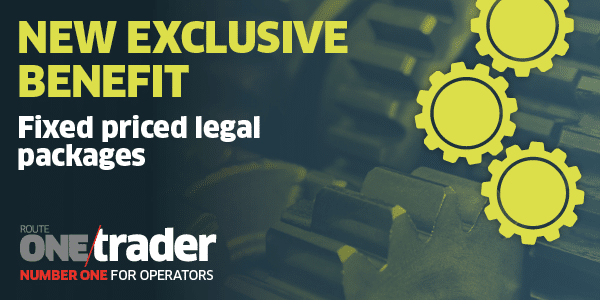 Being called to a Public Inquiry: Every operator's worst nightmare
Public Inquiries can happen to anyone. If you and your business face legal scrutiny as the regulatory burden increases, and the economic squeeze continues, are you financially prepared to cover the legal costs of representation?
routeone has partnered with a full-service law firm to bring Trader members an exclusive new benefit to help you in this situation. Members are entitled to expert, fixed price legal services from a name you can trust: Fieldfisher.

Fieldfisher is a law firm built around people, striking a balance between legal excellence and a down-to-earth approach to clients' needs. With expertise and experience Fieldfisher delivers commercial, pragmatic, and innovative solutions. They will protect your rights and offer a one-stop shop of specialist advice.
What's included?
Fieldfisher supplies fixed fee representation at Public Inquiries or Preliminary Hearings and can offer your business a comprehensive legal audit. Full transparency means you will know in advance what the costs will be.
These costs will vary depending on your business size and the matter at hand. Please note, the prices listed below exclude VAT and disbursements.
Preliminary Hearings
A Preliminary Hearing may be called by the Traffic Commissioner (TC) in two primary circumstances:
When applying for an O-licence, if the TC is yet to be satisfied that you have met the requirements or has other concerns.
If the TC has concerns with your existing operation and would like you to formally address them at a hearing.
If the TC is not satisfied by the outcome of a Preliminary Hearing, they will call a Public Inquiry. Your fixed-fee pricing:
| | | |
| --- | --- | --- |
| Small Operator | 1 – 15 vehicles | £3,500 |
| Medium Operator | 16 – 35 vehicles | £4,500 |
| Large Operator | Over 35 vehicles | £7,500 |
Public Inquiries
A Public Inquiry will be called by the TC when they have serious concerns about a company's operations. They have a number of powers available which they may use against the operator depending on the outcome of the Public Inquiry, including: Issuing a warning; reducing the number of vehicles your company is allowed to operate; suspending your licence for a period of time; revoking your licence and disqualifying your company or any of its directors from holding a licence.
| | | |
| --- | --- | --- |
| Small Operator | 1 – 15 vehicles | £4,500 |
| Medium Operator | 16 – 35 vehicles | £7,500 |
| Large Operator | Over 35 vehicles | £10,000 |
Legal Auditing
| | | |
| --- | --- | --- |
| Small Operator | 1 – 15 vehicles | £2,500 |
| Medium Operator | 16 – 35 vehicles | £4,000 |
| Large Operator | Over 35 vehicles | £5,500 |
How to access your fixed-fee legal services
To access the fixed-price services, you must have an active Multi-Seller or Frequent-Seller membership before engaging with Fieldfisher, and your membership must be active before any offence for which you require its services. See the full Terms and Conditions here. This new benefit is available straight away to existing members and is included in your Trader package at no further cost. To take advantage of the service contact: ffr1@fieldfisher.com.
Not a Trader member?
You don't need to have a legal problem to join Trader, but once you have joined, the fixed-price legal services will be accessible when you need them.