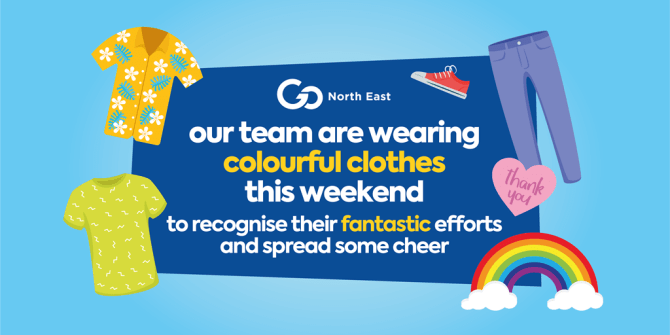 Bus drivers and other team members at Go North East (GNE) once again wore colourful clothing in place of their regular uniform over the bank holiday weekend to recognise the efforts they have displayed during the coronavirus COVID-19 emergency.
Martijn Gilbert, Managing Director at Go North East, says: "Over the last couple of months, we've thanked key workers by wearing colourful clothing, celebrated VE Day by wearing red, white and blue and also donned football shirts for what should have been the end of the season.
"This has not only helped boost the morale of our team members, but through wearing colourful clothing, and even fancy dress in some cases, we've managed to put smiles on people's faces and bring cheer to bank holiday weekends in these unusual times.
"This weekend we wanted to do something a little different. Allowing team members to wear colourful, casual clothing is just another light-hearted way of us saying thank you for their commitment and endeavour to keep the region moving."
As announcements are made for the easing of lockdown restrictions, GNE's buses continue to run to emergency timetables with journeys maintained for essential journeys.