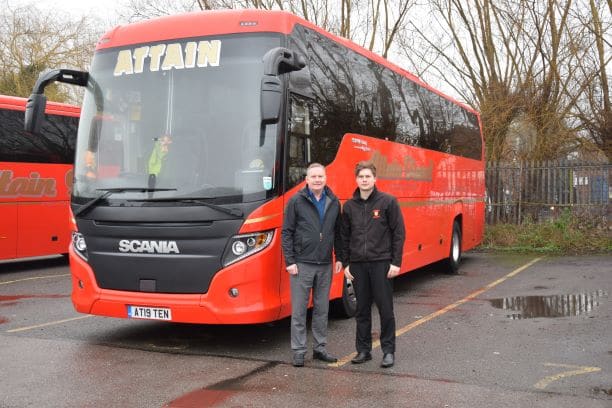 Family-run operator Attain Travel has an enviable attitude to industry challenges. By working on a rota its Directors stay fresh, focused and avoid the risk of burn-out
Attain Travel is one of the lucky few which have no worries about PSVAR compliance.
"We don't do home-to-school or rail replacement," says Director David Costello. "So it's business as usual for us.
"Maybe in time we will need to do that, but we've got enough work for the standard vehicles we've got. We couldn't afford to pay out £30,000 on a coach for a retrofit."
The Birmingham-based family firm runs a mix of private hire, ad hoc work, school contract work and school trips. It also runs approximately 40 holidays a year for Star Tours, mainly in the UK.
The firm has 30 national O-Licence discs and 5 international discs.
"We are really busy," adds David. "We don't have to chase work, in fact we turn work down a lot of the time.
"Schools and college work are our day-to-day – taking children out on trips and ferrying sports teams around."
Euro VI ready
The operator was organised with its planning for Euro VI standards.
"We knew it was coming," says David. "We do a lot of work in London so we needed to be ahead of the game.
"We have a continuing fleet renewal programme, so we have a modern fleet of vehicles."
Most recently the firm received a delivery of two Plaxton Leopards mounted on Volvo's B8R chassis. The 12.8m coaches have 72 seats with three-point belts. They are also each equipped with a reversing camera.
David says: "These coaches combine luxury with high capacity and performance. We have always been impressed with the modern, stylish look of the Plaxton range, which is one reason why its products form the backbone of our fleet."
Family business
Attain Travel was started in 1997 by David and his brother William (Bill) – who has since passed away.
As the business grew the brothers leased a pub with offices above and a car park to park the coaches in. At one point there were 14 minibuses parked outside the pub.
Their sister Sally Bollard and her husband Christopher Bollard were also involved and David's wife Jackie was doing the accounts.
Attain Travel's first coach was a 53-seater Scania Berkhof.
It had "got in" with Birmingham City Council and work was flooding in.
In 2006 it bought its first new coach. Another Scania. This time a 70-seater for use on school trips and day trips.
David says: "It was not good for long distance but perfect for day trips because of the seat configuration. We have cornered the market for that. It's a good earner."
Around three years in the brothers' other sister Janet Mauremootoo joined the firm and is now Marketing Manager. Her husband Philip also came onboard and works as a Transport Manager. David and his two sisters became Directors and ownership is shared by the three families.
17 years ago the business moved to its current premises in Witton.
David explains: "We bought this part of the industrial estate, resurfaced it, put a cesspit and toilets in, added workshops and built the main building."
Business today
David's son William joined the company in 2008 while he was studying for his GCSEs and is "the glue that holds the business together."
Explains David: "Us three couples who run the business take turns at working one week in three. So we each get two weeks off and one week on.
"But William is here full time."
William started off washing buses, then did a minibus run, then got his coach licence.
"He's worked his way up," says David.
"We work well as a team and encourage each other with our endeavours – we each bring a different skill set to the company."
Proud of staff
The depot has an MoT test station which is available for public use. It is only used for class 4,5 and 7 vehicles.
Attain's own coaches are tested off-site, but David has glowing praise for his mechanics Darryl Plover and Tony Frankum.
"They do such a good job," he says. "We have had 100% pass rate first time on our coaches when they have gone for MoT.
"They do the maintenance on our own vehicles and MoT's on the public vehicles."
David also has high praise for Eddie Hogan, a longstanding employer and minibus driver who keeps the vehicles in pristine condition.
The operator employs 15 full-time and eight part-time drivers. All the mechanics and staff can also drive if needed.
Each driver is assigned their own coach which encourages a sense of pride in the vehicle.
A modern fleet
The fleet ranges from 17-72 seaters. It has three 17-seat Ford Transits, a 36-seat Plaxton Cheetah and four Scania two-axle Touring HDs, each built on the K 360 IB chassis with 51 seats, three-point belts and USB charging points.
The firm also has a 53-seat Scania Interlink Finesse, three 72-seat Plaxton Leopards, a 59-seat Plaxton Leopard, a 59-seat Scania Irizar and a 70-seater Scania Irizar.
80% of the vehicles are Euro VI. David says they keep some of the older ones "for the donkey work when they go out on residentials and to farms where they get scratched."
In keeping with modern times most bookings are now made online. "We try to be as green as we can with the use of paper now," says David.
The Commonwealth Games 2022 will be held a stone's throw from Attain's depot and will mean plenty of work for the operator.
"We're probably the nearest coach operator to the Games," says David.
"We're on the tender list so hopefully we will get a lot of work from it."
The future
Going forward, David is comfortable with the business but is sure that William will be taking it to new heights in time.
William has done his PSV training and obtained his Category D licence in 2015.
His work now includes ongoing management and administrative training. He has also successfully completed a Coach Manager course and is a qualified Transport Manager.
Eventually he will be overseeing the day-to-day running of the operation.
But founder David is very relaxed about his position within the firm.
"For us now it's more a matter of balancing quality of life with the business," he says.
"If we were full-on we could have grown it a lot more, but it's good to have a decent living without stress.
"At the moment we're quite manageable and have a modern fleet. We don't work too hard."