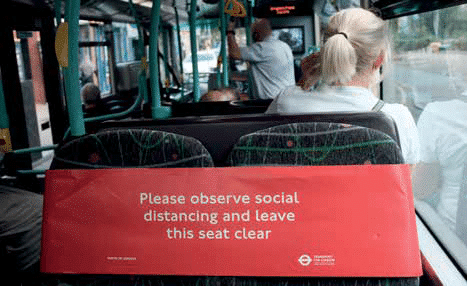 More support is needed from the government to encourage people back on the buses, says CPT CEO
It's time for people to go back to the workplace says the Prime Minister.
With millions of workers still choosing to work from home, the government has become concerned that city centres will become ghost towns and the businesses that rely on commuters will close.
Should this fear come to fruition it would make what is shaping up to be a difficult winter for the government, if COVID-19 cases rise as some predict, even worse.
Encouragement needed
Before the coronavirus COVID-19 pandemic, over two million people a day were using the bus as part of their journey to work. Clearly, if the Prime Minister wants to see people going back to the office and other workplaces, he is going to need people to get back on the bus.
Frustratingly though, the government doesn't seem ready to back a return to public transport despite evidence showing no link between transmission of COVID-19 and public transport use.
Safety measures
Throughout the pandemic, operators have been working hard to ensure that buses are safe to use. Enhanced cleaning regimes, extra buses on our roads and restricting capacity to allow everyone to keep their distance have all become the norm.
All these measures sit alongside a dedicated passenger communication campaign to ensure passengers know how they can play their part too and apps have been developed to let people check how busy their bus is likely to be in advance.
We know that these measures are working, as figures from Transport Focus show that those who have used public transport during the pandemic are much more likely to feel positively about it than those who are yet to return. CPT research also shows that people overwhelmingly recognise that the bus will remain an essential part of the transport network in the future.
Encouraging people on board
While passengers are slowly returning, numbers are still well below pre-pandemic levels and we cannot assume that people will return to using the bus. We need the government to work with us to back public transport use.
There have been some promising signs with the odd tweet from members of the Cabinet on public transport (admittedly a tube rather than a bus) but this must translate into a dedicated campaign to showcase the benefits of public transport.
The alternative is we will continue to see car use rise as people shun public transport. As we all know, this will mean increased congestion in our towns and cities alongside greater carbon emissions and poorer air quality.
If we truly want to see a green recovery from COVID-19 the government needs to put the bus at the heart of that vision and encourage people to get back on board.