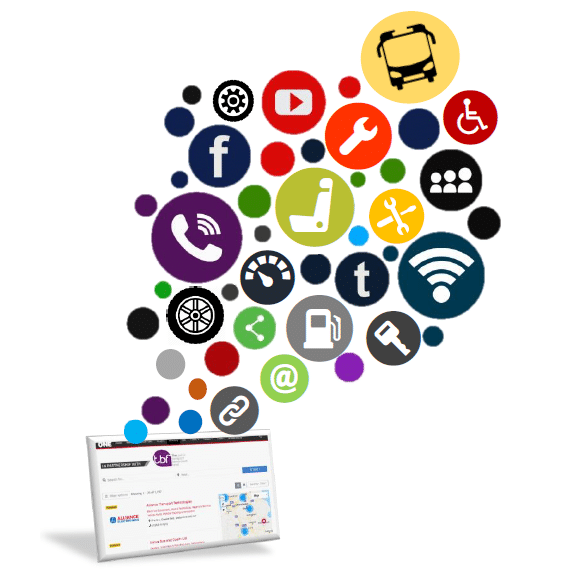 routeone already have the most comprehensive online supplier directory for the coach, bus and minibus sector, but we continue to improve.
Several new features are now available to you at no cost, and they guarantee to boost the exposure of your listing. The directory has undergone significant development, and it is time your business started to benefit from the new features.
✔ Ensure your brand is visible when users search for the products or services you provide
✔ Be present among your competitors
✔ Receive leads direct or from the new online enquiry form
✔ Boost your own website's search engine rankings
Improve your search rankings
By updating your profile on the routeone supplier directory, not only will you benefit from promotion on our website, but yours will also benefit from elevated search rankings as users look for your products or services online. Ultimately, this will ensure your brand will be visible to new prospects at the same time they are making a purchasing decision.
How?
Search engine algorithms look for relevant, current, and recently updated content. The routeone website attracts an average of 32,000 monthly users (April 2019 – March 2020), and this is escalating rapidly (reaching 84,500+ users in May 2020). All our content is specifically tailored to this industry, and the back-links we provide will escalate your own website relevancy in search engine algorithms. Higher relevancy means more traffic.
How effective is your website in attracting traffic, particularly from the coach, bus and minibus sector? Is your website specifically tailored to this industry? How does it rank in search engines?
What about directory users?
Is there any better way to source all the suppliers of specific products or services that cater specifically for the UK coach, bus and minibus sector? What if those suppliers need to be within a certain radius? How long would it take to find that information using a search engine? The routeone Supplier Directory is free to use, easy to navigate and saves time by serving the most relevant results.
What's included in a free listing?
✔ Your company profile
✔ Unlimited product or service categories
✔ Full contact details
✔ Search keyphrase
✔ Social media links
✔ Online contact form
✔ Update your listing at any time
Ready to get started? It is quick and easy to update or create your free profile. Just click here.
Do you want even more exposure?
Upgrade to an enhanced profile listing to get all the great benefits of a standard listing, plus:
✔ Stand out at the top of the search results
✔ Add your logo, images and video
✔ Add your opening times
✔ Display your banner advert on the Supplier Directory and Vehicle Sales webpages to catch attention even when your customers aren't searching
Only £500 + VAT for one year
Just use the link below to complete your enhanced profile, and one of our team will be in touch to process your payment.