Pelican Bus and Coach has signed a new long-term agreement with Yutong capturing much of the remainder of the decade and it expects to supply around 250 vehicles from the manufacturer in 2023. That is further indication of the success of both brands in the UK passenger market.
News of the extended collaboration was revealed alongside details of other developments around Pelican's sales and support provision for Yutong and planned updates to the vehicle range. January 2023 will see the opening of a new showroom and service centre that will be dedicated to Yutong. Staff numbers on the support side have been beefed up and the sales team has grown.
Meanwhile, a national Yutong parts distribution centre scheduled to open in October holds £2.8m worth of components and ultimately can accommodate £7.5m worth. It will also be the national hub for Pelican's battery-electric chargers, stocking those rated at 20, 42 and 120kW, and house the growing team dedicated to supporting the Yutong range.
Additionally in place are nationwide service dealers and a growing number of regional service engineers. The scale of this investment has been made possible by the renewed long-term agreement with the Chinese manufacturer, says Pelican Managing Director Richard Crump.
All that complements range expansion. On the battery-electric bus front, the 8.9m E9 arrives in early 2023, and it will be followed by a 10.9m double-decker promising 385kW/h of energy storage. A first UK specification double-decker has been built in China and is undergoing testing. Once durability validation is complete, a demonstrator will be constructed and shipped to Pelican.
Head of Yutong Sales Ian Downie says that Pelican will be able to deliver the double-decker in 2023. It uses the established driveline from the E10 and E12 single-deckers, will carry a maximum of 80 passengers and builds on Yutong's existing work with double-deckers in China and Singapore.
New coach demand mirroring electric bus, says Pelican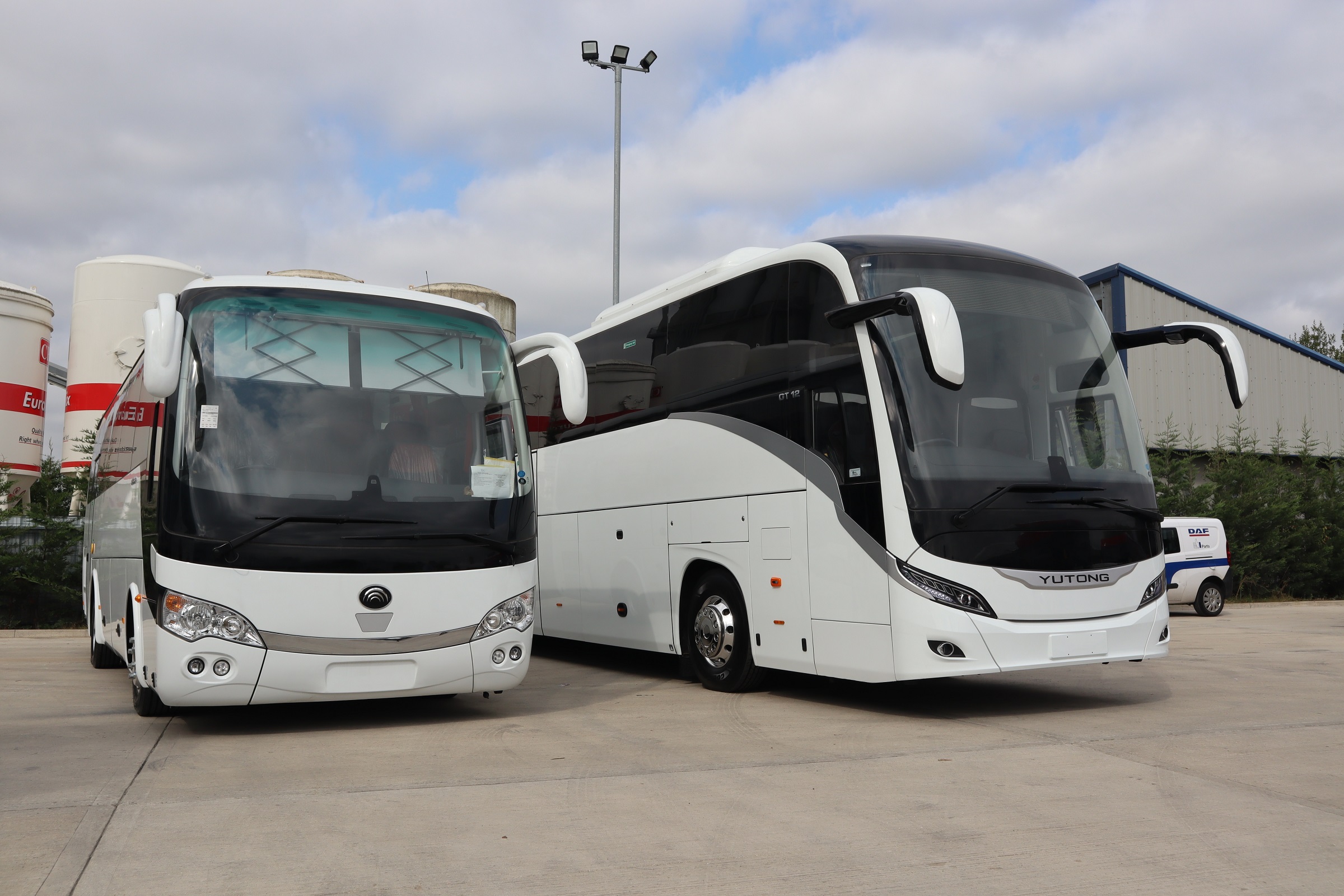 On the coach side, things are also developing. Simon Collins was promoted by Pelican to Sales Manager for Coaches earlier in 2022.
He reports that demand for new vehicles is "very strong" and that Pelican this year will see numbers close to those from 2019. That is partially caused by lower volumes during the intervening period and a resulting paucity of late used stock.
The breakdown of enquiries and sales is evolving. Since publication of the medium-term exemption approach to PSVAR, demand for compliant new coaches has slowed, Simon explains. The approach is now often to specify 'PSVAR ready'. That entails fitment of an additional door and in most cases, destination displays, but no lift. It can be added later.
Equally significant is the growing traction for zero-emission coaches since late 2021. Simon explains that now, at least 30% of coach enquiries are for the battery-electric TCe12. The portable 42kW charger offered by Pelican that runs from a three-phase supply has opened more scope for the TCe12, he continues. That model recently received some modest styling tweaks.
On the diesel front, the TC9 midi has gained upgraded passenger and driver seats and an extension to the upholstery variants available ex-factory. The flagship GT12 tourer also has improved seats all round and it too has seen some modest styling changes. All GT12s arrive from China with a door to suit PSVAR in place.
Battery-electric technology continues to advance
A less well-known part of Pelican's battery-electric range captures airside buses. It has introduced a new variant, the ABe14, and one has already been delivered to Newcastle International Airport, where it joins an earlier model. The ABe14 is 14m long on two axles and carries 110 passengers.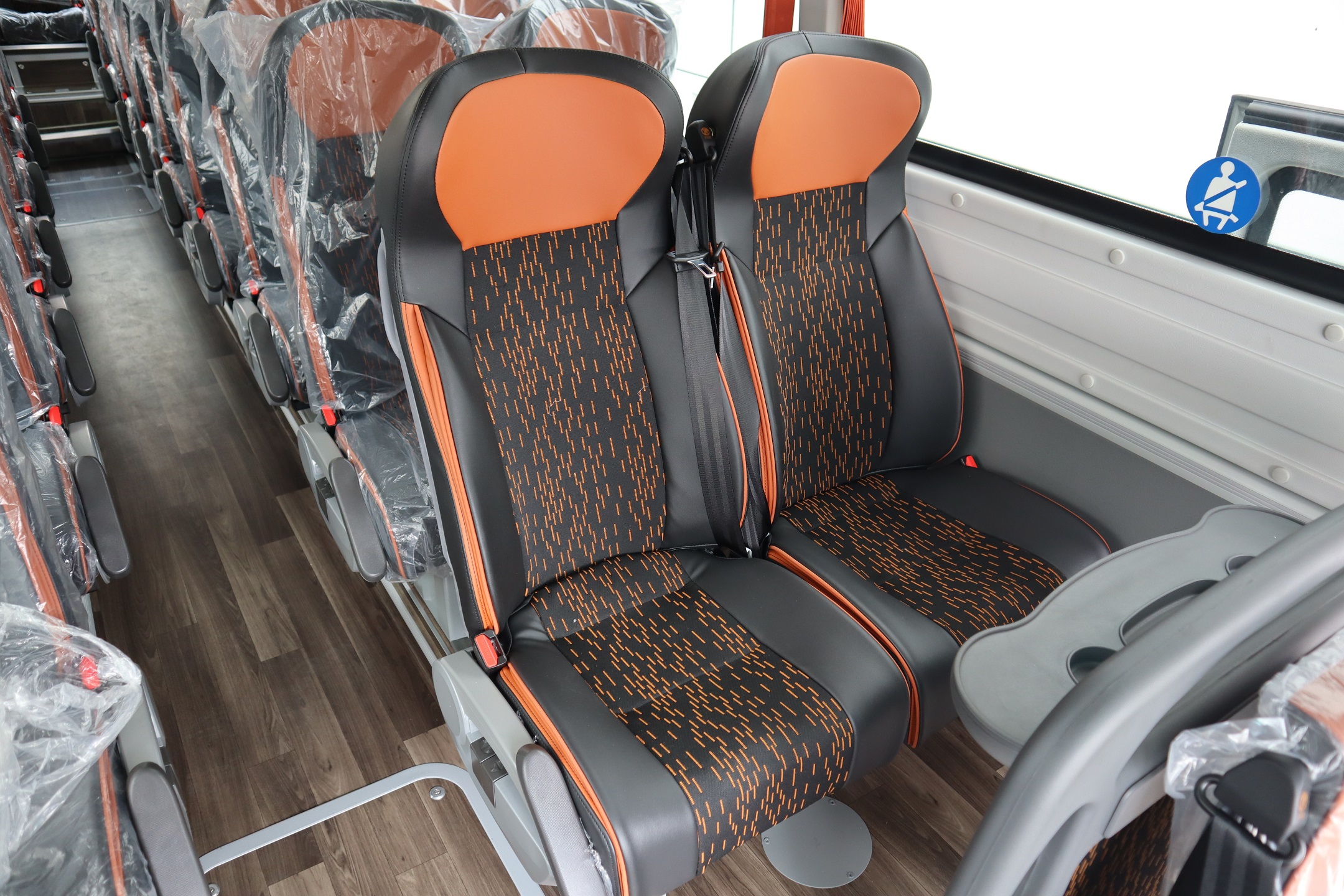 The ABe14 and TCe12 come with the Yutong Electrical Safety Standard (YESS), as do the E10 and E12 and as will the battery-electric double-decker.
In conjunction with lithium iron phosphate chemistry, Yutong believes that YESS offers great protection to the batteries.
YESS includes structural, thermal and parts protection and a constant nitrogen 'blanket' to mitigate any fire risk.
In addition to YESS, 24/7 monitoring of batteries has been introduced. Data is transmitted to Yutong in China and any abnormality can be flagged to the operator immediately. Work to prolong range in colder months has also been undertaken, with a fix installed to prevent the demister from being left running when vehicles are idle. Ian is thus confident that energy use will be lower this winter than the last.
Customer support at heart for Pelican Bus and Coach
A lot of positivity is coming from Pelican around its work in coach and bus. Richard is clear that a safety net through the pandemic period came via the dealership's longstanding work with HGVs, but he says Pelican is particularly proud of the support it offers to customers. "We believe that it is as good as anywhere else, and in some cases, better," he says.
Further bulk deliveries of battery-electric buses are in hand, including to First Bus, McGill's Buses and Stagecoach in Scotland and Newport Transport, while two batches have arrived for the TrawsCymru network in Wales. All will be fitted out here; around 30% of the value of a Yutong battery-electric bus stays in the UK under that arrangement.
When a growing range and customer base is combined with major investment in support and a long-term deal with Yutong, the future for Pelican Bus and Coach looks stronger than ever. The full range of its vehicles will be on show at Euro Bus Expo at the NEC Birmingham between 1-3 November.