For a family-owned coach business, succession often sees a father handing over to his son. In Leicestershire, Nesbit Bros is doing just that, but what does the future hold?
Polly Isabelle Foster is a fortunate child. Although just seven months old she already has her name on the front of a coach, in this instance, a Volvo B9R Caetano Levante.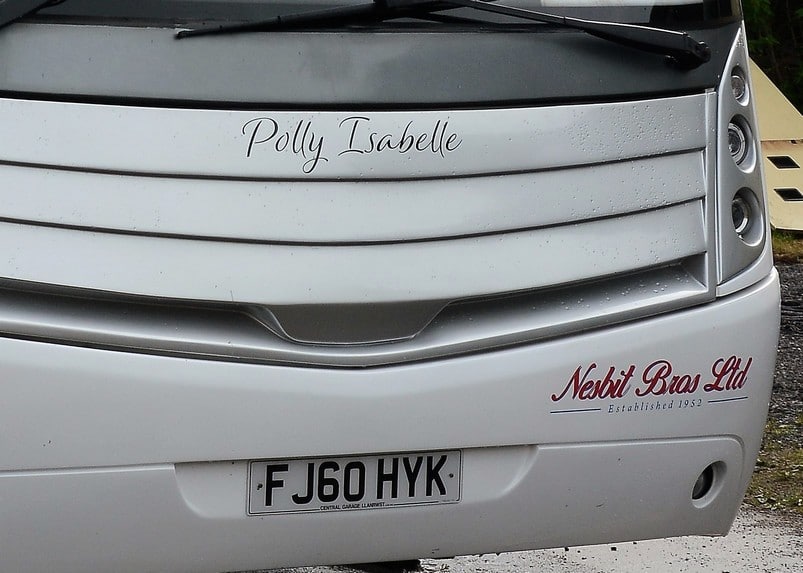 The Levante, new to Classic of Annfield Plain in County Durham in 2010 for use on National Express work, is one of two similar vehicles operated by Nesbit Bros of Somerby, near Melton Mowbray in Leicestershire.
"Both Levantes are PSVAR compliant," says Nesbit Bros director Ian Foster, a grimace forming on his face.
"I've read the latest PSVAR exemption schedule, and whilst I can see the bigger picture, I do wonder if the people who make the regulations have ever been to visit a rural operator like ourselves. Deploying a ramp onto grass verges is far from easy!"
Somerby, located part way between Oakham and Melton, and close to the border with Rutland, has a picture-postcard image. The Stilton Cheese Inn in the High Street is proud of being voted CAMRA pub of the year 2022 for Melton and district. In 2019 it won the same award for the entire Leicestershire, Rutland and Northamptonshire area. Clearly a village pub that knows what it's doing.
Much the same could be said about Nesbit Bros. The operator was established in 1952 by brothers William (Bill) and Adam (Addy) Nesbit. Their sister, Isabelle Foster was the company secretary.
Bill played in goal for the local football team, Somerby United. Addy played centre-forward. But with limited car ownership, getting to away matches was proving quite a challenge. Bill and Addy decided to buy a coach to transport the team. The story goes that the landlord of the village pub spotted what was happening and approached Bill and Addy to see if they would run a trip for his customers. Nesbit Bros was up and running.
Sad end to an industry first
However, seemingly unknown to anyone at the time, that coach wasn't just any old coach.
'DBM 59' was a 26-seat, Duple-bodied Bedford OB, the very first OB to be manufactured, and initially used as a demonstrator by Vauxhall Motors at Luton. It was one of the few OBs manufactured in 1939 before the outbreak of the Second World War. Records show that by 1962, having served Bill, Addy, the football team and the residents of Somerby well, the bus had found a new home, in a local field. It slowly decayed there until being destroyed by fire in 1977.
In October 1968, with the company flourishing, the business of A.L. Ward (Oakham) was acquired. In June 1970, Nesbit acquired the last remaining coaches of Uppingham-based Backs, a company operating under the name Central Coaches. And that, so far at least, was the end of the acquisition trail.
Pandemic prompts fleet reduction
Today's company is headed up by Ian Foster, Isabelle's son. Neither Bill nor Addy had any children of their own. Ian had started working with Bill and Addy, increasing his involvement when Bill took ill towards the end of the 1980s. In August 1989 Bill died and Ian and Addy ran the business together. Addy died in 1993, Isabelle a few years later.
"Looking back we've always focused on school contracts and private hire," explains Ian. "We've dabbled in tours and excursions, and we ran a season to see what demand there was. But it didn't take off.
A look at the current fleet shows a mix of Van Hool and Plaxton-bodied coaches.
"Our first Van Hool was L706 PHE, a 57-seat Alizee-bodied B10M, new in 1994 and acquired by us in April 2003," explains Ian. "Prior to the pandemic we had 22 vehicles in the fleet. The downturn in work caused by the pandemic prompted us to withdraw eight of our oldest vehicles. We now have a fleet of 14 made up of seven Volvo/Van Hools, four Volvo/Plaxtons, the two Volvo Caetano Levantes, and one Mercedes-Benz Optare-bodied Toro.
Ian recalls moving the fleet towards Volvo.
"I've always been a fan of the B10M," he says. "The B11s and B12s have more poke, but I have B10Ms in the fleet today. They're very good."
A changing industry
Talking with Ian you feel his sadness for how the industry has changed.
"I'm really proud of what we've achieved," he says, "but I don't like what's happening to the industry now. I know it's a generalisation but I feel we're being governed by people who don't really know what they're doing."
During the pandemic Nesbit kept four school runs with Rutland County Council.
"We furloughed drivers, and we don't have a lot of debt, so we were in a good place," says Ian. "But just when you think you're seeing the light at the end of the tunnel, along comes the fuel price increase. We have large tanks, and we filled them up a few months ago at a price of £1.21. I'm hopeful prices will have settled again by the time we need to refill, but I'm not optimistic. On a positive note, I'm really happy with my drivers. I can go to them and I know they'll help me.
"Prior to Covid, we would be providing additional school swimming baths trips," he says. "We fit those in with existing school work. The coach and driver are already out there. It's that type of work that makes the money. But that sort of work hasn't really come back yet."
Heritage and service
This years is Nesbit's 70th anniversary. For Ian it's not the anniversary he might have expected.
"Yes we have that heritage and service to our local community," he says. "But all of that seems to count for little when it comes down to cost. We have our regular customers who know us, who know what we do, and know they can rely on us to turn up on time with a clean and comfortable coach. They appreciate we need to charge a little more because of fuel. I wish it were the same for our local authorities."
Ian explains that he had lost a home to school contract to another operator.
"These things happen, but when you've given what I would say is a really good price, only to be undercut, it hurts. However, we'd been operating that contract for many years. We knew the children and we knew the pick-ups A few days into the new term and we started hearing of problems. One child was dropped in the middle of nowhere because the driver didn't feel safe driving along a particular country road. We then started hearing that coaches were late picking up. In the end the local authority put on taxis to ensure the children got home. Soon after that we received a call. Could we provide emergency cover? We could, we did, and we got the contract back under an emergency tender. But what will happen at re-tender? The system is flawed."
But it isn't just the local authority that's causing Ian's blood pressure to rise.
"It doesn't seem too long ago that we were regularly sending coaches to London," he says. "Now, our capital city has become a challenge. Parking is the worst it's ever been. Try and drop-off and you might be fined. London is no longer somewhere I want to send a coach."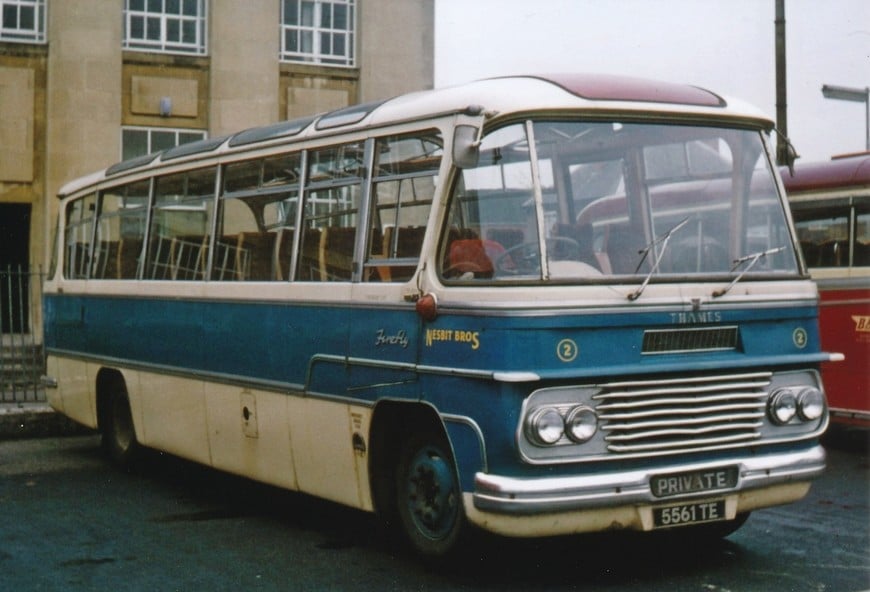 Handing over to Joe
The pandemic has also brought further change to the business with Ian starting to hand over the day-to-day running to his son, Joe.
"For as long as I can remember, he's always wanted to be part of the business," explains Ian. "He officially joined the business in 2005, spending three years at engineering college. Joe's got the spark. He's 32 and I'm 66. He can adapt to what's happening in the industry now.
He really knows the business, and knowing that he's there is undoubtedly helping take some of the pressure of my shoulders, especially with the challenges of emission regulations, congestion charging, London parking, PSVAR and everything else that's being thrown at us! But I also know we have to move on, so now Joe is in charge. That was on the cards before the pandemic, so I'm pleased the business will be in good hands. I'm going to try and step back and let him get on with things."
Joe, with a new baby in the family, seems sanguine about what lies ahead.
"I'm probably in a better position to respond to the current challenges than my dad," he says. "I have no plans to do anything very different though. We'll just keep doing what we're doing, and adapt where we need to. When my daughter Polly grows up I want her to be proud of being part of Nesbit Bros!"