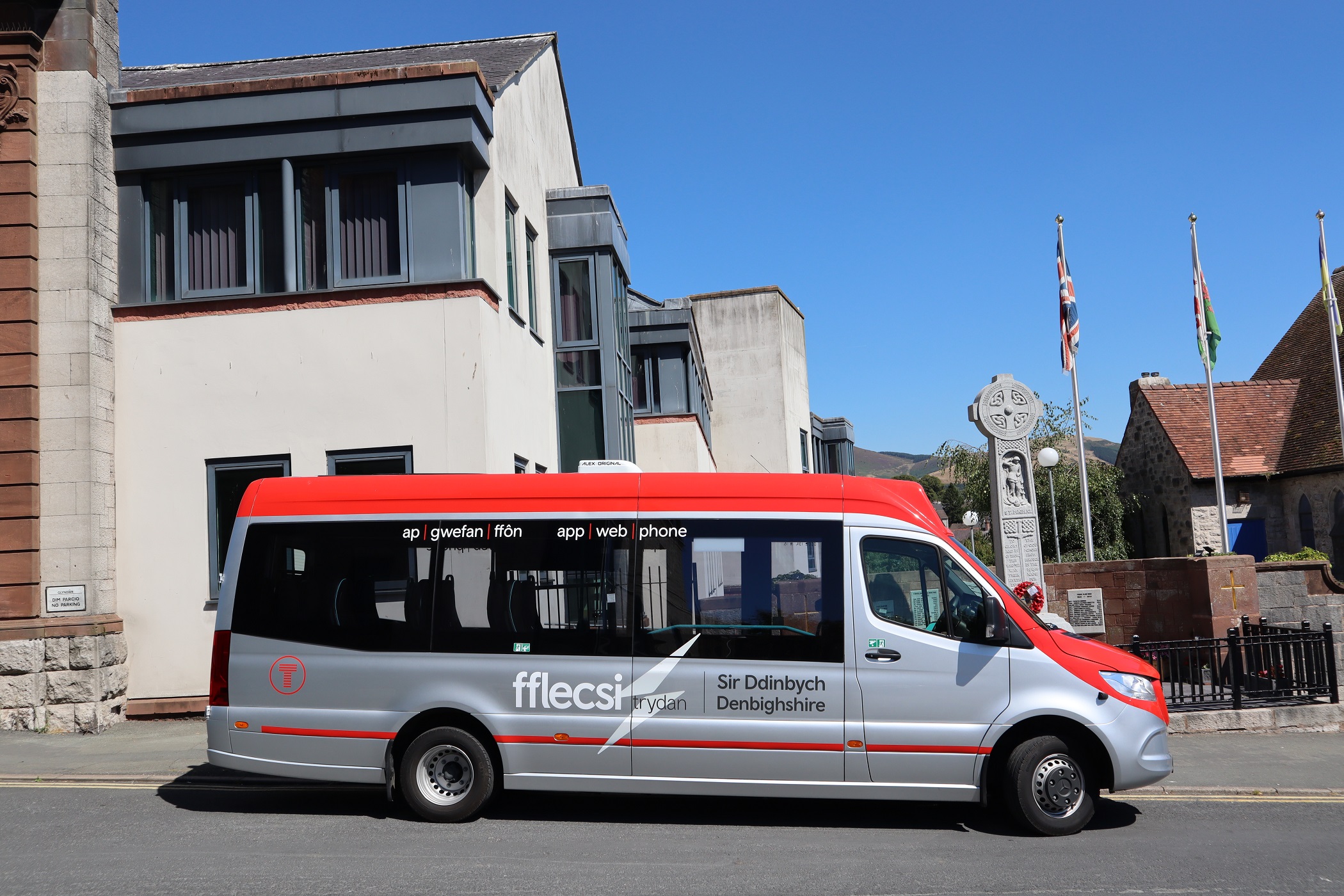 Demand responsive transport (DRT) is a subject of growing interest to politicians. In Wales, the minibus based Fflecsi concept has steadily been rolled out. While not all such pilots in urban areas have been continued, in the small rural town of Ruthin there are signs that Fflecsi is working well.
The Ruthin Fflecsi service differs from other deployments in Wales by one major marker. It utilises a zero-emission vehicle, in the form of a battery-electric EVM e-Cityline. Marketing reflects that and the minibus carries suitable Fflecsi Trydan – Fflecsi Electric – branding. It also has a suitable 'flash' logo and is the first e-Cityline example debuted by EVM, a 16-seater that routeone drove previously.
Denbighshire County Council (DCC) operates the Ruthin-area service in-house. The vehicle's daily utilisation is complex and unlike usual DRT projects. It includes AM and PM home-to-school services and a solitary fixed-route public journey after completion of the morning school trip. Such a diverse approach could be an indicator of how DRT's often-tricky financials can be made less subsidy-heavy.
Between fixed-route times, the e-Cityline operates on a relatively modest demand responsive basis serving Ruthin town and several small villages and hamlets to its south and west. DCC would like to see DRT service hours extended into the early evening based on experience and feedback since launch in March.
Developing demographics on Fflecsi DRT in Ruthin
The demand-responsive element of Fflecsi Trydan has taken over from three fixed-route services operated under contract to DCC. They ran on certain days per week, with an Optare Solo employed. Fflecsi has delivered patronage growth across multiple demographics; while older people use the service for shopping and socialising, there has also been a noticeable increase in ridership among teenagers.
As a result of that and its opening of direct village-to-village trips, the Ruthin Fflecsi service already carries more passengers than the previous fixed-route services did, says DCC Fleet Mobility Officer Martin Griffiths.
He describes the mobilisation of Fflecsi in Ruthin with the e-Cityline as the fruit of a partnership approach between the local authority and stakeholders including EVM. ViaVan software that aggregates rides across all areas where Fflecsi operates is utilised.
Also involved in the project are the Welsh Government and Transport for Wales (TfW). Grant funding towards the vehicle was provided centrally, while TfW is instrumental in the delivery of all Fflecsi services. Both bodies are observing the Fflecsi Trydan work closely, says Martin; it acts as a base of learning for zero-emission DRT in Wales.
"In Denbighshire, we as a local authority (LA) first had the idea to look at turning some of our lower-usage fixed-route services around Ruthin into DRT, at which point we started to explore potential avenues for funding. Things mushroomed from there," he explains.
Having secured a grant towards purchasing a zero-emission vehicle, things proceeded to competitive tender. "EVM went above and beyond in its submission and once the process had been completed, we were able to move quickly," Martin continues. Zero-emission vehicles across the DCC fleet are his responsibility. The LA has 27 in total, and it expects to take delivery of two battery-electric refuse collection lorries this year.
Multiple considerations for expansion, says local authority
A "cautious" approach to zero-emission has been adopted initially by DCC, Martin says. During school terms, the e-Cityline leaves the council's depot at around 0730hrs and it is back before 1700hrs.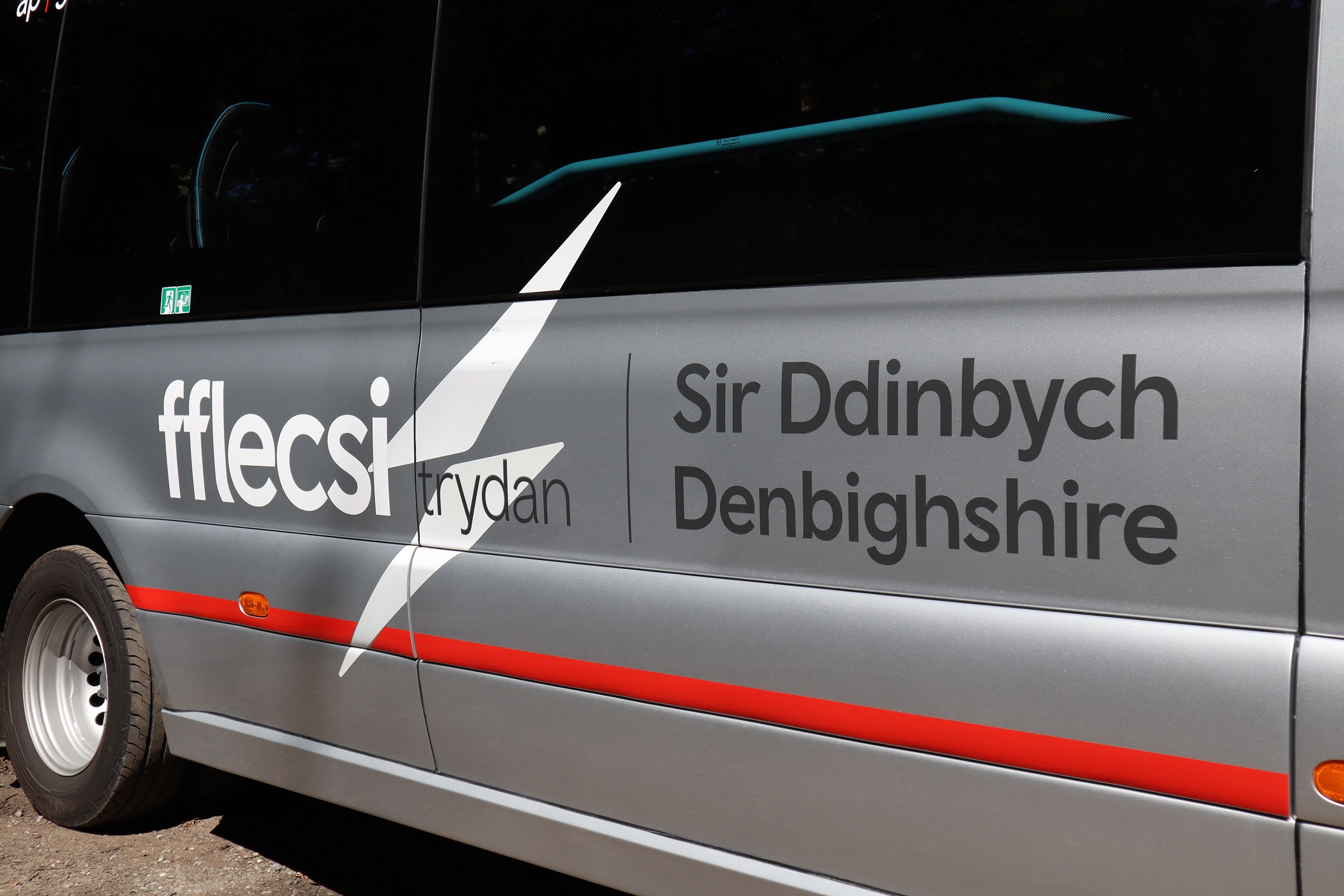 The ViaVan routing software factors in a 'blackout period' to accommodate the driver's lunch break.
When the home-to-school duties, the solitary fixed-route journey and the demand-responsive work are combined, they result in a total daily mileage of 120-140.
DCC's small cohort of PCV drivers have been given training specific to a zero-emission vehicle to help minimise energy use. Practices learned there have also reduced fuel consumption on diesel-powered fleet members, Martin notes. That combined with monitoring of the e-Cityline's energy usage has given the LA confidence in the vehicle and added weight to its aspiration to extend DRT availability to 1830hrs. Use of the minibus on Saturdays is a further possibility.
The e-Cityline comes with 115kW/h of battery capacity. Its Zero Emission Bus Certificate published on the Zemo Partnership website shows that energy consumption is 0.29kW/h per km in a simulated rural test phase and 0.40kW/h per km over an outer urban segment. The minibus with DCC has solar panels from supplier Trailar on the roof to relieve the load on the traction battery levied by auxiliary items such as lights and USB charging points.
Scope to extend utilisation of the DCC vehicle from its current level is clear, although Martin is mindful that some of the LA's drivers are at or around retirement age and joined from commercial operators for more favourable working hours. That will form part of considerations around expansion of operation. However, he notes that a later finish could further leverage the fledgling growth of usage among younger people.
Managing Fflecsi journey times is key for DRT success
Bookings for all Fflecsi services are taken by app or phone, the latter utilising a centralised call centre. While many users in and around Ruthin are senior citizens, DCC has seen an increasing percentage of reservations via the app.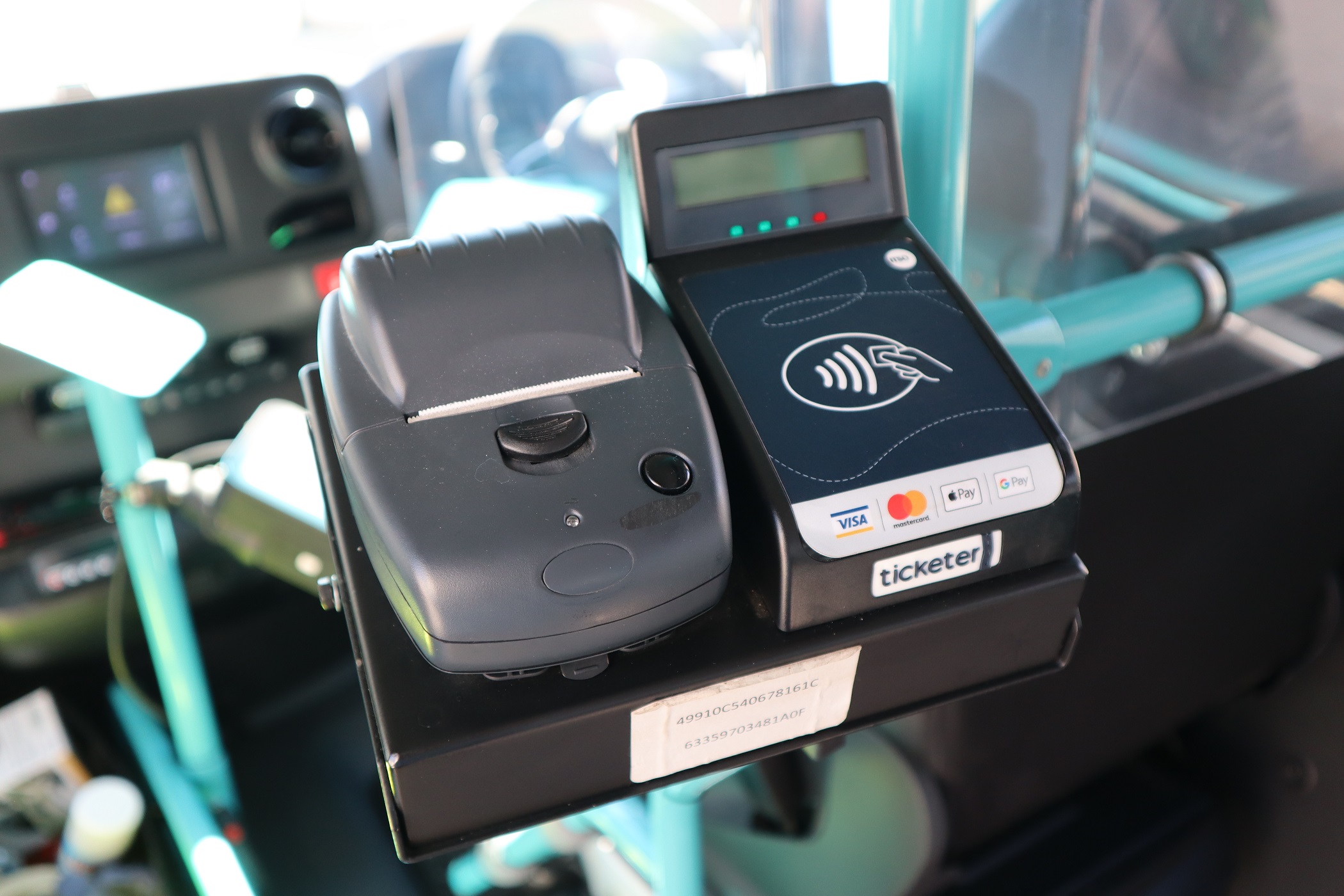 Such trips now account for around 80% of those made. The app does not take payments, however. For that purpose, Ticketer contactless and printing units are mounted on the bulkhead behind the cab connected to a control unit within the driver's reach.
Staff are instructed about pickup and drop-off locations via a tablet.
The rural nature of the Ruthin services brings some challenges, not least among which is maintaining connectivity with the vehicle. That is mitigated using a SIM card in the tablet and another that is part of the minibus's wi-fi system. Martin notes that no issues have been encountered with retaining contact via double SIM provision.
Around 100 virtual bus stops are configured into the routing software. More could be added easily, and the arrangement has benefits in terms of delivering what is perceived as a personalised service by users.
The Ruthin pilot covers a significant area with scope for elongated journey times if ride requests are well spread. Because of that, the routing software is configured to observe a maximum ride time of 25 minutes wherever possible. Generally, the peak number of customers aboard during the DRT phase of the day is eight as a result, Martin explains.
Overcoming initial scepticism is important
When news first broke that some fixed-route services in the Ruthin area were to be consolidated into the Fflecsi demand responsive concept, "there was some scepticism among passengers," Martin continues. He puts that down to a dislike of change. But such attitudes quickly subsided after the minibus entered service. That was no doubt helped by a promotional fare for those that pay, and continuing acceptance of concessionary free travel entitlement.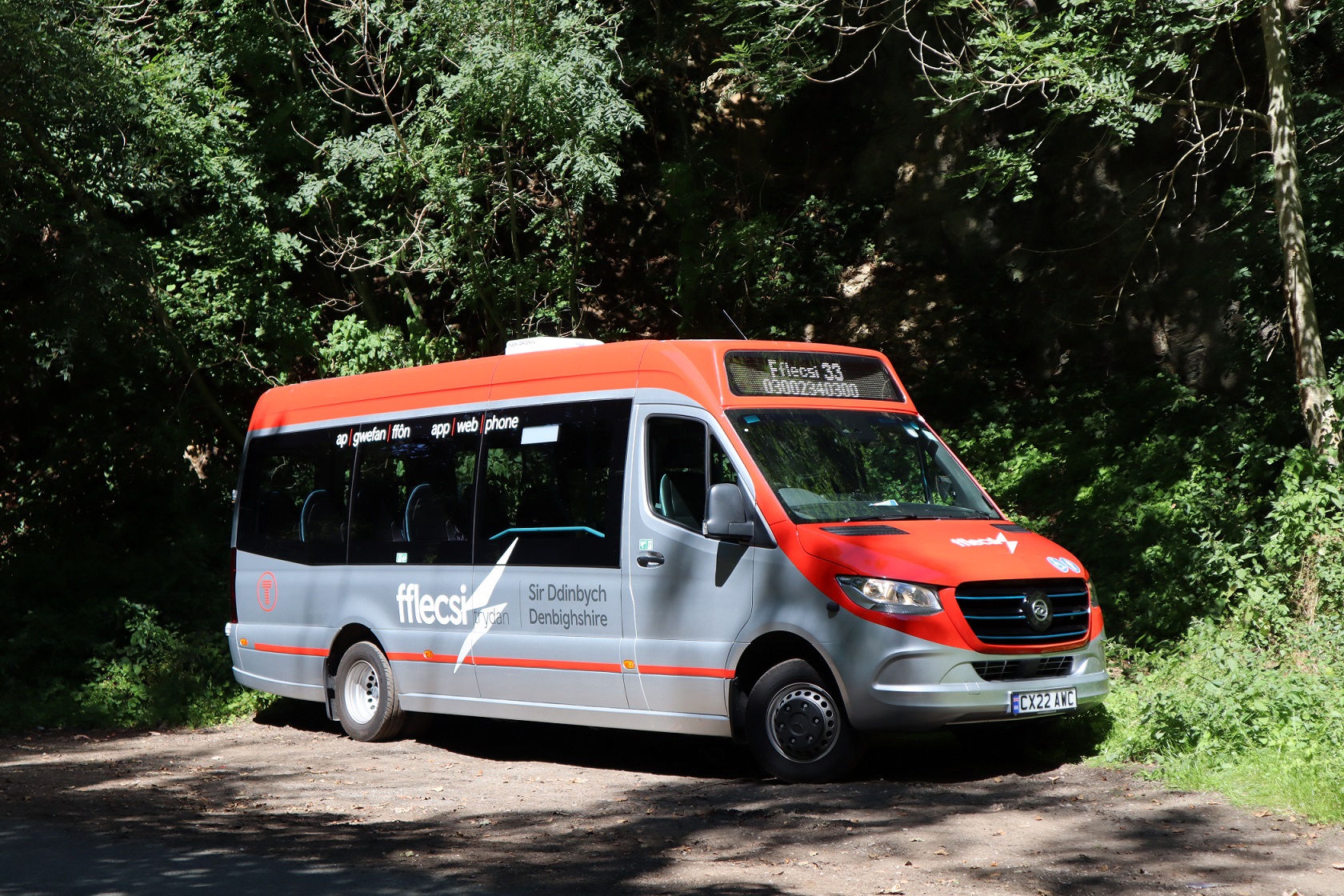 While the purchase price of a zero-emission vehicle is well above that of a comparable diesel, grant funding made the numbers stack up and the e-Cityline has – thus far – proved itself significantly cheaper to run.
Aggregation of rides has long been the key to DRT success, and Martin reports that there has been little difficulty with that despite the extent of the area covered.
There is no guarantee of DRT working in urban conurbations, as demonstrated by multiple pilots in England and Wales that have been terminated. But in a rural area of sparse population where the baseline fixed-route service is minimal, scope exists for DRT to succeed if sufficient funding is provided; DCC subsidises the Ruthin Fflecsi service, and its zero-emission operation is a useful learning exercise for the LA, TfW and the Welsh government.
DCC aspires to convert vehicles engaged on its other Fflecsi services elsewhere in the county to zero-emission in time as part of its wider fleet strategy. In the longer term, it also wants to explore home-to-school transport making the same switch. Where funding is available and operational characteristics allow, such a change is "a no-brainer," says Martin.
"Operating the Ruthin town service and reaching villages with fixed-route services was the right thing to do previously, but they carried low passenger numbers and were thus inefficient. Fflecsi has changed that, and with passenger numbers higher than what they were before coupled to lower running costs, moving to DRT was the appropriate decision."