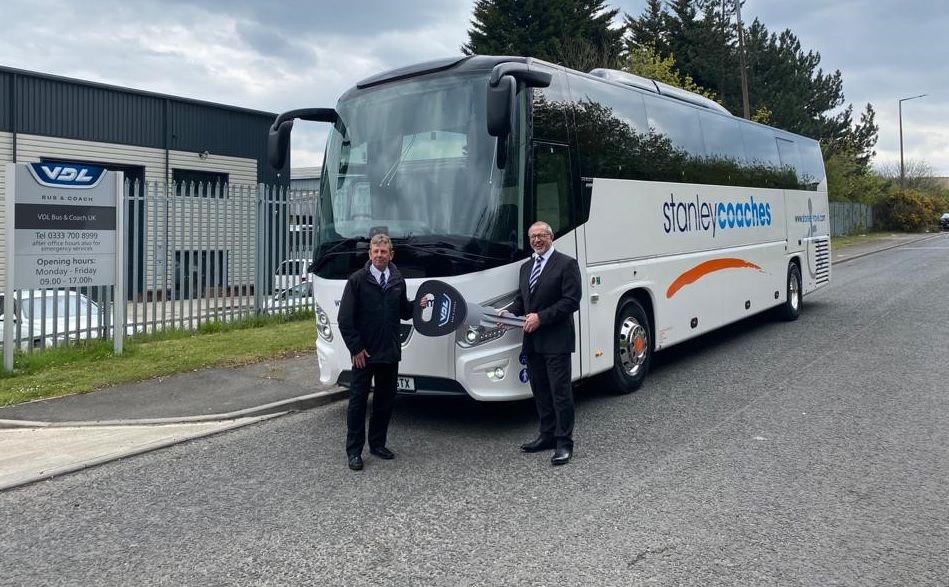 The first new vehicle to be supplied by VDL Bus and Coach UK has been handed over to customer Stanley Travel. It is a PSVAR-compliant Futura FHD2 and the third of the model type for the North East operator.
Stanley Travel Director Ian Scott (pictured, left) collected the FHD2 from Area Sales Manager Tim Fairless at VDL Bus and Coach UK's Barnsley head office on 29 April. It has 53 Vogel LS40 seats and a centre sunken toilet and a host of other amenities, including an active air cleaning system within the air-conditioning unit.
Mr Scott says that the decision to purchase a further FHD2 was based on longstanding relationships. He has also thanked VDL for delaying the build of the coach following the difficulties experienced by the industry since March 2020.
"We have a very good relationship with VDL Bus and Coach UK Area Sales Manager Tim Fairless, who along with his father Sid my family have dealt with for over 45 years, since when my father bought 12-seat minibuses that were converted from Transit vans.
"This is our third VDL. Drivers and passengers love the FHD2, and from an engineering side the quality is up there with the best. Along with the three-year warranty and great backup support from Service Manager Stuart Binns and his team, we have the confidence that should anything go wrong, there is always someone who know the product inside out at the other end of the phone to solve the problem."
Mr Fairless (pictured, right) adds that delivery marks "a new chapter" for the dealership, which was established in August 2020. "By collecting the first new Futura FHD2 that we have supplied, Stanley Travel has confirmed its continuing commitment to investing in the future. We at VDL are pleased to be a part of its journey towards a cleaner, more sustainable future," he says.
The Futura FHD2 for Stanley Travel is powered by a DAF MX-11 engine developing 410bhp coupled to a ZF Traxon automated manual gearbox. Six seat pairs are mounted on quick-release tracking. With the help of a PLS lift within the rear ski locker, the coach can thus carry up to three wheelchair users.
Mr Scott adds that the driver who brought the VDL home from Barnsley is "very impressed with the smoothness of the drive, mainly due to the Traxon gearbox. He also loves the new digital dashboard. Ours is the first VDL coach in the UK to have this."