Totalkare has moved to a purpose-built facility at Kingswinford, near Dudley. The relocation is part of an ongoing five-year expansion plan that will see over £750,000 invested into the business. It will allow Totalkare to optimise shop floor workflow and to increase its capacity for holding stock.
Relocation became a necessity after Totalkare outgrew its previous premises in Halesowen. Among products that are kept at Kingswinford are mobile column lifts, in-ground and mobile brake testers, headlamp testers and smoke meters. The site also has ample space for other future products that Totalkare may introduce.
Says Managing Director David Hall (pictured, below): "Moving to the new premises, approximately four times the size of our previous site, is necessary to facilitate further development. The additional space gives us room into which we can expand, not just in terms of headcount but also our product portfolio and shop floor processes."
2020 marks 40 years since Totalkare supplied its first mobile column lifts to the UK market. Because of the coronavirus COVID-19 pandemic it has had to curtail some events it had planned to mark that milestone, but the supplier is hopeful that they can be rescheduled for 2021.
In the more recent past, Totalkare brought brake testers, headlamp testers, diesel smoke meters and galvanised mobile column lifts to its portfolio. Most recently it added vehicle inspection pits.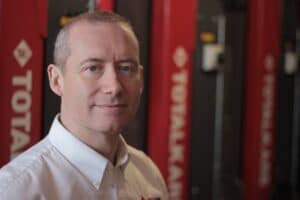 While the Kingswinford site represents an expansion in square footage, Totalkare has also grown its headcount with several key appointments.
A Product Manager has been recruited to identify and source products to complement the portfolio of lifting and testing equipment, and a new Sales Manager has also been appointed following a sales team restructure.
"Expanding and restructuring our sales team will enable us to give customers more attention and to respond swiftly to their needs, enhancing the excellent relationship we currently enjoy with them," adds Mr Hall.
The new premises come with additional office space. That has allowed staff to return to working 'in person' while observing social distancing requirements. Totalkare has also taken other precautions to ensure staff safety while on site.