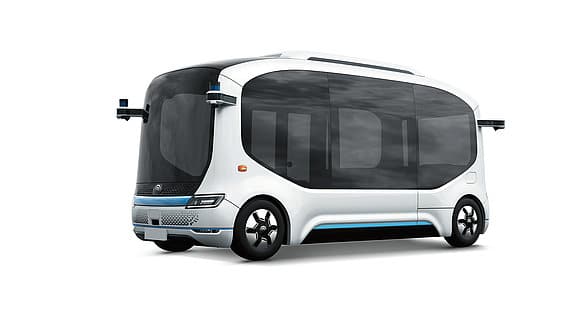 The Yutong Xiaoyu 2.0 autonomous small bus – which includes an intelligent voice interaction system to facilitate communication between passengers and the vehicle – has won a Red Dot Design Award. 
The Xiaoyu 2.0 autonomous bus combines "advanced design, autonomous driving, intelligent human/vehicle interaction and cloud control," says Yutong. Its construction has been inspired by a space capsule and the interior design is based on what the manufacturer describes as "the concept of a mobile reception room, using a corresponding colour and material mix." 
In making their decision, the jury noted: "With its futuristic yet appealing appearance, the Xiaoyu 2.0 is an autonomous public transport solution that inspires trust in passengers." 
Says Head of Yutong Bus UK Ian Downie: "This award recognises the innovation and design capabilities of Yutong, the world's largest coach and bus manufacturer. Some of the technology used is already benefitting UK operators, with enhanced safety features being fitted. 
"The continuous investment in research and design, with over 4,000 engineers working on different projects, will ensure that we are at the vanguard of coach and bus developments for our customers." 
The Red Dot Design Award is a German international design prize in several categories. Designers and producers have been able to apply for recognition via the scheme since 1955.