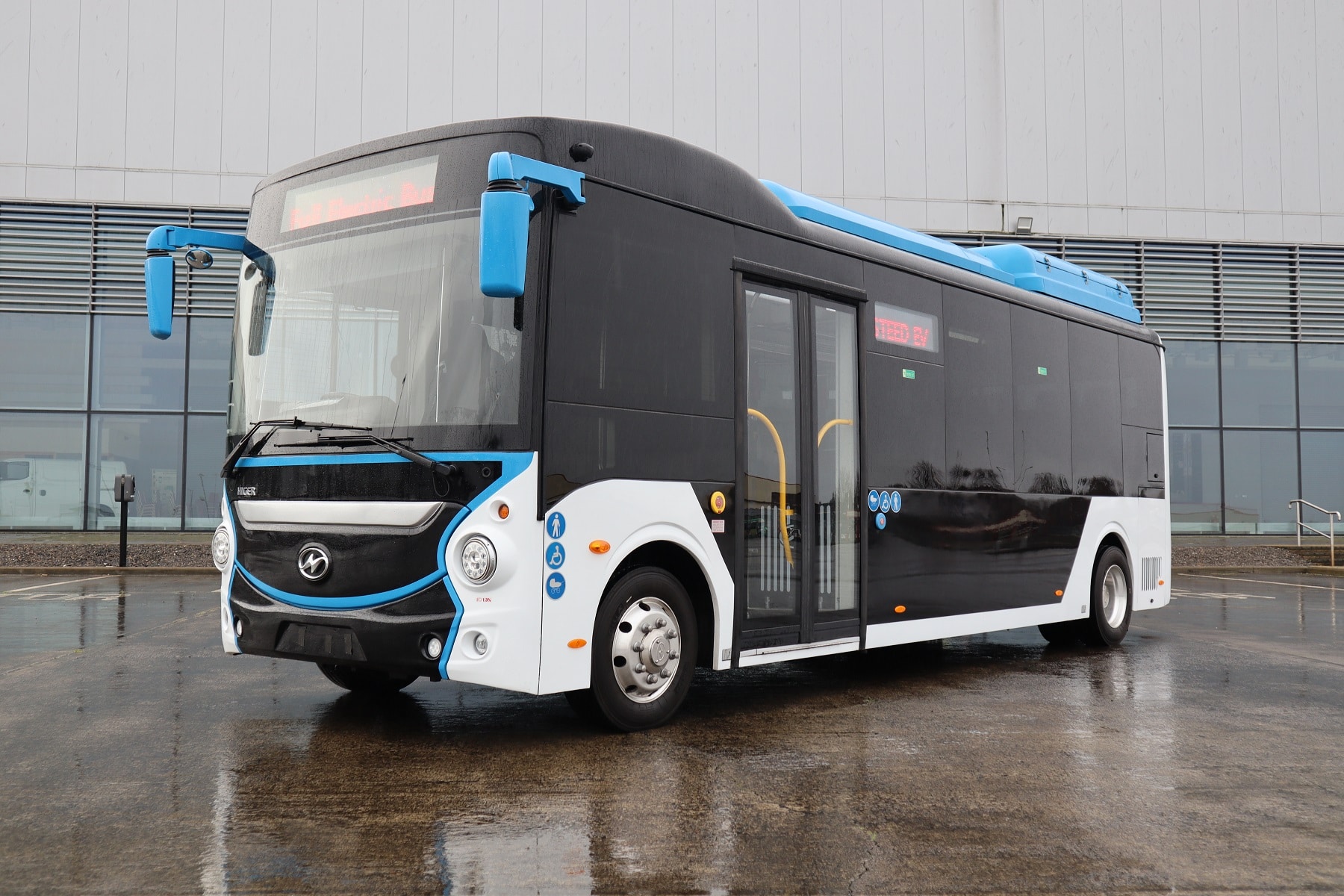 The Higer brand as a standalone product is accelerating its reach in the Irish market through both the coach and the battery-electric bus sectors. Importer Harris Group, based in Dublin, is now confident that such success will finally be replicated in the UK. Four Higer battery-electric buses are already in service with Brighton operator The Big Lemon and they are complemented by another that is currently being shown to potential buyers here.
All of those are from the Steed range. It is a compact mid-sized platform that offers maximums of 31 seats and 210kW/h of energy storage. Work to bring the Steed in line with UK and Irish requirements has been ongoing for the past two years, and it is available to a high specification for corporate shuttle and commuter work in addition to one that suits bus use.
Complementing the Steed is the full-length Azure, with 350kW/h of battery capacity. In demonstrator form the Azure seats 42, but Harris Group says that figure will increase to a maximum of 46 on future arrivals. In the battery-electric range the Azure and Steed will soon be joined by the Sima. It is set to be a maximum 22-seater that will be available as a high-floor minicoach or with a low-floor area to suit bus applications.
UK dealers for Higer range – including electric bus – soon
Harris Group already has premises in the UK. That facility is in Warrington and was established to support and service the Maxus van brand. The Cheshire centre will also back Harris Group's coach and bus range, but the Dublin business expects to shortly appoint the first of three dealerships that will sell and support its passenger-carrying products. Final negotiations were underway at the time of writing.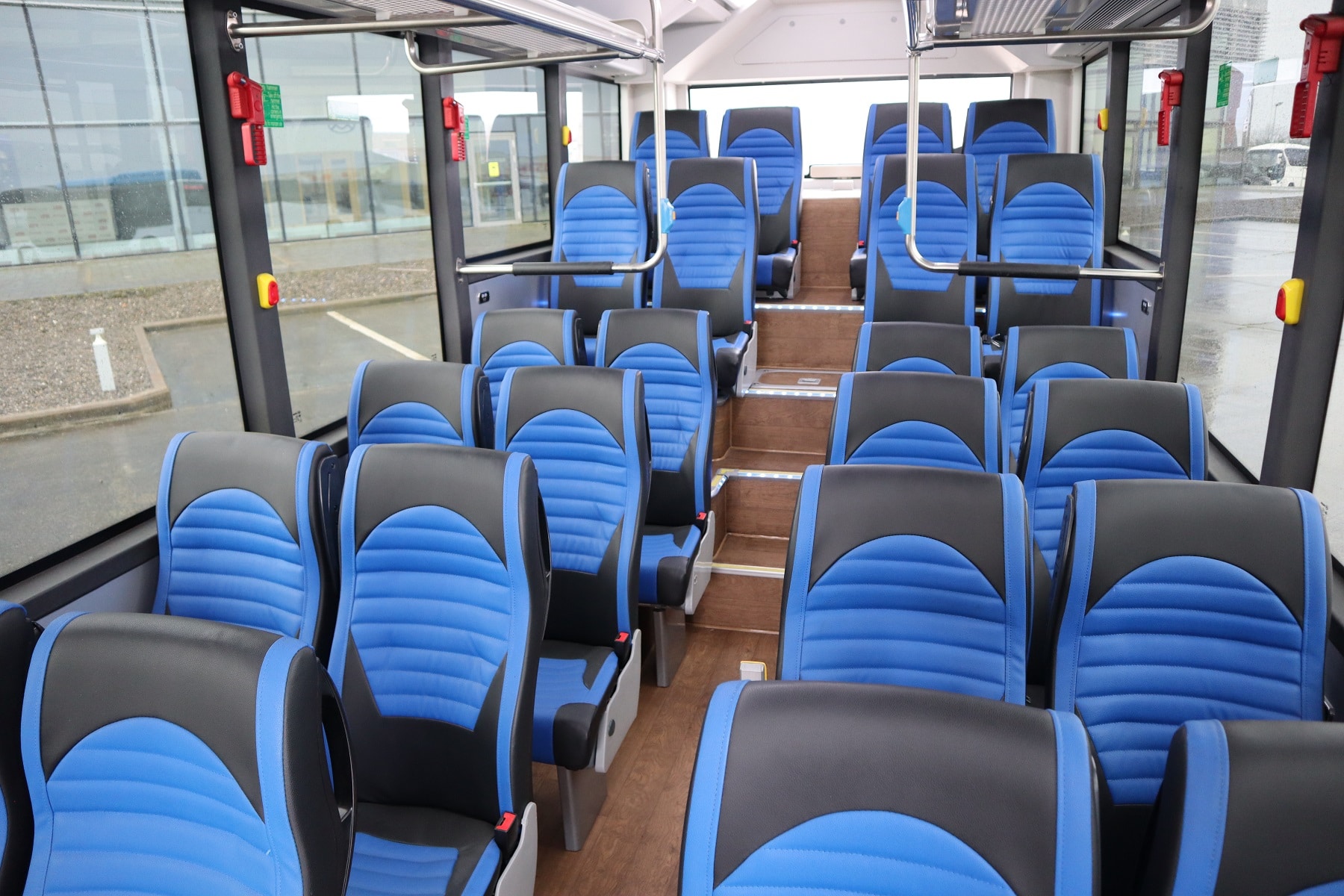 Diesel-powered coaches will also form part of the Harris Group passenger-carrying range in the UK through those dealers, but the company now regards fossil fuels as representing "a short-lived project," says Bus and Coach General Manager Chris Haughton.
Reflecting the shift to EV, diesel models will be available on a built to order basis. "The interest we are generating is predominantly in zero-emission," he adds. That will see examples of the Azure, Sima and Steed held in stock.
Arrival of the Harris Group coach and bus range here will represent the fruits of a long project. While the importer has sold a small number of those vehicles in the UK thus far, Chris points to Harris Group's approach with Maxus as something that it wishes to replicate with coaches and buses. "We launched Maxus in the UK with a small team, but it is now doing very well there. We expect to sell 7,500 vans in the UK in 2022. For battery-electric buses, we bided our time to develop vehicles that we believe will be accepted by UK buyers."
Higer Steed: Compact and well-appointed battery-electric bus
The Steed is already represented in the UK via those with The Big Lemon. It has a front-mounted steer axle and can be specified at lengths of 8m, 8.5m or as a 9m XL variant. Unladen weight is around 8,000kg and the Steed comes with either 174kW/h or 210kW/h of onboard energy storage. Charging across the battery-electric Higer range will be by DC via a CCS2 connector; the charger is included in the vehicle purchase price, Chris adds.
Several Steeds are currently on site in Dublin with over 30 more due to arrive soon. The latter will have an improved step arrangement to reach, and within, the high-floor area at the rear. On the 8.5m vehicles already with Harris Group, the previous such layout is rather steep. A single motor is fitted; when 174kW/h of battery capacity is specified it is from Prestolite and with 210kW/h, from Dana. Chris expects that Harris Group will standardise on one motor supplier for the Steed in the future.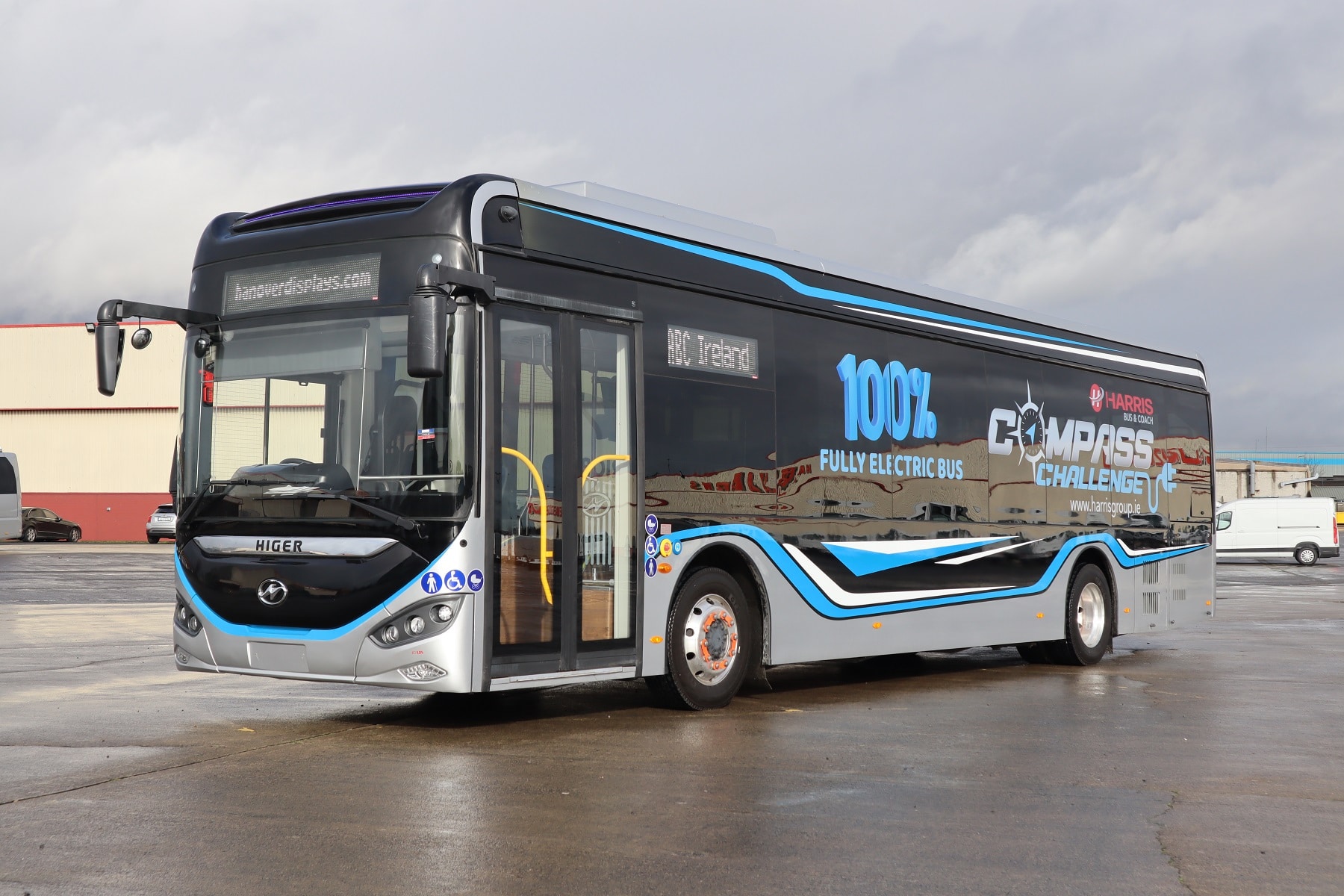 The Steed's wheel-forward arrangement means that the driver sits ahead of the door.
As a result, a cab seat that rotates via 45 degrees will be fitted to allow interaction with passengers.
Subsequent Steeds will also have an enhanced step arrangement for accessing the cab.
Steed suits variety of uses, says Harris Group
The 8.5m vehicles now in Ireland seat 26, but following 9m variants will have an extra row and five across the rear to give 31. Later 8.5m examples will take up to 27 and 8m models up to 23. In all cases, two positions are tip-ups within the wheelchair user bay; as that is immediately opposite the door, access is excellent.
In the bus depicted, Fainsa high-backed seats are fitted. They are finished in synthetic leather and have two-point belts, and there are USB charging points within the walls. Various other trim options will be available. Those include standard bus seats along with a VIP option to suit corporate work. Overhead luggage racks are standard within the saloon, but they can easily be removed.
On the road, the Steed drives nicely and has no shortage of power. The cab is well appointed, and it comes with heated glazing to the left and right. The dash and steering wheel adjust as one unit, although they would benefit from lifting higher to suit taller drivers.
Azure: City bus and corporate offering in the same package
Higer's Azure is targeted at the more conventional full-weight city bus market. That is where the demonstrator's specification sits. It has 42 low-backed Kiel seats along with USB charging points and wood-effect flooring, and room for 30 standees. As with the Steed, Harris Group believes that a market exists for higher-specification Azures that will suit corporate and commuter work.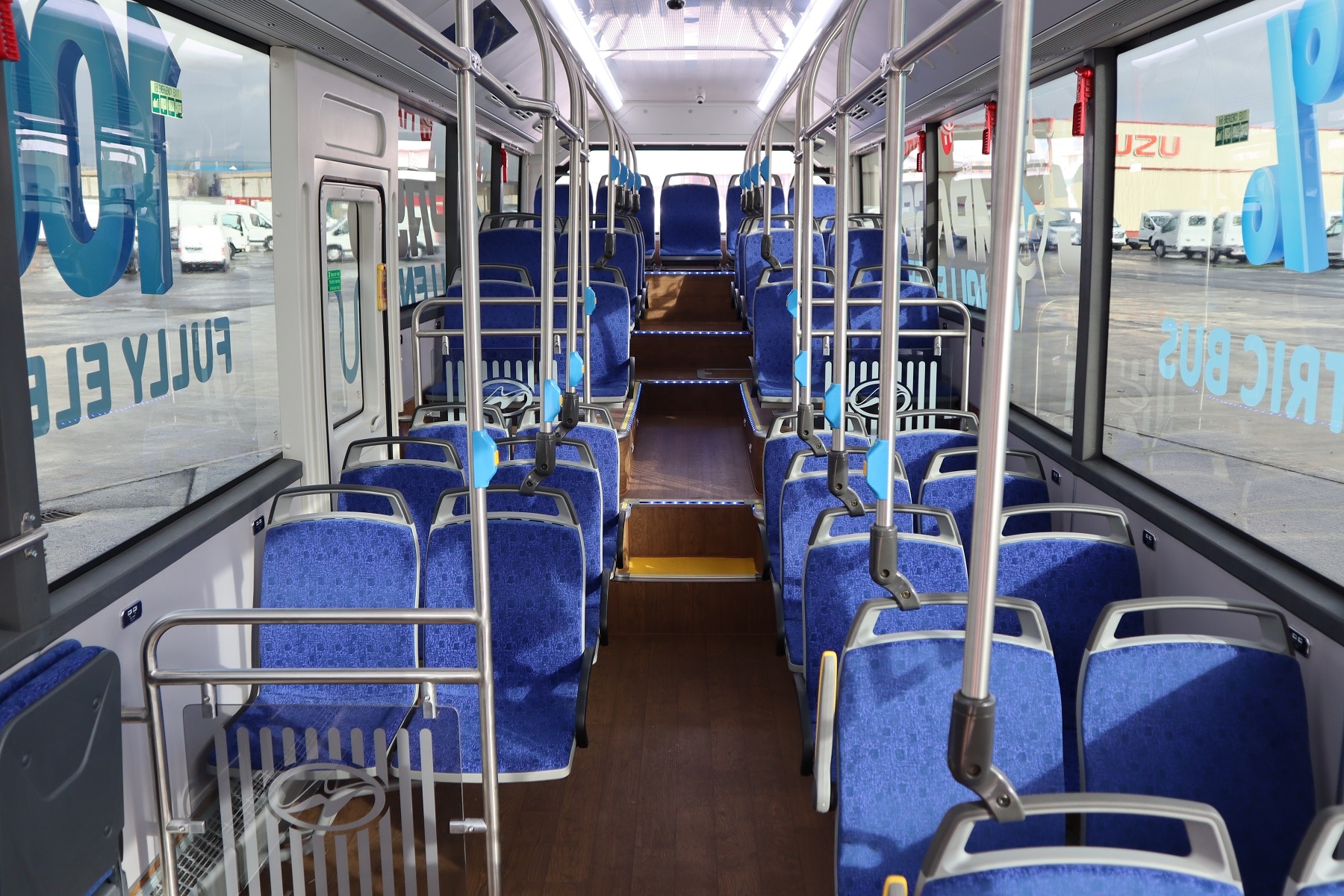 In common with the Steed, the Azure has a roof-mounted air-conditioning unit complemented by perimeter resistance radiators. The two models have batteries from CATL. The step arrangement at the rear of the Azure sees the floor level rise steeply. A Prestolite motor is fitted.
A brief drive of the Azure demonstrator showed that it is very similar to comparable models in its class. The small steering wheel – shared with the Steed – is swung easily. In addition to gullwing mirrors, the demonstrator also has a coach-style lower offside pane that arguably gives a better view that the higher-mounted mirror.
What is clear from both vehicles is that the battery-electric driveline used by Higer is highly refined. Motor whine is minimal to non-existent, while the interest that Harris Group is showing in delivering high-specification examples of each model will chime with an increased focus on shared commuter transport. An early announcement on dealers is imminent as Harris Group finally looks to cement its place in the UK coach and bus market.
Coaches also set to form part of Harris Group range in UK
In addition to its Higer battery-electric bus models, Harris Group is performing strongly in the coach segment in Ireland. Its products in that sphere will also be rolled out to the UK, with what it describes as "a diverse choice" to include the AOS Toro, an 8.6m 33-seater with a mid-mounted Cummins ISB4.5 engine.
Harris's other AOS offering is the 9.5m Visigo. It can seat up to 37 and will be available with PSVAR compliance. Of a similar size is the Higer Super 9, which shares the Cummins ISB6.7 engine and ZF EcoLife gearbox with the Visigo. It goes to a maximum of 41 seats and is also available as PSVAR compliant.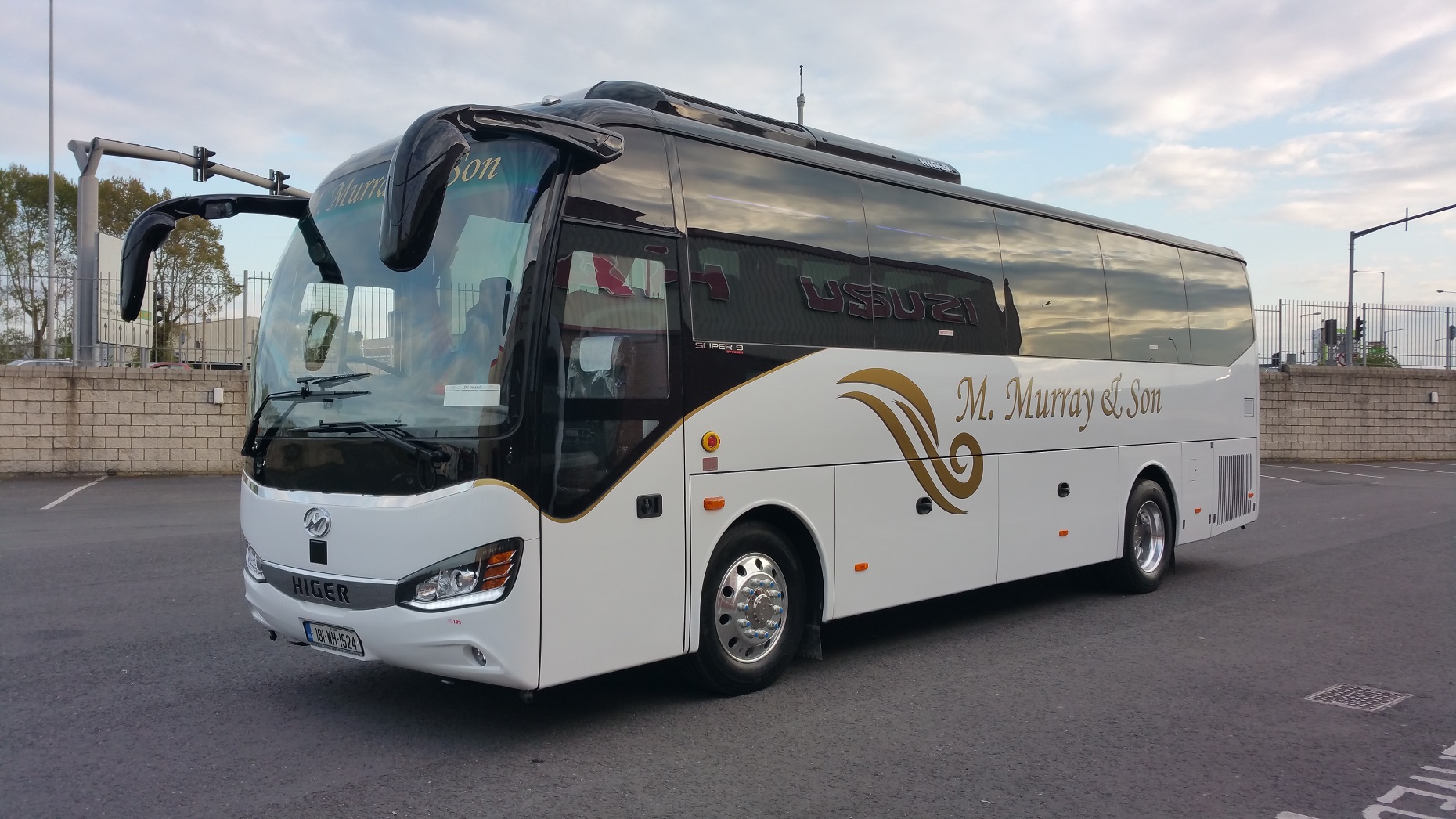 Harris has placed 76 Super 9 midis into the Irish market. This model is complemented by the Higer Pegasus, a Cummins ISL-powered full-size coach seating a maximum of 55.
The dealer has also extended its Iveco Daily based line-up over the past two years. Those coachbuilt models are bodied by Turkish company Tekaydinlar, and they form the 8,050kg GVW Crusader X33 range. The midicoach variant is high-floor and offers a maximum of 33 seats, including a courier position. It can be prepared for PSVAR compliance.
In low-floor format, the Crusader X33 again has up to 33 seats. A compact wheelchair user area is opposite the wide doors. It is available to suit bus work, or a mixed-use application with high-backed seats. Harris has already seen success with both high- and low-floor variants of the Crusader X33 in the Irish market.
In conjunction with the UK dealerships to be announced shortly, all the above models will be available across the Harris Group network, Chris adds.