Wholesale electrification of bus fleets will come in stages. Formation of partnerships with suppliers and the introduction of infrastructure and first vehicles is part of an opening round that will be followed by more of both as thoughts broaden to a wider transition.
Newport Transport was among the first operators outside London to get beyond the early adoption phase. It has 32 Yutong E10 and E12 battery-electric buses. 12 more will come by early 2023. When the latter enter service, the operator plans that its 'city' fleet will be entirely zero-emission.
More difficult applications will follow, but the business already has a roadmap that Managing Director Scott Pearson is confident will ultimately deliver a comprehensive shift. Such work moved ahead recently when Newport Transport signed for its 50th Yutong battery-electric vehicle.
Additional to the 44 E10s and E12 will be four TCe12 coaches and a pair of U11DD double-deckers. The latter are the first ordered by a UK buyer. Their construction will come after completion of durability testing on a seed UK-specification U11DD in China
Fleet-wide bus electrification is endgame for Newport Transport
Already known is the importance placed by Newport Transport on partnership with key suppliers Pelican Bus and Coach and Zenobe. That work helped it to win the Environment Award at the 2022 routeone Awards and has already enabled the business to procure battery-electric buses without external funding support.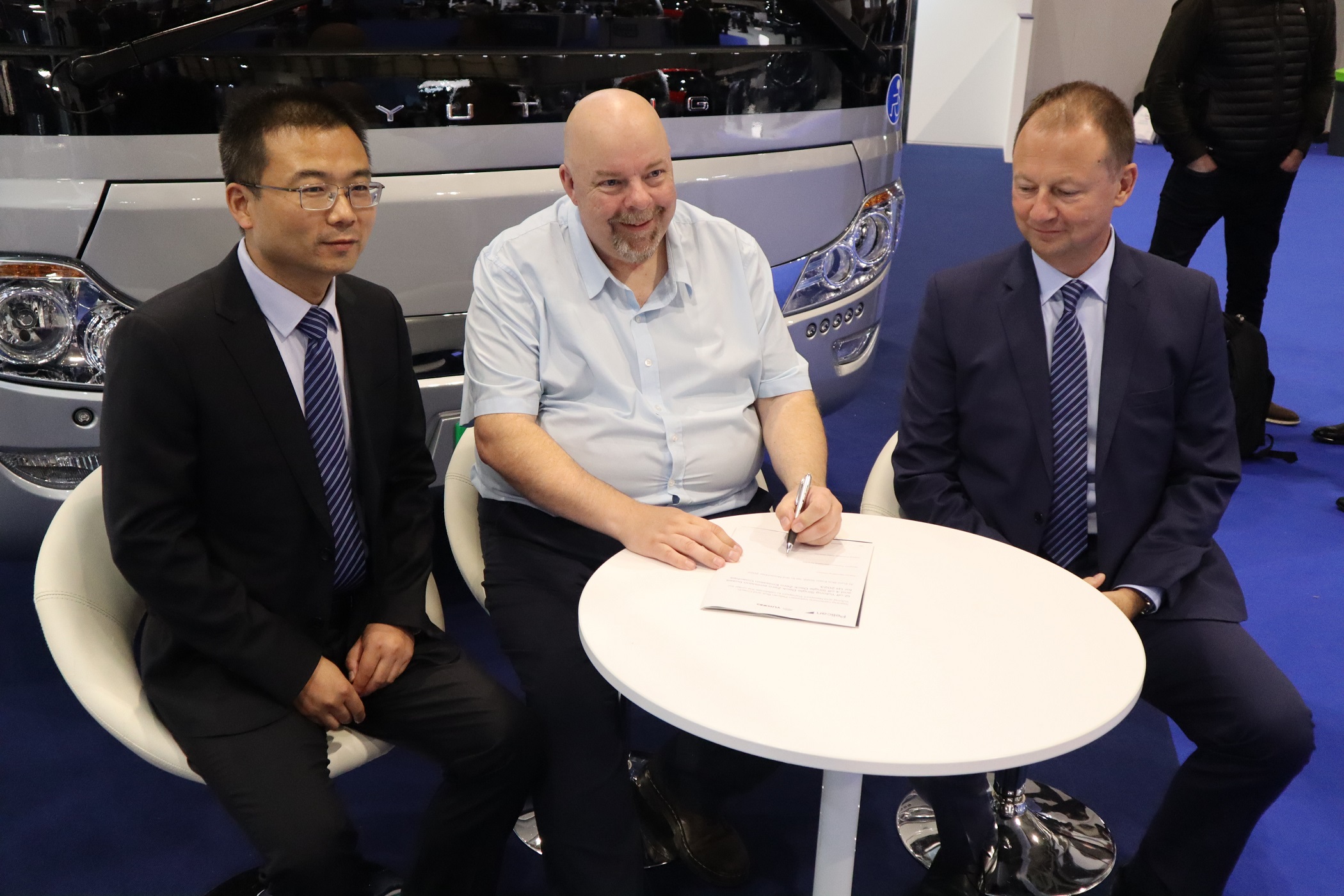 Of Newport Transport beyond its urban routes, two electrification aspirations are in place.
By the end of 2026, the operator wants all its public services – including longer-distance routes to locations such as Cardiff – to go zero-emission.
Beyond that, by 2028 it hopes to add buses used on home-to-school duties to complete transition of the registered network.
City services on battery-electric are now a known quantity in Newport. The first Yutongs entered service over two years ago and they have proved highly successful. In preparation for subsequent developments, the operator will switch on a 2MW grid connection to its depot this month in readiness for 67 chargers having been installed by the end of the year.
Approach to battery charging is developing
As knowledge of how to operate battery-electric buses effectively and efficiently has developed, so has the approach to charging. Newport Transport now observes a 'power what you need' approach. That involves allocating buses to the next day's work before charging begins and replenishing batteries only to the level required, plus a margin.
"Some buses go out in the morning with 60% charge, because that is what is needed to complete the day's schedule," says Scott. He adds that such a strategy conserves overall battery life. Its rollout by Zenobe is "a good thing," but does it constrain the ability to swap buses onto different duties during the working day? Possibly, although he adds that Newport Transport has worked with drivers to minimise auxiliary energy use in periods of disruption caused by heavy traffic.
No traction power is consumed by the buses when stationary, while drivers have been educated in – and, most importantly, subscribe to – various means of minimising usage, including by turning off air-conditioning and some lighting when appropriate.
"We have trained staff how to maximise the range and they are acting on it," Scott adds.
Scope beyond that is more challenging. Longer-distance services will need a different approach to achieving the necessary range. Electrification of home-to-school routes comes with economic challenges for vehicles that see relatively low utilisation – although that usage profile may also be an opportunity, Scott suggests.
Repower possible for school bus fleet electrification
For interurban services, high-power charging during the operating day is likely to feature. Two 150kW chargers will be installed at the depot by the end of this year. Scott notes that they will be needed for a daily top-up on high-mileage duties. Other work may also factor into the electrification of such routes.
For home-to-school services beyond 2026, repower of existing diesel buses is a possibility. The economics of such routes mean that new stock is unlikely. Scott has given some thought to how a repower approach may work. He explains that it could sit well with the utilisation profile of a school bus.
That theory states that a battery-electric vehicle in such an application could require energy storage only to deliver a 100-mile range, reducing the volume and cost of the batteries needed. Idle time during the middle of the day would allow those buses to charge then without impacting peak infrastructure demand.
Delivery of any such work is a way off. Scott is of the view that the repower market is not yet fully mature. But he believes that "the numbers will stack up" with leverage of existing infrastructure, a modest battery requirement, and low vehicle utilisation.
When that roadmap is combined with Wales' first battery-electric coaches as the TCe12s arrive in 2023, scope for whole-fleet electrification becomes clearer. Newport Transport plans to use those coaches on private hires locally and regionally, and to London, where charging is likely to be at the premises of another operator of the type. Interest in zero-emission on private contracts is also growing. When all is combined, a path away from diesel already exists in this part of South Wales.