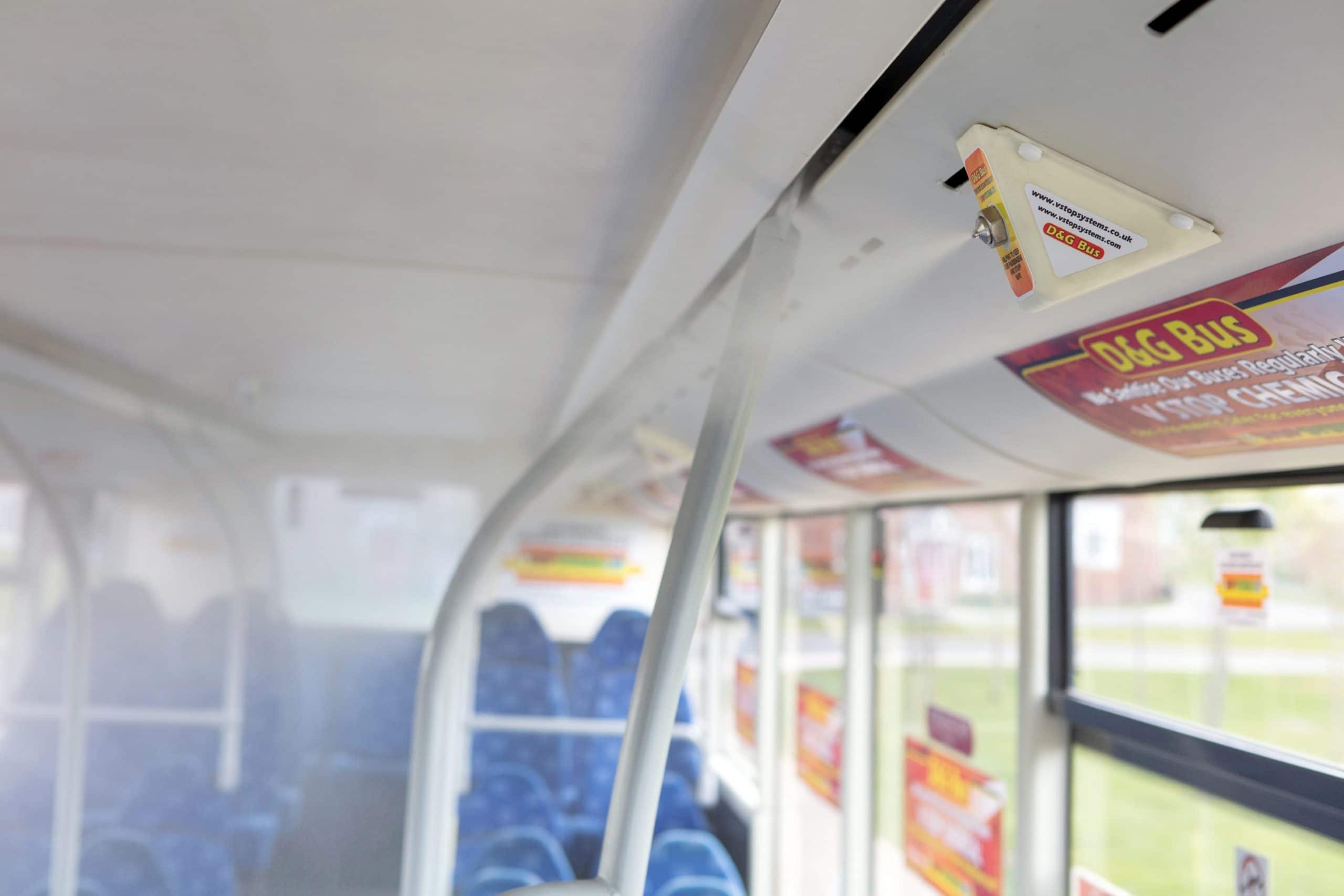 Restoring customer confidence to a level that allows them to use coaches and buses in the same way that they did before COVID-19 is a key consideration presently. That has been one of the primary drivers of development of the V-Stop automatic cabin disinfection system. 
The sanitising fluid used in V-Stop is an alcohol-free solution. It is made in Stoke-on-Trent by Future Developments Manufacturing and, says that business, kills up to 99.99% of viruses and bacteria "within seconds." 
The concept of V-Stop is simple. Atomising dispenser nozzles are mounted in a suitable non-intrusive location within the vehicle. They are connected to a sanitising fluid reservoir. The operator decides at what time of the day it wishes V-Stop to activate. That is programmed into the ECU. The system is then left to do the rest, providing a consistently clean environment for customers and drivers. 
That is a simplified description of how V-Stop works. The reality is slightly more nuanced, as shown by the first vehicle to be fitted with the equipment. An Optare Metrocity in the Stoke-on-Trent-based D&G Bus fleet has been used to develop the installation. In that application, it comes with an option for the driver to engage the system when leaving the bus. 
Another member of the D&G fleet – an Alexander Dennis Enviro200 – is being used to develop the installation for that vehicle type. Supplier V-Stop UK is confident that it can configure the system to work in any PSV, be it a coach or a bus and including double-deckers. In coaches, it is likely that piping dedicated to V-Stop will be installed, rather than utilising existing air-conditioning ducts. 
V-Stop: Water based and highly effective, says supplier
The fluid is 80 times more effective than bleach, V-Stop UK confirms. It is water based and stored in a refillable canister that is concealed in a suitable secure location. On the D&G Metrocity it is within panelling at the extreme rear.
The atomising nozzles that dispense the sanitising mist are part of durable fixings. On the Metrocity, three are mounted on the nearside coving panels. V-Stop UK estimates that on a daily disinfection cycle, a single-decker will use between five and 10 litres of fluid per month. 
Future Developments Manufacturing adds that the atomised fluid is dispensed at a suitable size to treat the whole of the cabin. The dispensing action engages only when the bus's master or ignition switch is off. That is to prevent an inadvertent activation when driving. 
V-Stop UK can programme how long the system engages for, but it advises that 20sec is long enough. The button for a shorter manual activation is optional; the supplier says a single daily treatment will keep vehicles virus- and bacteria-free, but it notes that the ability to sanitise the saloon when leaving it for a period may help with staff confidence in cleanliness. 
Monthly subscription pricing package for V-Stop product
Pricing for the system, maintenance and fluid refill work is rolled into a contracted monthly subscription. 
Pipework is insulated and the system is not pressurised. Instead, compressed air from the bus's supply is used to disperse the solution. V-Stop UK says that were the equipment to be fitted to a minibus with no compressed air system, an alternative method of dispersal would be incorporated. 
It claims that one of the benefits of an automated sanitisation system is that it removes the risk of human error when vehicles are treated manually. An autonomous solution also removes the paid time required for manual treatment, the company adds. 
Further developments may include linking the treatment system to the operator's app, allowing customers to see when the vehicle was last sanitised. Depot staff and drivers are informed that it has been treated by a small LED light above the door. It illuminates green after the system has engaged. 
Operator's view: The importance of being seen to be clean
D&G has already improved the sanitisation of its buses. Additional resource for that includes two cleaners that treat vehicles during the operating day, says Operations Director Kevin Crawford.
He notes that conveying to customers that its buses are safe will be one of the most important parts of rebuilding patronage after some unhelpful government messaging early in the pandemic. 
"For a long time, the narrative was to avoid public transport. Now we need to convince staff and customers that it is safe," he explains. "The present time is good for something like V-Stop to come along as we are working hard to bring people back to our services." 
Kevin adds that D&G was "very happy" to assist V-Stop UK with development work. The Metrocity operates from its Adderley Green depot and it has received signage to demonstrate to customers that it is regularly sanitised. That includes a large floor sticker within the doorway. 
"The main thing for us is getting the message to customers that we are regularly sanitising our buses," he continues. If V-Stop were adopted across the D&G fleet, Kevin notes that it is likely that 0200hrs would be the time that it engaged each day. 
V-Stop UK says it is in talks with bus and rail operators, as well as those of ambulances and commercial vehicles, about installing the technology.