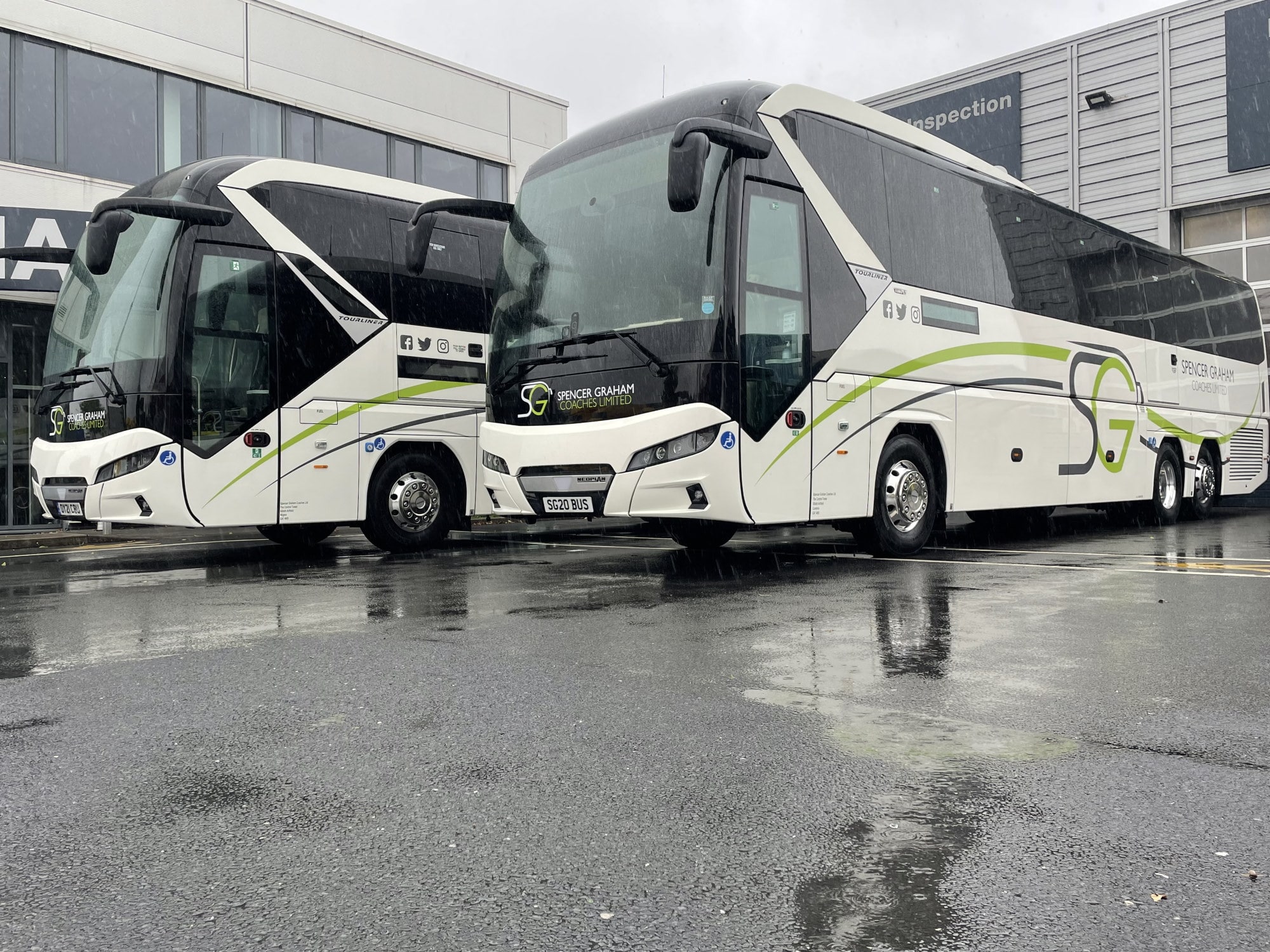 Spencer Graham Coaches of Silloth in Cumbria has taken delivery of two new Neoplan Tourliner coaches from BASE coach sales and MAN Truck and Bus.
The vehicles are a P12, with 51 seats and a P20 with 55 seats.
The 12.1m P12 is powered by the 12.4l, 430bhp MAN engine and is fitted with a ZF Ecolife gearbox. The 13.4m P20 tri-axle comes equipped with active rear steer and is powered by the 12.4 litre, 460bhp MAN engine, and is fitted with a 12-speed ZF Traxon gearbox.
Both vehicles are fully PSVAR compliant with conversions carried out at BASE coach sales' MOBIPeople factory in Portugal, and will be put to work on tour and rail replacement duties. Lifts are integrated into the void above the wheel arches, to minimise impact on luggage space.
The P20 has already seen duty on the wedding of Spencer Graham Coaches Director Ricky Robinson on his wedding day to wife Emma.
Retail Coach Sales Executive at MAN Truck and Bus UK, Chris Hunt, says: "We are delighted Spencer Graham Coaches has chosen Neoplan for its ongoing fleet upgrade.
"The coaches will be very versatile with the PSVAR conversion being ideally suited for rail replacement use but also with the luxury and finesse required for private hire and tour use."
Adds Mr Robinson: "We are very happy with the build quality and the operational performance of the Neoplans in terms of fuel efficiency, drive quality and the passenger comfort they provide. The coaches have exceeded all expectations,  both passengers and drivers love them.
"The opportunities that have already arisen due to our fleet upgrade programme, through upgrading to Euro VI and our commitment to becoming PSVAR compliant, has been great, future proofing our family-run business and enabling us to continue to move forward."