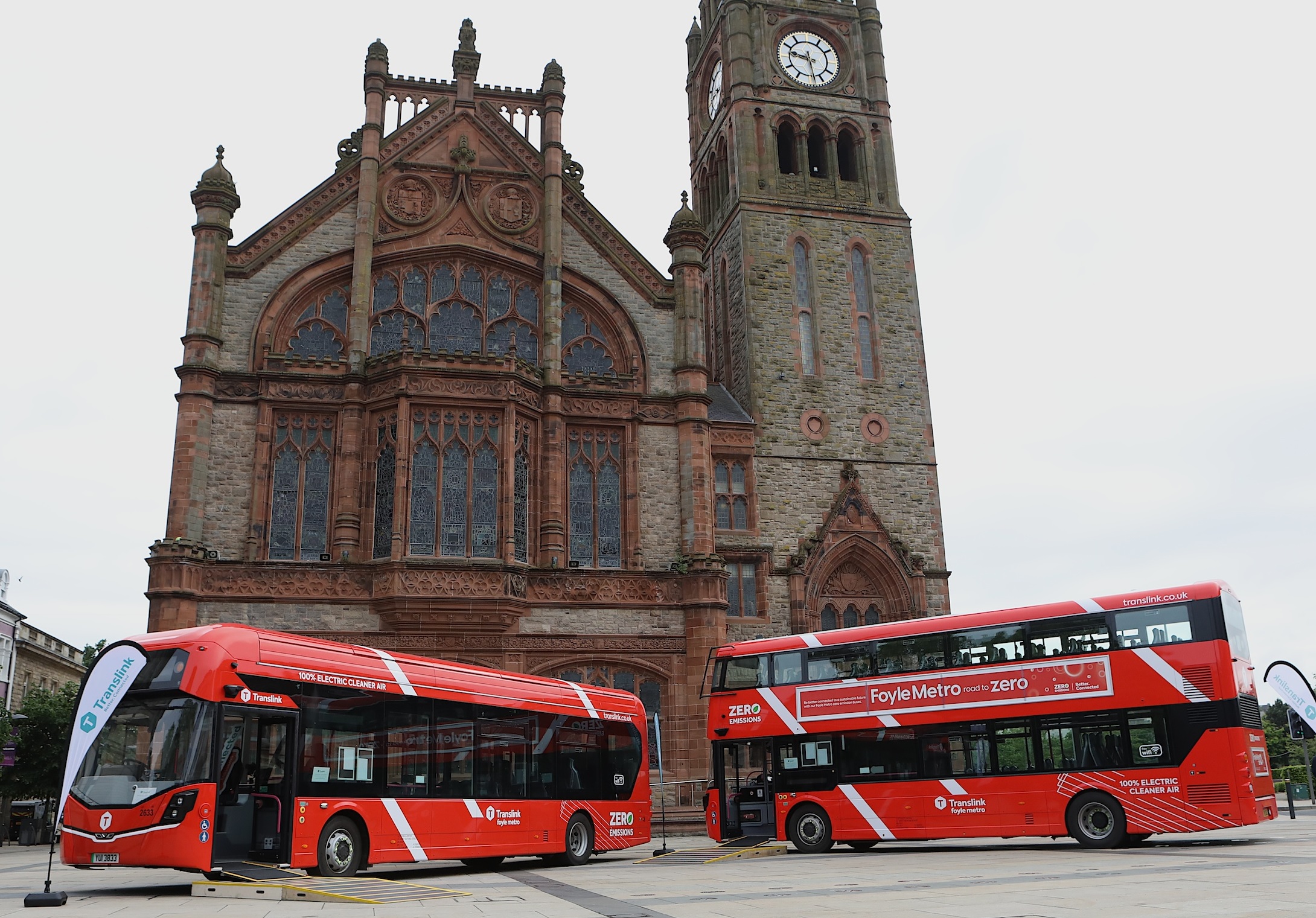 Translink has used a public event to show the first examples of its battery-electric buses for the Foyle Metro fleet in Derry. 38 of the Wrightbus vehicles – a mixture of 28 GB Kite Electroliner single-deckers and 10 StreetDeck Electroliner double-deckers – will take to the road later this year and convert the city's urban bus fleet to zero-emission.
Ahead of service entry, 22 charging units are being installed at Translink's Pennyburn depot in Derry. They will allow 44 buses to be charged each night. Provision for a further 19 bus charging stations will form part of that work, which is being carried out by civil engineering contractor Farrans.
All 38 buses of the delivery are to Translink's latest fleet standards. They will have high-backed seats finished in synthetic leather along with USB charging and wi-fi. They will also be equipped with audio-visual next stop announcements.
Rear-view cameras in lieu of mirrors have been specified and the fleet will have an acoustic vehicle alerting system to enhance safety at lower speeds. The StreetDeck Electroliners will come with glazed A-pillars on the upper deck.
Speaking about the Foyle Metro battery-electric buses' debut, Translink Director of Service Operations Ian Campbell says: "We are pleased to have the opportunity to showcase this new fleet. I would like to extend a huge thank you to everyone who came along, and to the Department for Infrastructure for essential funding to deliver these new buses."
The battery-electrics for Foyle Metro sit alongside other zero-emission orders placed by Translink for both Belfast Metro and Ulsterbus services. All will be built by Wrightbus.