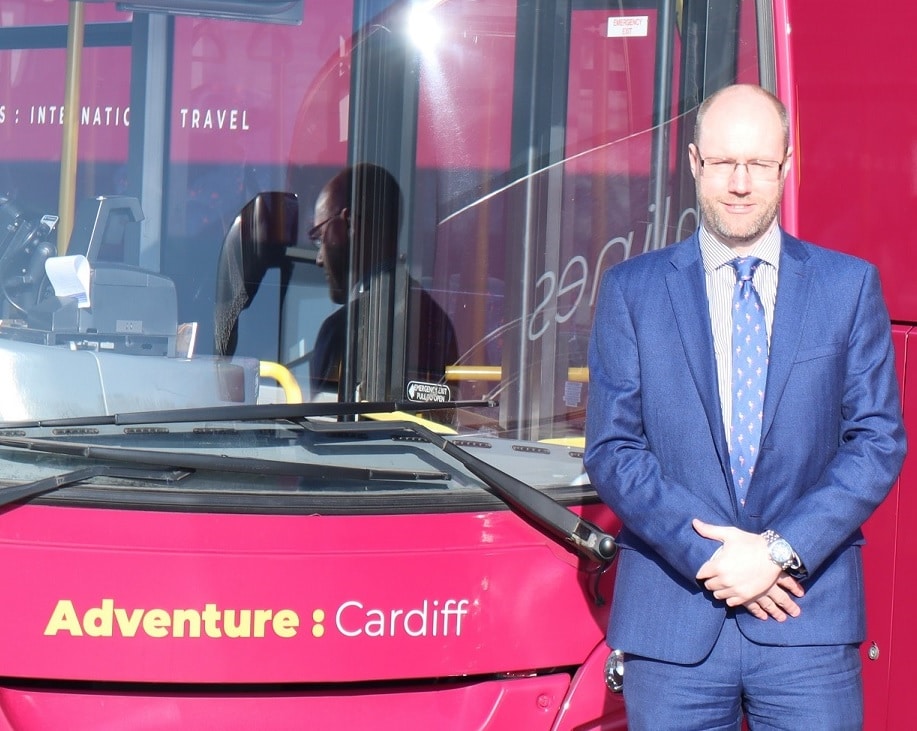 Proposals for reregulation of the bus network in Wales have the potential to work and become "a good news story," but more clarity and detail is required before they can be fully understood and considered by many stakeholders, a Cardiff-based operator has said.
Adventure Travel Managing Director Adam Keen (pictured) says the business supports the proposals, which he calls "not unexpected."
However, Mr Keen has urged no underestimation of the funding that will be required to deliver on the Welsh Government's aspirations. Adventure Travel is part of ComfortDelGro, which through its Metroline business is active in the regulated London bus market.
"The initial franchising plans are obviously in the early stages of development, but there are 'holes covered by twigs' where funding and investment is concerned," he says. "Running a franchise model for a local authority is an exceptionally expensive process. One only has to look at the Transport for London model and the recurring funding issues that it has experienced to get a feel of how precarious it is."
Mr Keen expects that any franchising model in Wales, if implemented, would not be in place "until at least 2026, given the enormity and complexity of the task ahead." That would leave uncertainty on what happens in the meantime, he says. In addition, investment in zero-emission buses is a concern; no Welsh Government funding schemes to support their introduction are in place, but such a transition is prominent in ministers' aspirations
Engagement with bus operators by the Welsh Government is an important part of developing how bus services in Wales are delivered in the future, Mr Keen adds.
"The amount of consideration, time and data analysis that goes into something as simple as a fare change is not clearly understood by most people. Thus, I urge decision makers to involve operators in building a model for Wales that is affordable, sustainable and deliverable. If the Welsh Government gets this right, it can ultimately be a good news story, not just for existing bus customers but also for new customers, too."
Read the Welsh Government's consultation on bus reregulation in Wales here.