Long-term government funding settlements for the bus industry and an expansion of the powers of city region local transport authorities (LTAs) are required if services are to recover from the coronavirus COVID-19 pandemic, the Urban Transport Group (UTG) has claimed.
The current approach of short-term emergency funding mechanisms "risks accelerating the spiralling decline of networks and ramping up car use," UTG says in a report, Building back better on urban transport. UTG explains that existing difficulties created by short-term funding arrangements have been "dramatically exacerbated" by the emergency support awarded to cover revenue gaps created by coronavirus COVID-19.
It says that if such funding streams are scaled back or withdrawn prematurely, there is a risk that services will be affected significantly. That would go against the government's previously stated aims for buses and decarbonisation, UTG adds.
Spending Review 'must deliver long-term bus funding', says UTG
While the COVID-19 Bus Service Support Grant Restart fund in England is open-ended, the government is obliged only to serve an eight-week notice of its termination. The current emergency measures to support bus services in Scotland expire on 8 November.
To tackle those issues and others, UTG is calling on the government to utilise the forthcoming Spending Review to adopt a new approach to funding local transport. It wants to see city region LTAs given long-term financial certainty, and enhanced powers that will prevent them from being "constrained bystanders" to decline as the pandemic runs its course.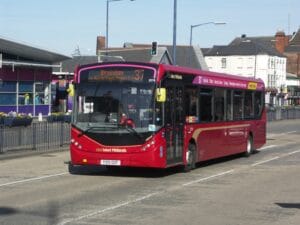 UTG additionally highlights an opportunity under its proposals for buses outside London to be placed on a similar footing to the current emergency arrangements for rail services.
That would involve "further streamlining" of legislation to allow LTAs to either continue existing arrangements with operators or to transition to franchising. "Direct provision" of services is also raised in UTG's proposals.
Competitive funding mechanisms 'are inefficient', report claims
The report says that in addition to an over-reliance on short-term financial support for urban transport, there has also been an excessive focus on "a shifting mix of ad-hoc competitive funding" for other grant streams.
Such a practice delivers inefficiencies both for those bidders that are successful and for those that are not, the Group says. UTG claims that millions of pounds are wasted by putting together rejected submissions. The process also creates peaks and troughs in spending, which makes projects more expensive, it adds.