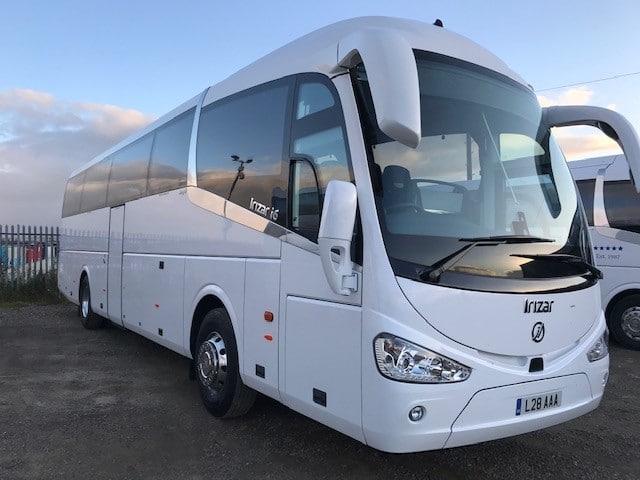 AAA Coaches has taken delivery of an Irizar i6 integral that is PSVAR compliant. The 12.2m, 53-seat coach comes with a Masats KS7 lift and two removable seat pairs to allow the carriage of one wheelchair user. It has been supplied by Irizar UK.

The coach has replaced an older vehicle from another manufacturer. Its arrival in the 28-coach Edinburgh fleet is timely as the operator finds the bulk of its work switching to home-to-school and rail replacement duties in place of its usual diet that is made up largely of third-party tours. 
"We are lucky in that in more normal times, we have a diverse base of work," says Manager David Maloney. "While we are still doing some tours, it is predominantly schools and rail replacement now. PSVAR is an important requirement." 
Purchase of the new i6 integral "sends out an important message: In spite of everything, we are still doing OK," adds Mr Maloney. He notes that while AAA remains committed to running "the best coaches on the road," the impact of the coronavirus COVID-19 pandemic means that it has had to adopt a more rigorous approach to analysing what it does and what it spends. 
"We know that our major customers look at our competitors. If we run the best coaches, we are placed to get the best work." AAA Coaches carries out most routine maintenance work in house, and the Irizar i6 integral's accessibility in that regard is a further positive. 
The coach comes with drop-down tables, a centre sunken toilet, a drinks machine and a comprehensive entertainment system made up of a Bosch Smart Series audio unit, an Actia DVD player and twin monitors. 
Power is from a DAF MX-11 engine rated at 367bhp coupled to a ZF EcoLife automatic gearbox. The DAF/ZF combination has performed very well for the operator, Mr Maloney adds.