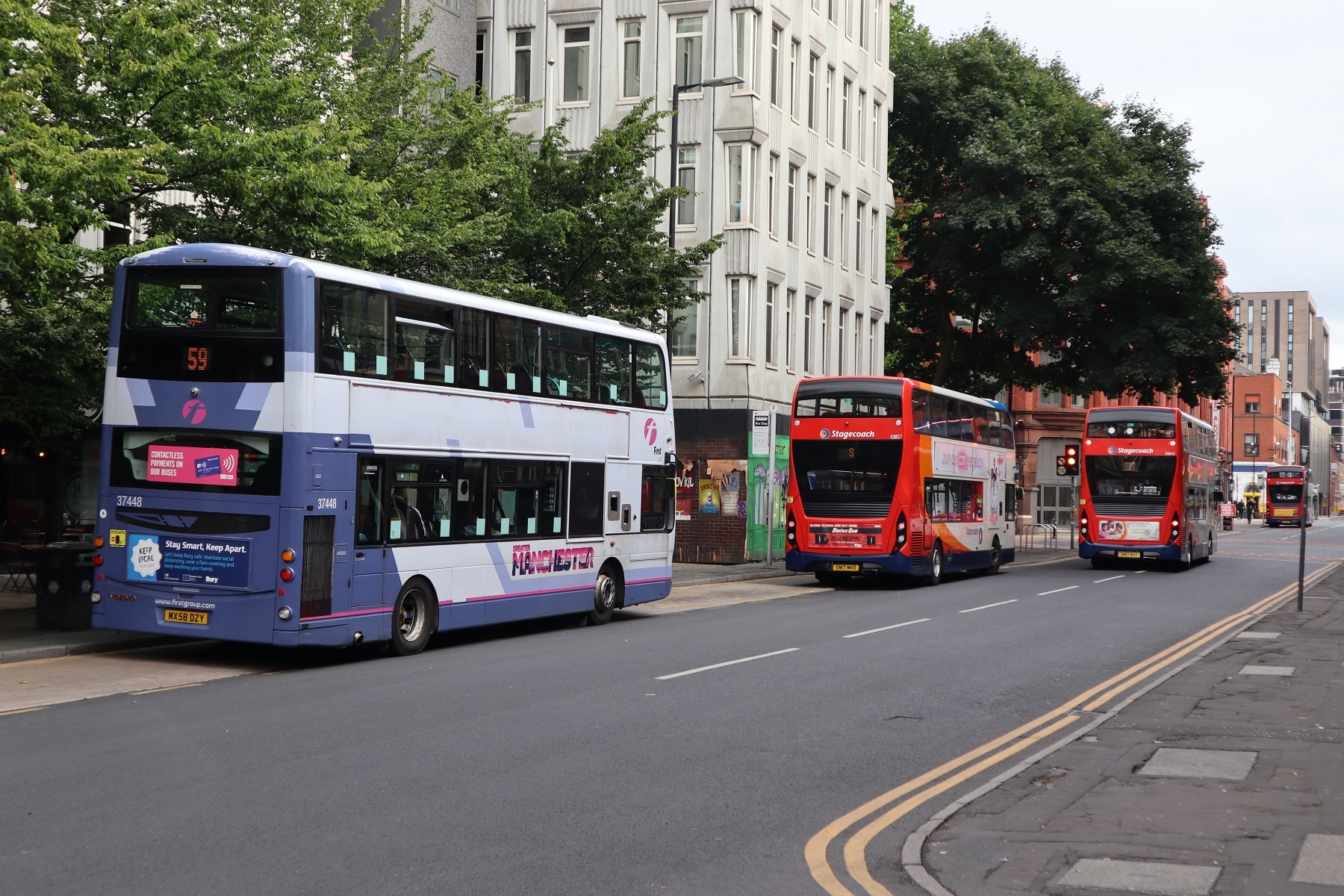 Bus franchising will be introduced in Greater Manchester after Mayor Andy Burnham decided on 25 March to proceed with the measure. His decision represents what latterly had become an inevitable conclusion to multi-year proposals for reregulation of buses in the city region after two public consultations returned huge support.
Mr Burnham's rubber-stamping of franchising follows a meeting of the Greater Manchester Combined Authority (GMCA) on 23 March (video). At that gathering, representatives of local authorities in the conurbation voted 9-1 to recommend its introduction to Mr Burnham. Only Bolton Council voted against it.
Bus franchising will allow GMCA to set routes, timetables and fares. GMCA says that reregulation will be introduced in phases. The first, in early 2023, will capture services in Bolton and Wigan. Rollout across the city region will be complete by the end of 2025.
Reregulation approved despite two Judicial Review calls
The decision to progress with franchising has come despite two Judicial Reviews of the consultation process being sought, by Rotala and Stagecoach.
At the 23 March meeting, GMCA and Transport for Greater Manchester Chief Executive Eamonn Boylan acknowledged both Judicial Review claims. But Mr Boylan adds that "officers are satisfied that the requirements of the legislation have been met and that there is no impediment to [GMCA] reaching a conclusion and making a recommendation."
In a response to the decision, Stagecoach quickly reiterated its belief that the consultation process has failed to meet the standards required by law on proper process, evidence and analysis.
It says it is "disappointed and surprised" thar Mr Burnham has moved forward with franchising and not waited "a short time for the outcome of the Judicial Review process." Stagecoach has also again questioned the validity of spending £135m of public money on the transition process.
At the 23 March meeting, Mr Boylan accepted that franchising would have "some detrimental effect" on bus services that cross the Greater Manchester boundary. GMCA "would seek to mitigate" that as far as possible. "It is nonetheless considered on balance that it is in the public interest to make the Proposed Franchising Scheme," he told GMCA members.
Burnham: Bus franchising decision 'just the start of our journey'
On his decision that franchising will go ahead, Mr Burnham says: "Bringing buses into local control will be the biggest change to Greater Manchester's buses since deregulation in 1986. But as with all change for the better, it will take time. It won't happen overnight, and we are just at the start of our journey.
"I hope that the people, businesses and communities of Greater Manchester come with us on the journey so we can create a joined-up public transport network that works for the benefit of passengers and our city region."
While First Manchester, Rotala and Stagecoach Manchester have vehemently opposed reregulation of buses in Manchester, other operators support it. A report into both consultations outlined that Abellio, Keolis, RATP Dev, Transdev Blazefield and Warrington's Own Buses were among those parties. Go North West's most recent position advocates a three-stage transition to franchising.