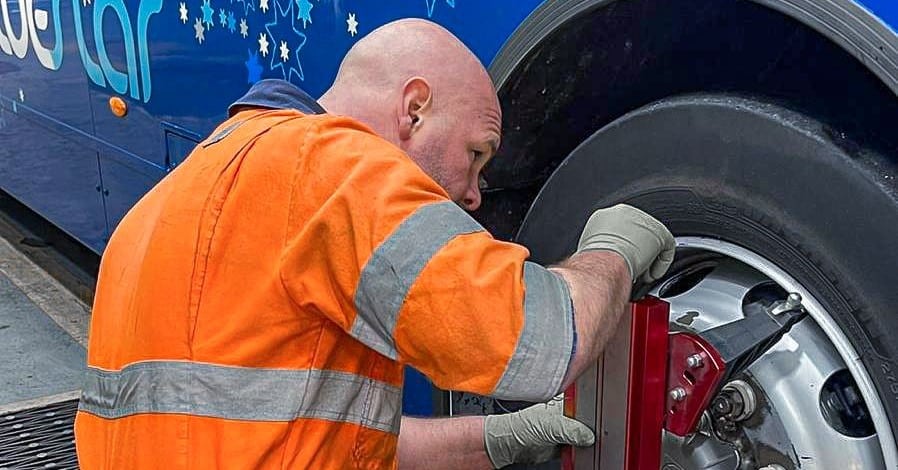 Go South Coast has invested in Josam cam-aligner kit from Automotive Equipment Solutions (AES) to cut down on subcontractor costs and improve accuracy of wheel alignment.
The operator, which runs 150 bus routes in Dorset, Hampshire and Wiltshire, was using a sub-contractor to carry out about 60 wheel alignments per month for its fleet of 800 buses.
It then approached AES, who provided free trials of their equipment, before purchasing one Josam cam-aligner upgrade kit for each of its depots in Eastleigh, Isle of Wight, Poole, and Salisbury. The machinery is specifically designed for commercial passenger vehicles and, according to AES, allows engineers to complete wheel alignment services quickly and accurately.
Go South Coast also opted for AES's integrated, military grade tablets, which allow live adjustment data to be seen digitally from the inspection pit.
Steve Hamilton, Engineering Director for Go South Coast, says: "We regularly look at ways to increase efficiencies and that includes analysing our highest spends with sub-contractors. It became apparent to us that doing our own wheel-alignments had the potential to save us money. However, our in-house equipment was designed for older buses and would simply not give us the accuracy we needed on newer ones."
He adds: "As part of the process we did a cost-benefit analysis based on the contractor costs versus investment in the systems and how much time each wheel-alignment would take one of our engineers. The payback period worked out at two and a half years, so it was an absolute no-brainer for us.
"The training from AES was comprehensive. I asked to be trained first as I wanted first-hand experience of setting up and using the system. It's been a long time since I was on the tools, but I got the hang of it very quickly and so did my fleet engineers."