Agreement has been reached for National Express to purchase Stagecoach. The transaction remains subject to shareholder approval but is otherwise expected to complete in late 2022.
In an associated step, Stagecoach will sell to ComfortDelGro (CDG) the marketing, retail and customer services activities of Megabus and the Falcon scheduled coach route, and its 35% share in Scottish Citylink. CDG already owns 65% of the latter business. Stagecoach will continue to provide "subcontracted bus and coach operational services" to those brands after the sale is complete.
'Significant growth and revenue synergies' for combined business
National Express says it is confident that the combined group will realise "significant growth and revenue synergies." Upon completion of the purchase, National Express shareholders will own around 75% of the combined company and Stagecoach shareholders the remainder.
As indicated when the proposed purchase was first aired in September, Stagecoach shareholders will receive 0.36 new National Express ordinary shares for each Stagecoach share held.
The boards of both companies add that the deal will "facilitate an acceleration of the expansion of National Express's growth business across the UK." That includes the bus market and commuter shuttles, private hire and accessible transport.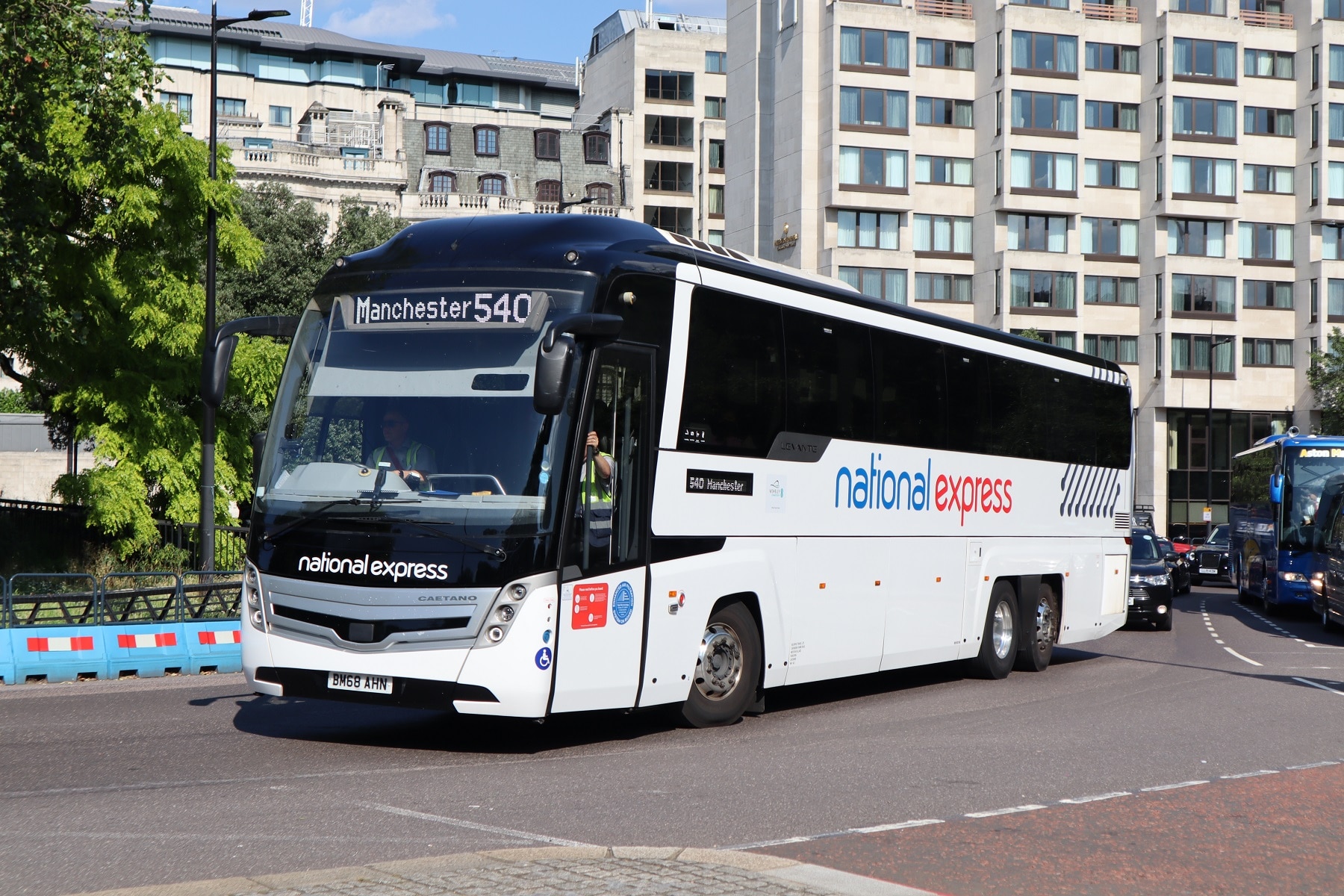 In a note that will cause concern in the wider coach industry, the National Express board sees "a significant opportunity to accelerate the growth of National Express Transport Solutions," its private hire, non-scheduled coach operation.
Use of spare capacity at Stagecoach's existing depot footprint forms part of that plan.
Leveraging Stagecoach depot facilities is also key to the future of the National Express UK Coach network. Doing so will bring efficiencies in driver and vehicle utilisation, but National Express says that the use of third-party operator partners will continue.
National Express deal for Stagecoach will see 'significant efficiencies'
"National Express believes that best practices from the combined operational, technological and engineering capabilities can be deployed across the combined group, enabling significant efficiencies and operational improvements," it says.
"This includes the potential for enhanced scheduling, data analytics and network optimisation across scheduled and unscheduled bus services, the implementation of best-in-class engineering and process improvements, enhanced technology and innovation including onboard systems; delivering environmental and safety leadership; sizeable procurement savings; and efficiencies and the removal of duplicative systems and costs across the combined group."
As already announced, Stagecoach Chairman Ray O'Toole will become Chairman of the combined group. Current National Express Chairman Sir John Armitt will step down. Jorge Cosmen, presently Deputy Chairman of National Express, will retain his position in the combined business, as will Chief Executive Ignacio Garat and Chief Financial Officer Chris Davies.
Tom Stables, CEO of National Express UK and Germany, will remain in the same role in the combined group. Stagecoach UK Managing Director Carla Stockton-Jones will become MD of UK Bus.
The combined group will have a global fleet of around 40,000 vehicles and a workforce of approximately 70,000.
Coaching sales by Stagecoach to ComfortDelGro worth £8.75m
Disposal by Stagecoach of the marketing, retail and customer service activities of Megabus and Falcon, and its minority shareholding in Scottish Citylink, is expected to complete on 28 February 2022. That deal is worth £8.75m. Stagecoach Chief Executive Martin Griffiths says that sale to CDG "ensures that those businesses will continue to thrive" under the new owner.