Identifying an untapped or emerging market and capitalising on it is one of the keys to successful business, and that approach has proved fruitful for Eavesway Travel. Its Cruiselink work is often what the operator is best known for, and those port transfers are once again in full swing as the COVID-19 pandemic continues to fade from view. But there is a lot more to what Eavesway does as the Ashton-in-Makerfield company continues to diversify its fleet and work structure.
Servicing Cruiselink is a fleet of distinctive Van Hool Altanos. They are of varying ages, but thanks to some cherished registration marks, the newest is indistinguishable from the oldest, inside and out. Such a uniform approach was among the principles adopted by Managing Director Mike Eaves when he took on leadership of Eavesway in the mid-1980s as the third generation of the Eaves family to do so.
Until then, Eavesway carried out all forms of coach transport with a fleet that reflected the domination of the vehicle supply chain of the time by British marques, and with some early Volvo involvement. Prior to taking charge, Mike had worked in Eavesway's holiday business, selling packages for the likes of Thomson Holidays. That gave the opportunity to travel and see coaching in other countries.
"I would board Neoplans and vehicles like them in the 1980s and think: 'Why can't we have this in the UK?'. They looked like they had just landed from Mars compared to what we had at the time."
Image is of the utmost importance to Eavesway Travel
Back in Lancashire, opinions on following that lead differed, however. Mike believed that reclining seats, and fewer of them, a toilet and all-round comfort for customers was the direction to go in. Others involved in the business at that time favoured high capacity on the grounds of versatility. History shows that Mike's way was the one that was adopted, but other changes were in the mix.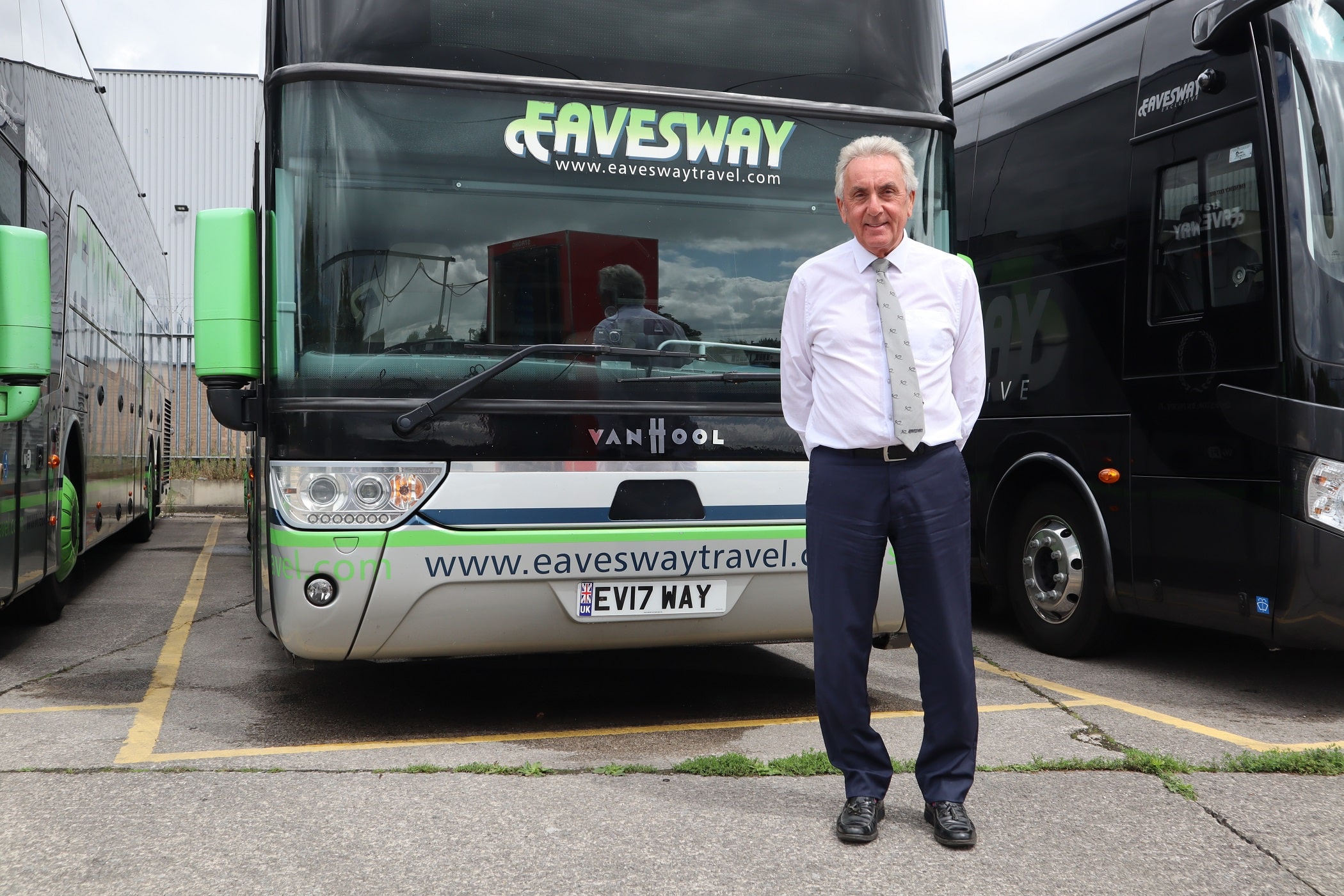 "One of my initial ideas was to have a constant image across the business. Previously we had a mixed livery. People would call for a quote but ask for a specific coach," he explains.
"What I wanted to create was a common brand where vehicles would all look the same."
Blue and green had always been part of the core Eavesway identity, and it remains present today. But Mike favoured metallic silver as a base colour. That was adopted and the new image rolled out. It worked well.
"People quickly got to realise that if a coach said Eavesway on the side, the service would be good," he says. The only deviation in terms of livery captures the small number of coaches purchased predominantly for sports team transport. They carry a more discrete metallic dark grey.
Van Hool was quickly settled on as the supplier of choice. That has largely been in conjunction with DAF, although MAN made an appearance in earlier times, including in a small number of EOS 90 models. One of the latter served as the Manchester United FC team coach for a period as team transport – already an element of its business – adopted greater prominence.
Van Hool partnership: Flexibility in design is key
Key to going with Van Hool was the flexibility offered by the Belgian builder. Mike has worked closely with it on multiple innovations, including the advent of wheelchair user access via an extended front overhang in the Altano. The first Van Hool arrived in 1987 and, based on the DAF SB3000 chassis, was the fleet's first rear-engined coach. A second, on a mid-engined DAF chassis, joined at around the same time but the poorer luggage space afforded meant it was the last mid-engined addition. It served Everton FC.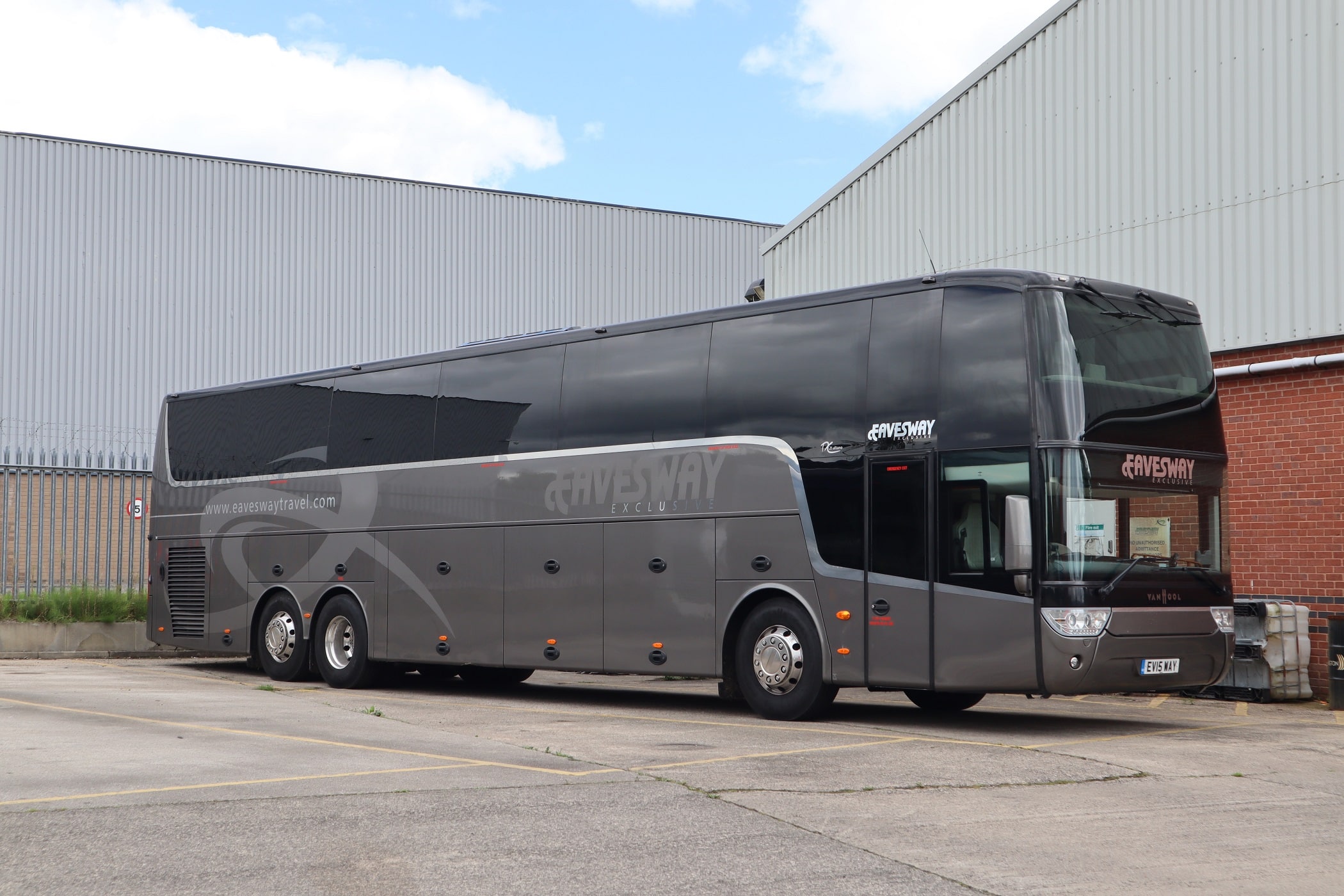 The Altano in a layout that prioritises legroom over capacity has latterly been standardised upon for large coaches by Eavesway, but Mike has now placed a firm order for a pair of 10.7m EX11H models.
With a seating capacity of around 32, they will capitalise on an increasing prominence of smaller groups that do not require an Altano's passenger or luggage capacity. Such coaches could also prove useful on Cruiselink work for lower-demand trips.
EX11Hs will not be the first smaller coaches for Eavesway. In addition to a pair of Mercedes-Benz Sprinters with EVM conversions, a Yutong TC9 joined recently (see below). Common across all vehicles is cream leather seating. That is part of the approach of ensuring as much commonality as possible and that customers get what they expect regardless of the size of coach that carries them.
Cruiselink and sports team travel prominent for Eavesway
Cruiselink forms a core of Eavesway's work, although its prominence has dropped slightly in recent years as some cruise lines introduced subsidised, or free, port transfers. Mike first saw the growing cruise market in the late-1980s and Eavesway served it initially via private hires for travel agents in the North West.
While free or low-cost travel from some cruise lines has moderated demand, Eavesway still has a clearly defined market. Its transfers focus on Southampton but Dover and Newcastle also feature.
Mike's early strategy with cruise work was to 'ringfence' it as Eavesway's product. That continues to be the case. Customers book direct, and while the price reflects the standard of service and vehicle provided, Cruiselink has generated a great deal of loyalty. That was helped by the operator's approach during the early days of COVID-19, when the policy adopted was to refund bookings rather than keep customers' money.
A positive around cruise work and sports team transport is that dates are known many months in advance. That helps long-term planning and for such transfers to be tied both with each other, and other private hire, tour and corporate requirements.
Private hire has become more prominent for Eavesway as the industry's wider supply and demand equation leads to customer acceptance of higher rates. Frequent trips to and from Southampton from multiple parts of the UK has also allowed a good base of private hire clients to be established outside the North West.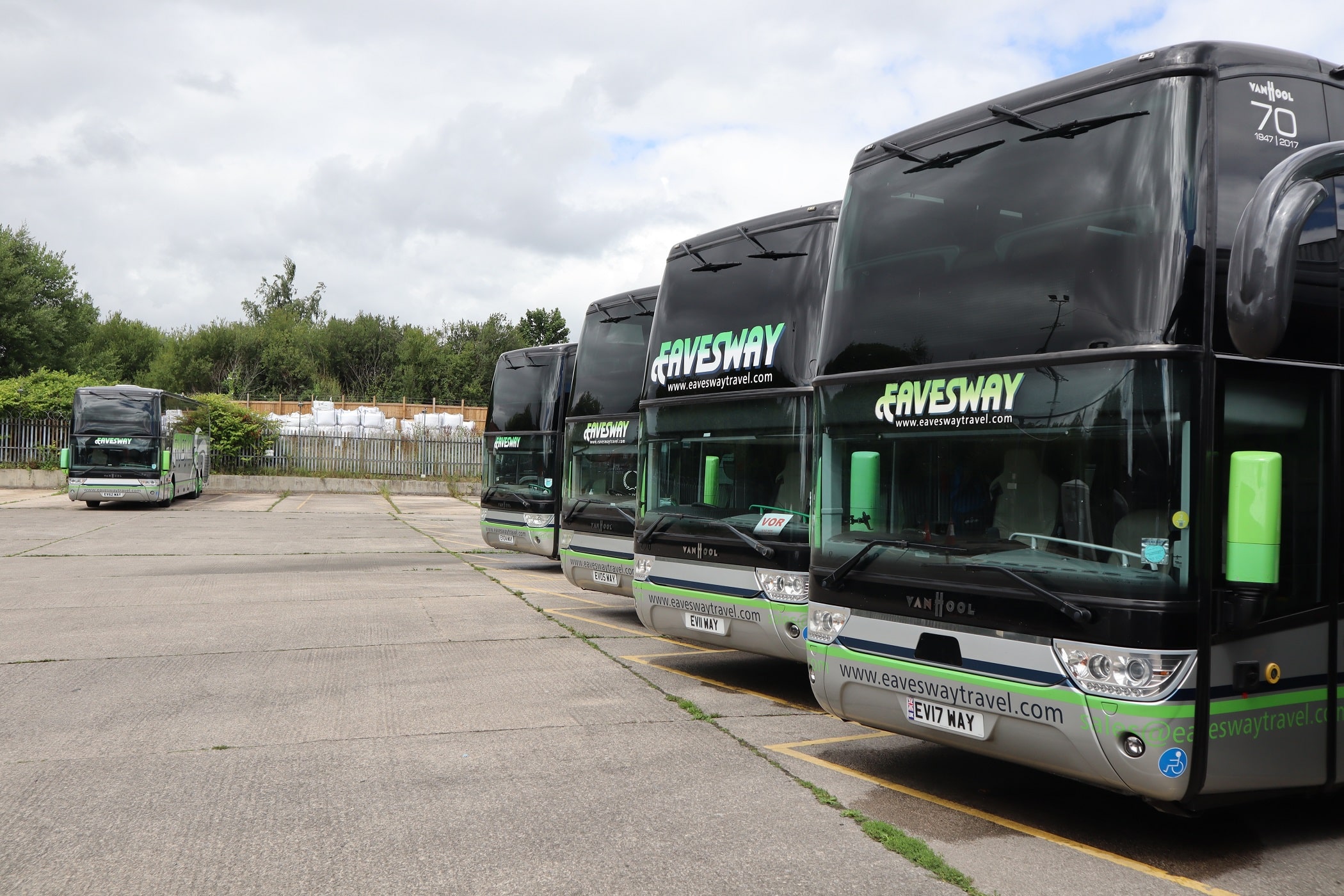 Among those are incoming football teams. Their requirements are largely based on knock-out competitions and are thus ad-hoc, but they have contributed to Eavesway's interest in smaller coaches; it is often the case that among those hired by a visiting club will be one to convey a small number of Directors.
Three professional football clubs in England remain clients of Eavesway for team transport, with some supporter movements also catered for.
In the past, Mike enjoyed a good working relationship with Sir Alex Ferguson in his capacity as Manchester United FC Manager, although another operator now undertakes that club's transport. Eavesway also served Everton for 37 years. More recently, the focus has moved towards other sports. Rugby union and cricket both form part of that.
A focus on driver recruitment and retention
Although the pandemic was challenging for Eavesway, the operator was able to complete the planned sales of three vehicles in the early part of 2020. That provided capital to pursue the refund strategy. Diversification of work had already begun before COVID-19 hit and it continues as coach replacement plans for 2023 are finalised. A golden rule of Mike's is that at least 75% of the fleet is always paid for. He sees no reason to change that.
But while part of Eavesway's strategy is on built on ensuring that customers know what they will get, Mike also places a great deal of focus on drivers. Working for Eavesway is a little different to many coach driving jobs. Cruise ship and sports team commitments bring a lot of weekend shifts. All but a handful of staff were retained during the pandemic thanks to the furlough scheme.
As things return, recruitment for driving and other roles is in order. Eavesway has been successful in doing so, although Mike notes that drivers are more difficult to come by than previously. All Eavesway employees are salaried – something introduced soon after Mike moved up to head the business – and that brings benefits. While a driver could possibly earn a little more elsewhere on hourly pay during the peak months, doing so with any certainty would be difficult to impossible for the remainder of the year. A double-digit percentage rise was also awarded to drivers from 1 April.
No single key to success for Eavesway Travel
"Diesel costs are also not helpful now, but even with a full stock of fuel and a fleet of coaches we have no business without drivers," Mike notes. Paying them fairly "is imperative" to successful attraction and retention, while QBE Insurance has worked with Eavesway to reduce the minimum age of permitted drivers on its policy to 21.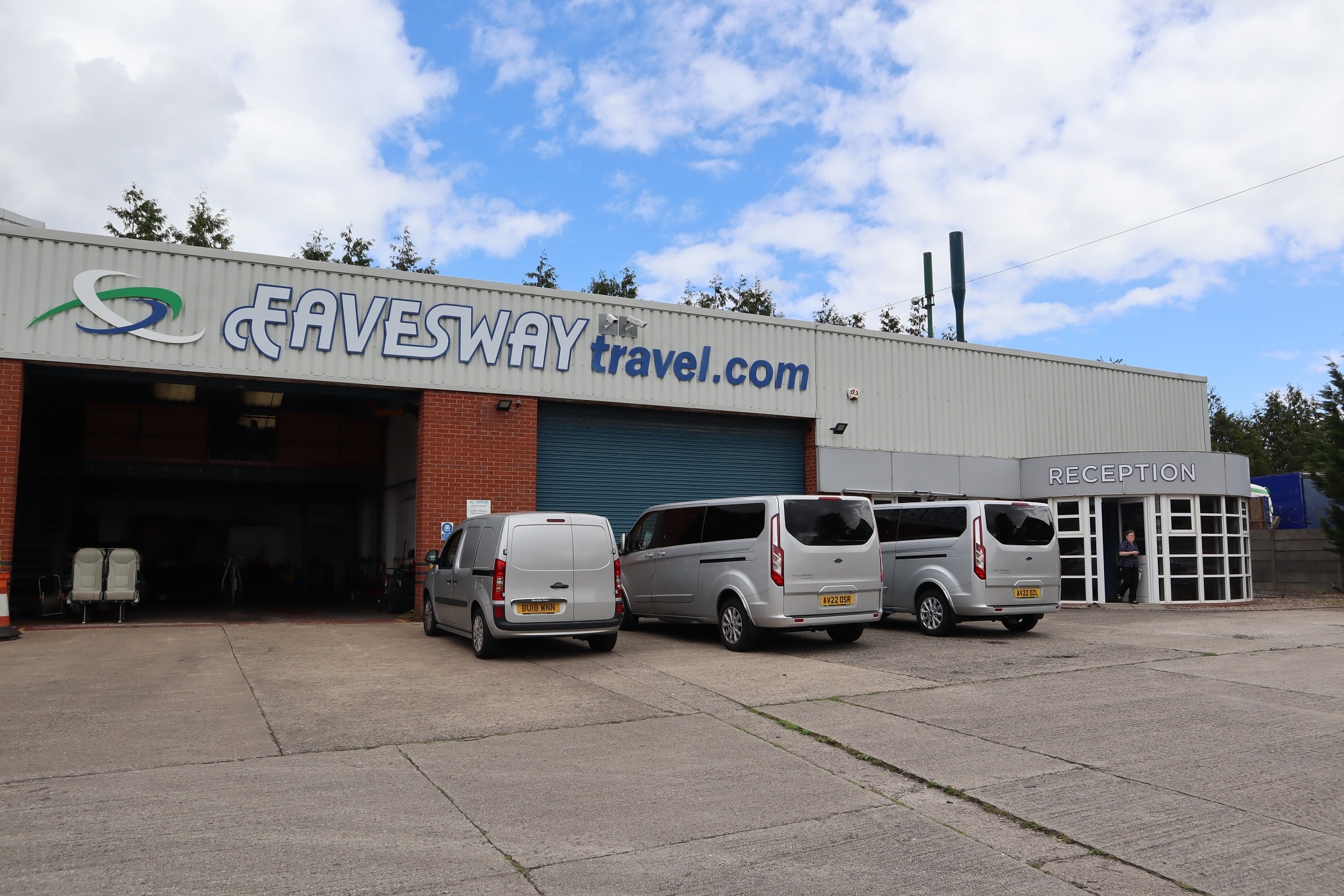 The operator employs no drivers below the previous minimum age of 25, but Mike sees the change as a possible enabler for the future and an influence on whether he explores engaging young drivers via apprenticeships.
Mike also devotes significant time to considering the future of the business, but he notes that the current management teams have shown great competence; they have helped the operator to achieve both Investor in People accreditation and join the DVSA Earned Recognition scheme.
There is no single secret to Eavesway's undoubted success. It prides itself on a uniform and high-quality service and delivering what it promises. But in all that Mike shares, there is perhaps one pearl of wisdom above all others: "I don't like working for people. Instead, I like working with them."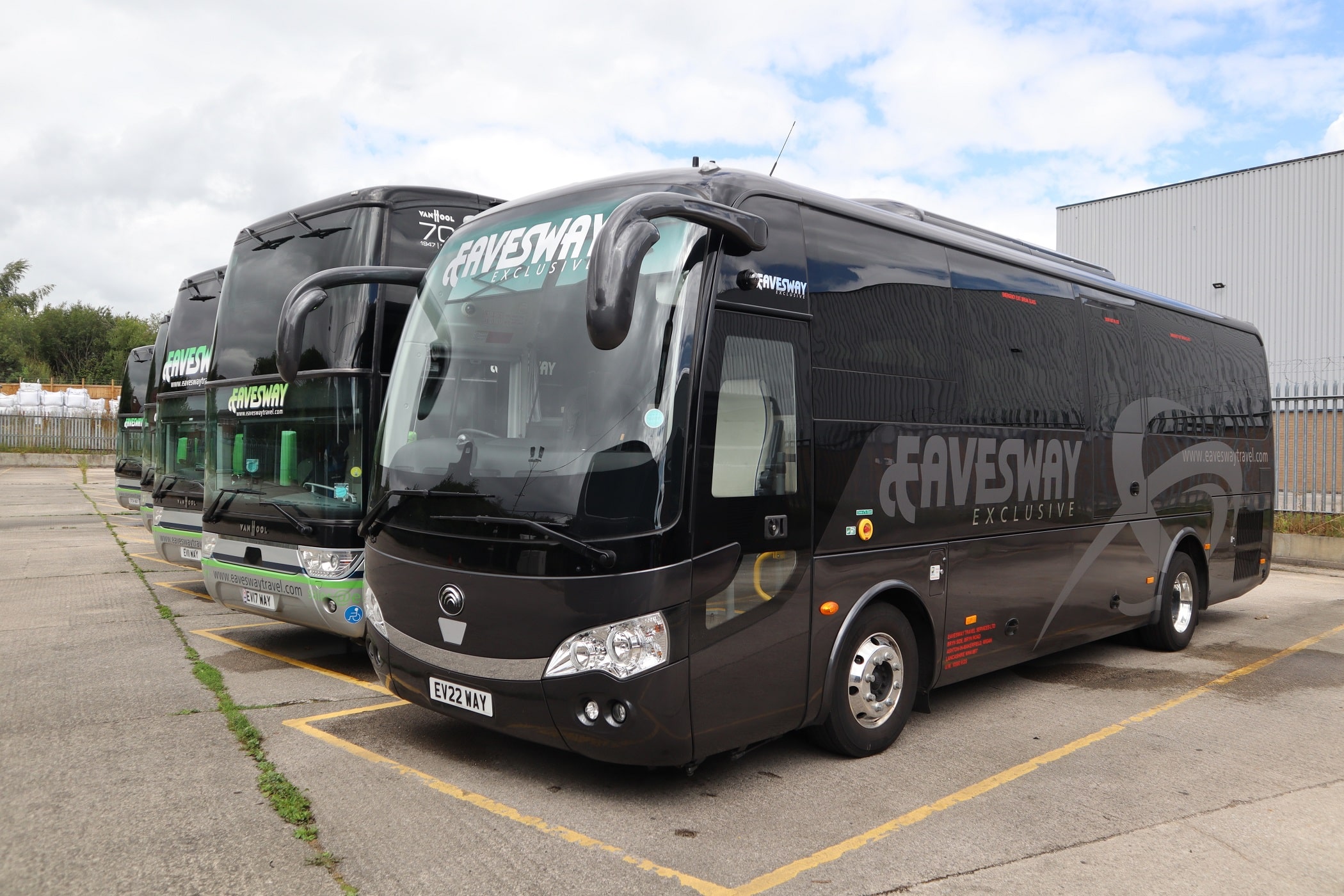 Eavesway's Yutong TC9: Another to follow after good results
Eavesway's first Yutong TC9 (pictured, above) joined earlier in 2022. It was purchased to meet a specific need for a coach of its size, and it comes with 26 seats, tables and a full rear kitchen.
Yutong importer Pelican Bus and Coach had first spoken with Mike well before the TC9 was ordered, and UK Coach Sales Manager Simon Collins kept in regular touch to discuss requirements. When a firm order was on the table, Eavesway's obligatory seat finish was not a Yutong offering until Simon raised it with the factory.
"Credit to Yutong: It did what I asked and the coach was delivered with cream leather seats with blue inserts and a curtain colour that had not been done before. At the time of ordering, Yutong did not do the paint shade I required, so I offered to send a sample," explains Mike.
"The colour of the vehicle and everything else ex-factory was all correct. When it arrived, it was taken to AD Coach Systems for the kitchen." The TC9 will remain a one-off with Eavesway Travel. It was "something of an experiment" by the operator, but Mike adds that having just one coach of a certain type can be difficult when multiple customers request it. He has thus confirmed an order with Pelican for a second.
Since delivery, the Yutong has carried out private and corporate hire, tours and cruise transfers. Where sports teams require more than one coach, it will see use in that application too, hence its completion in metallic dark grey. "So far, the experiment has been a success," Mike adds.