routeone visits National Express West Midlands, where Birmingham City Council's hydrogen-fuelled bus fleet is paving the way for change in the industry
National Express West Midlands (NXWM) placed the first of the Birmingham City Council-funded Wrightbus StreetDeck Hydroliner hydrogen fuel cell-electric double-decker fleet into service in November 2021.
By September this year, the "product testing" phase of the fleet's initial operation is expected to be complete, and the vehicles will enter full service.
That shift to new vehicle technology means significant change not just for the decarbonisation of National Express's bus operations, but also for the training of its staff and even the entire bus sector.
Overcoming challenges
At the time of their acquisition, the StreetDeck Hydroliners were notable as the only hydrogen-fuelled buses operating in England outside London. They form part of a large development being pioneered by Transport for West Midlands which will see Birmingham, Walsall and Solihull connected via the Sprint priority corridor, and – subject to funding – are to be joined by a further 124 such vehicles to create a total of 144 hydrogen fuel cell-electric vehicles in the city – one of the largest such fleets in Europe.
NXWM is hopeful to be successful in the rest of the funding bid. After all, it is currently leading from the front with its pledge to become zero-emission – 2030 for bus and 2035 for coach – and has the advantage of having already overcome one of the biggest barriers to entry when it comes to hydrogen fuel cell-electric vehicles: The infrastructure.
Head of Zero Emissions at National Express Vic Duddy explains that the introduction of the current 20 Hydroliners into Birmingham has already required an investment just shy of £1 million. Refuelling takes place in Tyseley and the buses run on route 51 between Walsall and Birmingham High Street. In order for full service to be achieved in September, testing and commissioning of the fuelling system in partnership with fuel supplier ITM Power must be completed.
That is a lengthy process, as Training Manager Lee Sandford explains: "It's not like refuelling petrol or diesel. You have to look at pressure and flow rate for hydrogen gas, tank temperatures. There's a lot that goes into it."
There have been learnings. For example, NXWM discovered that the fuelling process can be expedited through the installation of a much faster infra-red monitoring system to the tanks. That was not an original requirement and is now being retrofitted. It means refuelling – which typically builds steadily until it peaks at 350bar – can begin at 250bar and hits 350bar much faster.
Perhaps most importantly is the matter of fuel transport. Key is to have fuel on site, or near site, according to Vic. To that end, NXWM is already exploring options.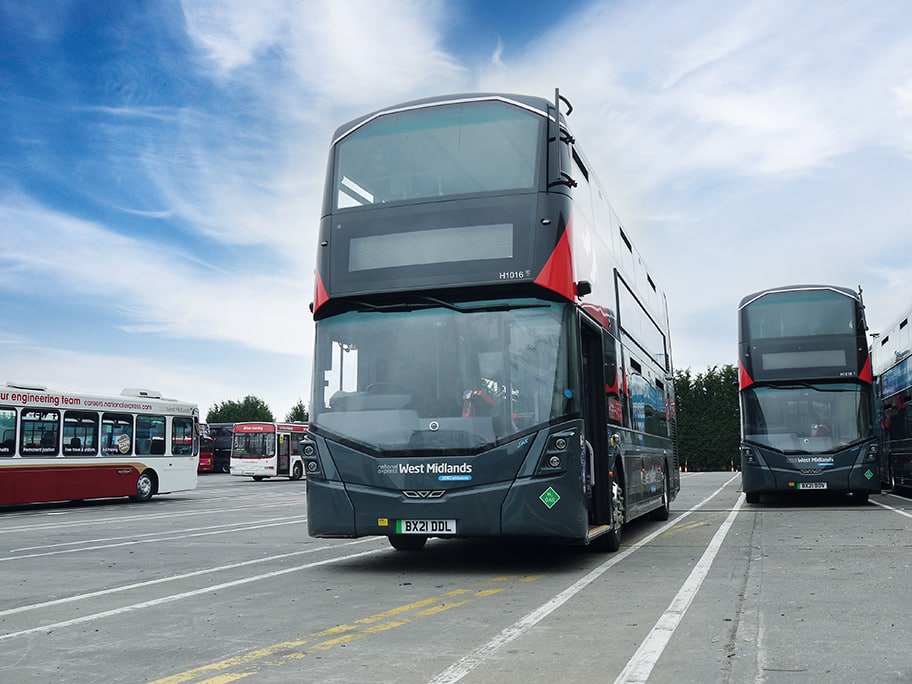 Hydrogen the way forward?
Vic is passionate about being at the leading edge of the revolution towards zero-emission vehicles. The operator has 29 battery-electric buses, with Coventry due to be served by 140 by the first quarter of 2023.
Yet hydrogen seems to be the way forward in many respects, even with the frustrations that come with being an early adopter of technology still in its development phase. The main advantage is that the vehicles cover a larger range than anything currently available in battery-electric: "We know we can do 280km with an electric vehicle in the summer and we know we can get 220km in the winter," Vic says. "But the difference between that and the hydrogen is that there is consistency with hydrogen. You can achieve the same kilometres in winter or summer.
"As part of the product testing we are doing about 290km on the hydrogen fuel cell-electric buses. We will push that further now that we can fill more easily and with more speed."
Other tweaks include changes to the heating and cooling system on the vehicles to conserve energy – the results of which are being analysed – but the key learning has been to get staff familiar with the change to a new technology. Each driver is given a minimum of two hours training on the Hydroliners and NXWM has now trained over 300 drivers.
"The drivers like them. They welcome the change," says Vic. "They are quieter, smoother, more powerful, and are consistent – bus number one behaves the same as bus number 15 or 50 – different to diesel buses, which have their own characteristics.
"In terms of the fuel for the range, that's strange. We are used to miles to the gallon, and with battery-electric we had to get used to kilowatts to the kilometre. Now we have to get used to kilometres to the kilogram. It's a challenge."
Analysis reveals that the hydrogen-fuelled buses are achieving around 17.8km/kg, slightly higher than the operator's expectation of approximately 16km/kg. Vic hints that the training is helping achieve those statistics. That works in much the same was as training for battery-electric vehicles, using methods such as regenerative braking to top up the onboard battery pack. "The key part is topping up the battery," Vic says. "If you are continually getting good regenerative numbers, you won't use much hydrogen – the battery pack is being topped up by the regeneration. We teach our drivers defensive driving, which sits well with battery-electric or fuel-cell electric driving styles."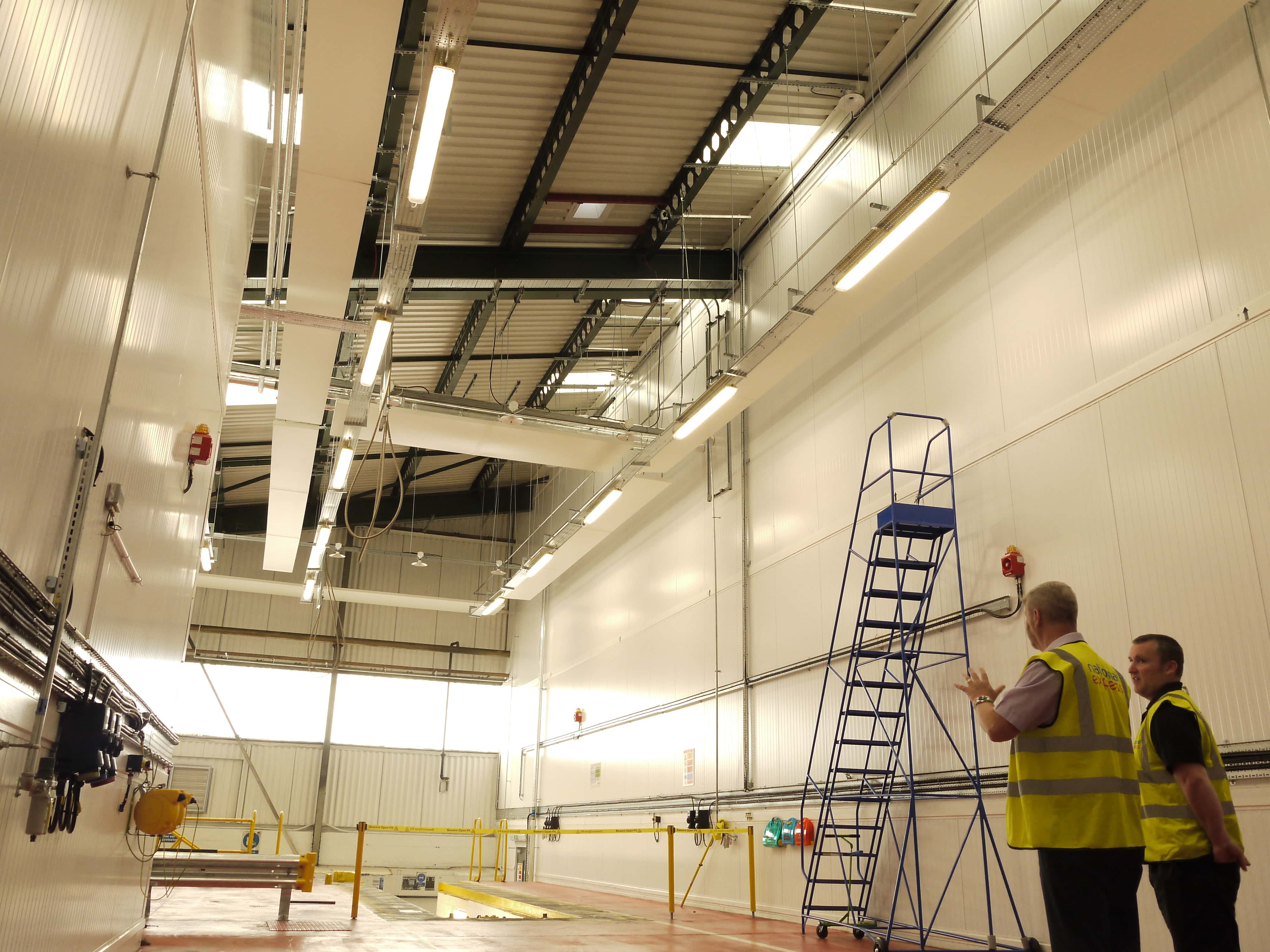 Training elements
Besides getting the infrastructure right, one of the frustrations for
Training Manager Lee is the misconceptions around hydrogen as being
a new technology. "It's not new technology," he reiterates. "It's been around for a very long time – we've just taken a long time to catch up to start understanding it."
He likens the wave of understanding around hydrogen to that of silicon chips and computing in the latter part of the 20th century.
"That technology boom ramped up exponentially. We're in that curve now. Technology is moving faster than training and development can catch it."
Evidence of that is the lack of accredited training surrounding hydrogen. "Nobody offers standalone accredited units at any level for hydrogen-spec vehicles," Lee explains. "Battery-electric is around, and we were part of the process to help create that – but there is nothing available for hydrogen at the moment."
The manufacturers have offered NXWM two levels of course to address that: Tier one covers vehicle familiarisation and how systems interact, alongside a base level engineering knowledge. "At the moment that's pretty much all we need," Lee says. "That's so that people can start inspecting vehicles."
Service and inspection is undertaken on all aspects of the vehicle except the fuel cell and most of the drivetrain, which is covered under the manufacturer's repair and maintenance contract. "But for people to be safe around the technology we have given them the required manufacturer-level training," adds Lee. That includes 12 people that have been trained to inspect the 20 Hydroliners.
The tier two module covers a higher level of fuel cell specific training. Lee and one other member of NXWM have been involved on that course.
Wrightbus currently undertakes the hydrogen training on site. There is a hope that the NXWM training academy, which runs electric vehicle (EV) training at levels two, three and four to look after the EV side of the operation, could be joined in the future by a hydrogen training centre; a funding bid for £6m entered by the Institute of Technology in Birmingham aims to create such a training centre with the purchase of an open chassis.
"We are currently working with the Institute of the Motor Industry, in the same way that we did with the EVs, to develop the accredited hydrogen training at various levels," adds Lee. "The lower levels are due to be released in August so are imminent. Once they do get released, we will look at running them internally."
That comes shortly after the NXWM Training Academy becoming an IMI accredited training centre on 19 July. That means NXWM can now deliver a range of accredited in-house qualifications specific to the operator, and Lee reveals battery-electric and hydrogen fuel cell-electric will be listed among those qualifications.
It will also, under the IMI Accredited scheme, be able to create its own training course, assessment criteria and, if approved, provide certificates from the Institution. That will help with future technologies – meaning, when there is no training available, NXWM can do its own in-house courses.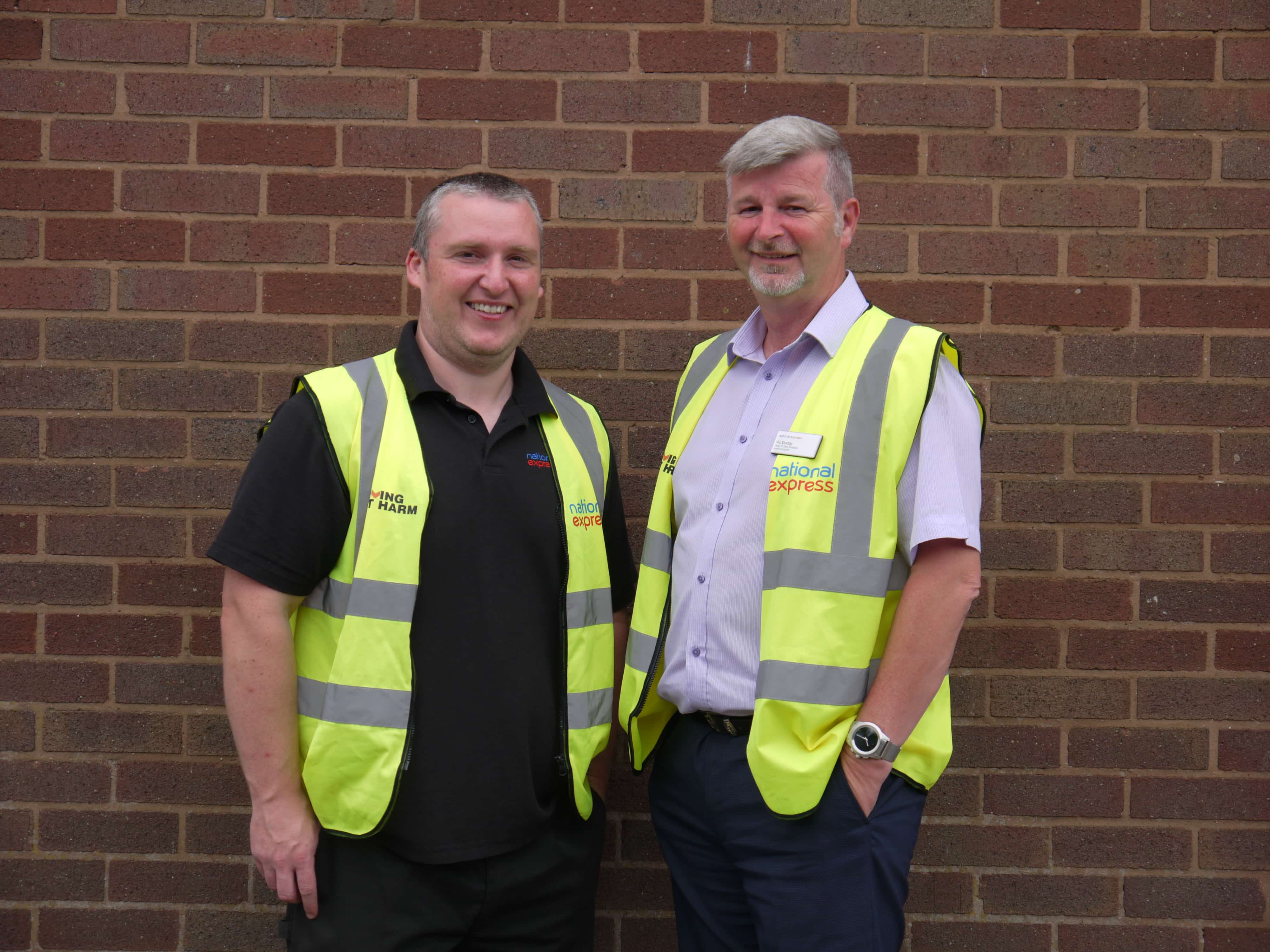 Staff transformation
That flexibility in training will serve the "transformation project" aiming to move staff at NXWM away from the traditional demarcated roles of mechanic, electrician, and bodybuilder, to those of multiskilled technicians in line with the approach adopted in the HGV and light vehicle sectors.
Lee expresses his frustration that those sectors have had technicians in multi-skilled roles for several decades in some cases, and that the coach and bus sector needs to follow suit.
Lee even hopes National Express can lead the way in moving the entire bus industry in that direction.
"We're going through a development pathway at the moment to move people into a multi-skilling area. We're very aware that, over the last few years, our apprentices have been qualified as multi-skilled technicians – but when they finish, they move into a single skilled role. We're losing out on some of the abilities they've gained.
"There's an attraction piece as well, from other industries, for people looking to move into a multi-skilled role but can't get that in coach and bus because it doesn't tend to exist."
That development pathway was launched in August and NXWM is inviting people to apply for technician roles. "That will change significantly the way the depot operates, with people being able to complete more than one type of task, but tasks that are within their skillset and competence level," adds Lee. "For those that don't have those levels we now have a comprehensive training package to level them up."
And those training packages are tiered until staff can be as highly qualified and as skilled as possible. That could be essential – after all, with a pledge of 2030 to become a fully zero-emission bus fleet, and 2035 for coach, the deadline to give staff the skills they need is fast approaching.