In the aftermath of the COVID-19 pandemic, the team organising one of the country's largest holiday brochure launch events might have been wondering if anyone would turn up. They needn't have worried!
It would be fair to say that 91 year-old Charlie Long from Hull is a fan of coach touring. This year he's booked five tours plus his usual Christmas festive break.
"I've always been what you might call an independent traveller," he explains as we sit down together over a cuppa in the majestic surroundings of the ballroom at the Old Swan Hotel in Harrogate.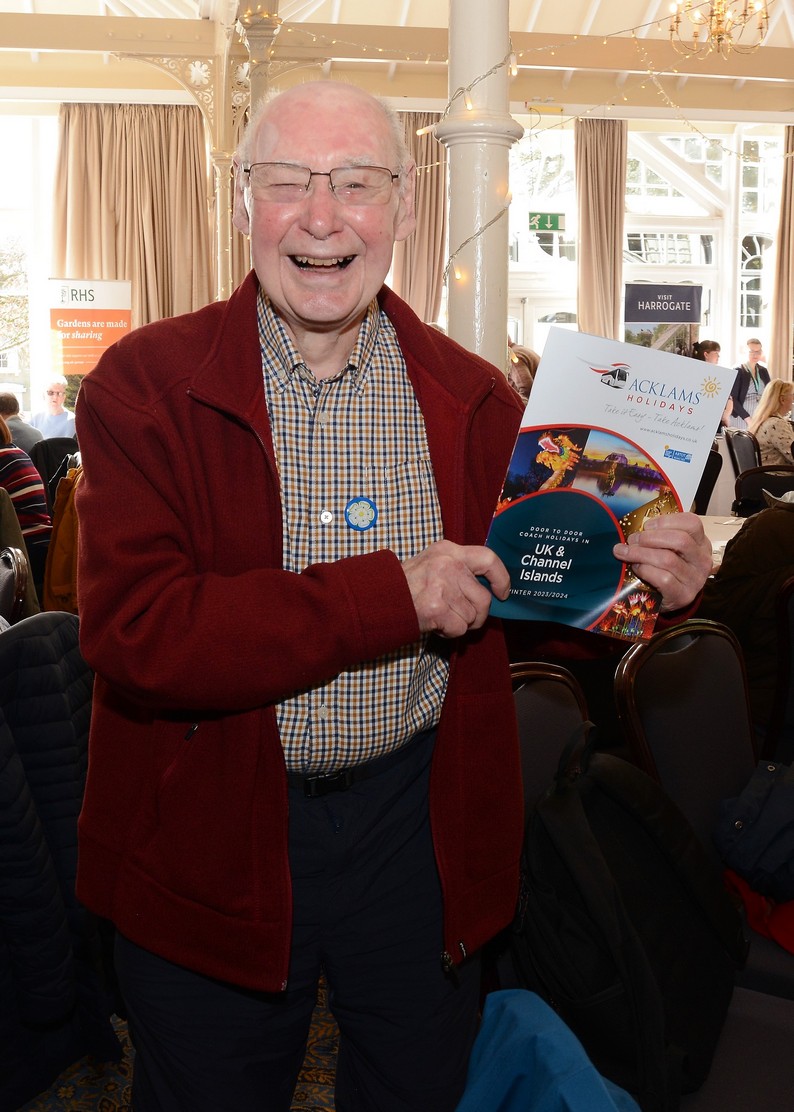 "I used to work for British Rail, mostly in ticket offices," he tells me. "I was able to use my free travel pass to explore the country. Now I'm getting older I'm finding that coach touring is the perfect way to continue my adventures."
Charlie is one of around 600 customers of Acklams Coaches who have come together in Harrogate for the launch of the company's latest holiday brochures.
He leans closer, as if not really wanting anyone else to hear.
"I'll tell you why I like Acklams," he says, in a whisper. "I'm picked up from home, then instead of stopping at a service station for lunch, we stop in a town somewhere. It makes a difference you know."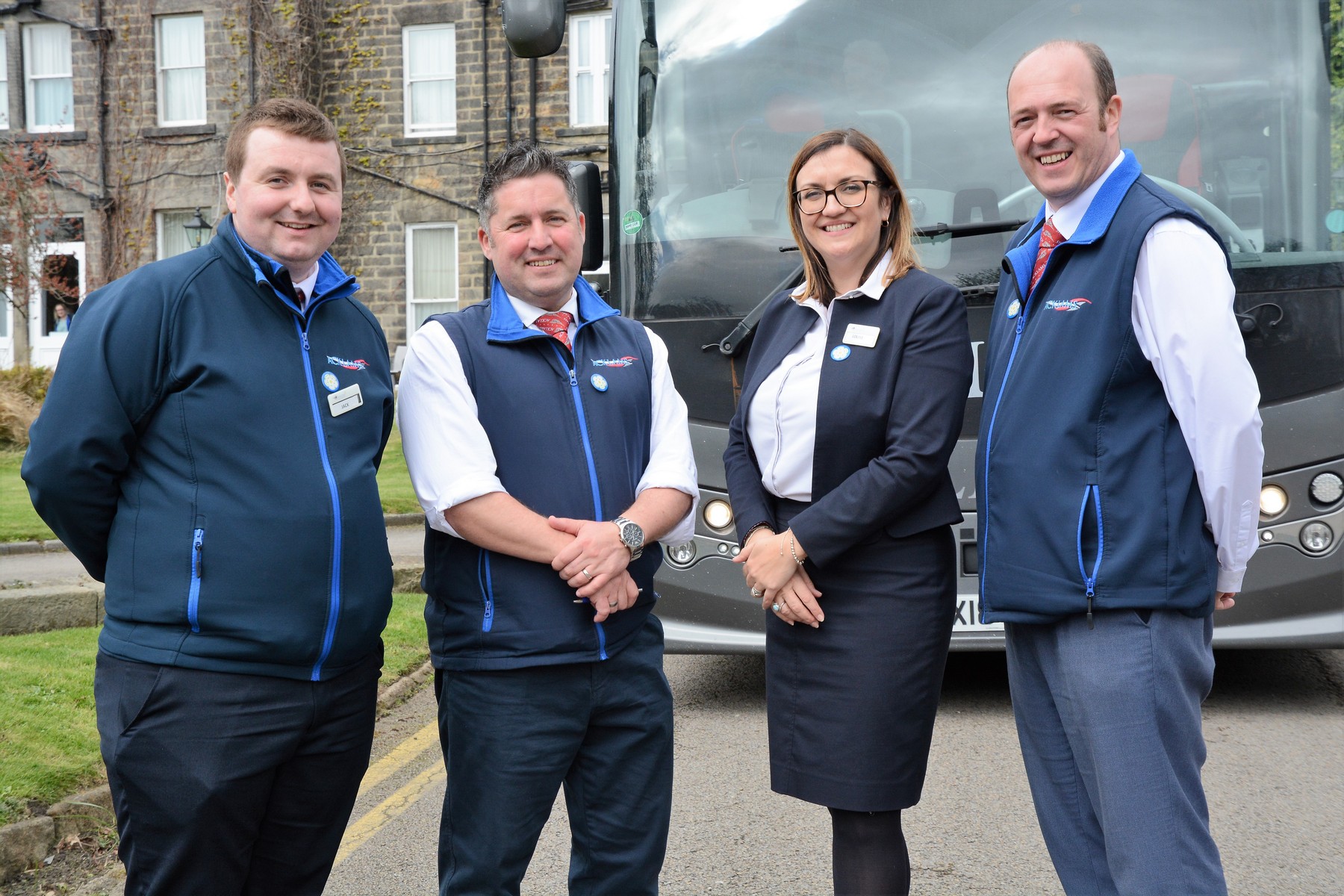 Feeling the positivity
Alan Acklam, the head of the family-owned business, is clearly delighted with the turnout.
"This is our biggest ever brochure launch," he says. "We advertise the event as part of a day out, this time splitting the day so that 300 come to the launch in the morning, with an afternoon to explore Harrogate, and the other 300 doing the opposite. It's been quite an operation. We have 15 coaches and minibuses picking up customers across our holidays catchment area that stretches across the whole of Yorkshire and into north Lincolnshire.
Our Tour Director, Tim Smith, Holidays Manager, Louise Webster, Holidays Manager, together with our operations team have done a sterling job.
"Seeing the room full of people, and comparing that with the emptiness we felt during the pandemic, has given us all a real boost. All operators will feel the same but seeing everyone smiling, chatting away, and renewing friendships with people they've met on tours before is so rewarding. It reminds me why we do what we do!"
But Alan also notes that times are changing.
"Our customers' expectations are greater now than ever before," he says. "Meeting those expectations, in terms of service delivery, hotel quality and the quality of staff is undoubtedly one of our biggest challenges. But we've always faced challenges, and even from the early days, we've striven to deliver something special."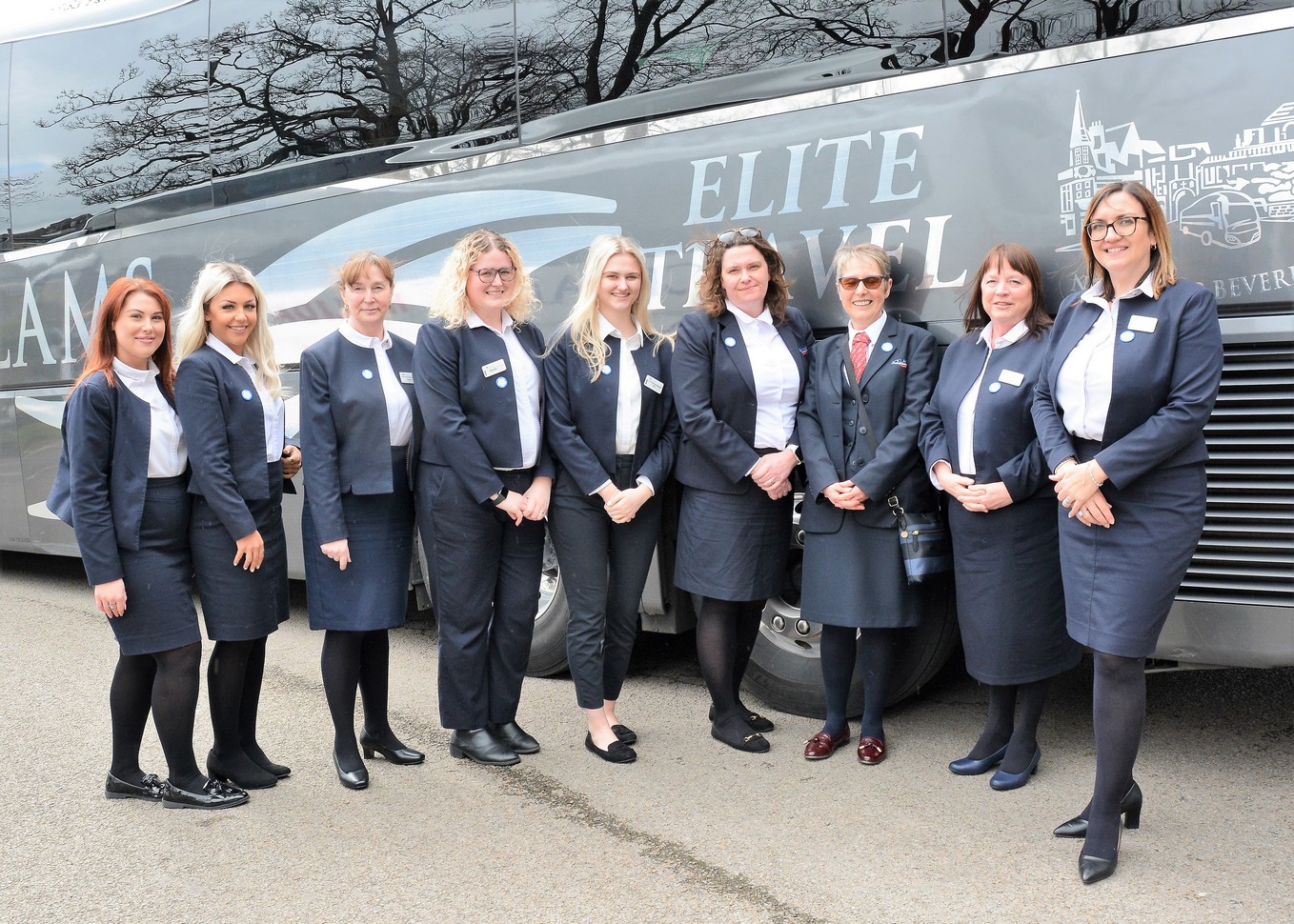 Taxis to coaches
The Acklams Coaches business goes back to 1953 when Bernard Acklam, Alan's grandfather, started Alpha Taxis. In later years, Bernard's son, Paul Acklam, with Alan joining the business, oversaw further development that resulted in the multi-faceted, award-winning organisation it is today.
"My father and I were always focused on customer service," says Alan. "We always tried to find ways to build partnerships, whether with customers or suppliers. Since we lost him in January 2022 I've endeavoured to continue the same ethos. Relationships are important. We treat every job the same, big or small. Every customer is important. Our work covers every age demographic. It all works through. Younger people today can be our older customers tomorrow. Get it right today and that generates a positive reputation for tomorrow."
Acklams' Tours Director, Tim Smith, explains that the company is now operating more continental tours than before the pandemic.
"They are important to us," he says. "But the delays at Dover this Easter proved to be a particularly challenging period. However, we were ready. We could see what might happen so we decided to take action to mitigate any delays."
Tim says that a number of the regular, front line tour drivers were taken over to Calais the day before so they were rested and ready to pick up the tours. "When our delayed coaches arrived in Calais the regular drivers were ready and waiting to take them on to their holiday destinations," he says. "We got our drivers' hours back on track."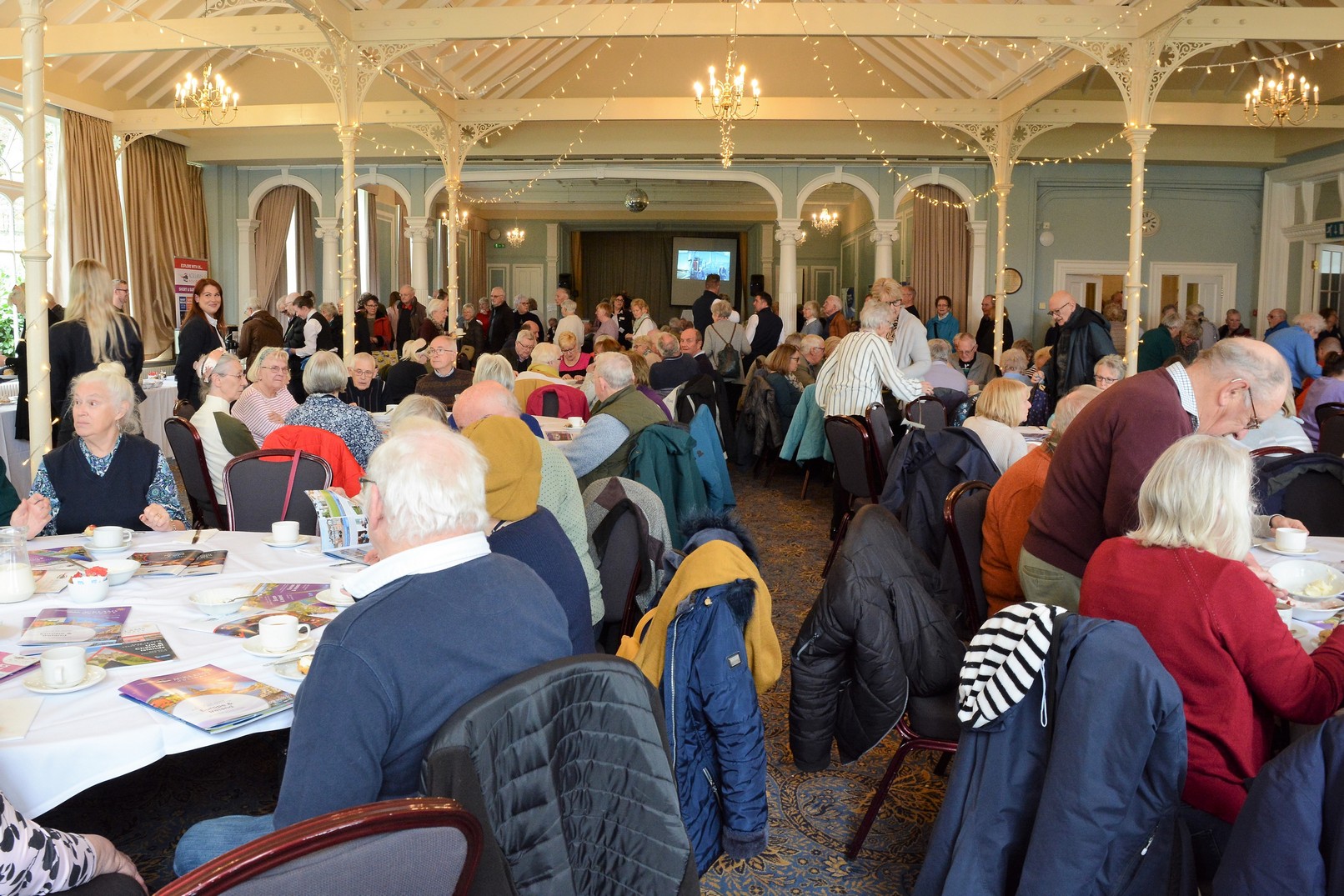 One brochure, two covers
At the Harrogate launch I spotted something a little unusual about the new brochure. The front cover promotes door to door coach holidays in the UK and Channel Islands. But reach page 55 of the 75-page brochure and a full-page advert reminds the reader that: 'The UK ends here but your journey doesn't have to'. Readers are encouraged to spin the brochure round and look at the back cover. Do that and a second front cover, upside down compared to the front, starts a 20-page continental section.
"That's caused a few comments," says Alan Acklam. "But we want to stand out. We sell our holidays online, through our shop in Hull, and through around 100 agents across the region. So having two front covers can sometimes give us more rack space. The visibility is important."
Tim picks up on the reference to door to door.
"Our customers really like the convenience," he says. The service is included in the holiday price, although if you live on the very edge of our catchment area we charge an additional £30 for the service. We've refreshed the programme, an important element in attracting 'younger oldies'. We've lost some holidays because hotels have stopped taking groups in favour of government contracts. That's affecting supply and because of that, our choice of destinations. It's a situation affecting the entire industry."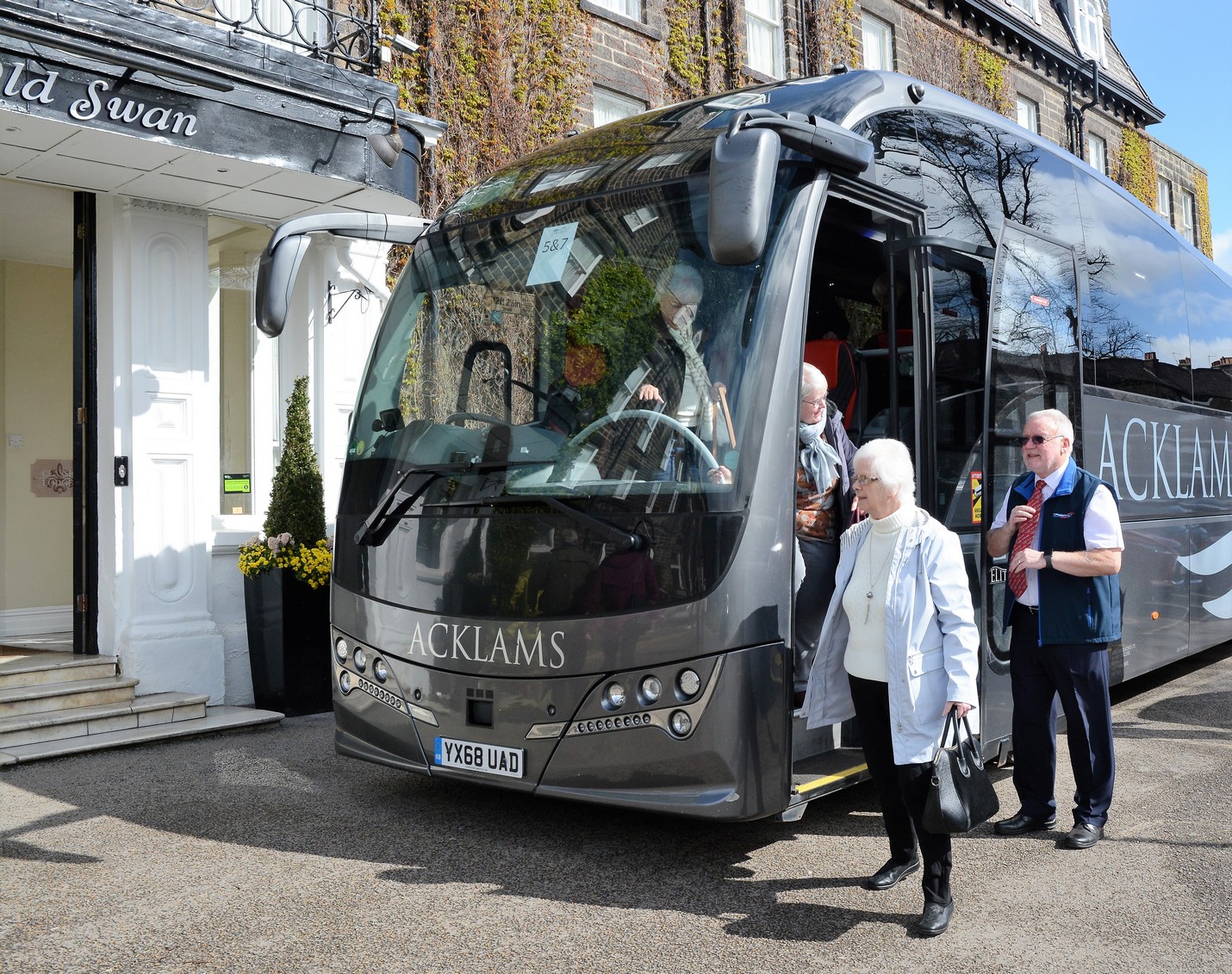 Training academy
Like many operators, the loss of some drivers during and following the pandemic was leaving its mark. To get everything back on track, in June 2022, Acklams recruited former East Yorkshire Motor Services' Training Manager Darren Kendrew to head up the new 'Acklam's Elite Training Academy'.
"Darren is well known in the industry for his work in developing training programmes," says Alan. "We were fortunate that he was able to come to us. "We needed a training manager. Prior to COVID-19 we were in a situation where we were taking almost anyone. Our standards were slipping. The pandemic gave us time to take stock. I'm delighted to say that we are now a JAUPT-accredited Driver CPC training provider.
"I've been following the discussions relating to the review of the Driver CPC process. For us we have always made sure that the process dovetails with the training our drivers actually need. We also get people out of the classroom and on to vehicles. Our whole driver training regime, be it coach or bus, has now meant we've brought our standards back up to where they needed to be. We take external bookings too. All of this is helping ensure the quality of vehicle presentation I'm looking for. We pay staff an additional £1 an hour if they have no accidents, are tidy and are on time."
Alan notes that Acklams is a member of just one trade organisation.
"We support CPT, and through its Compliance Manual, CPT supports us. The manual is a very important tool for us. We are part of CoachMarque, we have GreenRoad for monitoring, TruTac for our vehicle walk-round checks and we're working towards DVSA Earned Recognition. I'm also on CPT Coach Commission.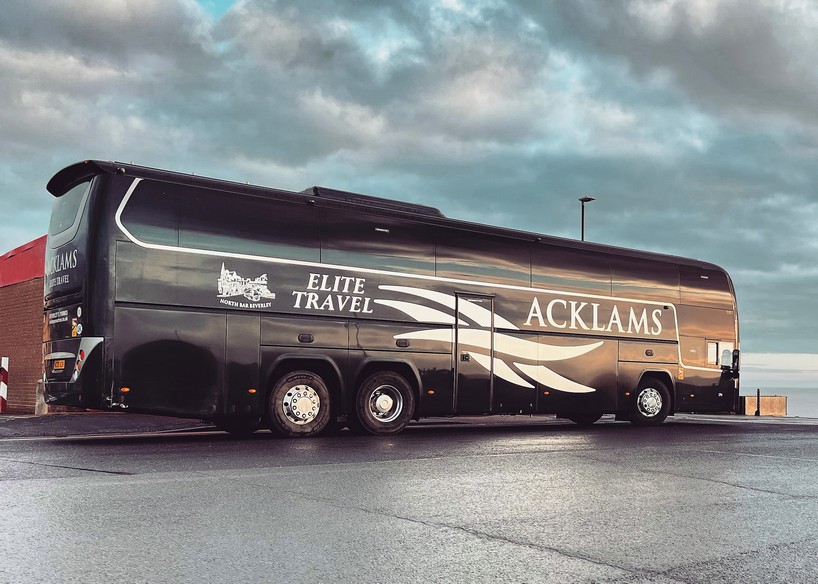 "Today we have 125 drivers and a fleet of 85, our largest ever. We have 30 front line coaches including an 85-seat Plaxton Panorama Elite-i. We have four 73-seat and two high-end team-specification Plaxton Elite-I coaches. There are 25 minibuses and 11 double-deckers used on schools and private hire. Looking back, the company has come a long way in a short time. We'll see where it all goes of course. I talk with many operators around the country and it seems we're all facing similar challenges. But I have a really good team, and I mean really good. We move into new premises later in the year and that will be a game changer. But for me, that very special day in Harrogate in April, meeting our customers, hearing what they said, demonstrated a real positivity. The feelgood factor is well and truly back."