Sensing a gap in the market, Jade Holloway Cox uses her experience of gaining her PSV licence and time in the bus industry so far to help aspiring bus drivers
Making your own path in life can be difficult, especially when that journey goes against what most of your peers are doing.
Aged 18, Jade Holloway Cox knew she did not want to follow the crowd. While her friends planned to do apprenticeships or go to university from school, a career in the bus industry called.
"I was in sixth form doing options I didn't really want to do," she admits. "I was that odd person that was like: 'I don't want to go to university right now. I don't want to do an apprenticeship'. I didn't really know what I wanted to do."
Inspired by family members working in the transport industry and her interest in buses, Jade set her sights on becoming a bus driver.
"I saw a bus driver job and thought: 'You know what? I'm going to do it'. So, three days after I turned 18, I started doing driving lessons.
"I got my car licence four months later and applied to become a bus driver that day. Three months after that, I was officially a bus driver."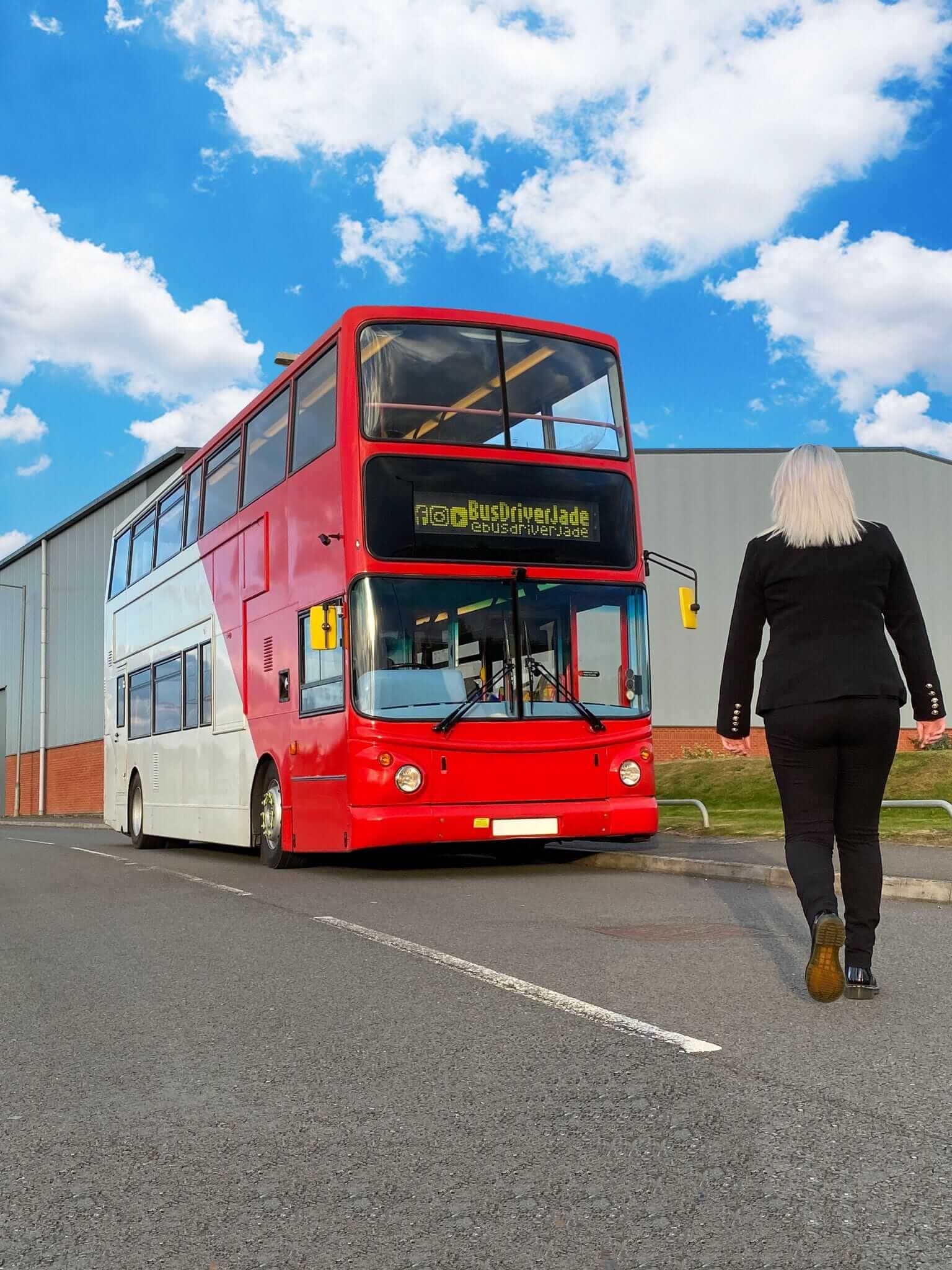 Sharing experiences
Almost three years on, Jade uses what she has learnt to help aspiring and qualified bus drivers. Using the alias Bus Driver Jade, she created a dedicated Instagram account in December 2019 and was soon getting messages from people who wanted to find out more about being a bus driver.
Therefore, she set up a website – busdriverjade.co.uk – in September 2021 to share more of her knowledge and experience.
She explains: "I got a lot of people messaging me asking things like: 'Can you help me on this theory test topic? Have you got any tips on what it's like to become a bus driver? And I thought: 'I've got the knowledge no one else is putting out'.
"I used to love helping people when they came into my garage. I would say: 'If you need anything, come to me. If you need any advice or if you need to know how to take a certain corner or where the rough spots are on the route to avoid, I can help' – those sorts of things."
The website is a work in progress, but already includes information such as the step-by-step process to becoming a bus driver and a list of operators that could put you through your PSV test.
Jade says creating content for her website and Instagram takes a lot of time, but it is worthwhile.
"I'm not someone who wants to throw something together and post it on there for the sake of it. I want it all to look nice, presentable and readable. So, it does take quite a bit of my time, but I enjoy it."
Meet Trixy
Along with her online presence, Jade owns an ex-National Express Alexander Dennis Trident she calls "Trixy" and "Electra" – an ex-First Enviro300 she part-owns with a friend.
The Trident was donated to Jade last February and she has since spent thousands of pounds to get it roadworthy.
"I've always wanted to own a Trident," says Jade. "I got mine donated to me because it was parked in a corner and there was nothing to it. I had to have all new wheels, half the engine rebuilt and half the electrics put back together."
"It went from not running at all to completely running and passing its MoT in eight months."
Jade and her friend plan to take the buses to a few bus rallies this year. For now, they are being used to film YouTube videos to explain certain parts of the theory and practical driving test for bus drivers.
She adds: "They're essentially used to show people and give people a better understanding of how to pass their bus test.
"There's not much information out there to show people coming into the industry what certain things are and what certain things mean. So, I'm utilising what I have to show others what to expect and give them a head start if they were ever to get their PSV licence."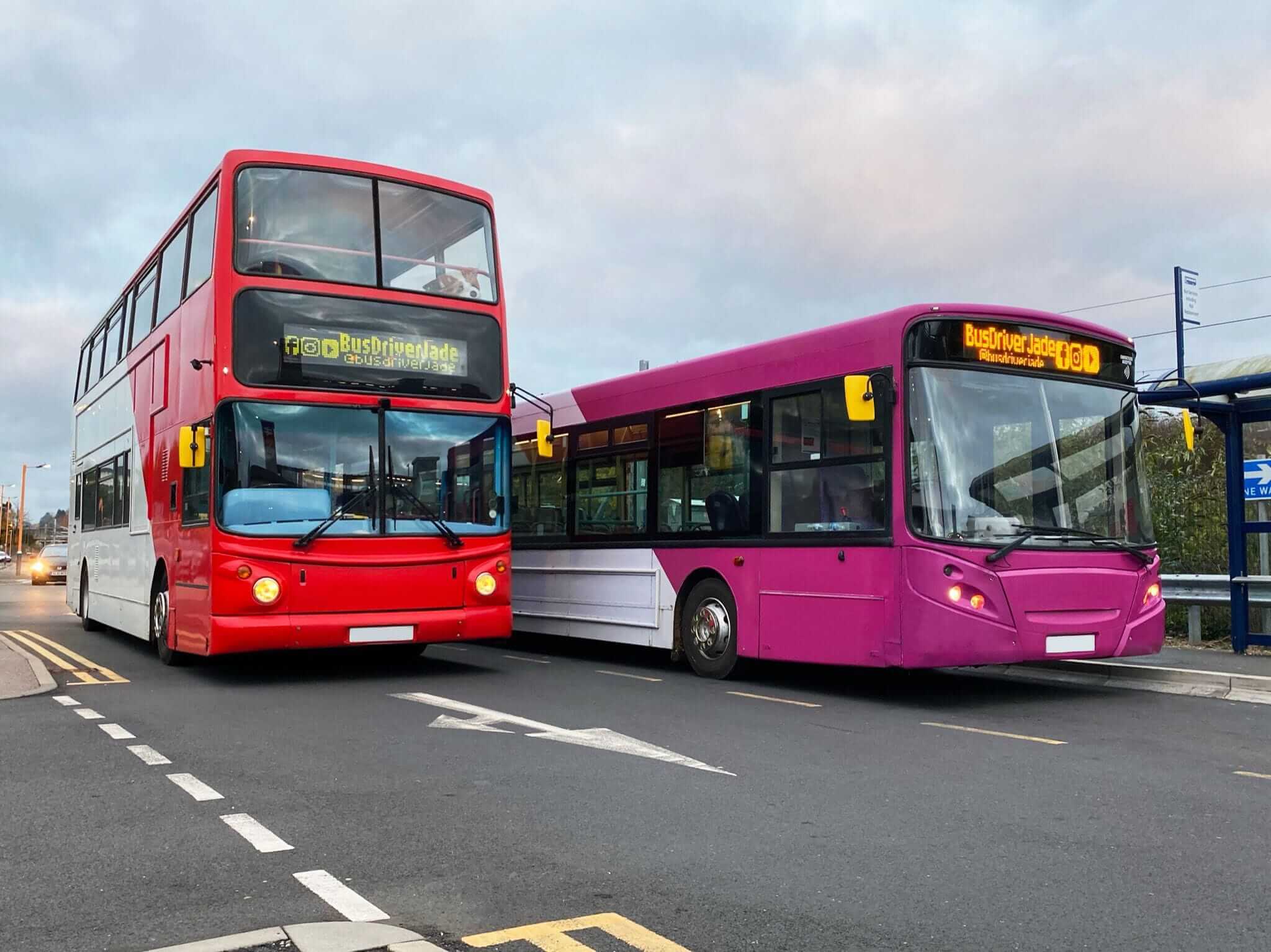 Ambitious plans
Jade's ambitions do not end there. Eventually, she would also like to add approved driving instructor and qualified HGV driver to her credentials.
"There will be three sections to the website: bus, car and lorry. So, a wide range of people can go on there and get the help and understanding they need, and it brings them all together and helps people."
Jade is settling into her new role as a traffic officer for Henley-in-Arden operator Johnsons Coaches. Her priority is getting trained on all the aspects she needs to know in the office. But she hopes to do some driving for the firm as well in the future.
What else does Jade hope the future holds for her?
"I would either want to be in a training role or become an operations manager eventually, but I can see that being quite far in the future.
"For now, learning as much as I can about the whole industry is a huge benefit to me."