routeone speaks with MP for Blackpool North and Cleveleys and former Parliamentary Under-Secretary of State for Transport Paul Maynard about coach support in 2020
Blackpool is a resort inseparable from coach holidays. According to operators the industry brought 120,000 visitors and £30m to the local economy last year alone.
It is no coincidence that the UK Coach Rally found a new lease of life after being moved to the Lancashire seaside resort for the past few years, nor that 190 vehicles descended upon the town on 14 July – Bastille Day no less – to protest their own discontent with the powers that be.
Blackpool's dependence on tourism has been a particular concern for its Member of Parliament (MP) and former Transport Minister Paul Maynard. For him, the Blackpool Honk for Hope protest hit home, not only highlighting the coach sector's struggles but the entire hospitality sector that relies upon it.
Following a debate on 10 September on support for the tourism industry after the coronavirus COVID-19 lockdown, Paul spoke to routeone to discuss in detail how Blackpool, a coach-reliant town, has been affected – and what he believes could be done to support the sector.
Built on tourism
Conversations with local coach tour operators, hotels and small businesses have revealed the spectrum of frustrations currently haunting the coach industry. It also offers a more rounded view for someone like Paul, who sees the wider economic impact of a decline in coach tourism to Blackpool. "I see the consequences for many of our smaller businesses," he explains. "The hotels and the one-man-band cafés behind them, which are reliant on the coach tours. They are all suffering equally. Which is why it's incumbent on me as a local MP to keep trying to make my voice heard."
Paul's grave concern is of course over the survivability of those businesses. For that to happen, there has to be stability, and a degree of consistency over coronavirus COVID-19 regulations. That is difficult to provide, he admits. But clarity over the regulations and how they affect tourists could be what gives visitors the confidence to travel.
"Hotel owners I've spoken to want to see confidence about the regulations and what it means for their guests. People are not quite sure what a coach holiday experience will be like, which can be a deterrent. Guests want predictability and clarity, but even that will do no good unless there are coach operators bringing them to Blackpool."
A coach support solution?
Paul reveals that he has been in conversations with Sport, Heritage and Tourism Minister Nigel Huddleston and Transport Minister Baroness Vere on the subject. "I have been trying to keep this issue at the forefront of their minds and make the point that this is not just about school transport," says Paul.
Paul disagrees with the statement made by MP for Angus Dave Doogan that suggests the government is taking the coach tourism industry for granted. It is more nuanced than that. "I think the problem is perhaps that coach tourism is an industry with specific needs, and so isn't always covered in terms of the government's wider national schemes," he explains. "Sadly, we haven't quite classified coach tourism as being part of either the hospitality or the public transport sector, so it's forced between two stalls. To that extent I think we need to look more specifically at the sector's needs.
"The coach sector after all has not been ignored as a whole – there has been work to subsidise school transport work, for example. But I think now we need to focus on the leisure side as well."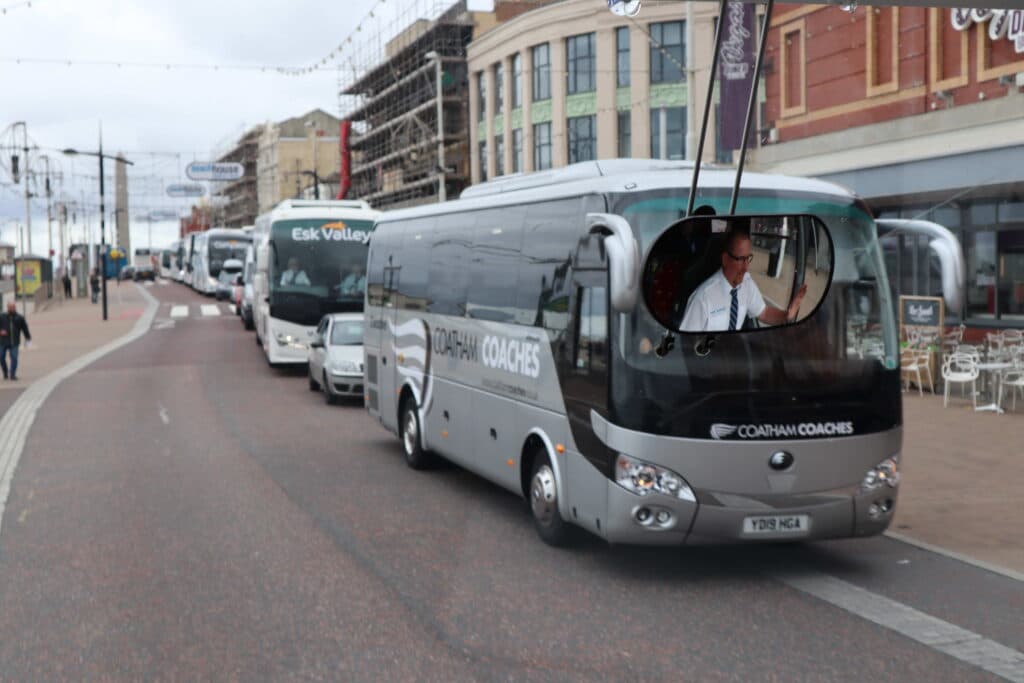 Difficulty comes from the touch and go nature of current regulations. "We had a bit of hope in the summer that things might start getting back to normal. That seems to be on the turn again," Paul adds. There is confusion in hotels over how current regulations impact guests, and traditional 'tinsel and turkey' trips that bring large numbers of pensioners to Blackpool in the off season will be difficult to sustain this year with reduced capacities on vehicles and the cancellation of Christmas markets. "There's a number of hurdles now about this new set of regulations, what that might mean in practise, and government has to look at how other regulations impact the coach sector. It must also listen to coach operators and what would actually make a difference for them."
Practical ways for government to aid the sector might include assistance on the financing of new coaches – not a new idea. Paul recognises the money that is tied up in leasing and finance costs in coach fleets, and that short-term distress is impacting a perfectly viable business. "This is a viable sector that will return when normality returns. We must think how we can help it survive through this period."
Tailored package 'not likely'
Paul's optimism for a tailored support package has withered somewhat with the recent growth in restrictions. The hospitality sector as a whole is likely to need more support in any worsening situation and it will be harder to make the case carte blanche for smaller sectors that cannot operate fully at the moment.
For Blackpool, the hospitality sector at large is threatened. Shows cannot restart because of social distancing, for instance – and there are many other claims on the public purse. Those least able to restart are likely to receive the most support. Paul believes the Department for Transport (DfT) in particular can target more help at coach tour operators in addition to the support going into educational work. "While important, home-to-school work is not the meat in the sandwich of their business for most and I'm very conscious of that.
"Blackpool would not exist without the coach sector – that's what made Blackpool what it was. I hear from operators that they put £30m into our local economy last year, and clearly we cannot survive medium term without those inputs – the small businesses can't, the cafés and hotels can't. For me, it's existential for Blackpool as much as it is for the coach tour sector."
Home-to-school support has not painted a perfect picture either, with regional differences in delivering services and uncertainty over school attendance. "What I don't want the department to think is that school transport in and of itself is enough to sustain the sector. It clearly isn't, particularly in the off season."
Paul's message is that everything has a ripple effect, in a sense. The survival of local economies such as Blackpool, so heavily dependant on the coach sector, is by proxy a matter than DfT can very much intervene in. DfT should take this as an opportunity and use innovative ways to support the sector. Some ideas Paul suggests include allowances for coach owners to invest in the cleanest possible vehicles.
Equally, systems need to be put in place to allow trade bodies in particular to get speedy answers from civil servants as to what new rules mean. Paul endorses the Confederation of Passenger Transport's letter to Nigel Huddleston in September, which set out clearly the risks presented by the industry's collapse.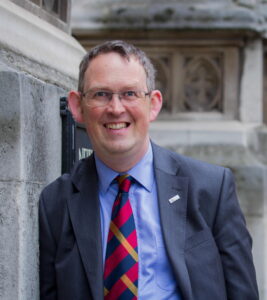 Thinking more widely, Paul also points to the Development of Tourism Act 1969, which provided for the establishment of a British Tourist Authority and Boards for England, Scotland and Wales promoting for the development of tourism. "This allowed for investment into council projects that would enhance the tourist offer in a local area. If we are seeking to 'build back better', why can't we encourage the new Destination Management Organisations to resuscitate, if you like, those plans – and maybe think of how better coach parking facilities can be built in resorts?"
Inadequate parking facilities for coaches have been a 'major problem' in his constituency, Paul points out, and suggests there is now an opportunity to use existing laws to promote an improvement of infrastructure which could benefit the sector long term.
Achieving these aims does not come across as outlandish. "I can only go on my own experience as a transport minister," Paul says. "I have been Rail Minister and Aviation Minister, and my approach when we have a sector in trouble is to work with it on a plan of recovery, as to what the department can do, what other departments can do, and what the sector itself can do. Then we can start to make the case to the treasury. That would be my step-by-step approach if I had this in my ministerial interests, and that is what I encourage other ministers to do."
Identifying a problem, formulating an action plan and taking action may not succeed in getting all of a sector's wants, but it begins work towards securing some of it. Anything will help at this stage, Paul believes –  but with so many competing interests all trying to make their voices heard, the coach tourism sector may find itself being out-shouted by other modes of transport with bigger costs to the department.
That's where MPs like Paul come in, that do their bit to make the voice of coaches heard in Parliament. Operators should continue to work with their own MPs to the same end.