In Northampton, new owners of a long-established coach operator are injecting some new sparkle. The benefits to the business, and to its drivers, are clear to see
If you've visited the Silverstone motor racing circuit in Northamptonshire on one of its many event days you'll very likely have seen the smartly turned out coaches and minibuses of KIS Coaches.
The Northampton-based operator operates shuttle contracts for many of the motor racing teams that are based in the surrounding area.
"At the British Grand Prix and other major events every vehicle and driver is in use," says Charlotte Greenwood, KIS Coaches' Transport Manager.
"Motor racing is an industry focused on quality and attention to detail, elements that are equally at the core of what KIS Coaches is all about."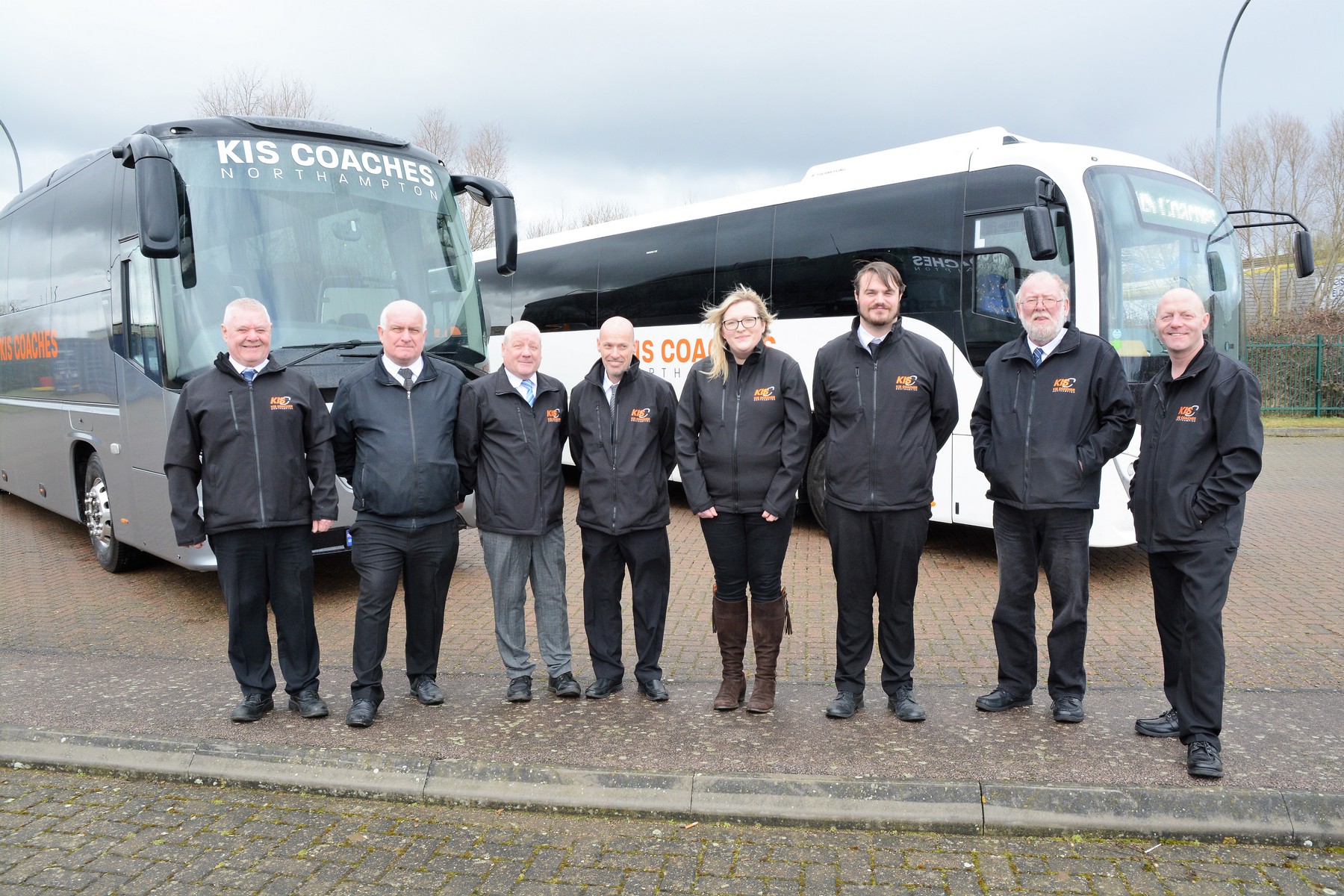 I'm meeting with Charlotte in the company offices on a trading estate close to Northampton town centre. Stuart Simpson, the company's director is away from the office with other commitments.
"At the start of 2018 I was working at a stud farm in the Northamptonshire countryside," she says. "I love horses and working with them was my dream job. But I was starting to get fed up with being kicked, bruised and battered when I was looking after them. Stuart Simpson's wife, a good friend of mine, asked if I would be interested in working for him as bookings coordinator for a local coach operator he was involved with.
"I knew nothing about the coach industry, but in 2018 I said goodbye to the horses and started a new career with a different type of horsepower. As I learnt about the business I found myself becoming more and more interested in the coach industry. It was a rapid learning curve.
In the December of 2018 Stuart encouraged me to sit my Transport Manager CPC. I remember being the only woman from a coach company on the course. I'd found a new vocation."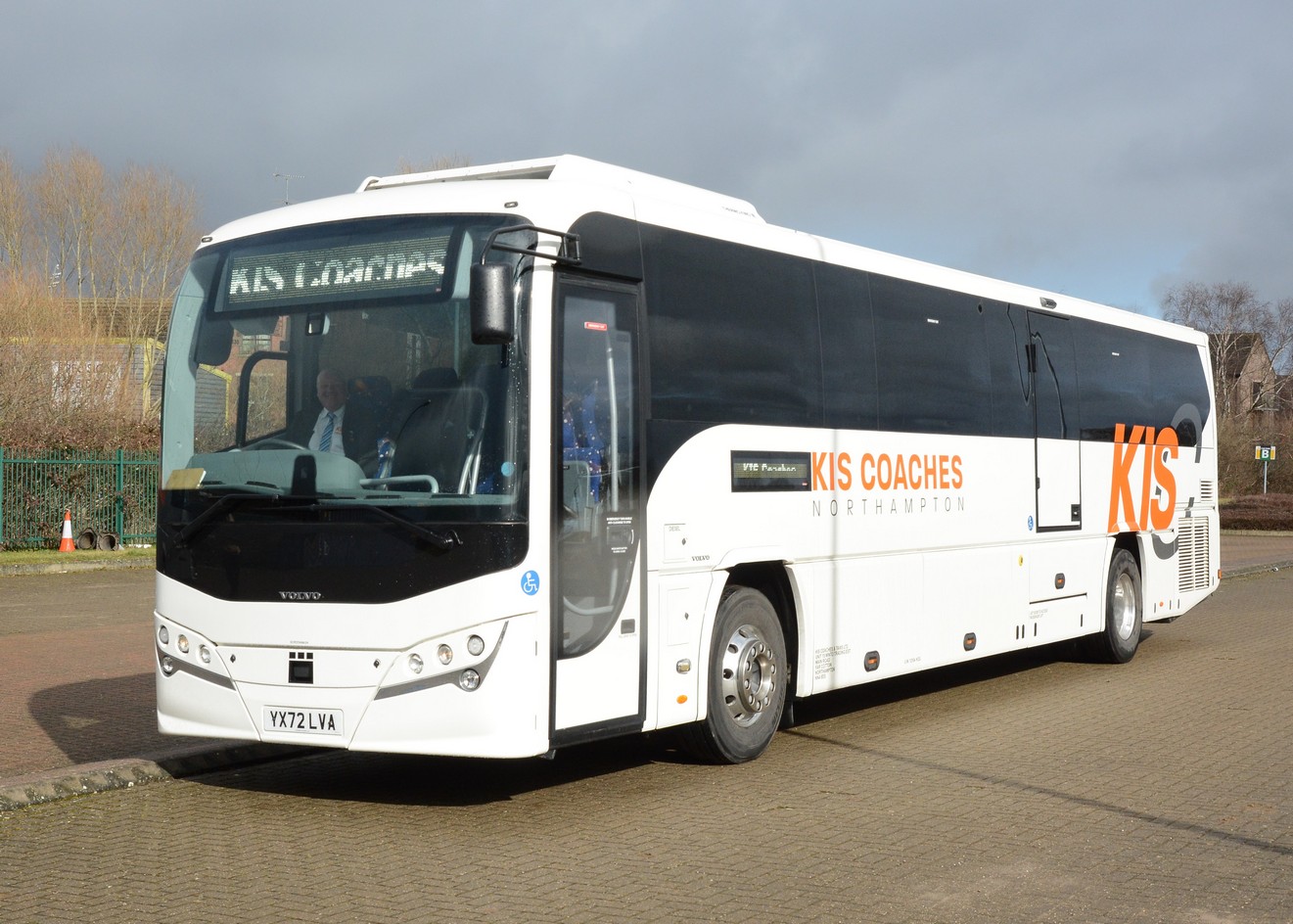 2020 – a year of change
Charlotte recalls the year that followed as being eventful.
"At that stage I was 26, and a woman in what was a male dominated environment," she says. "Yes, I had to deal with all sorts of comments from many of the older drivers. But I was firm, I knew my tacho and driver hours regulations and, bit by bit, I gained their respect."
In February 2020, just before the COVID-19 pandemic hit, the business closed due to circumstances beyond its control.
"There were some challenges that we faced that we were unable to overcome," she explains. "We had built up a good reputation with a wide range of customers, and we had a good team of drivers.  Stuart was therefore keen to find a way to continue operating and he looked around to see if there was another coach operator he could buy. He found KIS Coaches.
"KIS refers to the village of Kislingbury, a village a few miles to the west of Northampton. The business had been established in the 1950s by Jim Skene and latterly run by him and his son Gordon. They had moved the business to the Northampton trading estate in 2009 and were operating a mix of older minibuses and full-size coaches. Stuart had been looking at the company before the pandemic hit. Having an urban operating base instead of the previous rural business was better for driver availability. During the first lockdown he finalised the plans, and subsequently acquired the 12-strong fleet, the O-Licence, contracts, staff and goodwill in July 2020."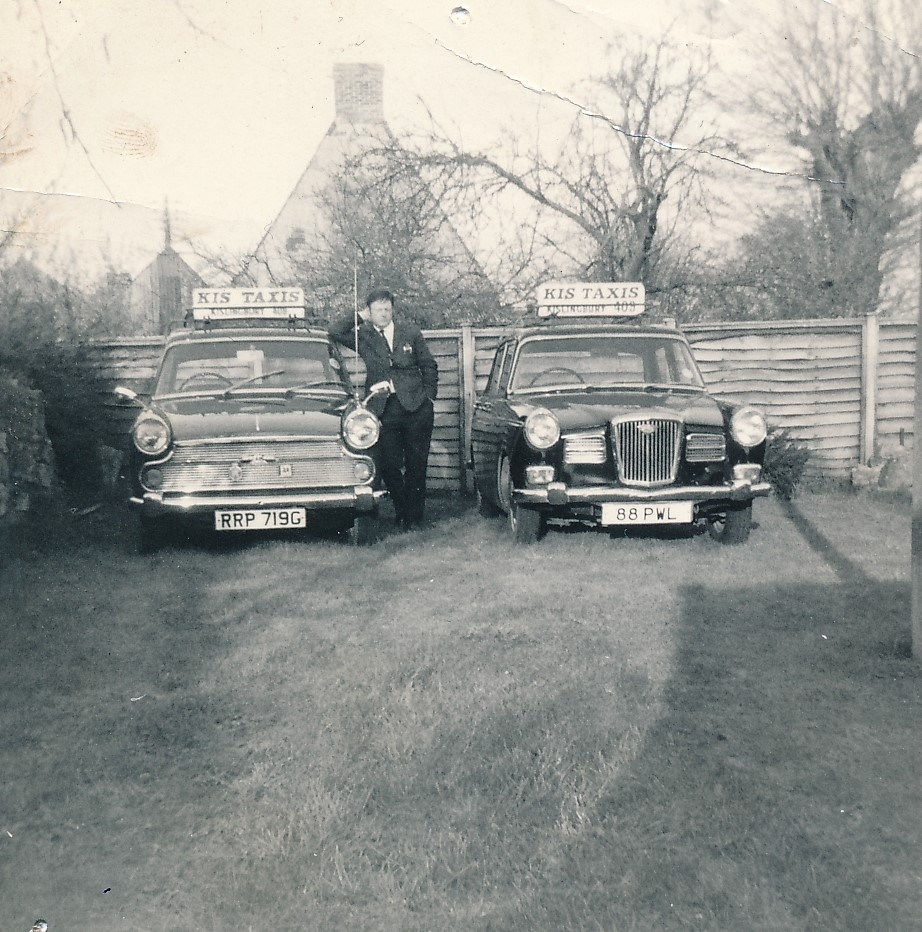 Charlotte explains that KIS Coaches at that time was a business in need of bringing up to date. The newest vehicle was an 11-plate Mercedes-Benz Sprinter.
"It was an opportunity for a fresh start," she says. "I was excited about the prospects of moulding the 'new' KIS Coaches into something special."
However, as she soon found, managing the pandemic was one challenge. Taking an existing operator and shaking things up was something else altogether.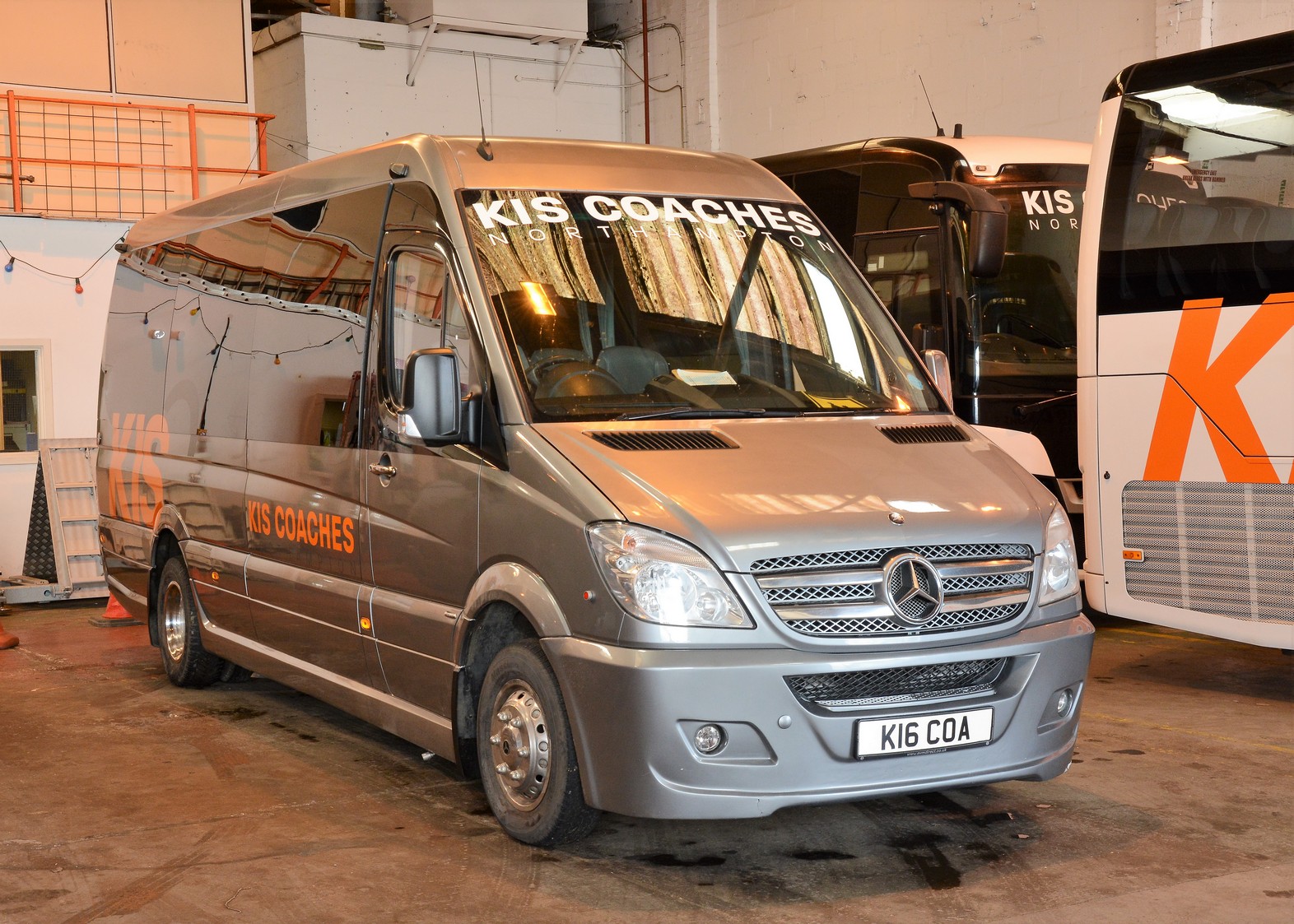 Taking the business forward
"We decided to take things step by step," she says. "We looked at what we needed to do and how to make it work. Stuart is the owner and I am very lucky that he and I can discuss our ideas for the business and grow it together.  He has always encouraged me to take the business forward. I've found something inside me that just a few years before I probably wouldn't have thought existed. I was enjoying the challenge.
"Most of the KIS fleet were sold, with a VDL Futura 2, a Volvo Sunsundegui and a Caetano Levante forming the mainstay of the full-size coach fleet. We acquired a new Temsa MD9, and a Mercedes-Benz Indcar, and with deals to be had during the following lockdowns, slowly built up the fleet."
Charlotte recalls that it was hard work.
"We wanted to modernise, so in addition to adding second-hand vehicles to the fleet, others were re-trimmed and re-painted instead of selling on. We also rebranded the coaches."
Today, the fleet stands at 12. The latest addition is a 72-plate, 72-seat Volvo B8R Plaxton Leopard. Two double-deckers are operated, one a Volvo Olympian (R141 EVX), originally with Stagecoach Fife.
"I like the number of vehicles I have," says Charlotte. "So I'm not really looking to expand the fleet. It's more about modernising everything else that we have. We've invested in our staff, giving them new uniforms. Our drivers had a pay rise. We now offer £14 per hour, and £19 per hour at weekends. I believe we're the highest paying coach operator in the county. On top of that we've invested in new technology in the workshop, including new Totalkare mobile lifts and a brake tester. We use Jaltest Diagnostics' system for preventative maintenance, and have a vehicle tracking system from Kettering-based Trackitnow. We run in-house Driver CPC courses in partnership with training provider Lloyd Morgan."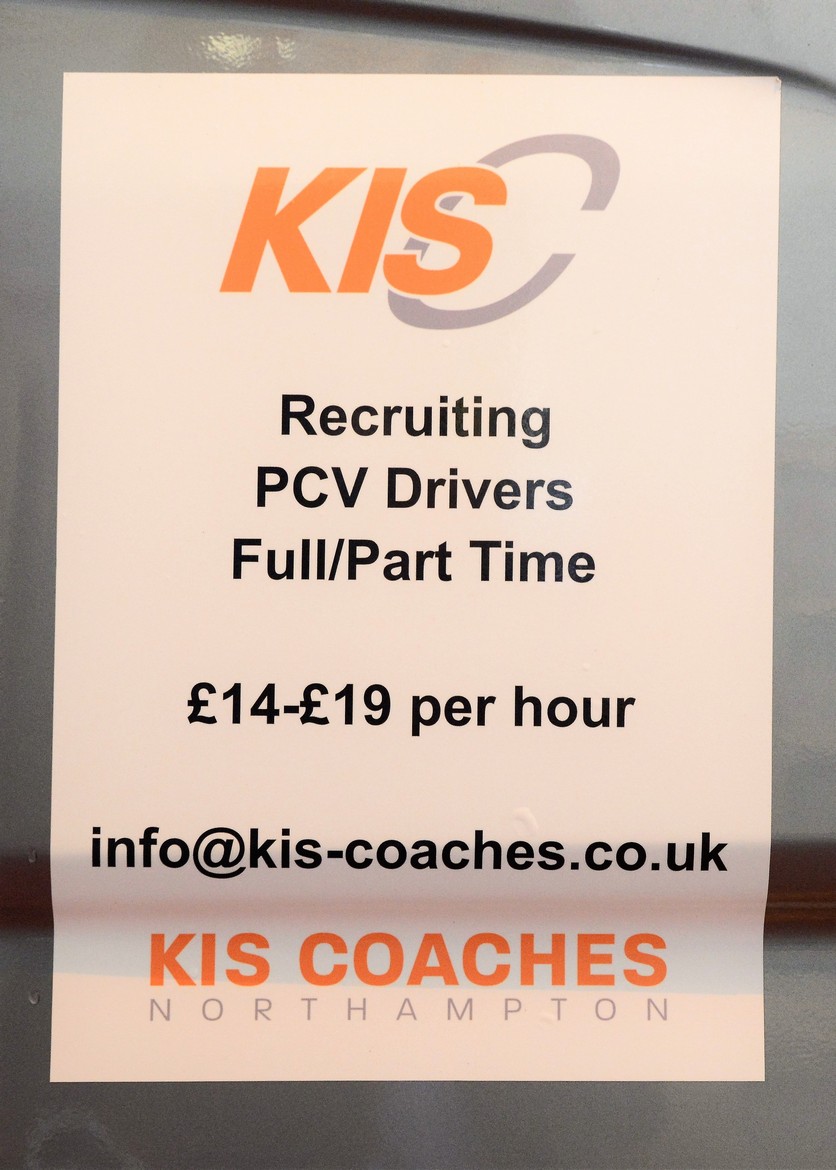 Vehicles are part of the family
Charlotte has an understanding for her fleet that belies her relatively recent entry into the industry.
"We've put a lot of time and effort into the fleet as a company," she says. "The coaches and minibuses are like people. Each one is like a friend or part of the family. We know their individual quirks!"
Charlotte smiles when I raise my eyebrow at the mention of pay rises for drivers.
"We know our worth and that of our staff and we stand by our rates," she says. "We don't undercut. We recognise that rates across the industry need to rise. In this part of the country most operators feel the same. Yes there are one or two who continue to undercut, but the quality isn't there. I'm very keen to maintain rates and quality, and with our customer base we're able to do that. During the pandemic, to avoid drivers leaving to go van or HGV driving, we increased our rates. If you're bothered about your staff then you have to support them."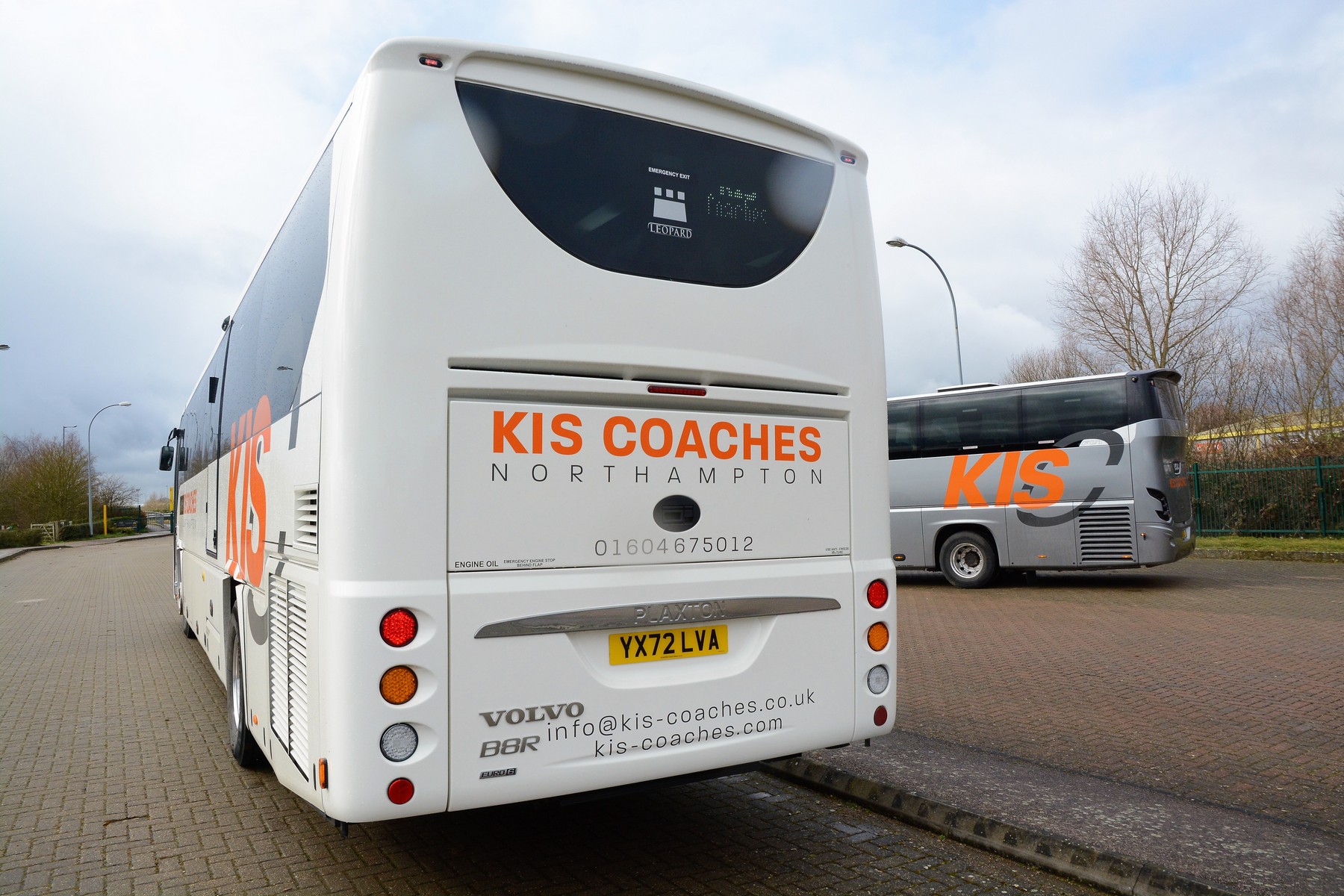 Today you can feel Charlotte's pride in what's being achieved. But there are the usual challenges.
"All our inspections and light maintenance are done in our workshop," she explains. "Anything major goes to a local supplier. But I'm finding it really hard to get vehicles booked in. HGV seems to be more important than coach. I'm also struggling to find parts. Our five year-old Mercedes-Benz 33-seat Indcar is sitting at the back of the workshop waiting for a new clutch. It's proving impossible to source one.
"So why do I do this? The industry hooks you in. But I'm also really proud of what we've done, and what our staff do. I'm also pleased that Stuart has trusted me to get on and run things and that he gave me the chance to enter this industry that I do love.
"KIS Coaches is a special little company, with special people, and I wouldn't want to be anywhere else. I'm very lucky to count everyone I work with as a friend, and not just a colleague. But you know, if five years ago, while I was up to my ankles mucking out, if you'd have told me what I'd be doing today, I wouldn't have believed you!"