Many housing estates are building a car-dependent future, according to a report by Transport for New Homes. Can the damage be undone?
A report published by Transport for New Homes has accused many housing developments in England of trapping residents into car dependence.
Greenfield sites seem to be the worst culprits, being located on ring roads, bypasses and major roads with limited public transport services, and served by large retail and business parks, "US-style" drive-through takeaways, and out-of-town fitness centres. As traffic increases, developer money is put towards new road projects to cope, compounding the problem. Serving such sites with public transport becomes a difficult problem. Is there a way bus companies can undo the damage?
Nothing new?
For some, the problem is merely another part of the 60-year story of how planning policy has been accommodating car travel. Andrew Wickham, Managing Director of Go South Coast, reveals that most developments in his area are built "with absolutely no regard for any form of transport serving other than the car" and points to large housing developments outside of Bournemouth and Poole where bus routes simply are not commercially sustainable.
The conventional wisdom that follows is to put forward a Section 106 requirement or a Community Infrastructure Levy in order to pay for a bus service. But these are often inadequate, Andrew argues.
"The problem with these places, because they are on the edge if not a long way out of town centres, is that the funding will buy a midibus service running perhaps hourly or at best half-hourly. It's an unattractive service level that people won't want to use. The developer will have discharged its obligations by paying for it, and could not care less if it runs or not after that. When the Section 106 money runs out, the service ends, and you are back to square one."
Examples of good practice are the rarity, and those developments which are served well by public transport are typically dense developments. So is there a solution?
Paul Walker, Head of Partnerships and Strategy at Go South Coast and one of the contributors to the Transport for New Homes report, speaks regularly with local authorities about planning and how developments interact with bus services. He reveals that these discussions fall on deaf ears much of the time, but that a key consideration of challenging a planning application (outside of vetoes) is to ask before whether a development can be sustainably served by bus services without ongoing subsidy.
"The only way that is going to be a 'yes' is if the development is bang on an existing high frequency corridor, and is designed in such a way that people can get to that corridor," adds Andrew. "The real issue is the physical or the special location of these developments and where they sit geographically. Planning has been wrong on this for years and clearly that needs to change."
Part of the problem depends on local authority structure. Where the two-tier county and district structure exists, Andrew warns of a disconnect where county councils are responsible for transport and district councils are responsible for planning. Differing teams mean a potential lack of priority in choosing locations which can be effectively served by public transport. A change in the law to accommodate planning guidance would provide a legal basis for refusing planning permission without the need for an expensive appeals process, which many local authorities are loath to go through.
Using what you've got
But it is not all bad news. One recently launched bus route serving a new development is Grant Palmer's HI service in Bedfordshire, established on 28 March. There is optimism: It serves the Bidwell West development with an hourly service Monday to Saturday and a two-hourly service on Sundays and Bank Holidays.
The development has been made in partnership with Central Bedfordshire Council, which put a tender out to service in 2021 to provide a route between Houghton Regis North and Dunstable and Luton. It uses the Luton and Dunstable guided busway to beat congestion and, it is hoped, grow patronage. Grant Palmer reveals that the Section 106 agreement as part of the tender majored on sustainability.
The service will be promoted through printed publicity and roadside displays. "The product and the route is designed to attract people out of their cars and onto bus with efficient journey times and easy-to-read timetables," says Executive Assistant Thomas Manship. "We want to advertise in due course about the message of the journey speed and reliability because it is on a guided section, and of the ability to use the tech we've got such as Ticketer enabled QR codes, machines and smartphone apps."
Access into and out of the new development is smooth thanks to a wide central spur providing a direct line of route. There are busway flags, busway compatible stops, and a good working relationship with Central Bedfordshire Council on the project. "We think working well with Central Bedfordshire Council means we can overcome these challenges and deliver a good bus service," Thomas says.
Are there other ways?
But is a fixed-line bus route the only solution? Arriva challenged that notion in 2019 with the launch of its ArrivaClick service at the New Lubbesthorpe development in Leicestershire – an initiative of the Drummond Estate – which is believed to be unprecedented insofar as this was the first time in the UK that a Section 106 agreement was used to fund a digitised demand-responsive transport (DRT) service. Serving an area of some 70,000 people and 29km², the service follows efforts by the operator to be "proactive" with new housing developments. It worked closely with the site pre-application, trying to avoid many of the pitfalls that the Transport for New Homes report highlights.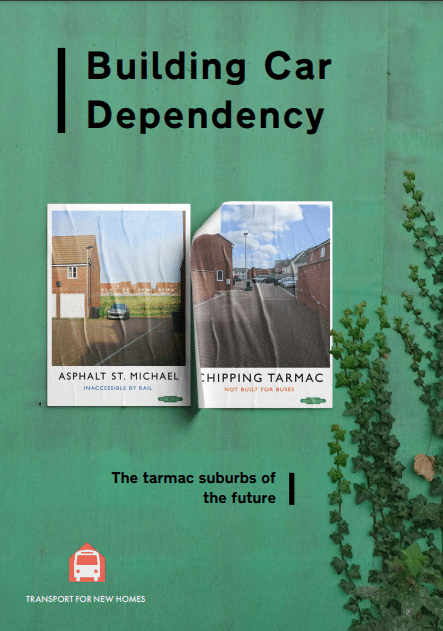 Toby France, Area Head of Commercial at Arriva UK Bus, reveals that a conversation with the land agents representing the Drummond Estate four or five years ago showed the developer was "keen to do something different" where a bus service was concerned. "I think the agents had quite a different perspective for New Lubbesthorpe where they were focused on it being a more sustainable development in terms of construction technique as much as travel, trying to avoid it becoming another car-based new development," he says.
There was an ambition to make the targeted demographic of young professionals and families one-car households. That led to discussions on a wide-ranging bus service from first occupation, with a 20-minute service between the new development and the city centre. The travel plan also had longer-term aspirations over a 20-year buildout with additional services linking retail and out-of-town leisure.
Arriva was able to learn from ArrivaClick in Sittingbourne, which was running as a pilot at the time. The Drummond Estate was excited by DRT as a way of offering connections to other places earlier, while going above and beyond its planning commitment in terms of hours of operation, a higher level of comfort in vehicles, and higher specification to attract a commuter audience. ArrivaClick "ticked the boxes" for that. Discussions with the planning authority and transport authority side-by-side scoped out how committed both were to fixed-line bus, or whether they were open to something new.
Interestingly, the district planning authority was open to the new service and even saw the benefits of DRT in other parts of the district, particularly using the off-peak resource to provide rural services. The county council, meanwhile, was supportive but "more guarded" and according to Toby, "more nervous of the unknown" in wanting to ensure there was no radical departure that would "disrupt the market across the wider area" – for instance on commercial operators and other tendered services, and how concessionaires would be impacted. The latter is an issue that has not yet been fully resolved.
But DRT makes sense for Arriva as a means of offering something slightly more targeted towards the commuter car driving market. Equally, it was about being able to offer a wider network quicker and for it to do more from day one in the development.
"The trigger point for putting the bus service in is that it needs to be as early as possible," says Toby. "Any properties that are occupied prior to that service starting – effectively we've already lost those customers because their travel patterns are set. By putting DRT in, one of the attractions is it's scalable – we can go in with a level of resource now and a number of vehicles, and over the future buildout there is no reason we couldn't add additional resource as and when it's needed."
Right place, right time
For Toby it is refreshing to speak to a developer like the Drummond Estate that thinks outside of the box. He argues that many others can see the benefit in having sustainable public transport built into a development, firstly as a tick-box for corporate climate change objectives, but also as a way of social responsibility, improving the saleability of houses and making developments more attractive places to live. Conversely, there are developers that simply "don't get it". It's often a matter of being in the right place at the right time.
"There are developments that pass across my desk that I have immense frustration over because I can see that there is never going to be a way of running a viable bus service, either due to the road layout or the location of the development and being potentially remote from the existing network," Toby says. "This is a good example of where the developer was forward thinking and could see the benefits. And I guess that's what as bus operators we need to remember, that's our leverage, is to talk to the developer preapplication, and make sure it can see the benefits.
"If you get to the point where a Section 106 has been agreed by the planning authorities and it's going out (to the local authority in most cases) to put a bus tender out, the opportunity to shape the outcome has been lost. As much as the transport authority will always do its best to deliver the best outcome, it is doing its best with what it has to work with, and if we improve what that is, it's a win-win scenario."
At a crossroads
What now, though, after the fundamental changes to the commuter market during COVID-19? "It's interesting watching demand on this service versus the fixed-route network in Leicester," Toby says. ArrivaClick's target market and the principal customer base is the one that has been most affected by the change in working patterns post-pandemic.
"The resource has been scaled up and down over the past couple of years. We've faced the same challenges with DRT that we do with big bus, and it's not unique to us as an operator or to the Midlands as a region – it's across the industry where there is a nationwide labour shortage which affects many different sectors of transport and other industries. We've had to work quite hard to make sure we're prioritising journeys to and from New Lubbesthorpe and making sure we continue to deliver a service and have resource available there."
ArrivaClick at New Lubbesthorpe is now at a point of review. There have been many learnings over the past three years, and moving forwards a decision will have to be made whether the service continues or is replaced with something different.
But using DRT to fulfil a Section 106 commitment and using that funding to pump prime a service with no established travel patterns has been exciting for Arriva, especially as this DRT service differs from those traditionally placed over the top of an existing urban network. It has been an opportunity to try something different and learn from it to see how DRT is affected as a result of market changes.
Toby recommends any operator looking at introducing a bus service through a Section 106 agreement to speak to the developer early, sell the benefits and understand the cost of what is involved. "We're not asking for the moon here, we're asking for something that's fairly simple," he says, "such as making sure the spine road is wide enough for two buses to pass, has suitable line markings on it, things that are generally fairly low cost to a developer.
"To a developer being asked to build two schools instead of one, the costs of bus shelters are fairly inconsequential, so we should be pushing for them from day one."