Bringing brands together. Separating them out again. As The UK Holiday Group nears its 40th anniversary, we find out what's been happening over recent years and what this means for coach operators
It was in 1983 that Paul Bennett got the travel bug. The only son of a farm labourer, he studied law at the University of Kent with a view to becoming a barrister. On graduating he decided to take a year out. Taking a job with Saga Holidays in its public relations department he soon found himself hooked on the travel business.
In 1983, on his 23rd birthday, and with a few hundred pounds of savings, he set up The UK Holiday Group (UKHG). His first tours got under way in 1984.
So now, some 40 years or so later, does the travel bug remain, how did COVID-19 affect the business and what's the relationship with the coach operators UKHG hires in from?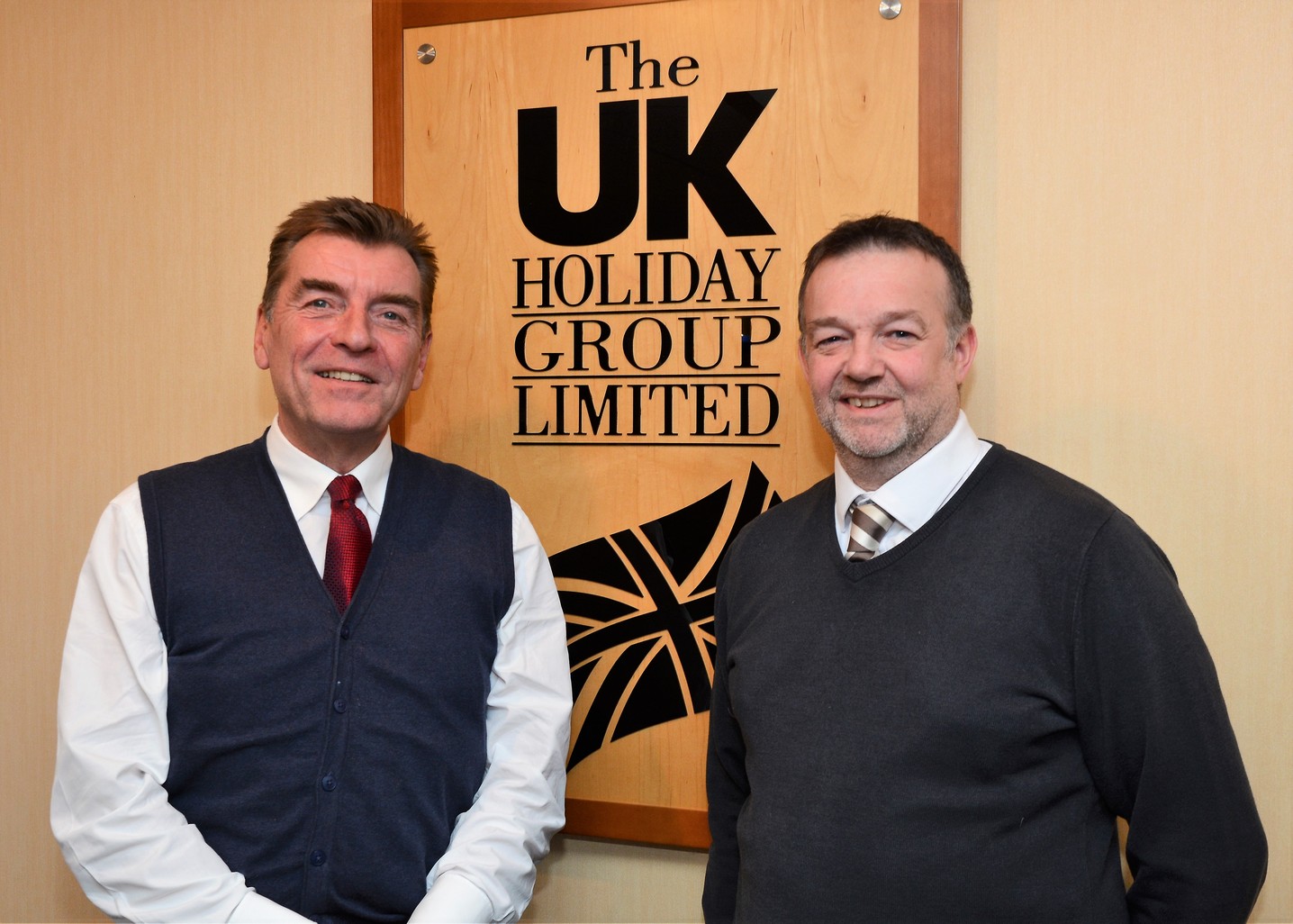 I'm visiting UKHG head office in Norwich. The building used to be a bakery. A sign welcoming me by name greets me as I enter, followed in close succession by the smiling face of Andrew Rix, Head of Tour Operations.
"Welcome back," he says, referring to a visit I made in 2013. "Paul is looking forward to meeting you again."
UKHG is the parent company of five key brands. The largest is Grand UK Holidays, offering a choice of around 500 tours a year. The brand is marketed across the east and south of England and the Midlands and sold through high street agents and online.
"This was my first brand," explains Paul. "From the start it was important that we differentiated our product from others in the market. We were the first company to introduce luggage handling at interchanges and at hotels. We've never charged a supplement for single-bedded rooms. We've also always been ABTA bonded. Many times I've had customers comment about that. It gives them reassurance. Our coach tours are always operated with a driver and a tour manager. We also operate Grand UK Gold, a premium product offering a higher level of quality both in terms of the accommodation and the coaches."
Sitting alongside Grand UK Holidays is Sunrise Direct, a budget product that can be booked online or through the call centre and offers around 85 pick-ups across eastern England.
UKHG's dedicated groups brand, Just for Groups! offers tailormade tours for the groups market with a six-strong team of groups specialists. Paul also reminds me that the company is very proud of its longstanding ties with the Royal Naval Association and various charitable organisations.
Palmer and Glenton
A brand that will likely be more familiar is Glasgow-based Glenton Holidays. The catchment area is central Scotland together with Perth and Dundee.
"Glenton started off in 2005 with very clear differentiation," explains Paul. "It tried to do something different, with its Scottie dog mascot, a logo that continues today. But then around 2009 the business started eying what other Scottish tour operators were doing and went chasing passengers.  Looking back I describe what happened to our Glenton brand as being like following a blind man down a cliff walk. I took my eye off that particular ball."
Part of that move saw Glenton expand its tours programme to include pick-ups in north east England. In May 2011 it acquired West Yorkshire-based David Palmer Coaches. A new brand, Glenton Palmer was launched at the start of 2012 bringing the two separate tour programmes together.
Paul looks back at that period in the company's history with mixed feelings.
"Circumstances meant that bringing Palmer into the UKHG fold was the right thing to do at the time. In theory, bringing the two businesses together should have worked. But it didn't and by 2019 we decided to change the business model and separate the two companies. We wanted to give the Palmer brand its own space."
Today, Palmer Holidays is run by Lisa Palmer.
"We've given Lisa the resources and encouragement to do what she wants," says Paul. "There's no doubt the initial Glenton Palmer relationship was a culture shock for her. I think it's safe to say that those years weren't the happiest time for her. But that has all changed now. We're completely committed to the Palmer Holidays brand. If I was to rank our brands in order of quality, I would put Palmer Holidays at the top, then Grand UK Holidays, Glenton Holidays and Sunrise Direct."
Talking with Lisa Palmer following my visit to Norwich I found a palpable feeling of relief.
"Paul is right," she says. "They weren't the happiest of times. But we're in a good place now. In 2019 we were preparing our 2020 brochure under the rebrand of Palmer Holidays. But of course, COVID-19 wiped all that planning out. But 2021 was a good year. Our customers, many of whom have travelled with us over many years, really like the Palmer Holidays branding. I feel passionate about keeping the family name going. My mother-in-law, Margaret Palmer, who many routeone readers will have known, would be pleased with the quality we're now offering."
In turn, Glenton Holidays, a brand that includes Glenton Select, offering a higher quality of holiday product, is now run by General Manager Chris Ferns, with guidance from Paul and Andrew.
Paul Bennett summarises how the business has changed.
"We don't worry now about quantity," he says. "Back in the day we sleepwalked into competition with the likes of David Urquhart and Caledonian Travel. We've moved on."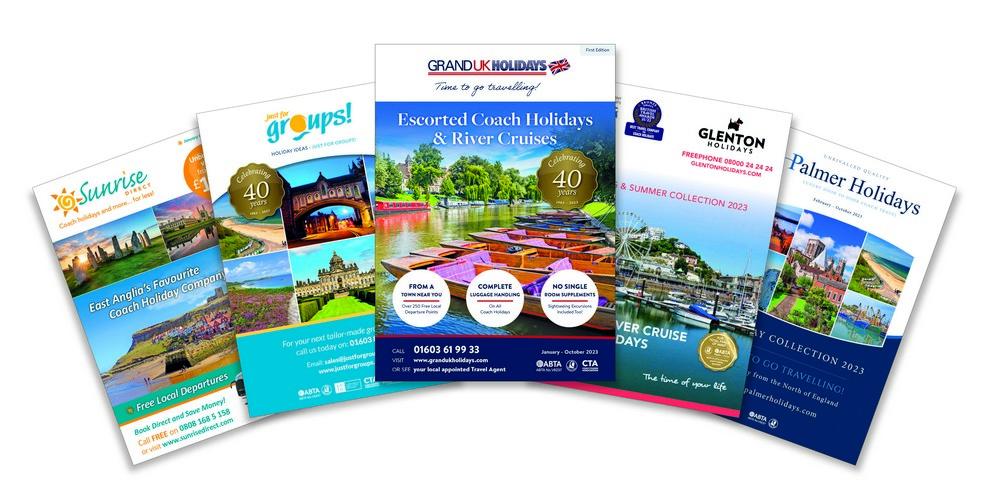 Communications with operators
UKHG doesn't own any coaches, hiring everything in from what it describes as 19 core coach operators across the UK.
"Our partner operators are extremely important to us," explains Andrew Rix. "We are nothing without great coach operators and drivers. We are always looking for new operators to join us. We aim for vehicles no older than five years, but because of COVID-19 we've relaxed that at the moment."
Andrew notes that around half of coaches operating on Grand UK tours are liveried. That increases to around 80% for Glenton. Other vehicles have to be in dealer white.
"We don't accept coaches in an operator's own livery," says Andrew.
Palmer Holidays has two liveried coaches, both operated by Stanley Travel.
Andrew notes concerns over driver availability.
"We recognise that with drivers shortages affecting the industry, driver quality can be an issue," he says. "Tour driving is a different skill set so we're unlikely to accept someone who only ever drives a school bus. But what's really important in our relationships with our operators is communications. Working together we can usually find solutions. In turn, our contracts are usually long term and we do our best to guarantee work."
Operators interested in finding out more should contact UKHG's Operations Manager, Ian Clarke.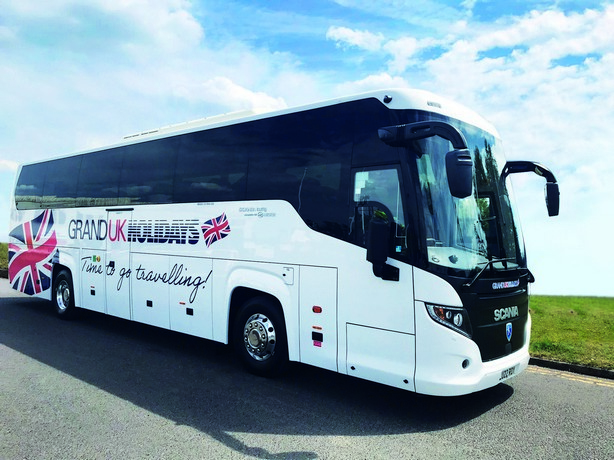 Fishing in a smaller pond
As Paul prepares to celebrate 40 years since setting out on his UKHG journey, how does he see the future?
"We took quite a hit during the pandemic," he says. "But I'm confident the numbers will return. We're heading in the right direction. But there's a lot of uncertainty out there and a nervousness in consumer spending. Our sector is populated mostly by people on medium to modest incomes. Their desire to travel is affected by world events, by the cost-of-living crisis, by fuel prices, even by the priority of looking after their grandchildren. On top of that, customers are becoming more sophisticated in the lifestyles they have.
"Traditional coach holiday hotels, often Victorian or older, aren't being upgraded. COVID-19 brought reduced room servicing, hospitality and catering. Some hotels are using that as an excuse to keep those lower standards. It can be a challenge maintaining the quality we're looking for. There's a disconnect between expectations and provision, especially in seaside resorts. Coach tour operators are all fishing in a smaller pond. But you know, we have a really good team here at UKHG and across our brands. I'm also proud of our balance sheet, although when I used to point out that we always ensured we were saving for a rainy day, I didn't expect it to rain so hard, and for so long! And after all, we're based in an old bakery. We're rather good at producing tasty products!"