Training and safety is essential to safeguard your staff, passengers, vehicles and workshop. Our suppliers reveal some of the risks and what can be done to prevent accidents
Despite being one of the safest countries in the world for workers, provisional data released from the Health and Safety Executive (HSE) earlier this year showed that 142 workers were killed at workplace incidents in Great Britain in 2020/21, an increase of 29 from the previous year. Being struck by moving vehicles or falling objects were among the top three most common causes of fatal injuries according to HSE, highlighting the relevance of proper training and safety to those working in the coach and bus sector.
We speak to some of our suppliers to discuss the dangers of the workplace and how they can help keep businesses safe both in the workshop and while out on the road.
Stalwart of training and safety
Safety starts in the workshop, and over the years Totalkare has made its commitment to training and safety well known. In addition to safety features built into TotalKare's equipment, such as a fail-safe which forces lifts to re-synchronise if they drift outside of a 50mm tolerance, Marketing Manager Steve Braund points out the efforts the supplier has made to ensure staff are properly educated on the risks of heavy lifting.
The main training that Totalkare offers in relation to its lifting equipment is an online training portal. That covers both Totalkare branded column lifts and its complementary workshop equipment. The training aims to give users a comprehensive understanding of the correct way to operate the equipment. "People should always respect the fact that they are lifting several tons into the air, and while safety measures are built into the lifts themselves, not understanding the correct way of operating heavy equipment can still lead to things going wrong," Steve says.
Training is set up to teach best practice. That includes a theory module which looks at the relevant aspects of the Provision and Use of Work Equipment Regulations and the Lifting Operations and Lifting Equipment Regulations, a second module supporting workshop equipment, and a third module tailored to customers on the basis of which model of Totalkare lift is in their workshop. "If an operator has one model, such as our latest T8DC cablefree mobile column lift, we have a module of the training which is specific to the correct operation of that model of lift. If an operator has multiple models, we include the relevant modules for each. Training isn't priced per model – training is paid for, then depending on what models an operator has in its workshop, we tailer it to those requirements."
Training is online through a web-based platform. Users are given a username and password and are able to undertake training on a smartphone, tablet, laptop, or desktop wherever an internet connection is available. Once a module is completed within the training, progress can be saved for later. Training can be reaccessed at any point within a three year period, at which point Totalkare recommends recertification. Certification is provided both to the individual undertaking the training and to the operating company, so that a training record is maintained for all personnel.
As training is not essential by law, Totalkare undertakes orientation as part of the commissioning of any lifting equipment which is more than sufficient for users to understand how to use the lifts. "But people come and go and move between companies, and there is potentially a scenario where staff in the workshop may have joined who have not been given orientation training," warns Steve. "That's why online training is a good way to make sure everyone has access to that learning."
The training uses a mix of video tutorials and informational guides with randomised multiple-choice questions at the end of each module. Users must score 100% otherwise they will have to rewatch the entire training module and take the test a second time. "It's important to get the test right because you cannot fast-forward the training, even if a user has watched it all before," Steve explains. "This is a safeguard to make sure staff pay attention and take on board everything they are being taught, embedding that learning within their memory."
Totalkare also offers classroom-based F-Gas training in connection with air conditioning in vehicles. That is available to buy through the company's webshop.
Safety onboard
Once the staff in the workshop are safeguarded, there comes the need to ensure drivers and passengers are too. One way to do that is through closed-circuit television (CCTV) cameras.
According to digital video recorder (DVR) specialist Timespace Technology, vehicle CCTV is essential for promoting the safety of passengers and staff. According to the Department for Transport's Annual Bus Statistics for England 2020/21, published on 3 November, CCTV is now installed in 95% of all buses in England.
The supplier says the presence of CCTV can act as a deterrent to crime, and high-quality recordings are essential when operators and the police are investigating incidents.
Timespace Technology develops and manufactures DVRs for vehicle CCTV, with products suitable for all sizes and types of public transport fleets. Using the latest high-definition cameras, Timespace DVRs record quality images to a robust hard-disk cartridge, with backup recording to SD card ensuring that critical footage is always available.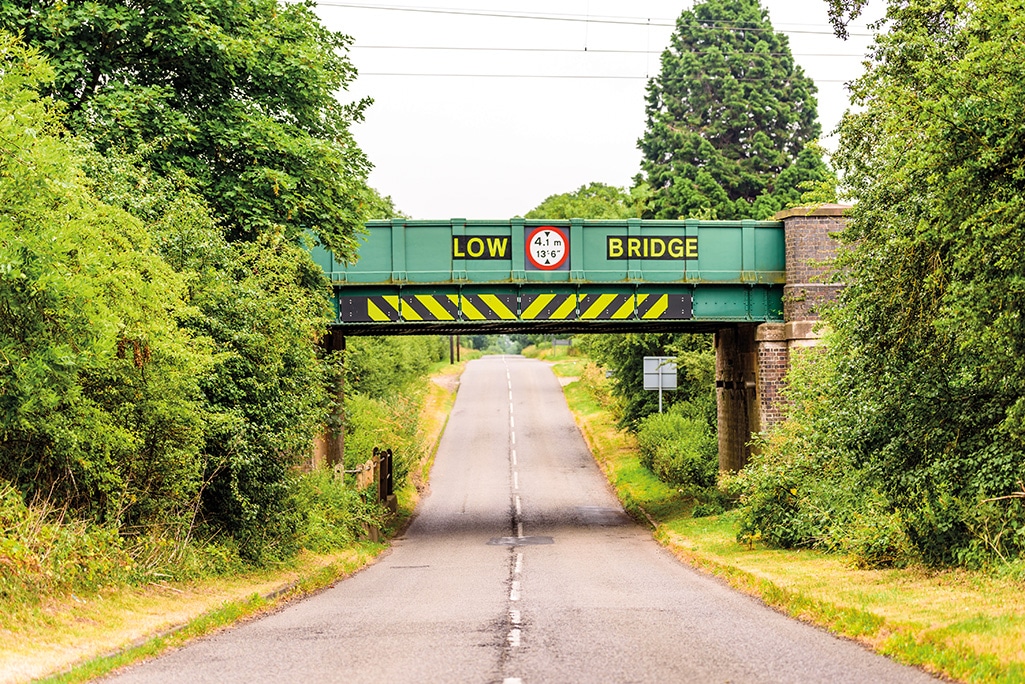 Bridge safety
In addition to its CCTV and DVR offering, Timespace also produces the Bridge Alert low bridge warning device – a valuable tool to help all fleet operators prevent bridge strikes.
The dashboard-mounted Bridge Alert works in conjunction with Timespace DVRs, the embedded BridgeClear database and the vehicle's GPS system to provide drivers with audible and visual warnings of low bridges.
"The Traffic Commissioners have regularly asserted that they expect fleet operators to have systems in place to prevent bridge strikes occurring," says Timespace Head of Communications Karen Heylen. "In addition to adopting comprehensive route planning and driver training, fleet managers are increasingly keen to install low bridge warning systems in vehicles.
"Thousands of additional coaches and buses can now benefit from the addition of Bridge Alert, as the device is now compatible with the Timespace X300 DVR. Timespace regularly updates the bridge data and releases new versions of DVR software to include this."
Totalkare began supplying column lifts to workshops in 1980. Timespace has been developing and manufacturing digital video recorders and accessories for the public transport sector since 1997.