When you visit an operator called John Martin Coaches, you might expect the owner to be called John. Well he is, but there's also Martin, and don't forget their partners.
"John's had to go out on a job so are you ok just chatting with Martin?"
The writing was on the wall long before I arrived at the office of Midsomer Norton-based John Martin Coaches. I'd seen a very tidy looking VDL Futura 2 in the operator's smart turquoise livery in the coach park at Osborne House on the Isle of Wight earlier this year. I was keen to find out more.
"Hello. I'm Judy, Martin's wife, and this is Linda, John's wife. Martin's in the back. Would you like a cuppa?"
That's the joy of meeting a small, family-run coach operator. The Somerset welcome was first-class, the VDL Futura 2 parked close by looked as magnificent as it had at Osborne House, and now I was sat with Martin, the freshly-brewed cuppa going down a treat.
But let's start at the beginning.
John Martin Coaches is John Tamblyn and Martin Rawlings, with Martin's wife Judy as Company Secretary and John's wife Linda as Tours Manager. Back in the 1980s both men worked for the erstwhile Bristol Omnibus Company. In 1988 John, seemingly having had enough of life on the buses left to buy a coal business. Martin continued driving until 1995 with what by then was Badgerline, spending a period driving for Roman City Holidays. But although both men went their separate ways they stayed close friends. Both of them continued driving for other local operators. At one point, Martin spent six years driving a coal lorry for John.
Days away with M&J
But in the background, the two men had been thinking of setting up a small coach tour operation. In 1998 they took the plunge, putting together trips to the Isle of Wight and Weymouth. Customers of the coal business were targeted, as were friends. Leaflets were produced and posted through doors. The new operation was called 'Days away with M&J'. Two 16-seat minibuses were bought and full-size coaches hired in from Berkeley Coach and Travel based in nearby Paulton.
The venture proved popular prompting 'M&J' to expand.
The first full-size coach, a 53-seat Bova Europa, was acquired in 1999 and used on a tour of the scenic 'Ring of Kerry' in south west Ireland. But with the fledgling business now growing the old M&J became John Martin Coaches.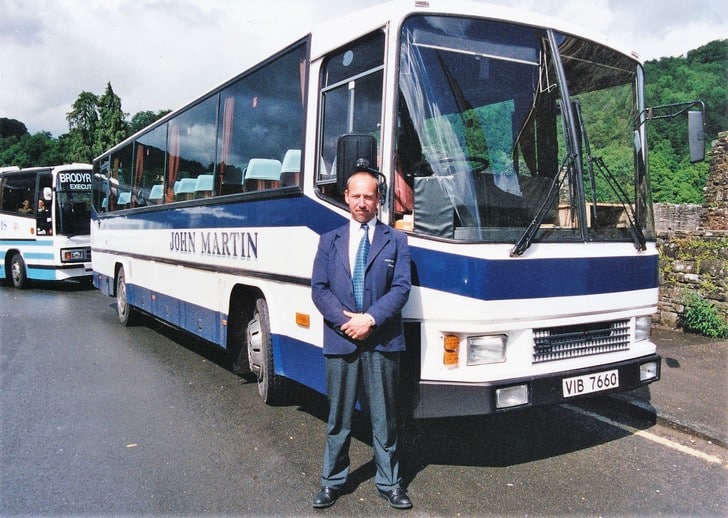 Martin recalls that there was a demand for what was being offered.
"We wanted to ensure our passengers, most of whom were friends of one sort or another, had a really enjoyable trip," he says. "I'm not sure we were expecting for things to go so well, but they did, prompting us to add a couple more coaches to the fleet and employing more drivers. From the start we decided that focusing on tours and excursions, and doing them well, was the way to go. Everyone seemed to be doing contract and private hire work. We had, and have, a number of good coach operators in the area so we didn't want to get into a battle. Having said that, in the early 2000s we operated a school contract for the local authority, but that was an exception."
 Tour wholesaler support
The first holiday programme was launched in 2000. A simple A5 brochure listed all the holidays and day trips. Today, the 48-page brochure is still a compact A5. This year the company will operate around 40 holidays and 100 day trips.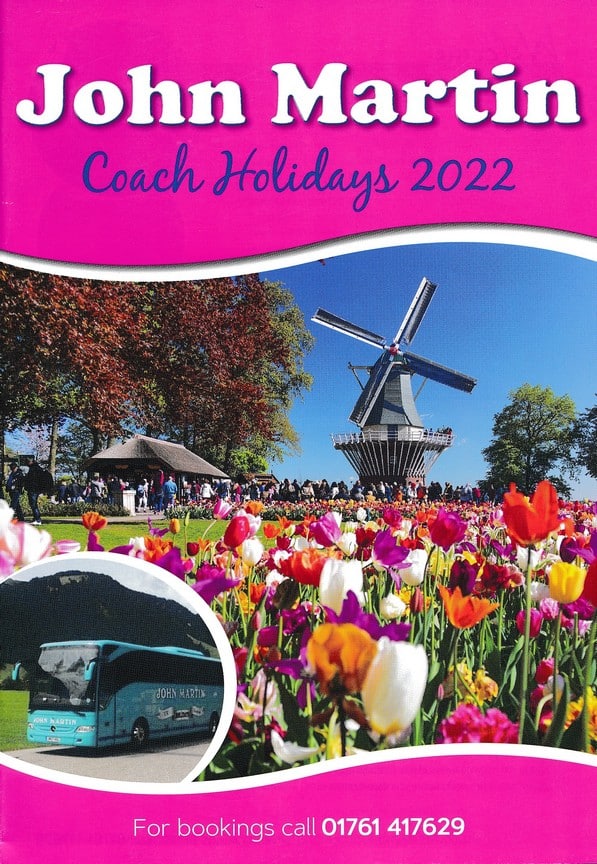 "We use tour wholesalers, especially for our small programme of continental tours, because should something go wrong, we only have to pick up the phone and it will be sorted," explains Martin. "We work with Norman Allen Group Travel and Albatross for our continentals, and Action Tours for our Irish holidays."
Martin explains that the company kept going in the summer of 2020.
"We kept communications with customers going," he says. "We also refunded immediately. It seems to have been the right thing to do. Our customers have returned. We have a trust account. The way we manage our cash has been instrumental in us surviving. We use Stoke Park Finance for the coaches. Neil there has always looked after us. It's another element of what we do that we don't need to worry about."
There are two coaches in the fleet, the aforementioned VDL Futura 2 on a DAF, and a Tourismo.
"The make-up of the fleet has changed over the years," explains Martin. "After that first Bova we had a Van Hool Alizee. We've generally always bought two coaches together. One for me and one for John. After the Van Hools we had a couple more Futuras and then two Setras. Then we had two Tourismos, the first being a 2014 demonstrator that joined the fleet in 2015. That's the Tourismo we still have today.
In 2019 we were ready to swap that Tourismo for another. We looked at a tri-axle demonstrator and we liked what we saw. But at the same time we received a call from VDL. We'd had a VDL Futura before so we knew the product. To be honest, the deal that was on the table for a new Futura 2 was a no-brainer. It took us away from having a fleet of two of the same manufactures, and having two slightly different seating configurations does cause a few headaches in the office. Judy and Linda still love us though, or so they say!"
The origins of the turquoise livery can be traced back to a coach bought from Kent-based Maida Holidays.
"They had a Berkhof for sale," says Martin. "It had been repainted in the blue. We went to look at it, liked what we saw, and bought it. When we got home we all said we liked the colour. We do tend to stand out in coach parks!"
Family get-togethers
In general, the VDL is used for holidays with the Tourismo working the day trips. Martin and John always work together on continental holidays, sharing the driving and supplying on-board catering when the coach is stopped. Judy and Linda will usually travel with the coaches at New Year, Easter and 'Twixmas'.
"It's good for all of us to be together," says Judy. But when asked if she and Linda have licences meaning they can step in if needed, her response is clear. "I can think of nothing worse!"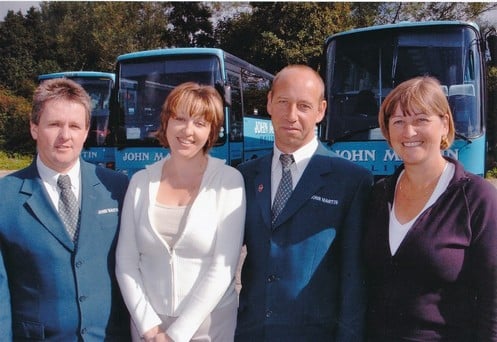 Martin looks back on the last two years.
"It's not been easy," he says, "but we were in a good place financially before the pandemic. That enabled us to see out the worst of what hit us. What's particularly galling is that just as we were getting back into things, and customer confidence was returning, we had this current round of cost of living increases. It's really denting customer confidence. People are concerned about their personal finances. Where they might have had two or three holidays with us across a year, now it's only one, if that.
Gameshow hosts!
"We've been looking at where we want the business to go. I think we've probably got another five years or so before we decide if that's it. These days there are always obstacles. To be honest, if we were considering starting up now, well, I doubt we'd do it. But we're making a nice living and we're enjoying what we do, well mostly. We've never wanted to get bigger. There's no succession. It's basically just the four of us. I guess we'll scale down from two coaches to one, and eventually just stop. But let's see."
Visiting John Martin Coaches engenders a familiar warm feeling you get when you know people enjoy working together. Linda interrupts my reveries.
"I'll tell you what I think about John and Martin," she says, a big smile spreading across her face. "I'd describe them as a couple of old women. They're like the Ant and Dec of coaching."