Please note that an error on page 60 of the July 2022 printed issue of routeone claims the Mercedes-Benz Tourismo used 144 litres of fuel over a distance of 288 miles. This has been corrected here to the accurate telematics figure of 93.1 litres, returning a fuel consumption of 14.06mpg.
It's not often that a coach can surprise an operator when it comes to fuel economy. But for East Sussex-based Regency Coaches, emerging from the worst of the COVID-19 pandemic, that's exactly what happened
First impressions count, no more so than when you drive into a coach operator's yard. Regency Coaches, based near Lewes in East Sussex, is a well-respected, family-run operator with a mixed fleet of 25 coaches, buses and minibuses of different ages. But they all look immaculate.
Talking with owners John and Jackie Durrant, the operating philosophy becomes clear.
"From the start our aim has always been to ensure we operate a clean and tidy fleet," says John. "We run the company in the same way we run our lives. When vehicles leave the yard I want them to look the part. Maintenance and cleanliness are really important to us."
It comes as no great surprise to discover that John's background is in engineering. In the 1980s he was a driver and fitter with Lewes Coach Company. In 1989, the owner, Charlie Chapman, sold the business, but he wasn't ready to give up completely. He kept one minibus and set up Regency Travel.
"I enjoyed working for Charlie," says John. "When he sold the company I left to do a bit of PSV and HGV work, driving for other local operators. But I still helped Charlie out when he needed it. We were good friends."
A five-year plan in three years!
In 2002, and still only operating one vehicle, Charlie approached John to see if he would take over the business.
"Jackie and I had a long chat and we decided to go for it," says John. "We had a five-year plan – five vehicles in five years."
Jackie remembers the original 'Charlie' bus. "It was a Mellor-bodied Iveco, M430 HPK," she says. "We had good connections in the local community and bit by bit we were able to acquire some school contracts. The first coach we bought ourselves was a 29-seat, Robin Hood-bodied Mercedes-Benz 814 minibus."
"We focused on private hire and contract work," explains John. "One of those local authority contracts is still with us today. We had no plan to acquire a full-size coach. But the business grew and we reached our five-vehicle target by the end of year three. In 2004 we landed a contract that required a full-size coach. I remember discussing this with Jackie saying we'd just get the one."
That coach was a DAF-powered Bova Futura. In 2006 John bought his first new coach, a 29-seat Iveco-bodied Indcar Maxim, a vehicle that's still in the fleet today. In 2008 Regency Travel became Regency Coaches.
Today, John deals mostly with the engineering side of the business with Jackie looking after the office and the team of drivers. There's a third member of the team, their daughter Katie (26) who has taken an interest in the business side of the company.
As business prospered further, Regency took delivery of its first new full-size vehicles, three 53-seat Jonckheeres. A contract with nearby Glyndebourne Opera House, gained in 2006 that links Lewes railway station with the venue, specifies double-deck vehicles. Regency has operated Neoplan Skyliners, an Ayats Bravo, and a Plaxton President bus. In 2018 an 82-seat ADL Enviro400 was acquired followed by a second in 2021.
The Tourismo shines
John explains his thinking in buying vehicles. "We look at what the customer wants," he says. "Safety, comfort and access. Jackie and I discuss what we find. She goes and sits in the seats. We have boxes to tick. Over time we've moved from Neoplan to MAN to Volvo. After lockdown we looked at the Volvo 9700. But as we were doing that I saw an advert in routeone from EvoBus for two Tourismos. We were interested in one, so I phoned EvoBus, and its regional sales guy Lee Hake brought it down to show us. We were only planning to buy the one vehicle, but a good deal was struck so we bought two. The vehicles were just what we were looking for. To be honest, every manufacturer builds a nice coach, so it's often the way the dealer and sales person reacts to us that's important. In this instance Lee and EvoBus hit the mark."
The Tourismos were Regency's first experience of the Mercedes-Benz product. Positive customer feedback combined with product quality and fuel economy saw a third vehicle subsequently join the fleet.
All the Tourismos are fitted with Mercedes-Benz's OMNIplus ON Advance package.
"It's basically a pre-emptive system that uses real-time vehicle status information to identify maintenance and repairs ahead of time," explains John. "It significantly reduces the risk of unplanned downtime. I log on and I can see the vehicles and what's due for service. It will flag up that a part needs ordering. A click of the mouse and the part is ordered. If the coach has an issue then I will know, as will EvoBus UK who can support me if needed."
But with John's engineering background, and his commitment to safety and quality, isn't he already picking up on all of this?
"The technical complexity of modern coaches means I might not spot things," he says. "The system takes the pressure off me, and with all the other challenges facing operators at the moment, that's something to consider. Where the system really scores is in simplifying the engineering admin. It helps us keep a proactive approach to vehicle maintenance while making operating costs predictable and manageable. It's saving us time and money!"
John also notes the issue of trust between operator and supplier. "If the system says a part is needed then you need to be confident that that's actually the case. But I want the confidence that the coaches going out won't break down. This system goes a long way to giving me that confidence. It's early days at the moment but we're already seeing the benefits. We're monitoring to ensure we're not paying more than we need to."
Fuel economy surprise
But there's another part to Regency's Tourismo story. On 1 May this year, Regency took one of the 20-plate Tourismos on a private hire from Brighton to Norwich. It ran in tandem with a different manufacturer's coach from the Regency fleet.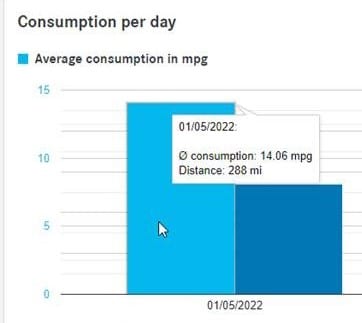 "Over the 288 miles of the hire the Tourismo used just 93.1 litres of fuel, considerably less than the other coach. The Tourismo's telemetry recorded a very positive 14.06mpg. It was a very nice surprise, especially with the way fuel prices are at the moment. The Tourismos only joined our fleet towards the end of 2021 so we hadn't had any long distance runs to measure. I'm certainly going to be watching the figures going forward."
Looking ahead, John and Jackie are resigned to the challenges.
"We used to use part-time drivers but they're just not out there anymore," says Jackie. "There's no enthusiasm among younger people to get behind the wheel. There are other jobs that pay better. We fund our drivers through their Driver CPC, but that scheme is putting new drivers off too. It needs a rethink. London remains a problem. We've shied away from some new student work there. Emission regulations are also having an effect nearer to home too. The new Clean Air Zone in Portsmouth is issuing £50 PCNs if we send anything that's not Euro VI."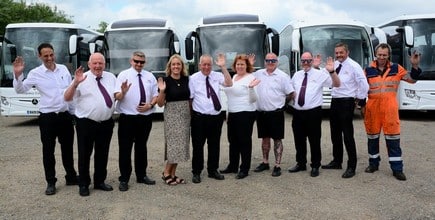 So how do John and Jackie see the future?
"Since COVID I've not been doing as much driving," he says. "I used to get up at all hours to cover emergency rail replacement. Not now. Do we need to keep the business going? Of course we do. I couldn't retire. Just look at the yard. I'm really proud of what's out there."
Final word to Katie. How does she see the future of the family business?
"I'm really enjoying working with my mum and dad," she says. "We each have our roles. It's a big, happy family. What does the future hold? Let's just make sure we're doing the best we can right now."