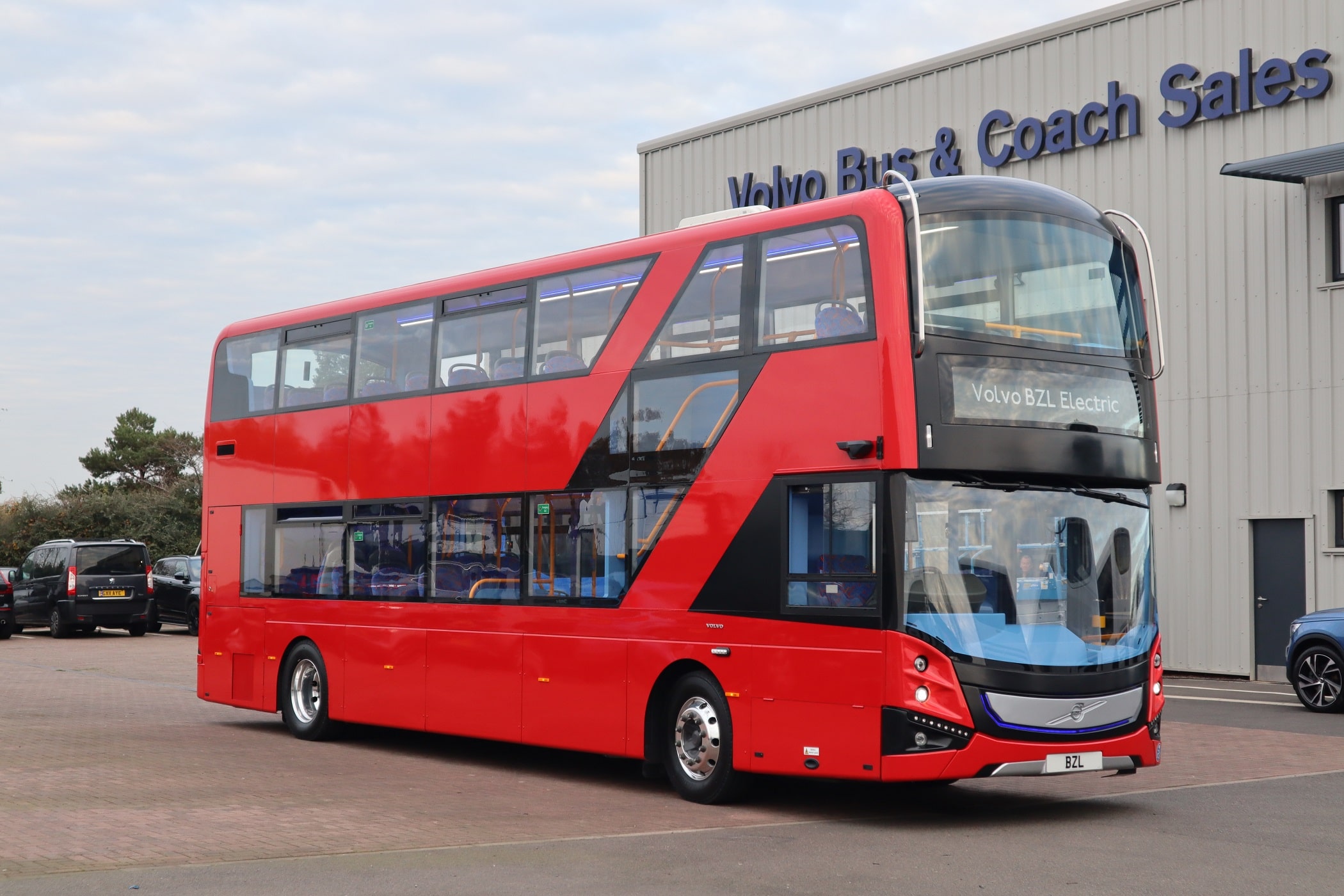 Electromobility is coming to the Volvo bus offering in the UK and Ireland in a major way. That was the message when the manufacturer unveiled its battery-electric BZL range in the metal. After an earlier virtual introduction, double- and single-deck demonstrators were debuted at the Coventry sales centre, and the OEM says that they represent "a step change" from the current Volvo bus line-up.
The BZL forms part of the wider Volvo Group's strategy for achieving net zero carbon by 2040. It also heralds a shift in the OEM's sustainability and partnership agendas. The manufacturer tells of 95% recyclability and 97% recoverability rates for the BZL, while work is well underway through the newly founded Volvo Energy business unit to provide second lives for batteries, among other sustainability-related tasks.
Regional dealerships will play a major part in the BZL's future success, as displayed by the number of their representatives that were present at the in-person launch. Volvo Bus is already talking of the service and parts contracts that those dealerships will deliver, with other customer offerings being examined. Volvo Connect telematics will also form part of the overall BZL product.
Volvo BZL launch is swansong for outgoing MD
Some of that work around the BZL represents "key changes for us," says outgoing Volvo Bus Managing Director Nick Page. He will retire on Christmas Eve and leave the business well poised to leverage the inevitable move to zero-emission, in both the bus and the coach sectors.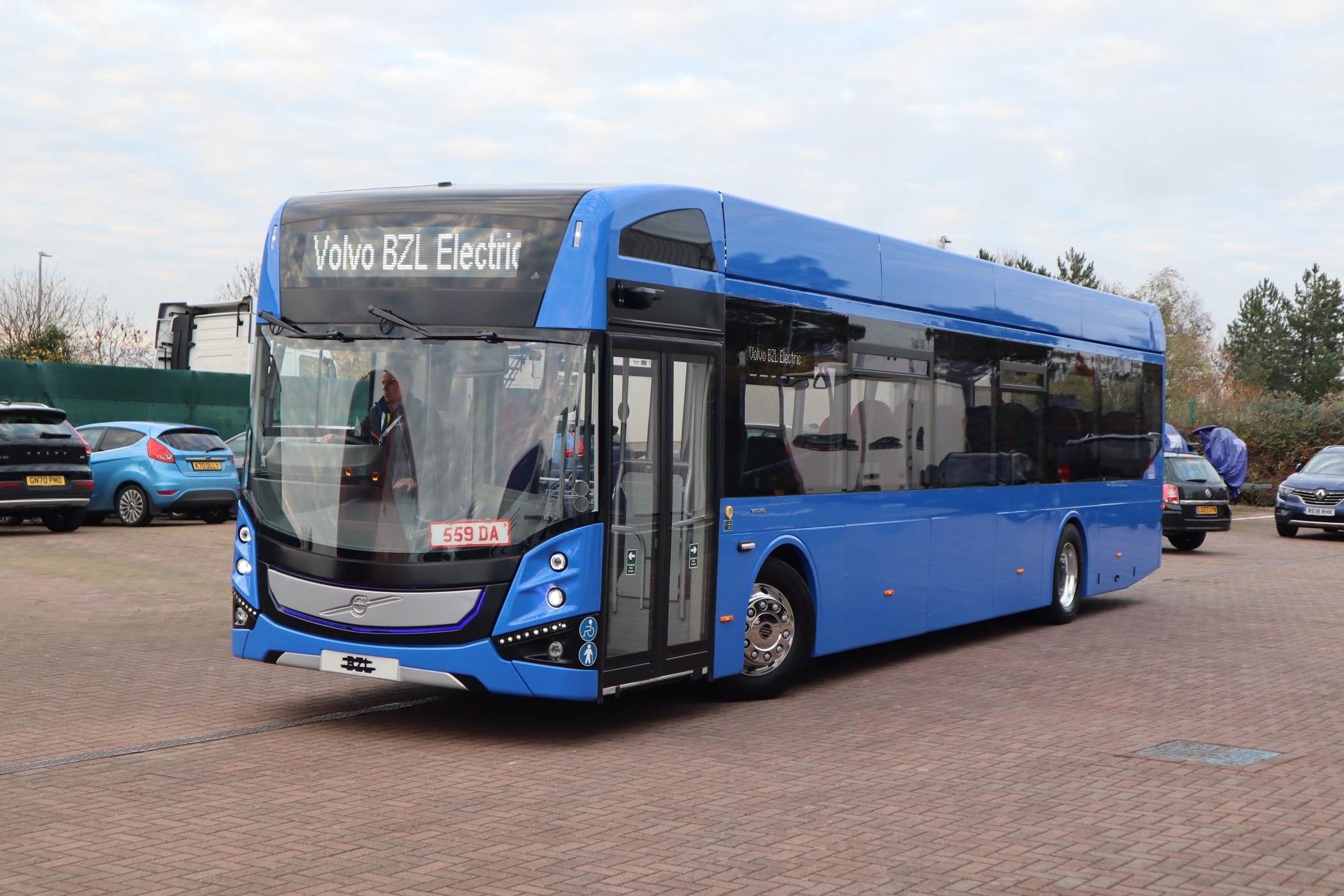 Over 2,500 diesel-electric hybrids have been placed into the UK market by Volvo Bus since 2009.
Success with the battery-electric 7900e single-decker has been more modest, with 21 delivered in the UK and Ireland since 2018.
But the 7900e platform provides the basis for BZL chassis; the single-deck newcomer has evolved from it, and the double-decker uses elements of it. Moreover, the 7900e driveline has been ported into the BZL.
In conjunction with bodybuilder partner MCV, Volvo now believes that it is in a fine position to capitalise on the decarbonisation agenda. Provision of training on the BZL to Volvo's dealer network will commence in 2022, while a comprehensive training programme for operators has been developed that involves the Institute of the Motor Industry. "We will deliver a premium experience to support a premium product," says Service Market Director Andy Kunze.
Efficient use of energy by BZL a priority for Volvo
The BZL uses a 94kW/h lithium-ion battery module. It is fitted to each bus in multiples of three (single-deck only), four or five to give a maximum onboard energy storage of 470kW/h.
While that capacity is exceeded by some competitors' vehicles, Volvo has worked closely with MCV to integrate the body and minimise the energy consumption of its ancillary systems. The number of battery modules fitted to the BZL can also be adjusted in mid-life, although Volvo – like other OEMs – notes that the customer specification for a battery-electric bus is tied much more closely to individual route requirements than it is for a diesel.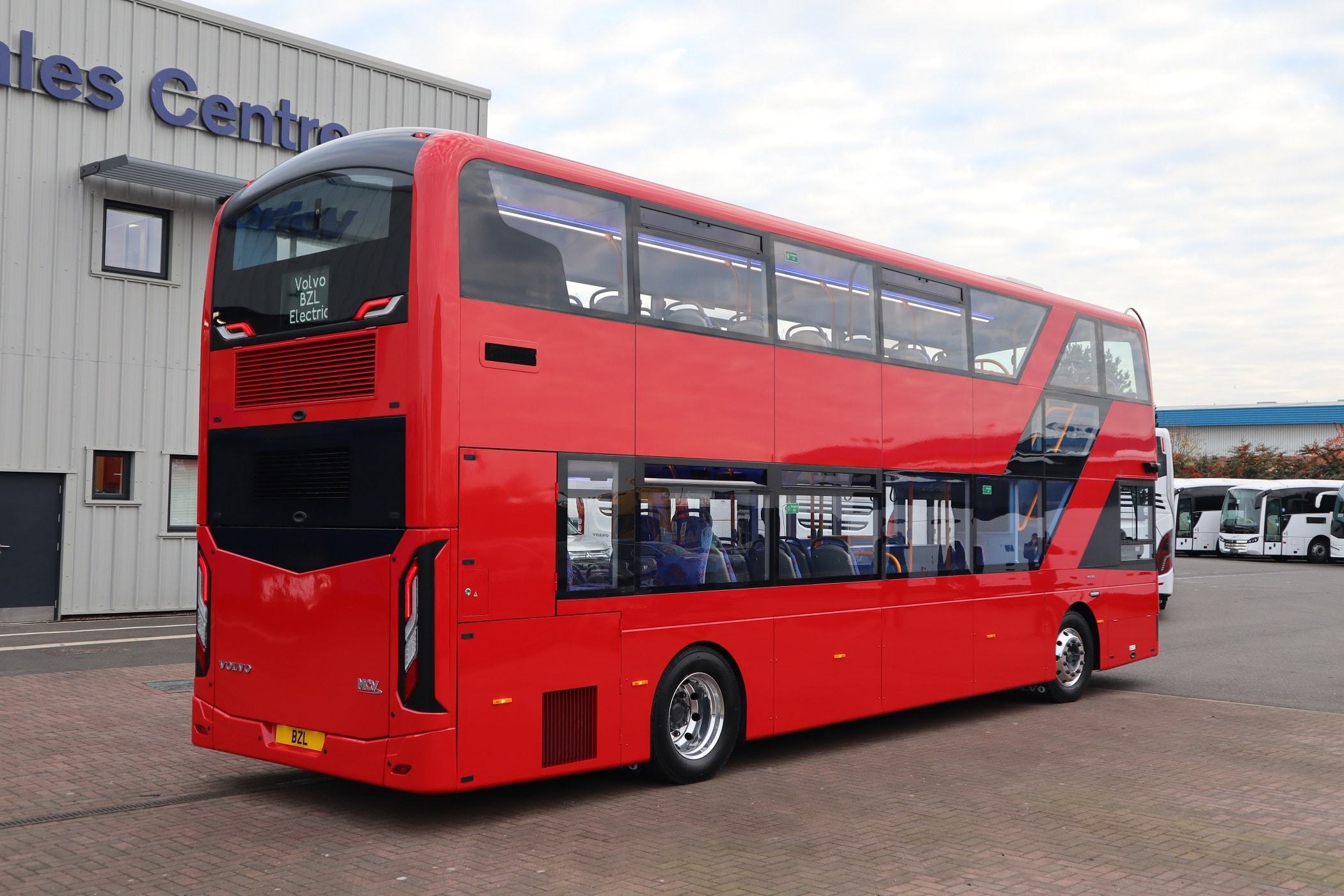 On range, Nick says that too many outside influences are in play for Volvo to make specific promises, with ambient temperature, passenger loading and topography among them.
"But we will guarantee a minimum usable energy level for a specified period," he continues.
Extensive testing has been undertaken of the BZL's energy storage system, and significant measures have been taken to assure its safety. Battery areas are fully sealed. Also from a safety perspective, much work has gone into protecting the driver from impacts, including provision of an effective energy dissipation system.
OppCharge forms major part of BZL range
Opportunity charging is a major part of the BZL offering. While overnight replenishment via a CCS2 plug-in will prove to be sufficient for many applications, the OEM's pantograph based OppCharge concept has proved its worth in the 7900e and it will continue on the BZL.
The first single-deck BZL for the UK is so equipped, and OppCharge is close to being available on the double-decker. Volvo notes that any complexity with opportunity charging comes not on the vehicle; instead, it is more associated with the external gantry, something that the OEM is experienced in delivering.
OppCharge compatibility and up to 470kW/h of battery capacity mean that the BZL will cover "between 90-95%" of all bus requirements in the UK, says Volvo Bus Sales Director Phil Owen. That assertion is difficult to argue with, particularly when the charging power via CCS2 of 150kW and pantograph of 300kW are considered; such is the pace of technology advance, the latter could increase to 400kW "by the end of today," he adds, only semi-flippantly.
In single-deck format the BZL will ultimately be available at lengths from nine to 13m, although some of those will follow later. The demonstrator is 12m. Double-deckers will be built at 10.3m and 10.9m. GVW across the board is 19,500kg. Drive is taken via a ZF AV 133 axle; at the front is a Volvo unit.
Bodybuilder's contribution is well proportioned
MCV's contribution is key to the BZL range in the UK. Unlike the Egyptian manufacturer's other products here, the pair of bodies that sit on the battery-electric chassis are thus far unnamed, although UK Managing Director Ashraf Fawzi accepts that they may need to be christened at some point.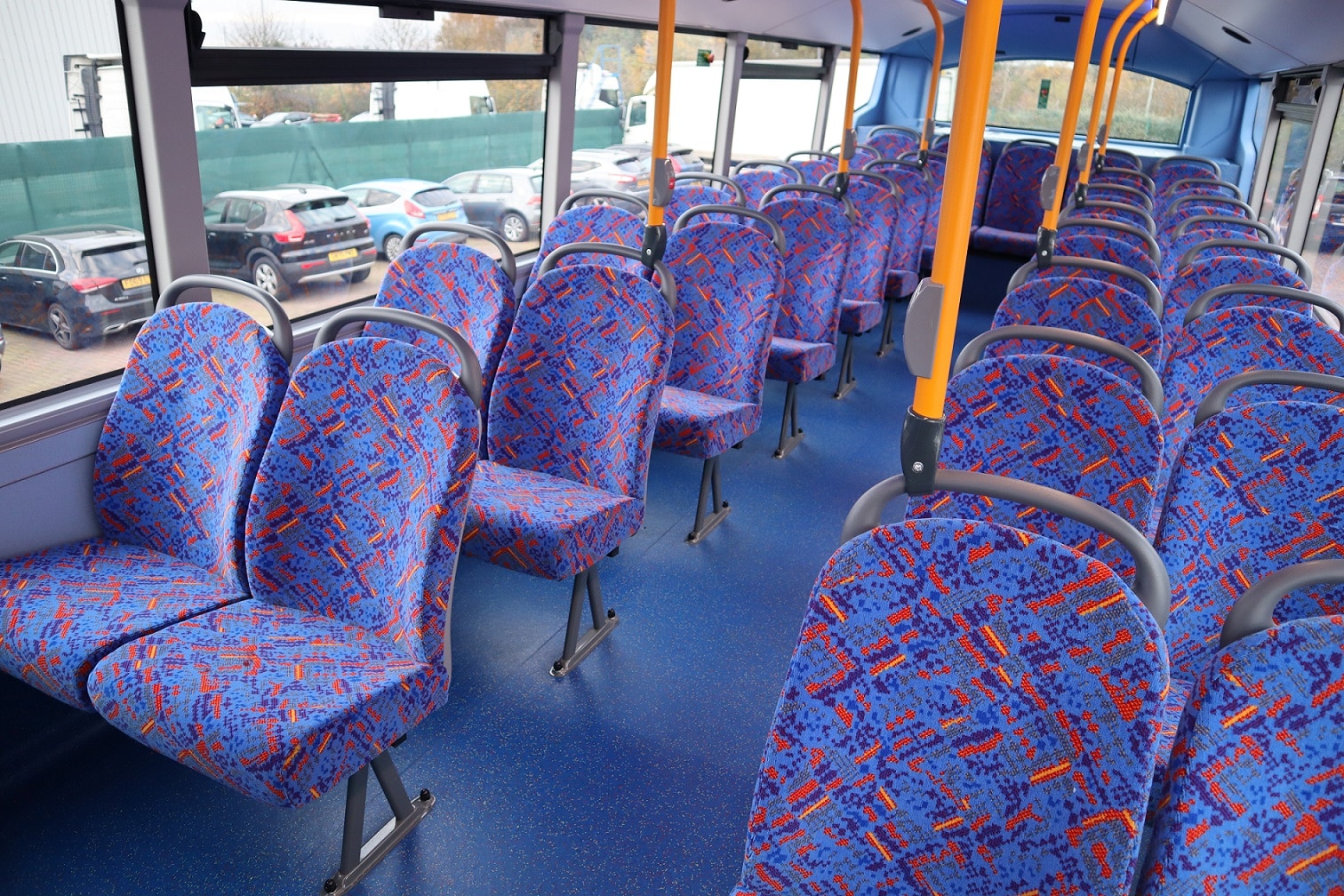 The first double-decker demonstrator, which is to Transport for London specification and will first be trialled by Metroline, comes with a glazed staircase. It is expected that a provincial-specification double-deck demonstrator will follow.
Batteries are spread to achieve optimum weight distribution, and that has the effect of elongating the nearside front wheel arch intrusion into the lower saloon. Just two seats are fitted there between the front and centre doors as a result.
The arrangement behind the exit sees nearside and offside rows slightly offset. Because of that, a rearward-facing pair is fitted over only the offside rear wheels; it is missing on the nearside. While that is a departure from the norm, a Go-Ahead representative present at the launch questioned how much of an issue the missing pair is, adding that rearward-facing seats are seldom popular among customers and are more often used as footrests.
Ashraf notes that both bodies that form part of the BZL range are totally new, not developments of existing products. Like for like, they are lighter than comparable examples used on diesel chassis.
MCV is particularly proud of the energy efficiency of the CO2-based saloon heating unit that it has selected, which uses heat pump technology. It delivers a coefficient of performance ratio of 1:4, which is to say that for each kW of power consumed, four times' worth of heat energy is emitted.
That unit also allows an increment over ambient temperature to be observed, rather than setting a defined figure to achieve. That will optimise energy consumption. Additionally, resistor heaters are fitted for use when the bus is being charged, allowing pre-conditioning of the interior.
Almost silent when on the road
routeone was able to briefly drive the double-decker. From behind the wheel it is almost silent in operation. Noise from the 200kW motor cannot be detected when the cab door is closed and there are no sounds from the body. Mild regeneration begins when the accelerator is released, as shown by the energy consumption/recapture dial.
As in the 7900e, the BZL driveline includes a two-speed automated manual gearbox. Volvo says it reduces driveline wear. Under heavy acceleration its actuation is noticeable. Also evident on a chilly day was the pleasant temperature aboard the bus, which was maintained during its demonstration.
Monitors connected to the external rear-view cameras take a little getting used to, and the offside display may need to be brought closer to the centre of the A-pillar. But otherwise, the BZL is comfortable to both drive and ride on.
While the BZL's predecessor the 7900e has been registered in modest numbers in the UK, it has a strong pedigree elsewhere. The 600 in use globally have covered 45m km. That gives confidence in the BZL product, while MCV's contribution looks to be a strong one. It is passenger pleasing and has a unique family 'look'. There will be much interest in the demonstrators' trials when they begin.
Kent County Council's view: How battery-electric fits with BRT
The first single-deck BZL for the UK and Irish market is an OppCharge-equipped demonstrator. It will first be used on the Kent County Council (KCC) Fastrack bus rapid transit network on Thameside. That will predate a transition to battery-electric operation across an expanded Fastrack, thanks in part to the Department for Transport's Zero Emission Bus Regional Areas (ZEBRA) scheme.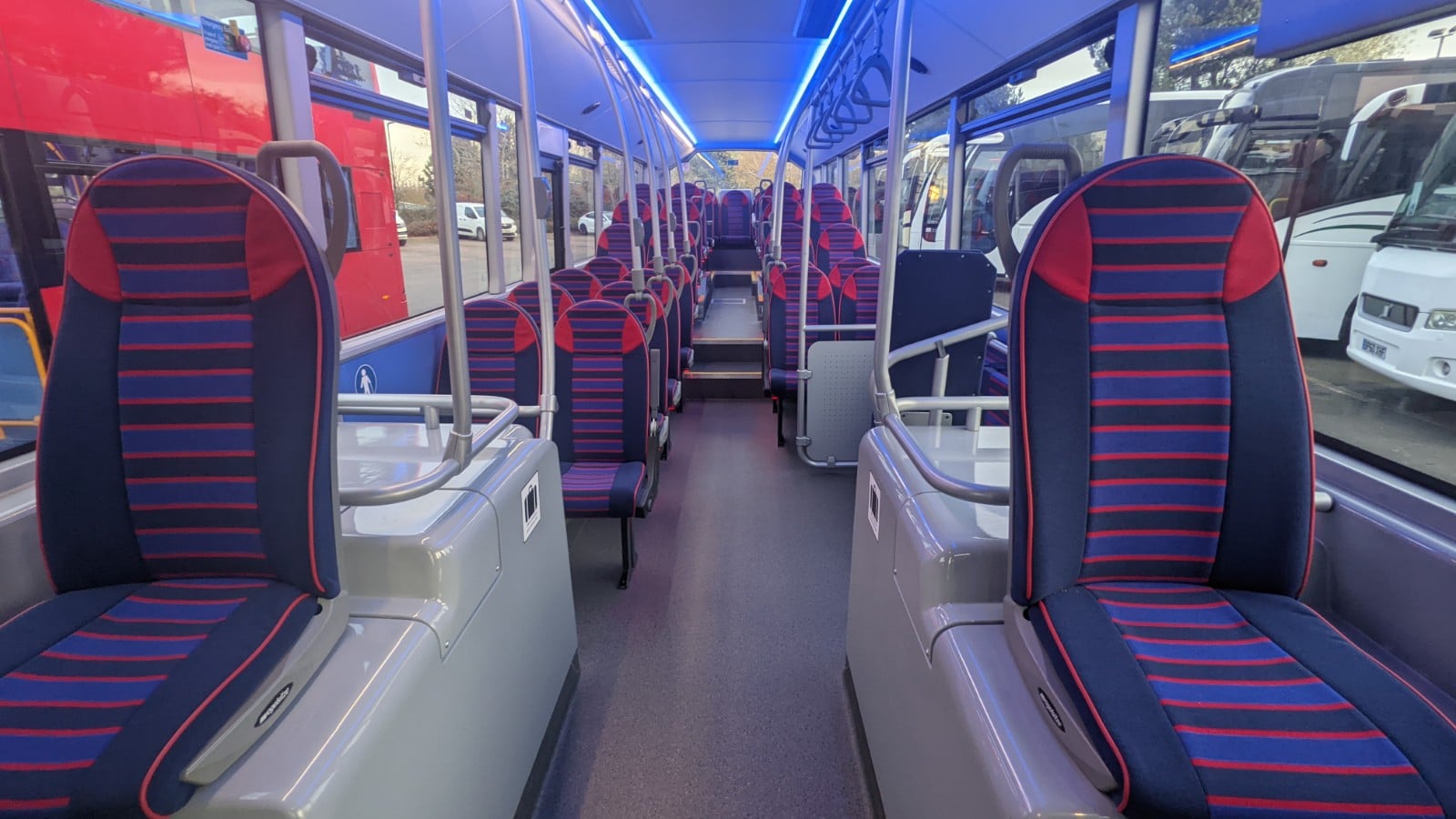 A tender for 33 such vehicles will be issued next year. There is no guarantee that Volvo will be the winner.
But KCC evaluated a 7900e demonstrator on Fastrack in 2018 and the seed single-deck BZL has been finished to its specification in anticipation of the pending trial.
"Our bid to ZEBRA was largely based on data from the 7900e, although we have tested other battery-electric buses," says Fastrack Development Manager Shane Hymers.
Opportunity charging ideal for high-utilisation BRT
Modelling by AECOM showed that opportunity charging is the best solution for electrifying Fastrack, which is to gain a new route in Dover later. The Thameside services are high turnover, and AECOM's exercise also included modelling of the suitability of double-deckers.
New infrastructure has been futureproofed around possible future double-deck requirements, but an overriding operational consideration for Fastway is stop dwell times, Shane continues. Although the BZL demonstrator has one door, the tender will call for a dual-door layout. Minimising journey times is key; KCC has seen a direct correlation between that and ridership.
Engagement work with passengers made clear the importance of a welcoming environment. Tables are "an overwhelming aspiration," and the seed BZL has thus been specified with them. Charging points are also prominent, while KCC is currently working with seat providers to evaluate whether bases with an element of heating are achievable.
That may sound counterintuitive for a battery-electric bus, but logic is present. Heated seats could reduce the need for blown hot air. Heated glass in the cab door may have a similar effect.
Exploring new options for fleet specification
Another possibility being explored is whether green, amber or red can be displayed on the front of the bus, potentially as a border around the destination screen. If achievable, that would indicate to waiting passengers the level of available capacity.

On the BZL, modelling has shown that a four-pack battery fitment with 376kW/h of energy storage would best suit Fastrack's needs.
For opportunity charging on the Thameside network, KCC plans to have gantry units at two terminals and a third for resilience in the middle.
No depot charging per se will be provided, but "secondary" plug-in units will form part of the tender. KCC will pay for electricity drawn from opportunity charging equipment but not from plug-in chargers, incentivising the operator to maximise utilisation of the former. Planned introduction of 24hr services strengthens the argument for opportunity charging, Shane adds.
Partnership is key to zero-emission transition
The contract to operate Fastrack will be based on the expected life of the battery-electric buses that are procured, he continues. KCC's involvement with vehicles does not end with sourcing them. Support from the winning manufacturer will be key, and KCC will look for what Shane describes as "a premium repair and maintenance package."
The duration of that coverage is under debate. "It could possibly extend to a 'cradle to grave' full life approach, or it may be for the first five to seven years, during which the operator builds skills to maintain the buses."