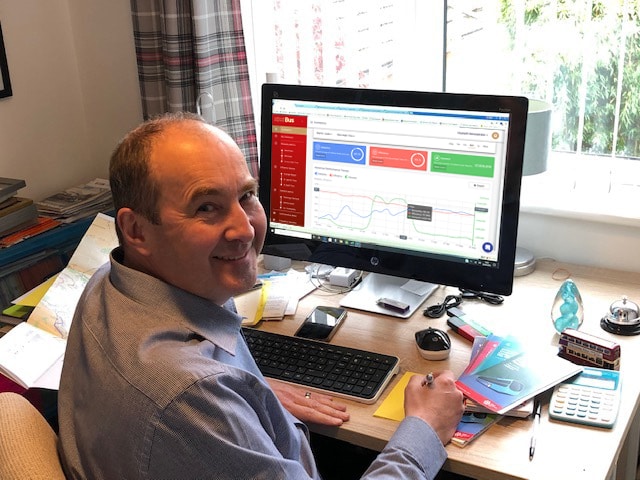 National Express West Midlands (NXWM) is using the CitySwift SwiftMetrics network analysis platform to understand and improve service performance as it recovers from the coronavirus COVID-19 pandemic.
SwiftMetrics integrates with and augments existing bus technology systems to instantly visualise and automatically report detailed reliability, efficiency and demand metrics.
That enables informed decision making related to network development and growth.
Dynamic planning and optimisation of operations via data will play "a large role" in the future of public transport and mobility, NXWM believes. In ten weeks since movement restrictions were introduced, the operator has completed six reschedules of its network.
Says Deputy Commercial Director Andy Foster (pictured): "It soon became apparent that the amount of data we were looking at – loadings on over 12,000 journeys per day – was going to be difficult using our existing systems and would require additional staff to do properly.
"We therefore decided to roll out SwiftMetrics across our network to help planners and schedulers to respond more quickly to changes in demand and ensure that, with social distancing reducing vehicle capacity, we could avoid leaving people behind as much as possible."
NXWM now has an immediate picture of what happens on over 900,000 weekly passenger journeys.
The network's future viability will be guided by CitySwift's specialist bus data engine and products including SwiftMetrics and SwiftSchedule. The latter is a rapid timetable optimisation tool that has enabled NXWM to complete analysis of running times in hours, rather than days or weeks.
CitySwift Founder and CEO Brian O'Rourke adds that data will be of great importance to bus operators as they plan for and model future scenarios as restrictions ease.
National Express has previously worked with CitySwift via its global transport accelerator hub NXIS on a pilot project that saw reliability increase by 3% with no change to frequency. Late departures were cut by 45%, and while PVR was unchanged, fewer operational hours were needed.