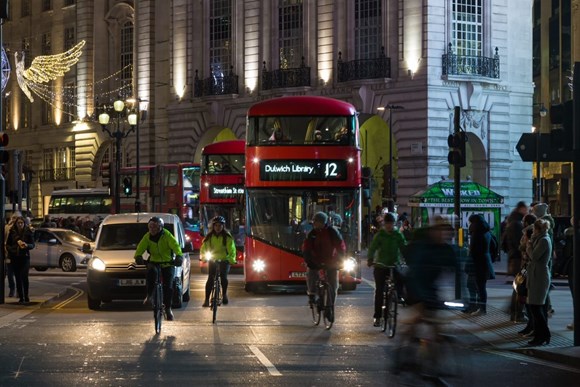 Additional funding to the average value of £25m per year means only three routes out of Transport for London's (TfL's) total of 620 will now be axed in proposed changes to London bus routes made by TfL in June. It means 53 routes will no longer be withdrawn or changed.
TfL says going ahead with the proposals will allow it to improve the reliability of buses in central London while allowing for investment in bus provision in outer London. The partial U-turn comes in response to backlash from bus employees, politicians and passengers, after the initial consultation saw 21,500 replies.
TfL says it is still set to go ahead with 22% of the service changes consulted on, but only in areas where "numerous alternative public transport options" exist. In those areas affected, it adds that there "will be enough capacity to meet demand", with additional interchanges on journeys benefitting from the Mayor's Hopper Fare.
"The strength of feeling across the capital was clear to me, and I was adamant that I would explore every avenue available to me to save as many buses as possible," says London Mayor Sadiq Khan. "This will mean tough decisions elsewhere, but I am very pleased that the vast majority of bus routes proposed to be cut due to the government's funding conditions can now be saved. TfL has looked carefully at the small amount of routes still affected in order to reduce the impact on passengers as much as possible."
Changes were originally proposed in 16 neighbourhood areas. Changes in only four will be implemented for Horseferry Road, Fleet Street, Edgeware Road and Waterloo.
The 521 between Waterloo and London Bridge, the 507 between Victoria and Waterloo, and the 332 between Brent Park and Paddington will be removed.
Route 507 will be extended towards Fulham, and will be renumbered 11, and route 521 will be withdrawn, with the night service N11 restructured.
Route 16 will run on route 332 between Brent Park and Paddington. The night route N16 will be renumbered N32.
Routes 4, 12, 14, 24, 31, 45, 72, 74, 78, 242, 349, C3, D7, N31, N72, N74 and N242 will be saved and kept as they currently operate.
The proposed changes to routes 3, 6, 11, 23, 26, 59, 77, 133, 211, C10 and N26 will still go ahead.
Proposed changes to routes 15, 19, 27, 43, 47, 49, 53, 56, 88, 98, 100, 113, 135, 148, 171, 189, 205, 214, 236, 254, 259, 277, 279, 283, 328, 343, 388, 414, 430, 476, D3, N15, N19, N27, N98, N133, N205, will not be taken forward.