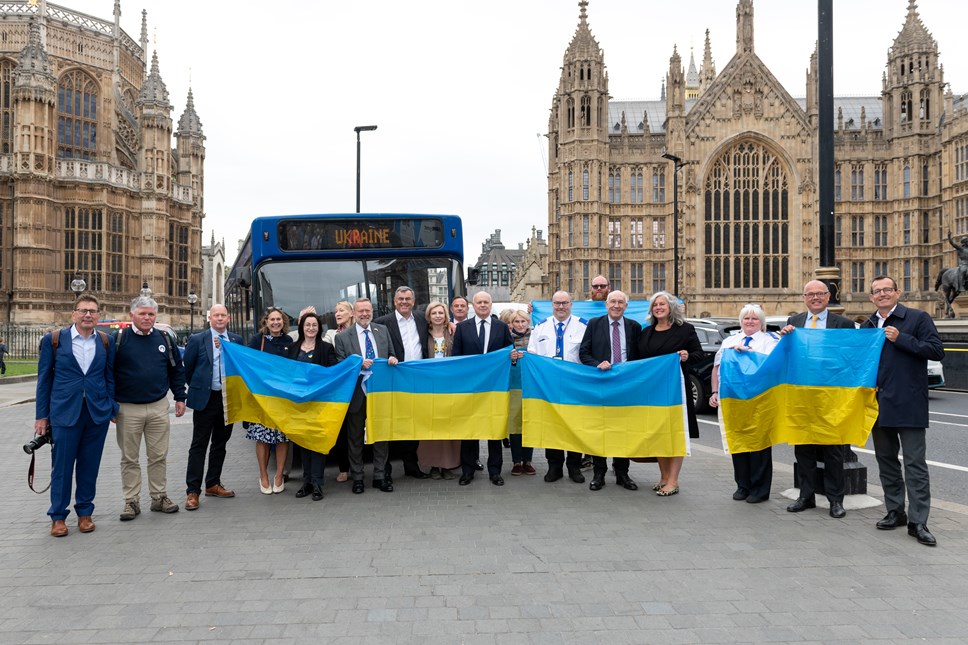 A bus donated by Swindon Bus Company for use as a field hospital has been presented to the Ukrainian ambassador outside the House of Lords.
Vadym Prystaiko, Ambassador of Ukraine to the United Kingdom, partook in a ceremony  on Monday to thank the Go-Ahead-owned operator for the vehicle, which will be used to treat casualties in the war in the Eastern European country.
Seats have been removed to make way for three beds, facilities for heart monitors and drips, plus a fresh water tank, bathroom facilities and a portable generator. Arrangements are being made to transport the single-decker bus to Ukraine.
The project was led by Swindon Humanitarian Aid Partnership (SHAP), who have donated 925 tonnes of aid to Ukraine since the Russian invasion began 15 months ago.
Christian Schreyer, Chief Executive Officer of The Go-Ahead Group, says: "We're all appalled by the ongoing situation on the ground following Russia's invasion. I hope this bus will make a small contribution towards Ukraine's war effort, and towards the treatment of those injured on the front line."
Mike Bowden, Chair of The Swindon Humanitarian Aid Partnership, adds: "We are indebted to Go-Ahead, and to Swindon's Bus Company, for the donation of a bus that allowed a group of committed local volunteers to convert a standard public service bus into a mobile medical facility for use in Ukraine.
"It is hard to comprehend what our Ukrainian friends are having to endure but in the best British tradition all we can do is support them with all our might."