Start-up Ember has attracted significant mainstream attention for its work in establishing the UK's first scheduled coach service that is served by zero-emission vehicles. The route, between Dundee and Edinburgh, went live on 1 October. It uses two battery-electric Yutong TCe12s. But what is the wider thinking behind the Ember concept? 
Ember was founded by Keith Bradbury and Pierce Glennie. Neither had prior experience in the coach and bus sector before Ember. Instead, they were previously involved in business lending, working with small organisations. 
Making a jump from that sector to running coaches – and zero-emission coaches at that – is unprecedented. But Keith believes that parallels can be drawn between the two disciplines. His and Pierce's former employer is focused on offering customers the best proposition. That is something they believe transfers readily to passenger transport. 
Keith and Pierce also believe that coming into something with no preconceptions allows them to build that business around the here and now. In Ember's case, the headline element of that is zero–emission. To leverage that credential, its model has been built around the challenges and opportunities that presents. 
"If electrification is taken as the core part of a business, that organisation can do things that are interesting," says Keith. 
"That approach is part of why we can run 850km per coach, per day. We have built our timetable around vehicles being battery-electric. They take multiple rapid charges through the day. We can run almost around the clock because we have built everything around electrification." 
Why did Ember choose Edinburgh to Dundee to
begin
coach services?
Various reasons exist for why Ember chose Scotland, and particularly the Dundee to Edinburgh axis, to launch. And a service between the two cities is indeed merely the start. Keith and Pierce plan to roll zero-emission scheduled coach services out to other routes in due course. 
"There is a lot of support in Scotland for zero-emission. The country is arguably more ambitious in its targets for improvements than the rest of the UK," says Keith. "That approach is well aligned with what we want to do with the electrification of public transport."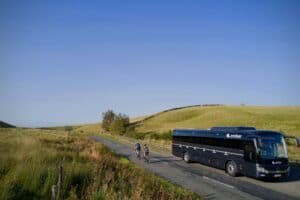 A round trip between Dundee and Edinburgh is around 210km. That fits well with the TCe12's range while also allowing a suitable contingency for delays, including possible closure of the Queensferry Crossing.
All charging is undertaken in Dundee. When delays are experienced, coaches need to make only a brief charge after arrival to have enough stored energy to complete the following trip. 
Dundee City Council's stance played a part in where Ember adopted as its home. Keith says that the local authority is proactive in fostering zero-emission ideas. It has also been helpful in terms of supporting the installation of the necessary infrastructure. As a result, the coaches are based in Dundee. Ember's office is there, and seven drivers have been recruited in the city. 
BSOG
incentive
key for TCe12 coach purchase factor, says Ember
The Scottish Government's approach was also prominent in Ember's thinking. Yutong's TCe12 was accredited as an Ultra-Low Emission Bus in August. In Scotland, that unlocks a 30p per kilometre BSOG incentive payment when used on eligible work. That factored into Ember's decision to choose Scotland as its home. It also works well with the operator's business model. 
"One thing that we like about the BSOG approach is that it pays by the kilometre," says Keith. "That incentivises us to use our vehicles intensively. A zero-emission coach costs more to buy than a diesel and the operator bears that additional cost. But paying BSOG on a pence-per-kilometre basis is rewarding if a vehicle is used intensively." 
Heavy use of the TCe12s is among the foundations of Ember's business model. Each coach is required seven days per week. While the early experience of another operator of the type is that the TCe12 is highly reliable, Ember still needs contingency. 
"Our timetable has one fewer service on Sundays. Routine maintenance is undertaken by our contractor early on Sunday morning. Contingency in terms of unplanned downtime is through our relationships with other operators in Dundee," says Keith. 
At times of disruption, Ember's priority is to move customers with the minimum delay. That may involve a hired diesel coach, a minibus or even a taxi. 
Further evidence of the newcomer's approach to customers is show by its fare structure. Should a passenger choose not to travel, their payment is refunded in full. Ember's pricing point is simple: Each journey has one fare, regardless of how far in advance it is booked. 
Dundee to Edinburgh is £7.50 one-way. The operator believes that puts it in a strong position against rail competition. All tickets are delivered via a QR code, which is scanned by the driver upon boarding. 
First- and last-mile aspect
of
a journey
will become important

 A further aspect of the Ember model will be the offer of first- and last-mile connectivity. Such an add-on will follow the core A to B product. One element may involve customers using a minibus that delivers them to or collects them from the coach stop. But a significant piece of new thinking is also in the mix.
Tourism is the key to the latter proposition. It may involve electric bikes or scooters being carried on coaches that could be hired to passengers after arrival and returned later in the day ahead of the return journey. 
That offering, too, has been considered around the overall zero-emission model. In a highly novel proposal, bikes and/or scooters could be charged while in transit from the coach batteries. "We have already had some conversations with the providers of those bikes and scooters," says Keith. 
Already an eye on future expansion
for Ember

While the present may be an odd time to launch a new product, Ember's view is one for the longer term. Governments have nailed their flags to the zero-emission mast, and the operator sees it as "inevitable" that further progress will be made quickly on that journey. 
Ember's aim is to look at launching more routes within Scotland over the coming 12 months. Fort William, Glasgow and Oban are all on its shortlist for services in 2021. Beyond that, it will examine markets outside Scotland. That may involve franchising the concept under some circumstances. 
Keith notes that as technology advances and the range of battery-electric coaches grows, they will come to suit more scheduled service applications. "There is opportunity everywhere," he says. "Once you figure out how to operate these vehicles at a high level of utilisation, the product can be exported to different markets." 
The existing range of the TCe12 already opens longer routes than Dundee to Edinburgh, if charging infrastructure is suitably located. Ember wants to be able to run battery-electric coaches on end-to-end duties of up to around 200 miles, although it does not rule out longer services as and when battery chemistry matures further and ranges increase. 
Ember: A key part of the move away from diesel
for coach

 It is certain that Ember's operation of zero-emission coaches on scheduled service work will be a point of interest for the industry and something that is watched closely by friends and competitors alike. 
National Express has already outlined an ambition for its scheduled coach network to become entirely zero-emission by 2035. Far ahead of that, Ember's fledgling route between Dundee and Edinburgh represents a landmark step towards the scheduled industry's eventual move away from diesel.