A further, one-year exemption to PSVAR for closed-door home-to-school services has been awarded by the Department for Transport (DfT). It will expire on 31 July 2021 and was confirmed by Minister of State for Transport Chris Heaton-Harris on 30 July.
In making the announcement, Mr Heaton-Harris chided the industry, local authorities (LAs) and schools alike. He says that they have "failed to make even basic accessibility provision" on those in-scope services that are yet to comply with PSVAR. Mr Heaton-Harris also reaffirmed that indefinite exemptions are not an option and that a long-term solution must be delivered.
PSVAR exemption covers all closed-door home-to-school services
All closed-door home-to-school services, regardless of how they are procured, are eligible for the latest exemption. What DfT terms 'special authorisations' will be issued to those operators that apply for them. There will be no automatic right not to comply with PSVAR.
Operators that applied for a previous exemption for college- or school-arranged services will be contacted by DfT and asked if they wish to apply for the new exemption. Those in that category that have not heard from DfT by Friday 7 August should email it with the subject line 'HTS3 Application Form Request'.
Operators that have not previously applied for an exemption to PSVAR for home-to-school services should email the same address, using the subject line 'Exemption 3 Application Form Request.' Details of the process will then be provided.
Once a special authorisation is issued, a copy of the certificate must be carried on any vehicle that it covers. It should be available to show to DVSA examiners or other relevant officers.
'Workable, sustainable and fair' route to a solution expected by DfT
In awarding the latest exemption to PSVAR for home-to-school services, Mr Heaton-Harris did not disguise DfT's annoyance that compliance has not been achieved, despite the devastating impact on the coach industry of the coronavirus COVID-19 pandemic.
"I understand that, without a further exemption from the Regulations, the coach sector will be unable to provide the additional [dedicated home-to-school] services we have asked LAs to arrange, and that existing commercial services may need to cease operation," he says.
Operators should not automatically expect the exemption to be renewed in 12 months' time. Mr Heaton-Harris adds that in the long term, it will not be acceptable for disabled pupils and students to conveyed via separate vehicles.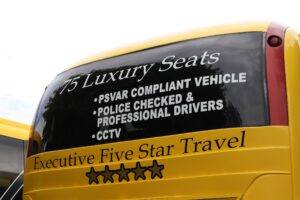 "The days of forcing them to use segregated services because of a lack of coaches meeting their basic access needs must end," he says.
However, DfT says that it is considering options for a long-term solution to what is a thorny issue for the coach sector.
"I expect the industry to work with DfT as it develops a workable, sustainable approach, which is fair to operators, but importantly, demonstrates clearly to disabled people that we are committed to enabling them to travel like anybody else," concludes Mr Heaton-Harris.
One operator has told routeone that it is unhappy with a further exemption to PSVAR for home-to-school services. "I accept that the industry is in a poor state at the moment, but through all of this we have been carrying PSVAR-compliant coaches (and their expense) that we now don't need."