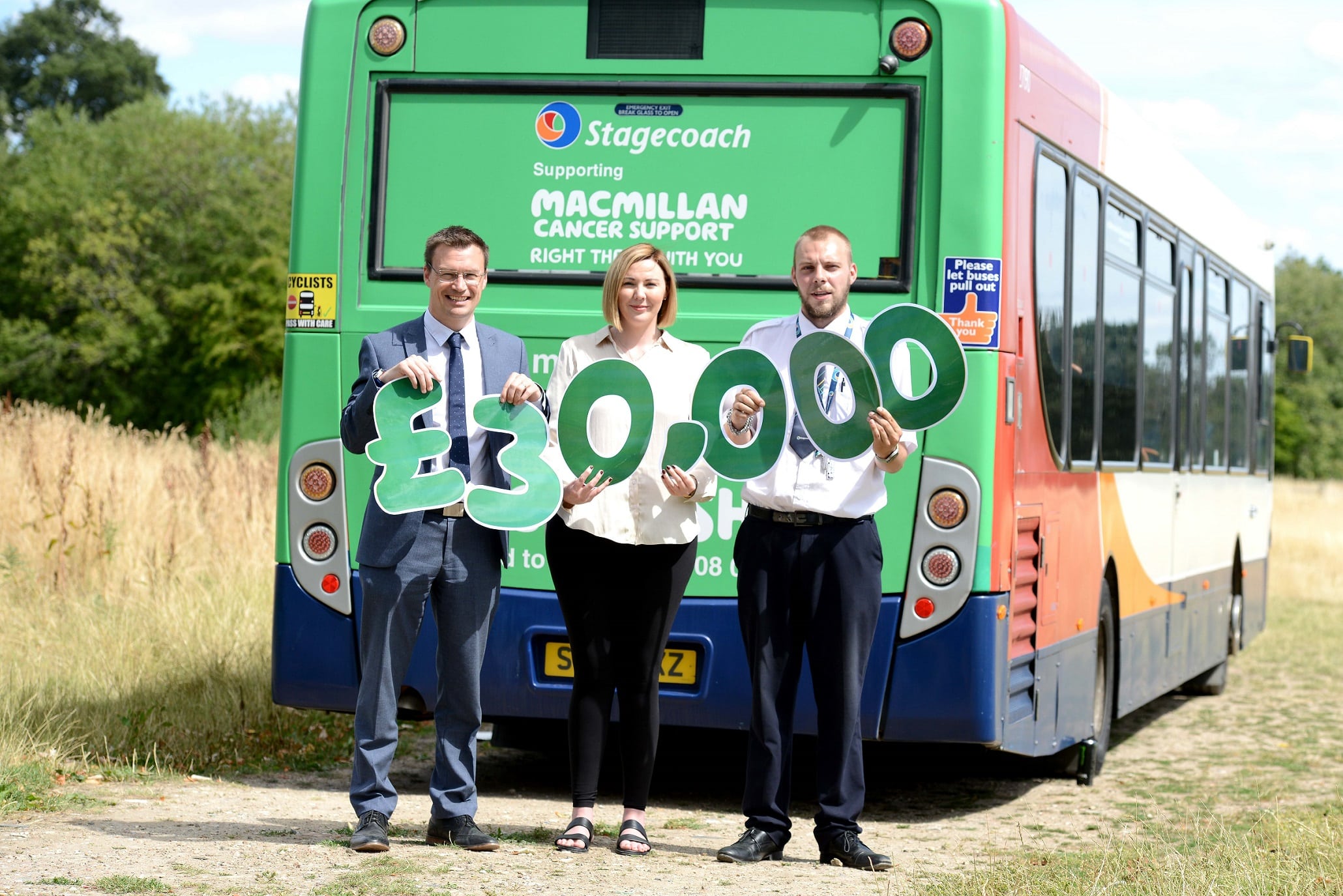 Stagecoach East Midlands has met the three-year goal to raise £30,000 in donations for Macmillan Cancer Support that the operator set in July 2019.
The operator's work saw £2,059 raised in the first week and £11,688 within six months. It formed part of a three-year charity partnership with Macmillan, and its successful achievement was marked by the decoration of four Stagecoach East Midlands buses – one each from the Grimsby, Hull, Lincoln and Mansfield areas – with Macmillan branding and messages of support.
Various events have been held to raise the money, starting with a 'wear it green' week at each of the operator's depots. Other initiatives included cake sales, a day off with pay fundraiser in Scunthorpe, and opportunity for passengers to donate when boarding a bus, among many others.
The most successful fundraising events took place around Christmas 2019, when £4,000 was generated through activities at multiple depots. The three-year partnership wrapped up on 1 August with a 'last hurrah' cake sale and other efforts.
Says Stagecoach East Midlands Managing Director Matt Cranwell (pictured, left): "This achievement is testament to our fantastic team, who have worked incredibly hard to organise various fundraising activities and events over the years to hit our target, particularly when dealing with the challenges of the COVID-19 pandemic.
"These funds will be vital in supporting the charity, which works hard to improve the lives of those battling cancer. Thank you to all our staff for their incredible dedication to this cause and to everyone who donated to help us reach our target."
Macmillan Cancer Support Relationship Funding Manager Katherine Booth (pictured, centre) adds: "Our three-year partnership with Stagecoach East Midlands has been a huge success and an inspiring journey for those in the community who are facing cancer themselves or know someone who is. Thank you to everyone who has made a donation."
Stagecoach East Midlands is the latest in a number of coach and bus operators that have raised money for Macmillan.