Expert speakers will cover tourism trends, how to maximise bookings and the importance of the group welcome at major coach tourism show.
The The British Tourism & Travel Show (BTTS) returns this month with a stellar line-up of speakers for coach tour operators to learn from.
The tourism bounce back, group tourism's impact on climate change and exploiting new trends will be among the topics covered by expert speakers in the Keynote Theatre. Coach tour planners will gain plenty of inspiration and will have the chance to ask their burning questions.
Data insights and travel trends
The sessions kick off on day one of the show, which takes place on 22-23 March, with Alexander Göransson from Euromonitor presenting valuable data insights on the latest tourism trends, including sustainability, experiential travel and the 'bleisure' market. Says Alexander: "Euromonitor is an experienced provider of data on the travel industry and we are looking forward to sharing it. I expect our forecasts to be of great interest to visitors.
Clare Dwight from Visit Wales will then give a session on how to use trails – such as heritage trails, music trails, literature trails, restaurant trails and distillery trails – to explore the best of Wales using cultural themes and special interests.
She'll be followed by Andy Headington of Adido, who will show tour organisers how to generate more online bookings in the 'tourism bounce back' with case studies showing how different tourism brands have used digital marketing to increase sales and leads.
'Groups welcome?'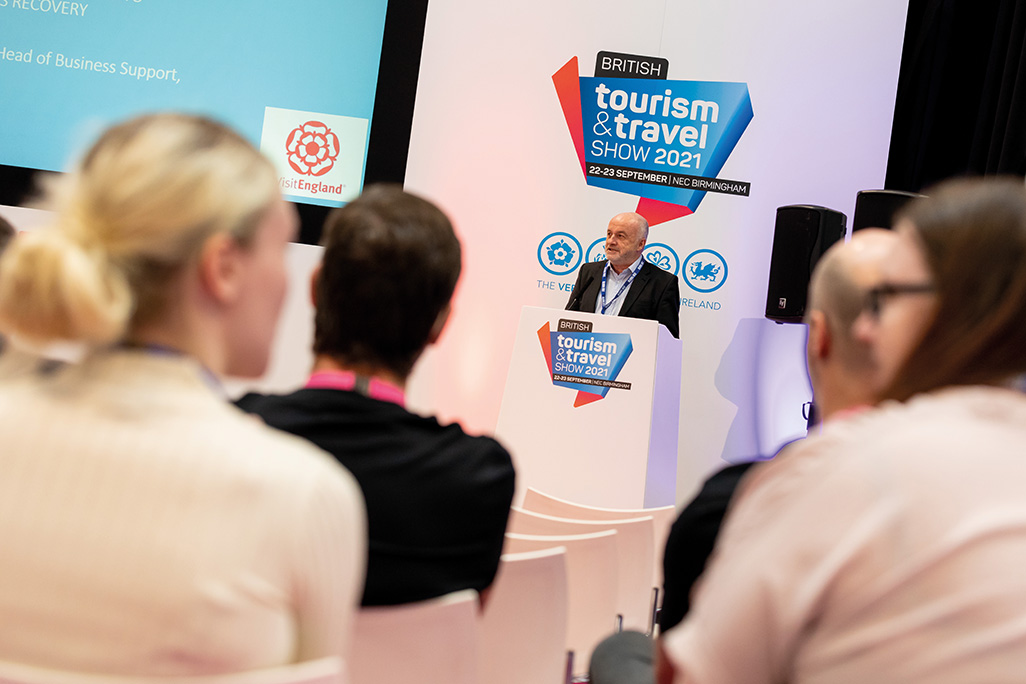 The final session of the first day will be a panel session on 'The Good and the Bad of the Group Welcome', featuring three coach tour operators.
Roger Bull from R.B. Coach Travel, Louise Webster from Acklams Coaches and Chris Morgan from D.J. Thomas Coach Holidays will join consultant Stuart Render to give their views on the quality of the welcome that groups receive from attractions, hotels and destinations. They'll discuss how it has been impacted by staff shortages, COVID-19 and other factors, and what needs to be done by businesses to ensure they continue to attract lucrative group bookings.
Louise Webster says: "BTTS gives me the opportunity to see a wide selection of destinations and attractions under the one roof. I'm looking forward to finding new inspiration for our tour and day trip programme."
Agents of change
Wendy Hartley-Scarff, CEO of the Association of Group Travel Organisers (AGTO), will get proceedings underway on day two (23 March), on how GTOs are influencing climate change – including the environmental friendliness of coach travel, and choosing suppliers based on their green credentials.
Simon Jones from Navigate will then dive into the world of 'experience culture', with insight into why the concept has been so popular in tourism, how it's evolving, and what it will look like over the next few years.
The Coach Tourism Association will then hold a panel session on new themes to enhance itineraries.
'Hugely valuable'
Lloyd Jones, Event Manager, says: "We're delighted to have some of the top names in the British group tourism sector speaking in the Keynote Theatre.
"The programme is a valuable part of the show, giving coach tour planners and group travel organisers insights into key trends and business practices, which they can use to create compelling itineraries and tours."
50+ new exhibitors
As well as the Keynote Theatre line-up, the show promises more than 200 brands, with over 50 exhibiting for the first time, when it returns to the NEC Birmingham on 22-23 March.
Hotels, visitor attractions, venues, top-rated tours, and destinations will showcase the best of Britain and Ireland for the groups market.
Major new exhibitors include Aberglasney Gardens, Celtic Royal Hotel, Chorley Borough Council, Discover Melton, Visit Harborough, King Richard III Visitor Centre, Visit Leicester & Leicestershire, Visit Oswestry, Saundersfoot Harbour, Visit Shropshire, South Scotland Destination Alliance, and Wakefield Council.
Mr Jones continues: Among the exhibitors, tour planners will not only find something to appeal for all of their customers, but also everything needed to make planning as simple as possible – with an array of product and service suppliers showcasing their latest developments.
"If you're in the business of planning group tours – it's a must-attend."
Don't miss the latest developments in group tourism!
Visit tourismshow.co.uk to book your free trade ticket today.