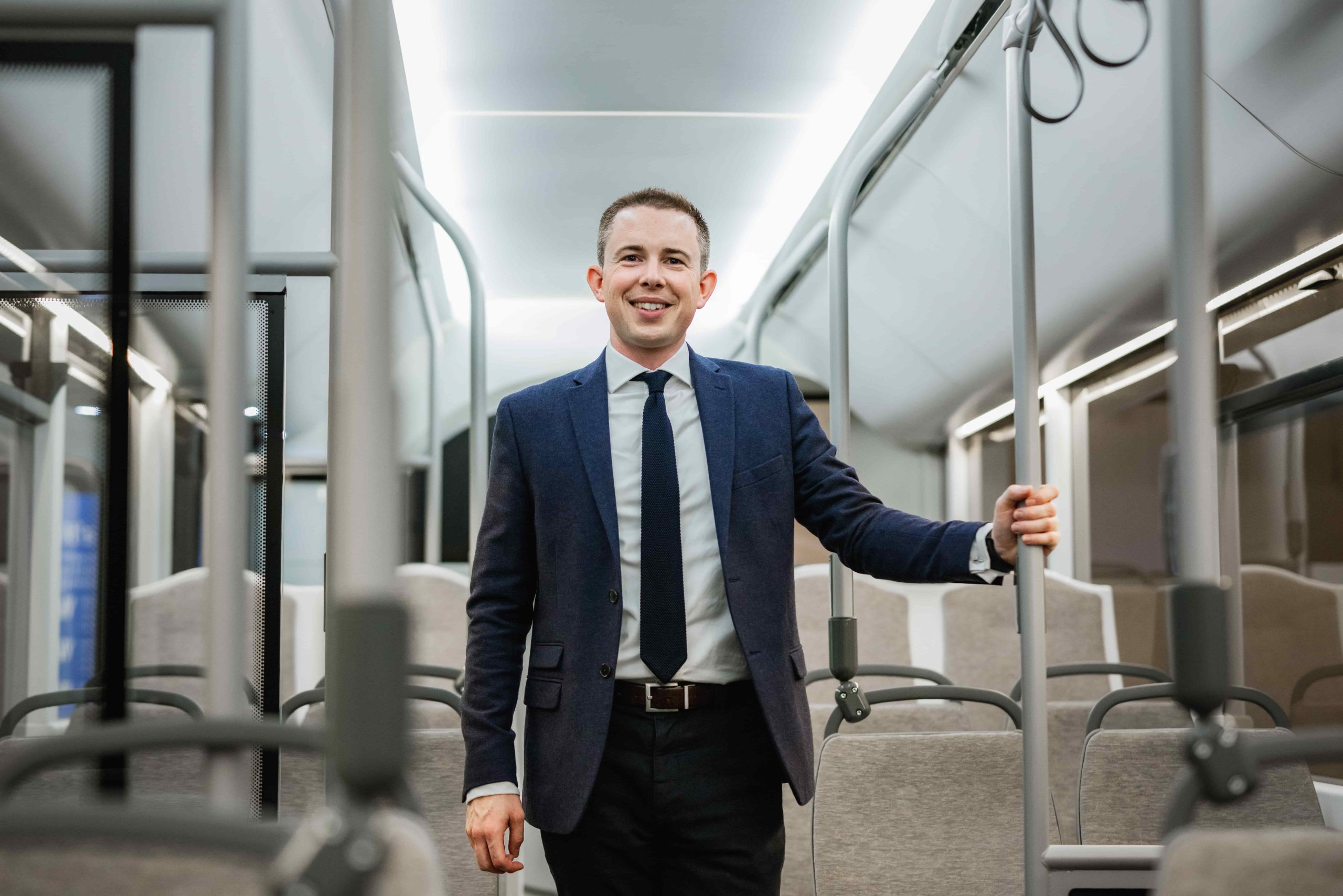 Switch Mobility's vehicles at EBE demonstrate where it has come from… and where it is going
Switch took the opportunity to present its future, present and past at Euro Bus Expo (EBE) from 1-3 November, with the presence on the stand of its e1, Metrocity and Solo products.
The primary focus was Switch's opportunity to showcase the new Switch e1 single-deck battery-electric bus to a UK-centric audience, following earlier announcements that it may come to Britain if demand dictates. The vehicle was revealed at the Paris European Mobility Expo in June.
The model on display is the manufacturer's second bus produced for testing, demonstrating the next step in the launch process for e1. The vehicle has a new, airy interior on show, which – according to Marketing and Communications Director Josh Moore (pictured) – has "caused a stir" among UK audiences for its length and low-floor throughout. The left-hand drive, three-door example at EBE was clearly focused on a European audience, though Mr Moore assures routeone that conversations have started with customers about the potential for a right-hand drive model with the right order and volume. "We have had a lot of interestso far," he adds.
Also on the stand was an 8.7m Transport for London-spec Metrocity, representing Switch's present offering. That vehicle was recently built and will be available for demonstration in the UK from January 2023. It will showcase NMC battery chemistry technology also present in thee1, with higher power density, faster charging and smaller footprint optimised for use in the Metrocity.
Representing the past for Switch was the Solo product from the former Optare business. The Solo on site framed "open and creative conversations with customers about the next iteration of small electric bus," according to Mr Moore, and has been giving customers and operators the opportunity to feed back what they love and would improve as the operator looks to the next product offering.
"That was a little bit of a different approach but something I was keen to do, as we have a presentation where we talk to the future product, with visuals that take viewers through our statement of intent for the future in that part of the market," explains Mr Moore. "We can then frame it with the current product, so synonymous with rural bus travel and interurban travel: An iconic wheel-forward proportion, raked windscreen, and signature agility – all of those things people love about the Solo. We can effectively say what we have retained and improved upon, taking a fresh look at ergonomics, passenger experience, design elements, and battery technology."
Mr Moore takes the opportunity to emphasise how Switch sees itself as a single-point partner in the move to electromobility for operators. "One thing that I believe people find quite refreshing about us is the conversations they can have, the ability to reach people within the organisation that have solutions to their specific problems and how forthcoming we can be with supporting them.
"Obviously, there are a lot of questions from anyone who is looking to make the change to an electric fleet. Our name – Switch – is a real statement of intent, and an acknowledgement of that journey that people are on and the perceived challenges associated. We're that single-point partner that can help them with that process and that journey."