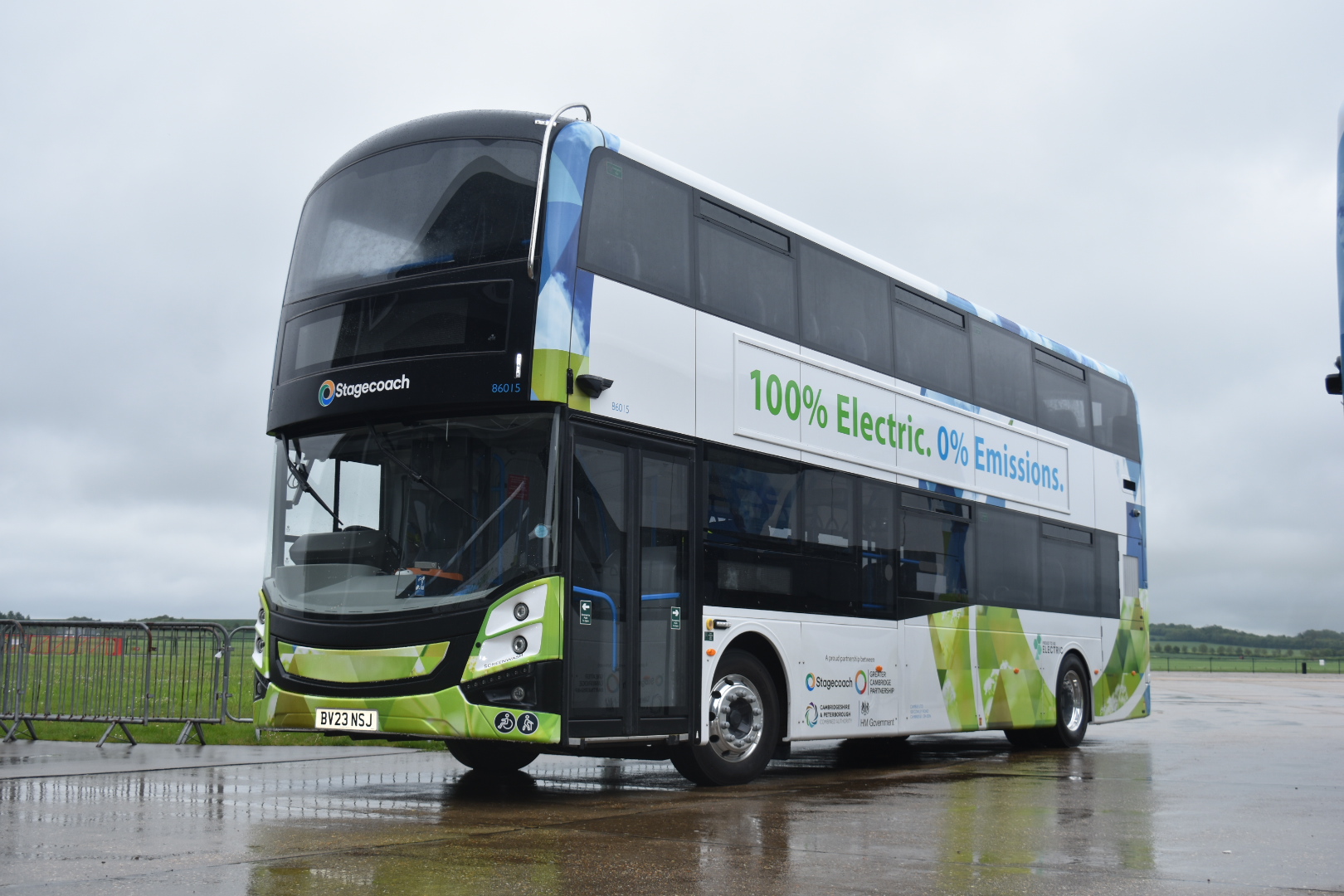 The launch today of 30 new Volvo BZL electric buses for Cambridge furthers a "strong partnership" with Volvo and MCV, says Darren Roe, Managing Director at Stagecoach East.
The UK's first delivered Volvo BZL double-deckers will be rolled into service by Stagecoach from Sunday 14 May on the city's park-and-ride network. The operator is already in possession of 19 of the buses and, by mid-June, nearly one third of its fleet in Cambridge will be electric, when added to the two Alexander Dennis BYD Enviro400EVs already in service.
Today's launch follows an order announced on 6 April for 170 BZLs for Stagecoach Manchester and another of 19 for its London operation revealed yesterday, which helped make the operator the biggest customer yet for Volvo electric buses.
"We've had a strong technical partnership with Volvo and MCV for a while now," says Mr Roe on board one of the new MCV-bodied vehicles at the launch at Imperial War Museum Duxford. "I've confidence in the product. It looks good.
"I'm really looking forward to being able to bring these vehicles into service and also what we can do for the future.
"We're bringing the fleet up to almost a third electric. That's significant for me to not only reduce the air pollution in Cambridge but also give the communities around Cambridge the opportunity to come and ride on electric buses and do their bit for the climate."
The 30 vehicles cost nearly £500,000 each and were funded by the Cambridgeshire & Peterborough Combined Authority (CPCA) and Greater Cambridge Partnership (GCP), together with a successful Zero Emission Bus Regional Areas (ZEBRA) bid.
According to Terry Absalom, Stagecoach East Engineering Director, they will travel around 160 miles on a single charge, although the operator hopes for more, depending on climate and other factors. Full charge takes approximately 2.75 hours and uses around 1.2 kWh of electricity per kilometre.
Following their introduction this weekend at the Madingley, Trumpington and Newmarket Park and Ride sites, the vehicles are due to serve the Milton and Babraham Park and Ride sites from 4 June and then the Citi 2 service from mid-June.
Long-term electrification plans for Cambridgeshire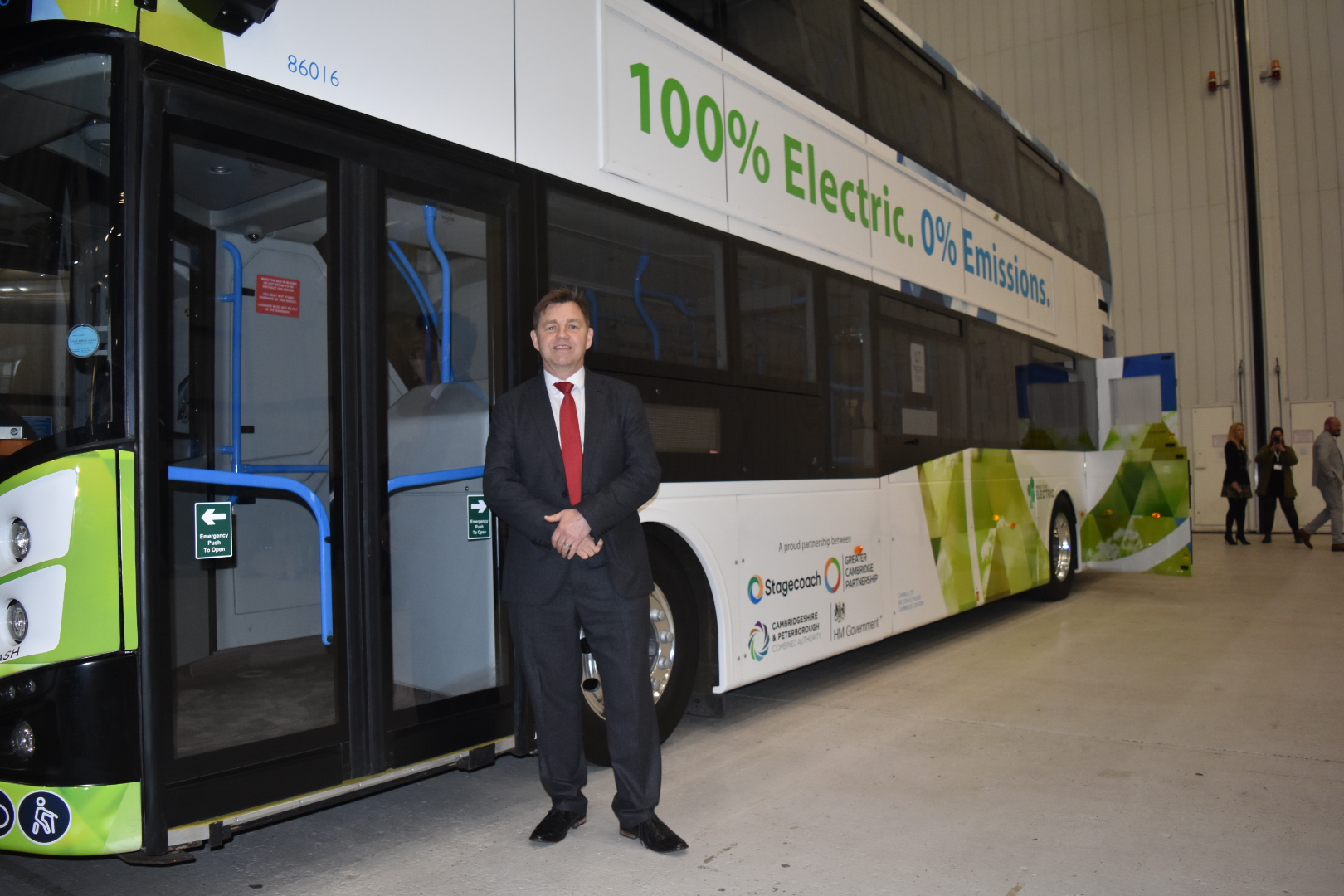 The move is part of Cambridgeshire & Peterborough Combined Authority's goal to replace 30 vehicles a year with the aim of going entirely zero-emissions by 2030.
The go-ahead for the ZEBRA funding for the current batch was given as far back as 27 October 2021, but CPCA Mayor, Dr Nik Johnson, hopes future deliveries can be turned around more quickly.
Speaking of the need to seek more funding to fuel their aims, he says: "We've got to work with central government. We've got to look at other realms of funding from them. But we'll be ready to go. We think that, by delivering 30 buses as we have done, we've demonstrated a real sense of purpose as to our long-term ambitions.
"The good news is, although it's taken us the best part of two years to get this delivery, we reckon with the new models and the work we've done over the last two years, we can cut that in half and get them on to the streets as soon as possible."
Electrification is part of wider GCP ambitions for Cambridge's bus network, which include franchising the service and offering city-based fares of £1.
Elisa Meschini, Chair of the GCP's Executive Board, says: "It is fantastic to know the 30 new electric vehicles will be with us later this spring to demonstrate our joint commitment to providing cleaner buses to help to reduce carbon emissions in Cambridge. This will improve air quality and make our city a greener, healthier place to live, work and visit.
"By working in partnership with the Combined Authority and Stagecoach East, we are demonstrating how together we can transform the way we travel around the area and improve the quality of bus services and vehicles to benefit our bus users and residents."