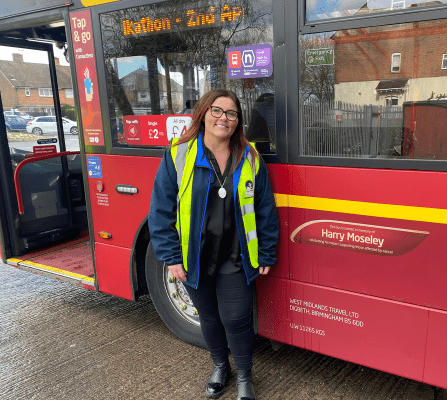 National Express West Midlands has named its famous number 11 bus after Harry Moseley, who devoted the last two years of his life to fundraising before losing his battle with cancer aged 11.
The iconic route, known as the longest in Europe at 27 miles, has run around the perimeter of Birmingham since 1926.
The tribute has been made to coincide with the relaunch of the Birmingham Walkathon, which will raise funds for the Help Harry Help Others charity this Sunday (2 April) on the same roads covered by the number 11.
The marathon-length Walkathon started in the early 1980s and last took place in 2013 – two years after Harry's death. It has attracted up to 10,000 people annually and in one year raised more than £400,000.
David Bradford, Managing Director for National Express West Midlands says: "We are delighted to name one of our iconic number 11 buses after Harry Moseley, celebrating his legacy and the important work undertaken to support those with cancer.
"We have fond memories of Harry's fundraising efforts, 11 years ago, creating and selling his colourful wristbands. To see how far the charity has continued to grow within our community is an incredible achievement and we are extremely pleased to be able to mark it in some way. It is with great hope that the 'Harry' bus will also bring back many happy memories for our passengers and the local community served by the route."
Harry's mum, Georgie Moseley, who officially registered Help Harry Help Others as a charity 10 years ago, adds: "We are truly grateful for this incredibly kind and moving gesture by National Express West Midlands, especially as my Harry still does so much for our city and the people within it. It is a wonderful way to honour Harry and a fantastic way to connect back to the Walkathon route and bring the essence of the event to life.
"The number 11 bus route is also significant for us, as Harry was 11 when he passed in 2011, and it has now been 11 years since he left us. The aim of the Walkathon is to re-engage the community, boost community spirit, support post pandemic mental health issues and raise much needed funds; not only for HHHO but other amazing West Midlands charities too.
"We can't thank National Express West Midlands enough for supporting HHHO in this way."