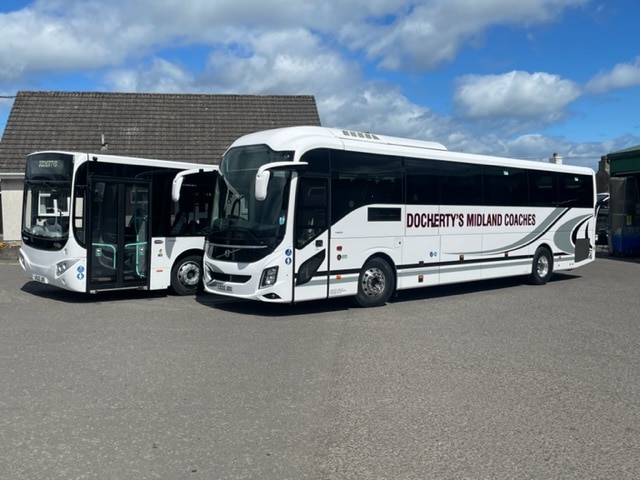 Docherty's Midland Coaches of Auchterarder has added a PSVAR-compliant Volvo 9700 coach to its fleet, alongside the first of a pair of B8RLEs from the same manufacturer with MCV Evora bodywork. 
The 9700 has 53 seats, or 49 when a wheelchair user is carried. It is built on B11R running units and joins six previous generation 9700s that the Perthshire operator has purchased over the past 10 years. 
Docherty's credits an increase in tourism-related bookings for the need of a new coach. Says a spokesperson: "It is very encouraging to see tourists returning to Perthshire for golfing holidays and other tours. 
"The Volvo B11R 9700 has already proven itself at Docherty's, so we had no hesitation in ordering another new model, which will also be used for private hire. We know it provides reliability, safety and a comfortable ride." 
The two new B8RLE MCVs for the fleet are the first that Docherty's has taken at the shorter 10.8m length. One is already in service and primarily used for school duties, and it has attracted positive driver feedback. 
Adds Volvo Bus Regional Account Manager North and Scotland Jennifer McGill: "Docherty's is a loyal Volvo customer, and it is great to see it returning for more purchases. It is particularly pleasing to deliver the 9700 as Docherty's, along with other businesses in the area, is seeing tourists return to Perthshire for golfing holidays and short breaks."