The UK's first zero-carbon 'battle bus' is on the campaign trail – and sustainability organisation Planet Mark wants other coach and bus operators to join in on the journey
With Clean Air Day making headlines on 17 June and COP26 set for November, noise around the benefits of net carbon zero has been growing across all sectors of the UK. Environmental consultant Planet Mark, founded in 2013 in partnership with the Eden Project, has taken this year as an opportunity to launch its zero carbon tour. What makes the campaign unique is its use of a Yutong TCe12 battery-electric coach, touted as the first ever zero-carbon 'battle bus'.
The vehicle is set to tour the UK, accompanied by workshops both digital and in-person which will raise awareness among businesses and enterprises of the pressing need for climate action, and how it can be achieved.
When routeone spoke with Planet Mark founder and CEO Steve Malkin, it was obvious that the use of a coach was more than simply a tool to attract the crowds, though in that purpose it had proven itself more than effective. The vehicle helps Planet Mark emphasise that clean, shared transport is available now – and it wants other coach and bus operators to join the campaign to help spread that message. "Every sector has a role to play," Steve says. "And transport – as we've been hearing from MPs – is high on the list for decarbonisation."
Capturing interest
Sourced through an interest in working with Westway Coaches, which according to Steve showed equal amounts of enthusiasm for Planet Mark, the Yutong is helping the organisation take the net zero carbon message to communities in all four countries of the United Kingdom ahead of COP26.
It will attend trading estates and retail parks to inform businesses what zero carbon means, simplify the message, and how it affects individual organisations. It will then gather those stories and take them to COP26 in Glasgow later this year. "To make that happen, we needed to do it in a way that was going to excite people and capture their imagination. We've seen coaches used in the past as a platform to get messages and campaigns across, and we wanted to use an electric vehicle to get our important message across about the transition to zero carbon," he explains.
Has it done its job? On the launch day, attended by MPs at the Houses of Parliament, Steve believes there is no doubt. "It did its job even before we announced and launched the campaign. People are repeatedly asking to feature the coach in their town, and local authorities and companies want to host our events to help other organisations set net zero targets. There is something very emotionally engaging about the coach. It's done even more than I could have hoped for."
But Steve recognises that there is more power in shared transport than simply using it for visual appeal. For Planet Mark, it demonstrates an important message in the UK's net zero journey. Zero-emission shared transport is not only possible, but available now – and it is vital to deliver that message. The faster the better.
"There is absolute urgency around this message of zero carbon," Steve says. "And these two pieces are working together extremely well – we have a fully electric coach demonstrating this sort of transport, while delivering a message that we are in the transition to zero carbon. The coach is playing a critical part in our success in getting the message across – but in a wider context, we need people to understand the massive acceleration happening and what they can do to set targets for their business."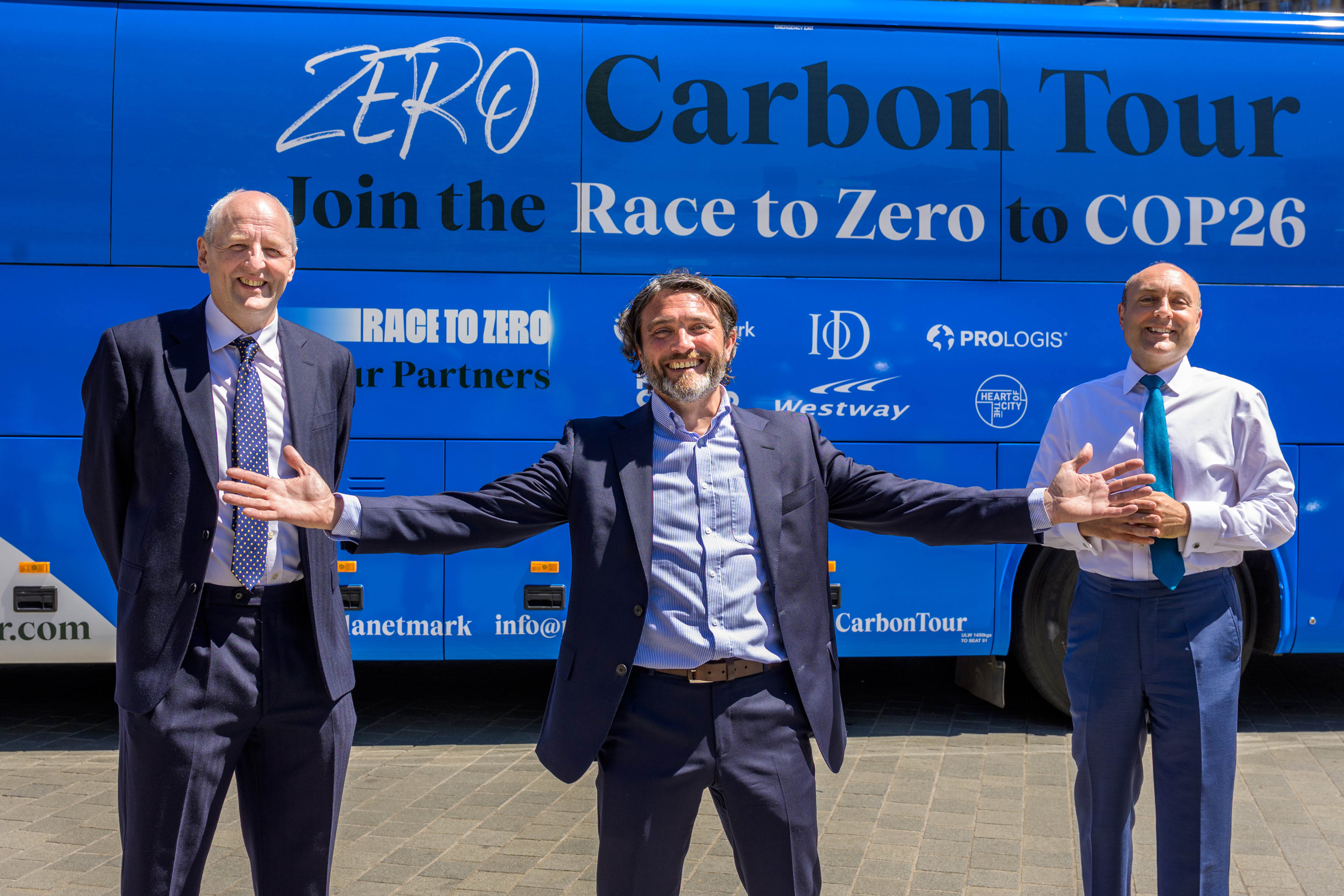 Call for operator involvement
Planet Mark works with hundreds of organisations to measure carbon emissions, and certifies those that reduce emissions every year. It produces a visual carbon footprint for each business, and works to engage everyone in the company to understand what that footprint means.
It then asks the simple question: What can the company do better? Those companies it works with – which it calls its community – cut their absolute carbon emissions by over 12% in the last full reporting year before COVID-19, a substantial saving. The topic of transport "comes up in every meeting" Steve reveals. "So what we are looking to do is work with every organisation to help them do better in this regard. That might mean we look at their fleets, the types of vehicles they are using, and business travel – and what sort of means organisations are using to encourage a shift to public transport, walking, or cycling. We look at how staff can commute in a lower carbon way. People are always moving, and invariably, we have to help them move more efficiently."
The tour, then, presents an opportunity not just to demonstrate that battery-electric coaches exist – it also presents an opportunity to demonstrate the carbon savings of shared transport in general, and of the wide variety of low and zero-emission transport options. "We have a fully electric coach doing huge mileages. It's a chance to show that this is the type of transport we will be utilising, and that we need to invest into, and that people need to be choosing."
Planning those "huge mileages" demonstrates the logistical challenges of using a battery-electric vehicle for such long journeys. Planet Mark has overlayed a charging map with a map of where the coach must be at certain times. But Conservative MP for Wealden Nusrat Ghani, former Transport Minister, has already made the point during a visit that transport is top of the agenda at COP26, and that one of the many facets of transport decarbonisation will be ensuring that structure supports the roll-out of new vehicle technologies.
Cross-sector sustainability
The organisation is keen to work with more coach and bus operators and promotes the benefits of being part of a group that examines sustainability across all sectors. Organisations must not be siloed in their approach to net zero, Steve argues.
"We have enormous experience across many sectors and when you learn about those sectors, people can be connected across them. And that is how sustainability works – this isn't a problem you can solve alone. We can always help and advise organisations, and we're humble enough to know that we will learn together."
What are the benefits of working with Planet Mark? For a start, Steve acknowledges that measuring and reducing carbon emissions is already, if not mandatory, a priority for many organisations within the sector, and that management seeking carbon reduction as a priority will already recognise the benefits that entails. For those that do not, knowing what carbon is being emitted from their organisations will enable a plan of action to reduce them – and the acceleration of net zero targets could make this a difficult obligation to avoid in the coming years.
"Large scale organisations already have to report their carbon and this is cascading down into smaller companies," Steve says. "That cascade is being accelerated now. If someone anywhere in the value chain sets a net zero target, they will come to the supply chain to ask how it is being reduced."
The other benefit of Planet Mark certification is better confidence in measurement of carbon emissions, and as a result, better communications and marketing of the hard work that goes into ensuring a business is working to reduce its footprint. "People would love the comfort to know that by choosing the bus, they are considering the environment. It may not be battery-electric or hydrogen fuel cell-electric, but the way it is driven, prepared, maintained, and the technology on board is something we can help communicate."
The certification is evidence-based and underpinned by data. Companies which achieve the certification are then able to use the Planet Mark logo and other assets across social media, marketing and internal communications. That can prove beneficial when looking to win contracts.
"People give a damn about sustainability," Steve adds. "There's an enormous amount of passion and frustration right now and people want to see that companies are making change for the better. Planet Mark helps pick out those companies that are on their way."
Looking to the future
Planet Mark is keen to keep up the pace of awareness around carbon and the reduction happening within its community. It wants to play a part in helping any organisation, whether it works with Planet Mark or otherwise, to set zero carbon targets. And it wants organisations to recognise that the journey goes beyond carbon – it is a matter of culture. "We like conversations where companies start by measuring energy, water waste, carbon emissions and transport. But in actual fact, we begin to engage people in the process where we begin to draw the best out of people, getting them to work in harmony with technology and nature."
Deeper collaboration and engagement with more coach and bus companies is a key goal for Planet Mark – and Steve is calling upon operators to join the tour to show what they are doing and what they can contribute to the UK's carbon zero goals: "If we had a mini cavalcade of coaches and buses to show the public what is being done right now, it would give enormous reassurance and reinforce our message."
To get involved, contact info@planetmark.com