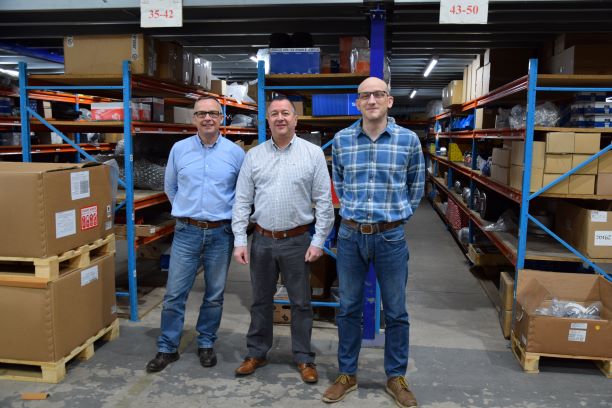 Sometimes a coach needs a part to get it back on the road that same day. Kevin Booth and his team at Heavy Duty Parts make it their mission to meet that demand
Among the criteria for success in the parts world is industry knowledge. Salespeople at Heavy Duty Parts aren't even allowed to speak to a customer for the best part of two years. Before they answer that phone they need an in-depth knowledge of every product in stock.
That key knowledge is passed on by owner and Director Kevin Booth who was part of the original team that brought Neoplan to the UK in the 80s, Carlton PSV.
Kevin joined Carlton PSV straight from school and alongside Jack Miles and Tony Lavin business took off. "It just flew," says Kevin. "Hundreds of Neoplan Skyliners sold in the mid to late 80s because it was such a unique looking vehicle at the time."
With the advent of Stagecoach in the 80s came more work, as the operator started off with 10 Neoplans. As it grew in size, and deregulation occurred, owners Ann Gloag and her brother Brian Souter began buying bus services from the government.
Kevin and Jack were then invited to work for Stagecoach to do all of the group purchasing.
The two of them took up the offer and Kevin became Assistant Group Purchasing Manager for Stagecoach for some time before leaving to set up his own company.
Heavy Duty Parts
Heavy Duty Parts was born in 1994, originally with partner Jack Miles. They started with just the Neoplan brand and were able to offer operators components made by the original manufacturer.
"By buying direct we were able to offer a competitive price," says Kevin.
"It was like giving chocolate to kids. Everybody came straight to us and supported us. We probably took the entire Neoplan market in the space of a couple of years, so we grew very quickly."
Originally based at Jack's house the pair were on the look out for a bigger space.
"An old building came up for sale and we bought it with the profits and moved there," says Kevin. "We could keep all the stock there as the business grew and we didn't leave until 2006."
In 2004 Jack retired and now as solo owner Kevin began to look for new premises.
He found the ideal place on Hallcroft Industrial Estate in Retford and had a 12,500 ft² new premises built.
He was able to take on more staff and keep a large amount of stock.
"There was a massive growth for other brands too in those days. Spare parts was a big business because operators were reluctant to use the main dealer network," he says.
From an initial team of 10 staff the business grew rapidly – now there are 22.
The core business remains Neoplan, Setra, Mercedes-Benz and MAN and on a lesser scale, Scania, DAF and Volvo.
"We can sell everything a dealer can. We also have access to the captive bits which other aftermarket parts suppliers don't have access to. That would normally only be available to dealership channels. We're a one-stop shop for everybody."
The secret to success
Kevin's industry knowledge is his strength and enables his global buying power.
"It's knowing who makes those components for that manufacturer and buying direct," he says.
"I know who makes them all – there aren't that many components of coach and bus parts around the world."
All of the parts sold by Heavy Duty Parts are OEM. As a ZF dealer Kevin can buy parts such as drag links, track rods and track arms direct from the manufacturer.
"This enables us to sell exactly the same part as an operator might buy from the dealership, but at a fraction of the cost," says Kevin.
Kevin explains that many parts fit all coaches.
Parts knowledge
"Everybody who's worked for me has come from the coach and bus world and they know it like the back of their hand," says Kevin.
"When we set new people on it's two years before they even pick up the phone to a customer: It's learning everything that goes on in the background.
"Initially I train them to recognise all brands of vehicles.
"I want them to know the vehicle just by looking at the shape of the lights or the shape of the mirror or bumper. Sometimes I'll show them a corner, or a headlight, to test them."
"The need to be able to picture and visualise what the customer is talking about when they're on the phone talking to them. Otherwise how can you sell something if you don't know what it is yourself?
"The next thing they have to learn is engines and gearboxes. What variations are there?
"If someone rings up and asks for a clutch for a Setra coach there is so much more to it than that. They need to know the type of Setra, whether it's Euro II or Euro III? Is the engine six cylinders in line or V8? Is it automatic or manual? Eight speed or six speed? All of those questions narrow it down to which clutch is applicable.
"Every Neoplan is different, every Setra is different, when buying from new there's different applications.
"It's all down to knowledge that gives us the edge. We are the only company I know in England that's got this amount of PSV knowledge."
Future expansion
Heavy Duty Parts has an office overseas which makes is easier for some suppliers to invoice a European office rather than a UK one.
"Most of the parts we buy from specialist supply routes in Europe are invoiced through the European office," says Kevin. "But the parts come here.
"Our market is getting bigger, there's a lot of business outside of the UK. 16% of our turnover is export."
Kevin is looking into getting a warehouse outside of the UK to supply export but hasn't finalised plans yet.
For quicker and easier access to components within a 24-hour time scale in the UK, arrangements have now been made to have parts available for pick-up in strategic locations. This is with trusted operators.
Kevin says: "We have a lot of stock stored with Edwards Coaches in Cardiff. These are the bits that will stop a vehicle from moving – clutches, mirrors, lights, big expensive bits that they can't do without."
Other sites where stock is stored include Sheerings Holidays in Wigan, Nash Coaches in Birmingham and Bennetts Coaches in Gloucester.
"Hopefully we will finish the network in the next couple of months," adds Kevin.
"It's set up and happening now in some areas.
"Operators will travel half an hour to pick up a bit if it's stopping a vehicle working. We've just got to make sure we've got the right stock there – it's been a learning curve for us."
Partnership with operators
"People's ways of buying things has changed over the last five years," says Kevin.
"Operators originally had more time. Today they just want ease, they want to pick the phone up and know that part is going to come tomorrow and the price is going to be good."
Customers who call can rely on Kevin's team's industry knowledge when ordering a part.
"When they ring up they might not know the chassis number. In fact 99% of the time they've no idea what the chassis number is but they know what the registration is," says Kevin.
"We can cross reference that registration and use the same identification system as the main dealers.
"We know where all the coaches and buses are in the UK and can tell you anything about any one of them in minutes."