In Wiltshire, with just one coach and a waiting list for seats, has husband and wife team Nigel and Kim Westbrook found the perfect route to coach tourism success?
In Douglas Adam's book, The Hitchhiker's Guide to the Galaxy, the number 42 is revealed as being the answer to the meaning of life, the universe, and everything.
In Westbury, Wiltshire, the number 42 is proving to be a very satisfying way to provide enjoyable coach holiday experiences.
In 2014, Nigel and Kim Westbrook set up their eponymous coach holiday business. Although to be fair, and as Nigel notes, it's really just him and Kim doing what they enjoy.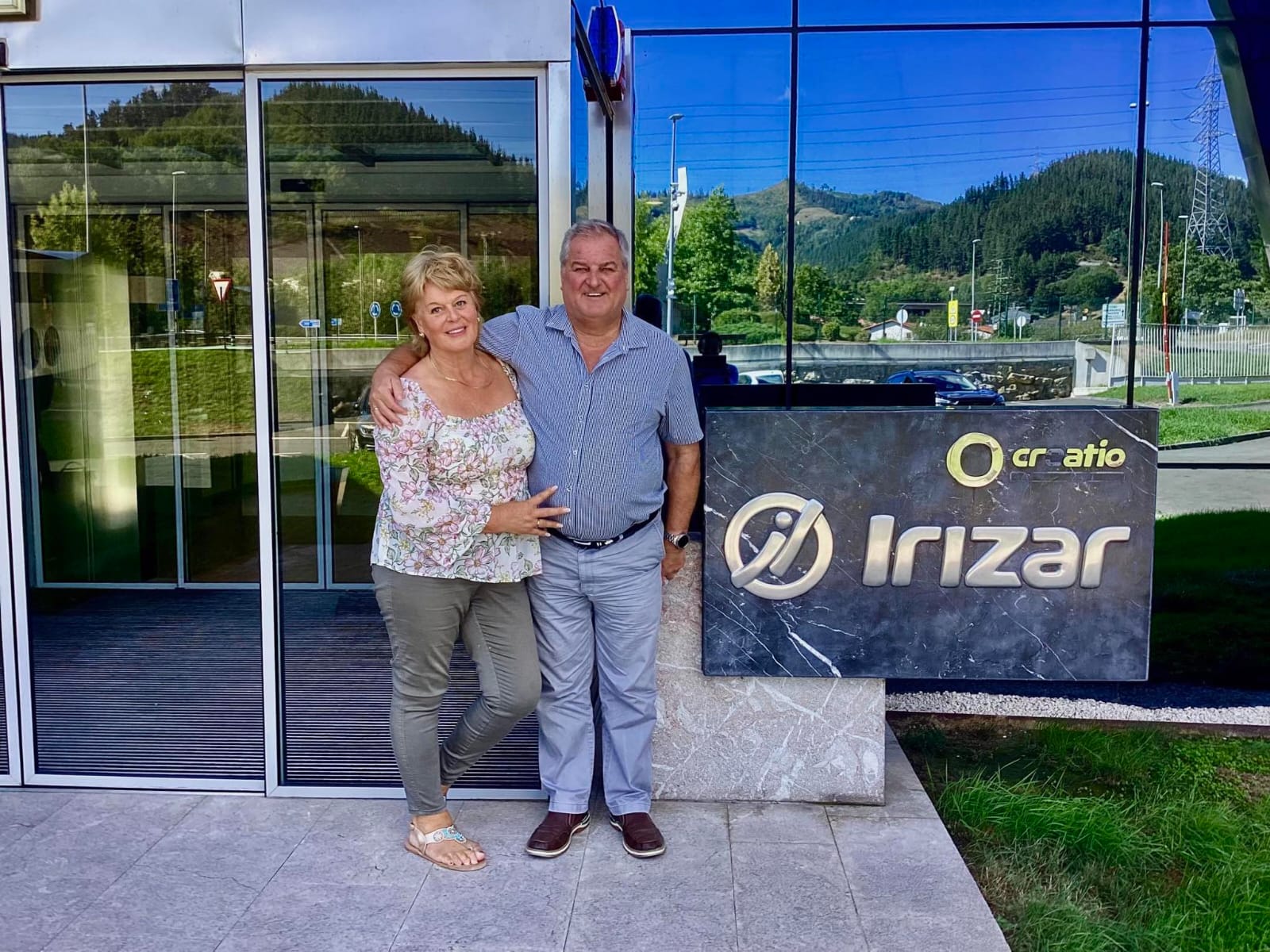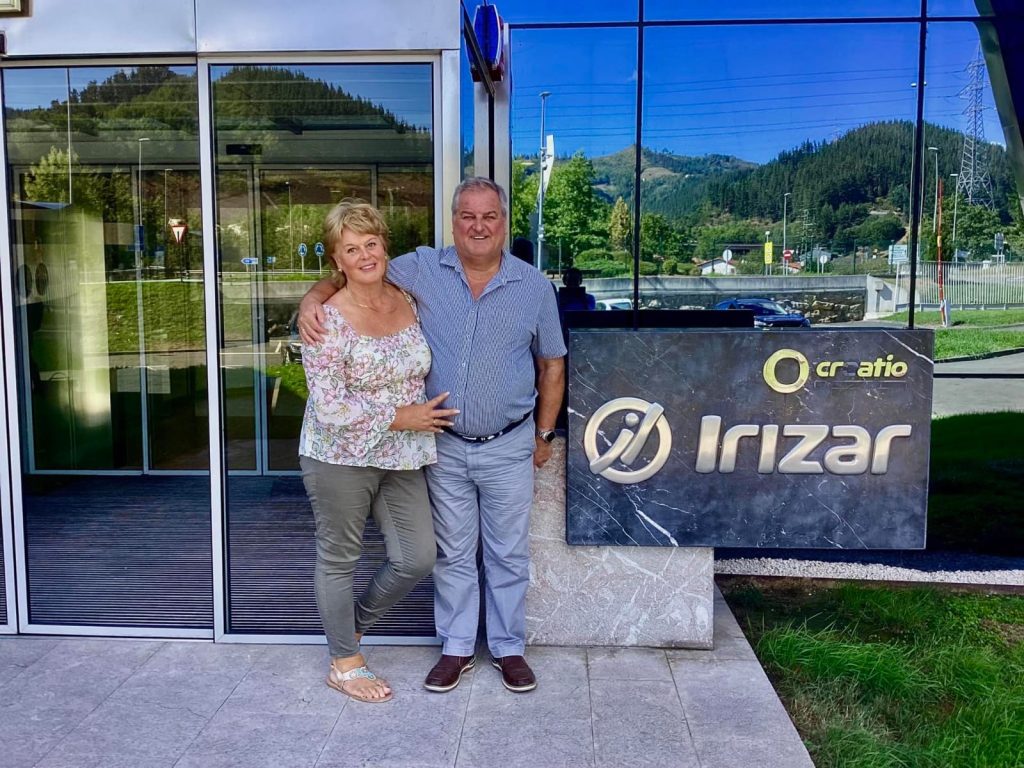 "We're not trying to be a coach company," he says. "We're just Nigel and Kim with one coach putting on tours to places we want to go to, and taking 42 guests with us each time. We're doing what we do until we both retire in five years."
Helping them do just that is a brand new 23-plate, 14m tri-axle Irizar i6S Efficient integral.
"We do three tours a month," continues Nigel, "so it's important that our workplace is as comfortable and well equipped as possible."
Nigel explains that he drives while Kim looks after their guests.
I query the term guests.
"We know most of those who chose to travel with us," he says. "Yes, they're customers, but we take the view that this is our special coach, and we're welcoming guests to travel with us. We've always taken that approach. In 2014, Kim and I went on honeymoon to Austria. We ran the trip as a tour, taking our 42 guests with us."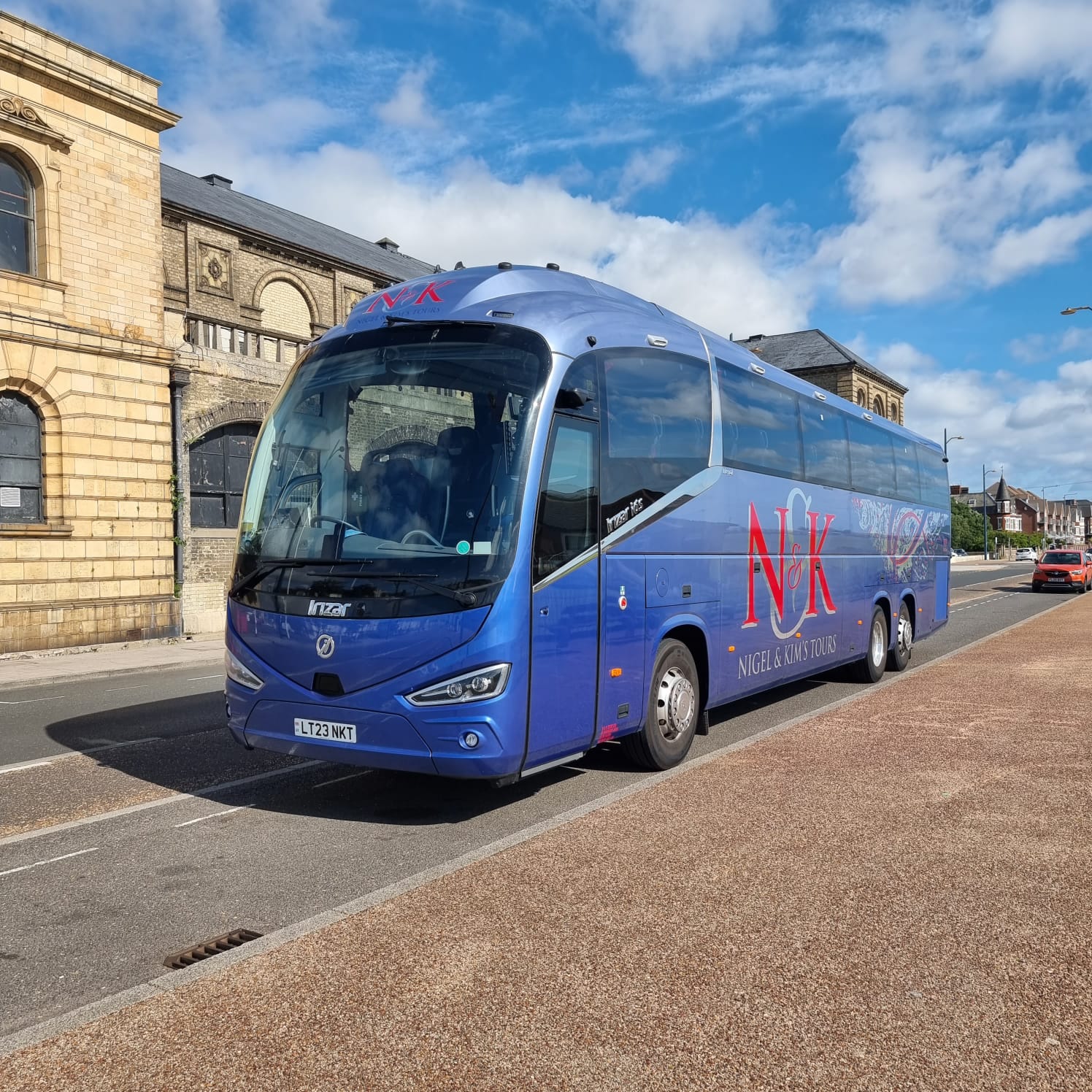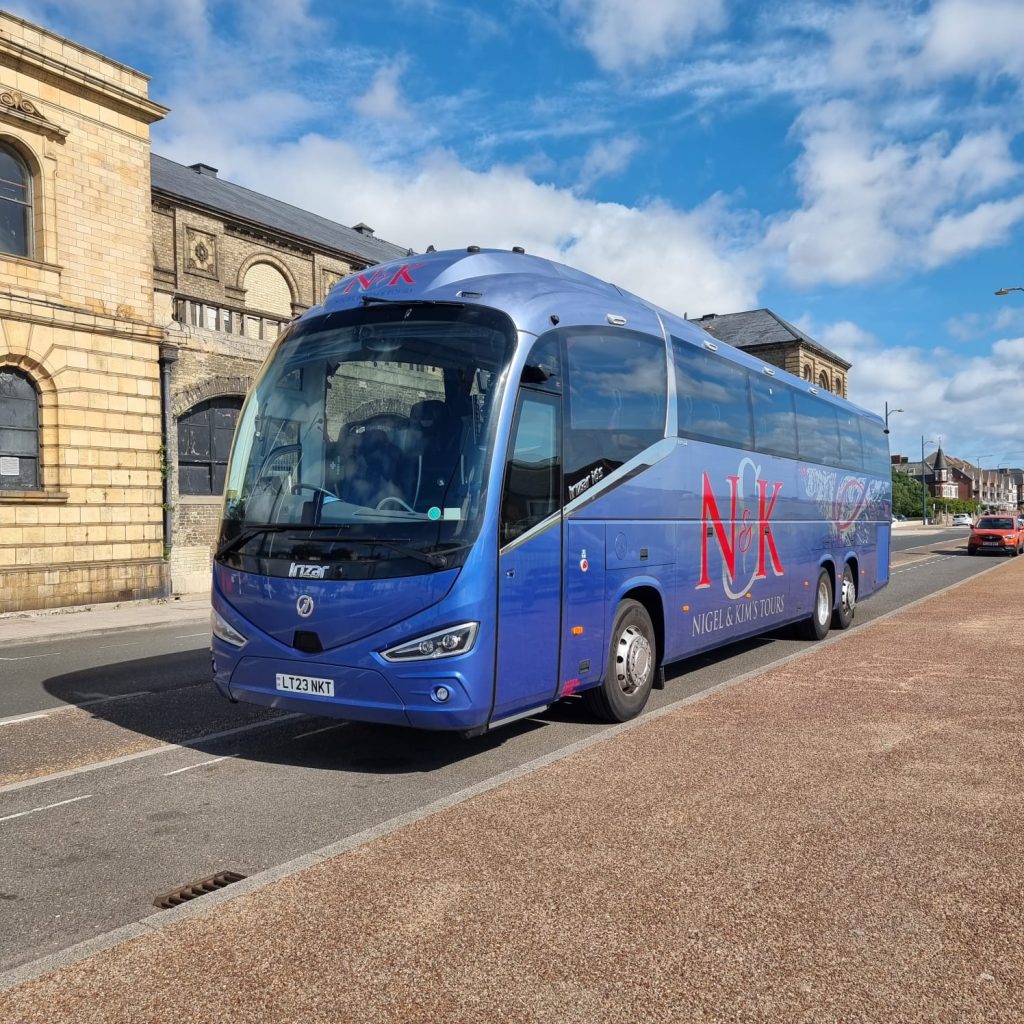 The 'Blue Lady'
But back to the vehicle. This is the second coach from the Irizar i6 range that Nigel and Kim have owned.
"Before COVID-19 we were considering replacing our old 13.8m i6 integral that we'd bought in 2015," he explains. "But the pandemic put everything on hold. As we emerged from the other side we realised we couldn't keep that vehicle. So we looked around. To be honest, I've always got on very well with the i6 so we had a conversation with Julie Hartley, Sales Director, at Irizar UK. In June this year we took delivery of what sometimes gets called the 'Blue Lady', and the 'Blue Coach'. This vehicle will see us through to retirement. Looking back, if COVID-19 hadn't come along we probably would have bought new two or three years ago. We spend a lot of time in the coach each month so we've not scrimped on the specification. When we do come to sell in five years' time the residuals should be good."
Nigel describes the coach as a long-distance cruiser.
"Each year we operate around 22 UK holidays and 10 or 11 continentals," he says. "Put the coach on the motorway at Calais and it's an effortless journey through continental Europe. Drive is from a DAF MX-13 engine giving 530bhp and 2,600Nm of torque. I think it's one of the most powerful engines available in a coach in the UK market. It's perfect for those longer trips. On board we have servery supplied by AD Coach Systems of Stoke-on-Trent, as well as wi-fi, USB charging points and Google TV playing through the monitors. Mind you, the coach isn't quite as agile in negotiating the country roads and tight parking spots in the UK. But I just take my time. We're rarely in a rush. Kim and I like to treat our guests correctly."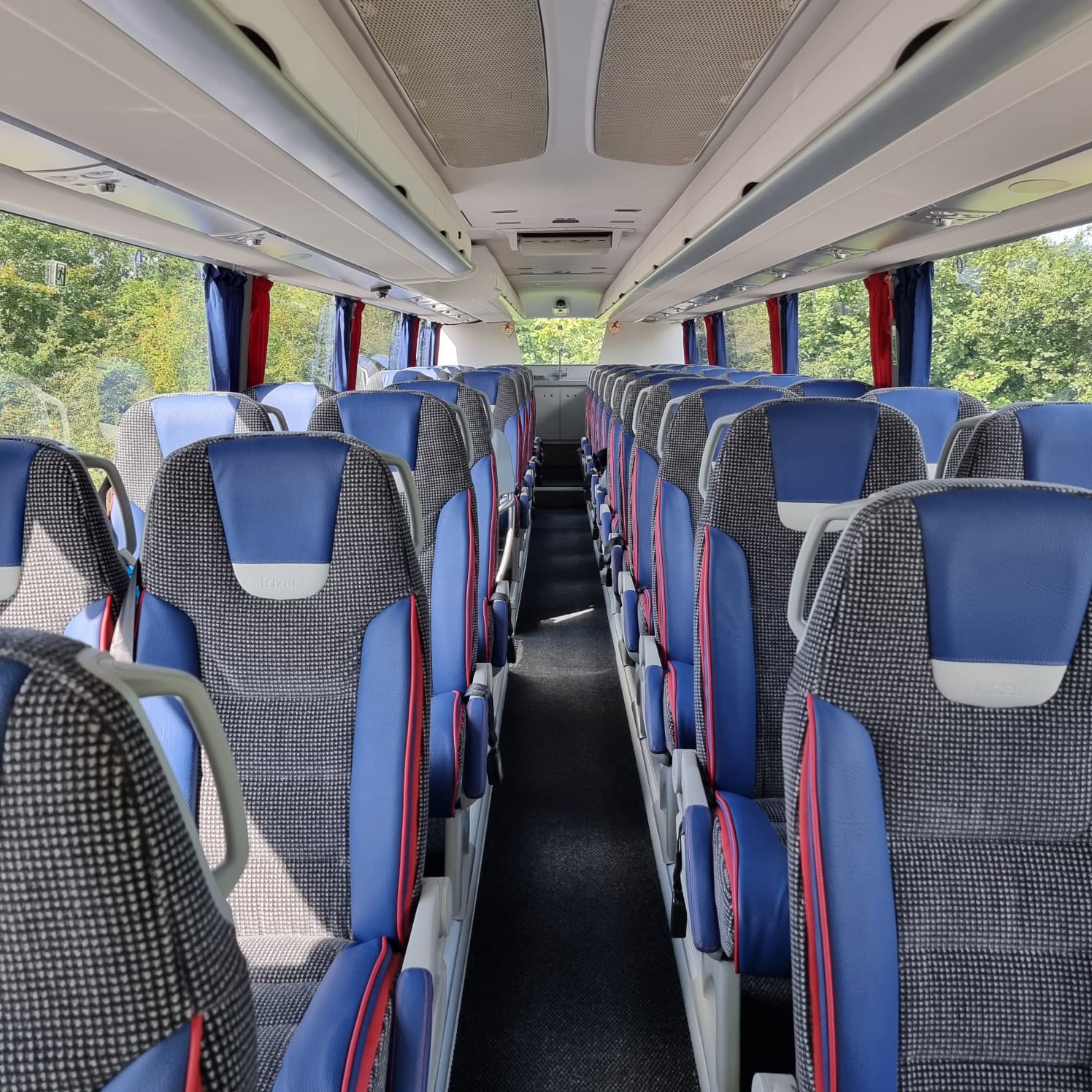 Improving fuel economy
Although still very new, the coach is returning positive fuel economy figures.
"I wanted an integral as it makes the whole coach about a tonne lighter than it would be with a chassis," he says. "We're getting between 10 to 12 miles per gallon on the motorway compared to the lower returns that we were getting with the old coach. Part of that is the new streamlining of the i6S Efficient. The coach has Irizar's digital rear view camera system, replacing the traditional mirrors. Visibility is excellent, in all weathers."
The specification also includes 12 cameras, cantrail downlights, leather trim on the seats, padded armrests, footrests, drop-down table trays and magazine holders. There are extra tinted windows, a feature that Nigel says is much appreciated by his guests. The livery, designed by Kim, features a graduated paint shade with chrome vinyls.
Nigel reveals that the LT in the registration, LT23 NKT, refers to 'Luxury Tourer'. And of course, the NKT refers to Nigel and Kim's Tours.
"Our tour programme is all we do," says Nigel. "We don't do schools, private hire or anything else. Our tour itineraries are planned around my driver's hours. If I were to be taken ill then we have others we can call upon."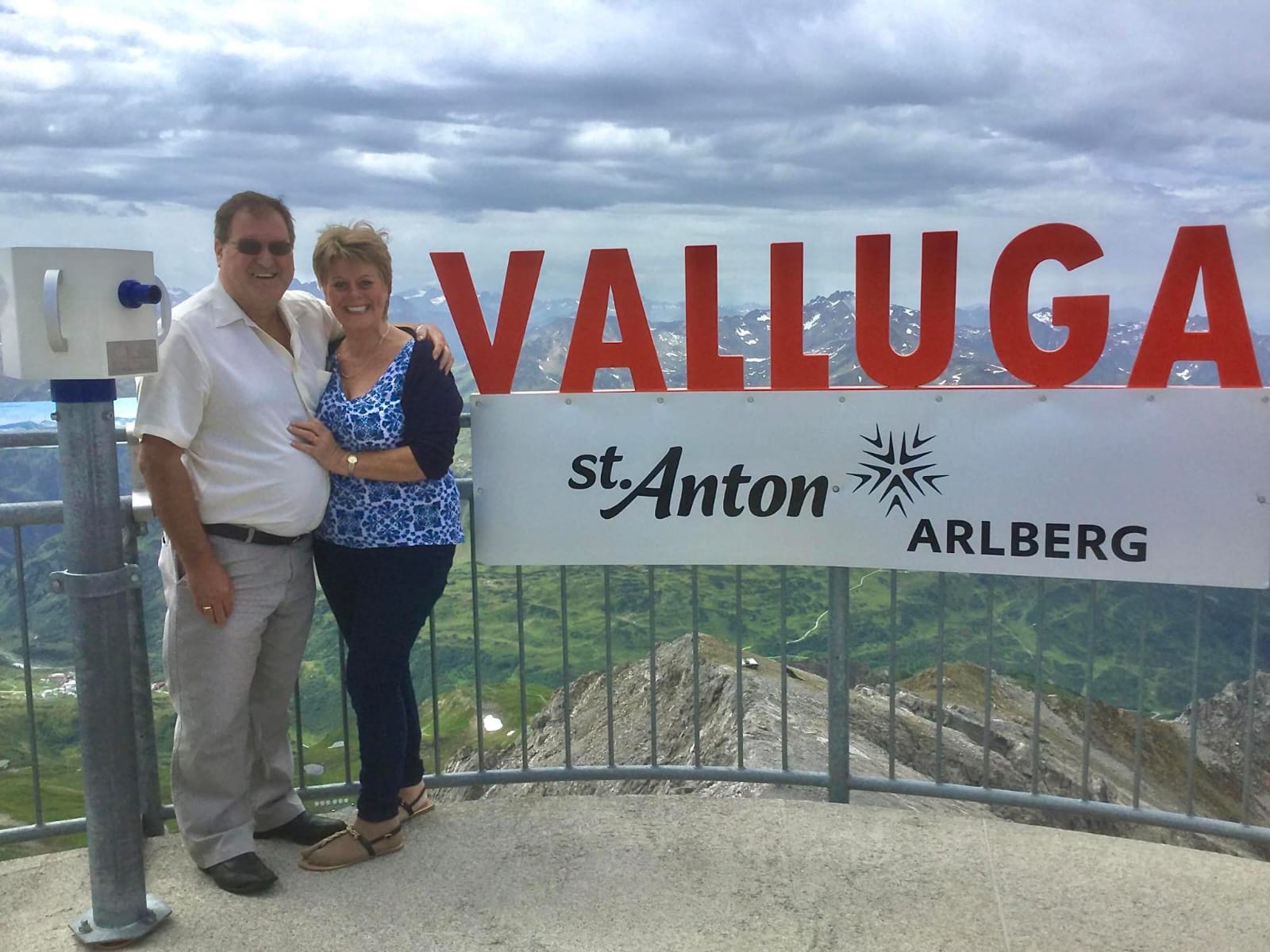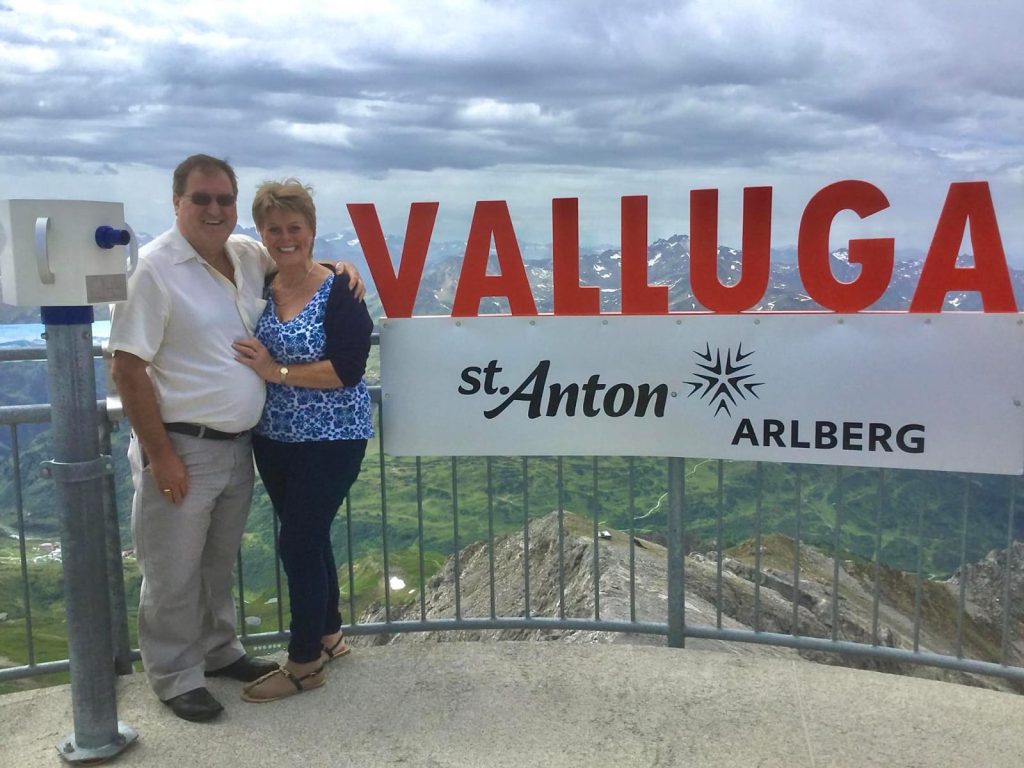 Making a trip worthwhile
The conversation returns to the number 42.
"Only having 42 guests on the coach makes it a more manageable group size," he says, "both on the coach and when we're at hotels and attractions. Our tour programme, which includes tours to Austria, France, Germany, Switzerland, Spain and Italy, does feature one or two favourite hotels that we often go back to. In 2024 we're heading to Krakow and Zakopane in Poland. Kim has always wanted to go, so off we'll go, taking our 42 guests with us."
Nigel explains that his guests have always preferred crossing with Eurotunnel.
"I do like the experience," he says, "but over these last few years it's become a challenge. You can't always guarantee you'll get the crossing you want. A few years ago, if you booked your slot, you knew you would travel. We've been bumped off trains a few times now meaning we've then had to sort out a ferry crossing. Then there's the price. Within reason we're happy to pay the premium for using the tunnel, but the costs of operating a continental tour, once you've factored in the Channel crossing, means we need to make it worthwhile. As a result, the economics of a short break to say Paris or Belgium, with many of our costs remaining constant, including door to door taxi pick-ups, simply don't stack up."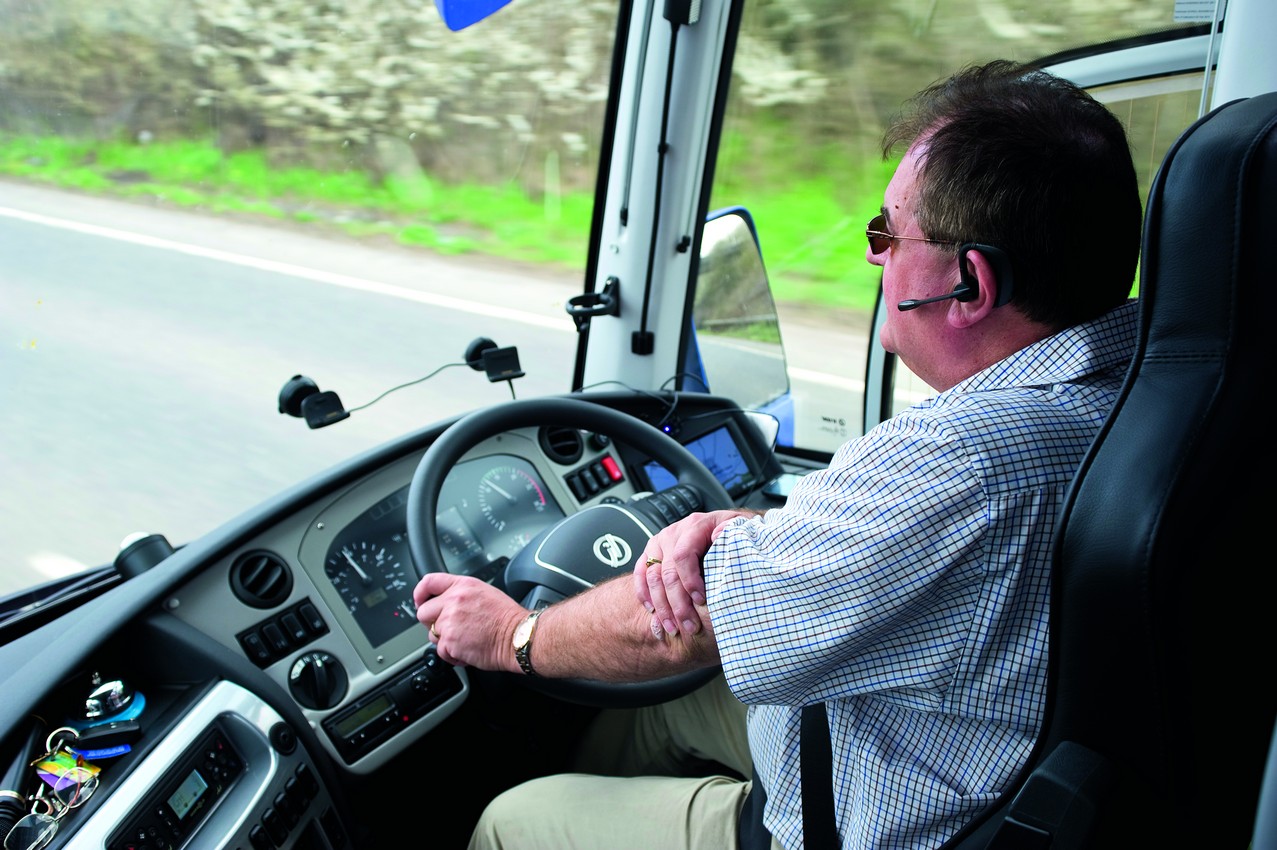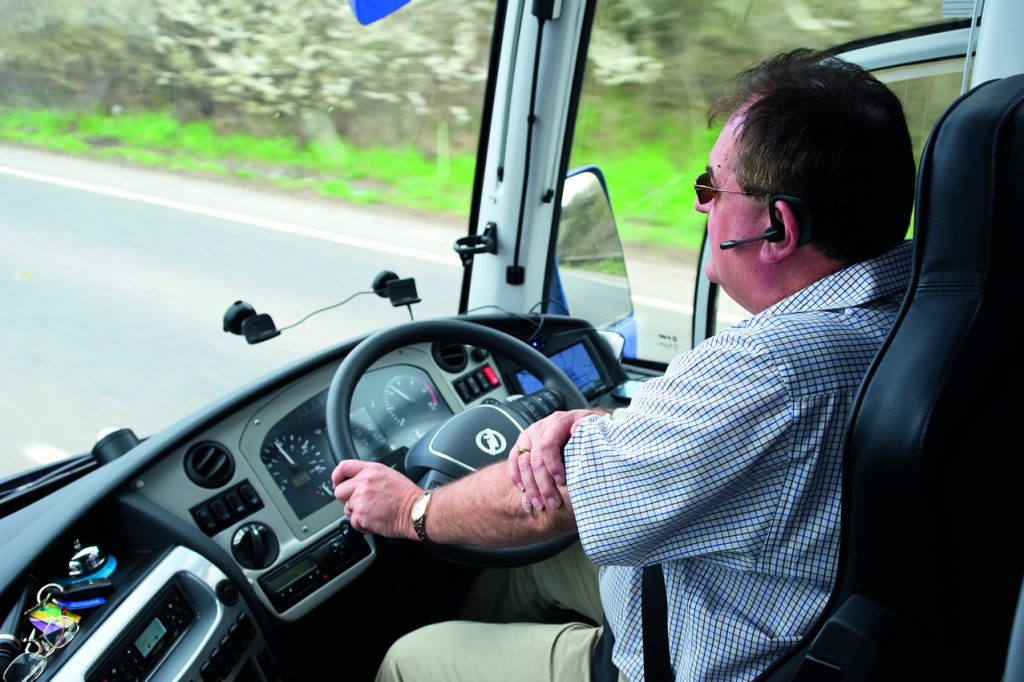 Kim's preview list
Throughout the conversation, Nigel's references to his 42 guests indicates a full coach on every tour. But is that the case?
"We often have waiting lists for our tours," he says. "We get a huge amount of repeat business. We know our guests and they know us. But that does present another challenge when it comes to prioritising who gets seats."
Nigel explains that every summer, Kim prepares a preview list of the following year's tour programme.
"She takes the list with her on each tour," he explains. "There are no itineraries, no prices, just a broad description of the destination and how long the tour will be. It's a first opportunity for our guests travelling with us on the coach to indicate their preferences. Then, in the November, we send out our new brochure and our guests have two weeks to confirm their interest. It's a busy time for the third member of our team, Sheena, who looks after the office and administration when we're away. Some guests, having shown an interest in a tour, might then change their mind. There are many reasons for this of course, especially with an older age group, so then we go to the waiting list. We started the system as a way of showing the bank how our business plan would work, and it has. It works really well, rewarding repeat customers and ensuring we're on track for every tour going out with 42. By Christmas we're usually around 85% sold."
Nigel explains that in terms of office management, he and Kim keep things simple.
"We use Tour Booking System from Distinctive Systems," he says. "It works for us and I find it very easy to use. In planning our tours, Kim spends hours and hours preparing the content. She's always looking to see what we can include to make a holiday special and exceptional value for money. We offer porterage throughout, and she'll often walk through the coach with a big bowl of sweets."
So, was Douglas Adams correct? For Nigel and Kim, enjoying their final five years travelling to places and accompanied by their 42 guests, it seems he was.
Happy 10th anniversary, Nigel and Kim!