Aiming for compliance and best practice? routeone examines how DVSA's Earned Recognition scheme is benefitting operators and contributing towards improved road safety
For years, the Driver and Vehicle Standards Agency (DVSA) had been asked what a 'good' operator looks like. What should an operator aim towards when it came to compliance and best practice?
The result was a voluntary scheme that went above and beyond the basic standards already set out for an O-Licence. It introduced a system of reporting key performance indicators (KPIs), required one month retrospectively, to help operators keep compliance at the top of the agenda. The new scheme is known as Earned Recognition (ER).
ER brings multiple benefits, not least among them a joint effort towards better road safety. It has also allowed DVSA to free up its resources and focus efforts on the seriously non-compliant, helping to 'level the playing field'. This frees up time for good operators and keeps unscrupulous ones off the roads.
Be a shining example in Earned Recognition
According to ER National Account Manager Phil Breen, recognition as an exemplar operator from a government scheme gives numerous advantages, such as when bidding for contracts. Operators are published on the government website GOV.UK and a tweet from DVSA's social media channels is sent when recognition is gained. The ER marquee can be used as an advertising medium on your premises, websites, and literature, further highlighting company prestige. A 12-month MoT exemption was even granted for ER members during the pandemic.
Perhaps best of all, as an exemplar operator, you will not be targeted by DVSA's roadside teams, nor be subject to DVSA visits or investigations by post or in person. The potential financial gains are substantial – DVSA says one operator has reported savings in efficiency by being an ER member of £12,000 per annum.
The scheme is free to join and comes with complimentary workshops where best practice and hot topics are discussed, and expert advice offered in question and answer sessions. "This is an invaluable resource and was strengthened in recent months due to the coronavirus COVID-19 pandemic. Operators often turned to my team for clear advice, and to counteract confusion around restrictions and guidance," adds Phil.

Approved systems
Every operator within the ER scheme must have an approved IT system in place to measure and report KPIs. The IT supplier market continues to grow and is helping the push towards industry digitisation. "The evidence is there that these systems improve compliance, but also efficiency," says Phil. "It therefore delivers on saving operators money, also."
CT Plus (part of HCT Group) and Reading Buses were two of the first operators to represent the coach and bus industry in the ER pilot. Both implemented Freeway Fleet Systems' fleet management software. Freeway uses an ER module that brings together five ER KPIs that customers manage and monitor through Freeway (these include the provision of completed and signed off safety inspection records, driver defects reports and actions, plus MoT initial pass rates). Problem areas are highlighted in advance of the monthly submissions on the desktop and WebApp interfaces.
Digital data is the basis for ER reporting, and Freeway's system is simply an extension of an end-to-end maintenance automation developed by the company over the years.
Creating a paper-free digital management process removes many inefficiencies and unnecessary costs, claims Freeway Managing Director Patrick Tandy. "With this level of digitisation, live data and seamless connectivity, operators can very easily manage ER – everything they need is instantly accessible and Freeway's ER software is built-in already."
But live data has been the biggest boon, allowing for the immediate resolution of defects and missing data, he adds: "The efficiencies of management with 'live' data are, in our view, the greatest benefits of digital operation."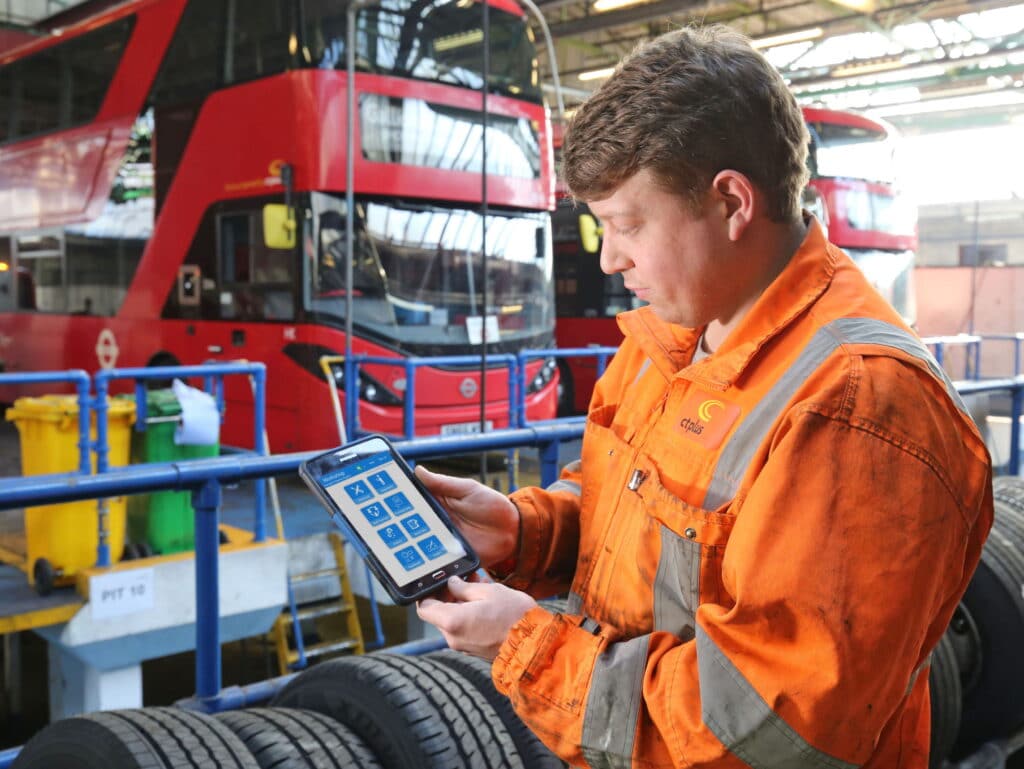 Trutac, which states to be the first ER approved tachograph analysis provider on the scheme and which worked closely with DVSA during the pilot stage, also claims to be the first supplier to have both drivers' hours and vehicle maintenance systems accredited for the scheme. TruAnalysis, an ER approved and accredited tachograph analysis and reporting system, also includes TruAnalysis PSV for PSV operators and CPT Tacho Analysis for Confederation of Passenger Transport (CPT) members. For vehicle maintenance, its TruFleet product is fully certified under ER for PSV and HGV.
"To prove our commitment to Earned Recognition, unlike competitors, we do not charge customers to use the Earned Recognition reporting dashboard and it is included as standard," says TruTac Director of Commercial Operations and Marketing. "This is because we want to support DVSA in attracting operators to join the scheme and see its many benefits.
"By using our ER reports and dashboard, Operators can benchmark themselves against the ER KPI's and then decide to if they want to apply or if they need to improve certain areas before they join. We can provide training, guidance and handholding on the ER KPI's and how they can improve their scores with better management of compliance on both drivers' hours and vehicle maintenance."
By using the ER KPI's TruTac demonstrates how effective management of tachograph data delivers significant resource management benefits and a clear return on investment by more efficient use of drivers and vehicles. "For example, reports and dashboards highlight vehicle utilisation, lead-in and lead-out times, driver performance, driving time versus other status and many other key operational metrics such as remaining driving hours to enable effective planning," Jemma adds. "The powerful data within TruAnalysis and TruFleet can be used to minimise infringements, reduce agency driver use, plan schedules more effectively, maximise driving time and reduce vehicle downtime.
Another tachograph manufacturer, Continental Automotive, offers a full range of data management products to assist fleets of all sizes. Its KPI reports are based on the operator's driver data for three months before the operator decides to apply for the scheme, in addition to the standard reports required by DVSA. "This allows the operator to carry out any corrective measures for the following months before any critical dashboard alerts are sent to DVSA," says Continental Marketing Manager Jackie Dougall.
Road Tech offers its Download Optimisation Technology (DOT) system that has enabled operators to avoid having drivers and staff in their depots when downloading driver tachograph card data. Vehicle and driver card data is downloaded remotely every day and linked with the digital dashboards of Tachomaster, giving instant access to essential information. This has been especially helpful during the pandemic. "DOT gives proactive compliance management and will help minimise infringements by alerting the Transport Manager 15 minutes before potential infringements actually happen, helping every operator including members of the ER scheme," says Road Tech Sales Manager Maureen Ballance.
There are many more products on the market with similar unique benefits.

Ongoing benefits of Earned Recognition
The DVSA ER scheme has made operators and drivers more aware in all aspects of safety and compliance, Phil concludes. "DVSA has set a clear standard of what an exemplar operator should be, the KPIs and audits means that a regular measurement has to be met, that naturally drives compliance and keeps operators focused," he explains.
ER continues to grow in scope, and Phil says DVSA is listening to its members' thoughts on how the scheme can be made even better.