Laser Tools prides itself on

s

tay

ing

ahead of the curve

to

provide

workshop solutions

. We hear how

it

is

able to

bring products to market within weeks of concept
The shift to zero-emission vehicles from diesel is having an impact in all areas of the industry – even down to the supply of tools. Business has never been better for Tool Connection, which is one of the leading suppliers via the Laser Tools range and its other brands. It would appear that the electric vehicles market is one of the driving forces behind that success, with the company embracing the switch and leading the way with specialist products. 
The industry has certainly changed much since Martin Smith set up Tool Connection as a market stall in 1976. Now, the Warwickshire-based business is a supplier to Aston Martin Racing and supplies the likes of Halfords, Toolstation and Machine Mart, as well as many in the coach and bus industry. Having acquired Eldon Tool & Engineering in 2008, the company has a manufacturing arm, which is able to quickly react to customer needs. In 2021, Laser Tools became the first tool supplier to join the Original Equipment Suppliers Aftermarket Association. 
Among its 11,000 products widely used in the coach and bus industry are the adjustable wheel-bearing lock nut tool, 150kg wheel dolly and drain bung tool for AdBlue. Many of the products are designed to "make easy work of difficult and awkward jobs", with the philosophy that the less time a vehicle spends in a workshop, the more time it is on the road earning money. 
Embracing the EV revolution
However, Laser Tools' range is increasingly catering for engineers dealing with battery-electric and hybrid vehicles. The company says all of its products are tested and certificated to the latest international standards for working on, or close to, live high-voltage environments. A recent introduction to the collection is a spark-resistant, fully insulated tool kit for hydrogen-powered vehicles which is manufactured from hard-wearing beryllium copper which, unlike steel tools, are designed not to spark if struck or dropped. Tools can also come in specifically designed cabinets and shadow boards, while a new magnetic holder and tray set adds to the options for convenience. 
National Sales Manager Sean Satchwell is enthusiastic about the expansion which has come with the alternative powering for vehicles. "Laser Tools' biggest growth in terms of product sales is EV. That's a big area for us," he says. "We were doing EV tools 10 years ago. For us, it's not new. We were taking it to shows years ago and putting it on the stands and everybody was saying it's never going to catch on. I've just had an email from someone who visited us at a stand three years ago and he wants to talk to us about EV, so a lot of people are remembering that they've seen us leading the way."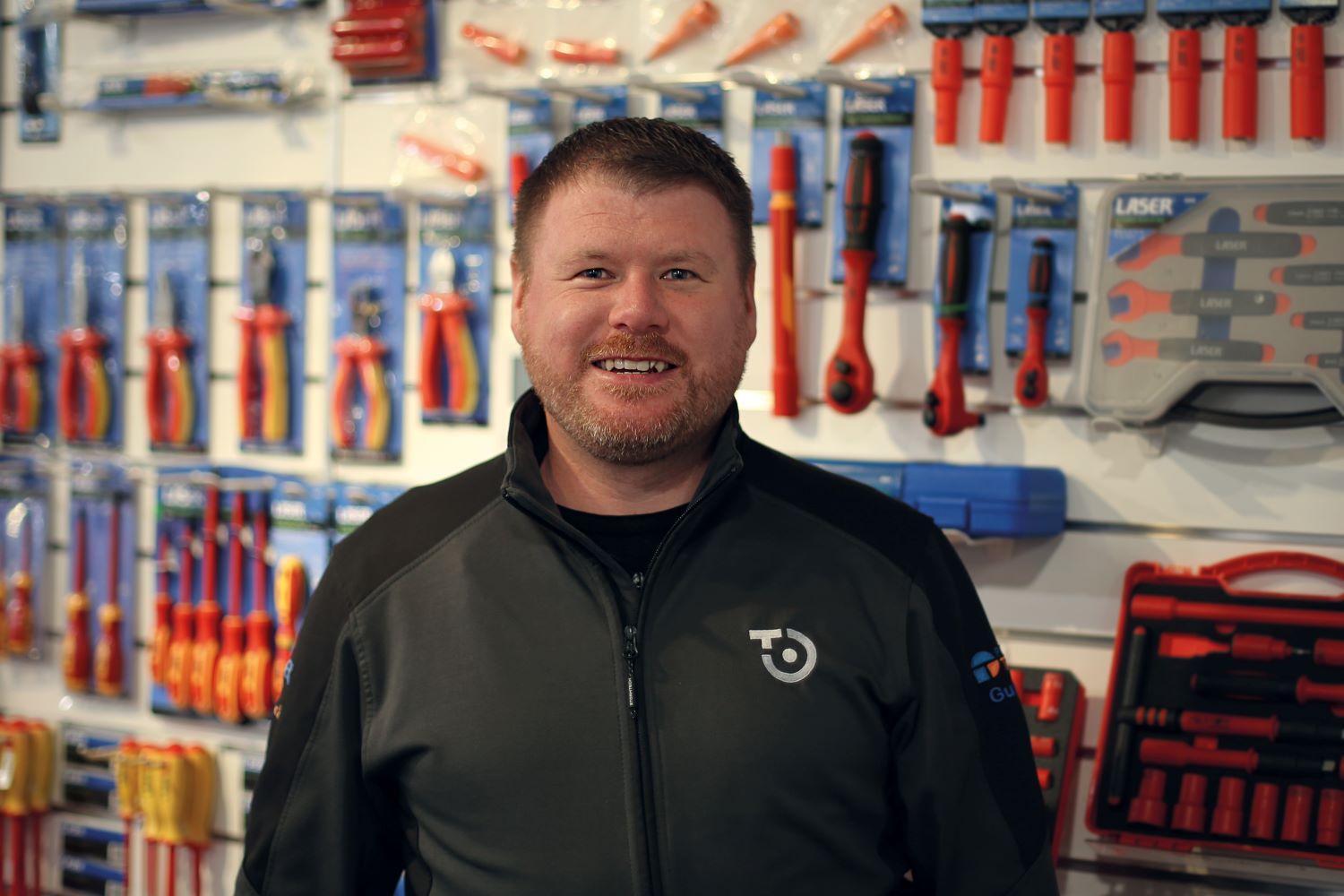 Sean, who has worked for Tool Connection for 15 years — the last eight of which in sales, says he believes planning for the future is important in his industry. "The next thing we're looking at is hydrogen and, already, we're bringing tools in for that," he says. "We have recently introduced tooling to work on batteries — battery diagnostic tools and a range of battery lifts."
He believes more engineers and garages should embrace the move across to zero-emissions. "Some are almost afraid, it's the unknown," he says. "A lot more technicians are taking EV training now. The workshops have to embrace it. If you don't invest in the tools, you're never going to get the work.  We had a customer who owns a garage and decided, in his fifties, to go into EVs and he's busier than ever. Forty per cent of his business is EV." 
As well as convenience, safety is a key selling point for the company, with Sean singling out Laser Tools' telescopic rescue pole, which he believes is important for anyone working on electric or hybrid vehicles. Items such as safety barriers, safety signage and protective clothing are also part of the range. 
From idea to shop floor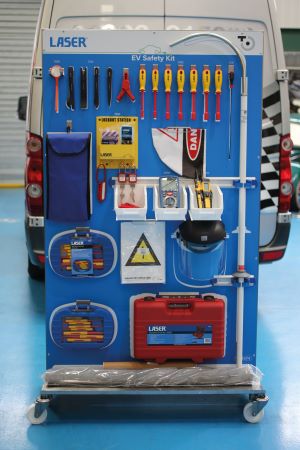 The world of tools is a fast-changing one and the company behind Laser Tools is bringing out an average of two new products per day. Sean says both the speed of reaction to the market and having Eldon as sister company are crucial.  "Having Eldon is another string to our bow," he says. "People know, if they come to us with a problem, we'll come up with a solution. A lot of our competition will simply say 'no, we don't do that.' Whereas we say, 'no, we don't, but maybe we should?'" 
Much of the feedback on ideas for new products comes from customers via the technical team which arm the product showcase vans visiting hundreds of garages per week to carry out demonstrations. This can be communicated directly back to Martin. The company says that, thanks to its structure, new tools can be produced within around three months. Marketing Manager Lisa Davison says: "Because we don't have the bureaucratic structure that a lot of big companies have, we can easily talk to the owner, who can make a decision and we can introduce something into our product range without there needing to be a procurement panel or other interference. Decisions can be made far more quickly." 
Going f
rom strength to strength
To cope with increasing demand, Tool Connection — which also has the Power-TEC, Connect Workshop Consumables, Gunson and Kamasa brands in its collection — plans to build a new warehouse and double the size of its showroom. Sean explains: "The last three months have been the best in the company's history. This year will be the best year we've ever had."